The three ASX indices (200, 300, and All Ordinaries) closed last week higher by 1.60%, 1.57%, and 1.49% respectively.

It was a week dominated by central bank actions, with the RBA and the US Fed in focus at the Australian bourse.
The markets didn't do too much the first two days of the week, obsessing over Westpac's decline in core earnings, and the RBA's unexpectedly less hawkish stand on Tuesday, but supported by bullish international stock trends.
The ASX swung higher, however, on Wednesday (and later) after investors were soothed on Australian rate hike expectations and record closings on Wall Street.
Investors shrugged off fresh price blues on iron ore, a record plunge in Australian retail trade, and a decline in energy prices due to higher than expected US crude inventories.
The US Fed did not show much inclination to hike interest rates and across the pond, the BoE continued with its low-interest stance, and this emboldened local bulls.
The ASX, therefore, closed the week solidly in the green.
ASX Stocks Last Week
Banks were mixed except for a sharp decline in Westpac ASX:WBC.
Commonwealth Bank (ASX:CBA) and ANZ Banking (ASX:ANZ) were up +3.81%, and +1.19% respectively, while National Australia Bank (ASX: NAB) was down 0.55%.
Westpac (ASX:WBC) fell nearly 8% after investors gave the thumbs-down to its core performance during the financial year 2021, though it reported a net profit of about $5.5 billion that was boosted by a writeback on provisions.
The bank declared a final dividend of A$0.60 and announced a A$3.5 billion share buyback.
A Moody's analyst said Westpac's performance was a pointer to low-interest rates and lending competition, resulting in pressure on net interest margins.
Fund manager Praemium (ASX:PPS) rocketed 30.58% for the week after it rejected a buyout offer of A$785 million from rival Netwealth (ASX:NWL).
NWL closed with a loss of 1.26%.
On the other hand fund manager Link Administration (ASX:LNK) jumped 6.33% after it received a takeover bid from Carlyle Asia Partners.
Energy stocks were also under pressure last week.
Santos (ASX:STO), Woodside Petroleum (ASX:WPL), and Oil Search (ASX:OSH) were down by 2.43%, 3.01% and 2.76% respectively.
Yancoal (ASX:YAL) plunged over 7%, and Whitehaven Coal (ASX:WHC) gave up 4.31%, falling on the heels of plunging Chinese coal futures.
Reportedly, the Chinese authorities are investigating coal pricing modes and unlicensed coal storage sites.
Energy infrastructure firm AusNet (ASX:AST) agreed to a A$2.65 per share offer from Brookfield Asset Management that aggregated A$10.2 billion.
AusNet shares closed the week 0.78% higher.
Real estate breathed a sigh of relief as the RBA appeared friendlier on rate hikes.
Scentre Group (ASX:SCG) and Stockland (ASX:SGP) rose 0.65% and 0.43% respectively.
Property manager Charter Hall shot up nearly 11% after investors appreciated its upgraded earnings projection for FY21.
Lendlease (ASX:LLC) was also another solid gainer, closing nearly 5% higher.
Real estate advertiser REA Group (ASX:REA) was up nearly 8% to a record high after it announced a solid jump in its quarterly EBITDA due to a strong Australian residential property market.
Giant Goodman Group (ASX:GMG) was up nearly 7% after it raised guidance for the full year amidst a scarcity of industrial property.
However, Dexus (ASX:DXS), and Mirvac Group (ASX:MGR) declined 0.18% and 0.70%.
It should be noted that major banks such as Commonwealth, and Westpac have been raising home loan rates in recent weeks.
Midweek, iron ore futures plunged below US$100 per tonne for the first time since mid-2020 on fears of a slowdown in the Chinese real estate market, and on curbs over steel production.
BHP (ASX:BHP) gave up 1.53%, South32 (ASX:S32) gave up 2.51% and Rio Tinto (ASX:RIO) was in the red by 1.65%.
However, Fortescue (ASX:FMG) stood apart and rose 2.66%. We published research on FMG last week.
The price of spot gold rose 0.2% to $US1,795.64 per ounce by end of the week.
This rubbed off on gold miners. Northern Star Resources (ASX:NST) gained 4.35%, Evolution Mining (ASX:EVN) shot up 2.76%, St Barbara (ASX:SBM) was higher by 0.35%, and Newcrest Mining (ASX:NCM) was in the green by 2.7%.
Technology stocks were a mixed picture this week too.
Afterpay (ASX:APT) closed the week down by 5.07%, Xero (ASX:XRO) lost 0.13%, and NextDC (ASX: NXT) lost 0.34%.
However, Computershare (ASX:CPU) gained 0.16%, Wisetech (ASX:WTC) was up 3.44%, and computer hardware distributor Dicker Data (ASX:DDR) was up a solid 2.79% for the week.
The healthcare sector ruled firm. Sonic Healthcare (ASX:SHL) and Fisher & Paykel (ASX:FPH) were up 0.96% and 4.16% respectively for the week.
Ramsay Health Care (ASX:RHC) was up 3.36%, its third successive week in the green, while Resmed CDI (ASX:RMD) gained 1.08%.
CSL Limited (ASX:CSL) was another healthcare gainer, moving up over 3%.
AMP Ltd (ASX:AMP) rose 8.26% on the week after it offloaded its 19% shareholding in Resolution Life's Australia business to the British company for A$524 million.
AMP has now exited from life insurance.
Seven West Media (ASX:SWM) clocked a weekly gain of nearly 13%, while Prime Media Group (ASX:PRT) shot up 3.75%.
In a major media shakeup, Seven announced the acquisition of Prime for A$121.9 million, creating "a commercial premium broadcast, video and news network across Australia, reaching more than 90 percent of the Australian population every month."
Domino's Pizza (ASX:DMP) tanked nearly 16% after the company painted a dim picture of business prospects post-lockdown.
This week in ASX Stocks
Corporate reports and events
Upcoming Listings between 08 – 12 November
November 8, 2021
SiteMinder Limited (ASX:SDR) claims to be the world's leading open hotel commerce (SaaS) platform, that helps hotels to sell, market, manage and grow their business from one place.
It will list ordinary fully paid shares from its IPO of A$627 million which would value the business at about A$1.3 billion.
November 9, 2021
Dundas Minerals Limited (ASX:DUN) will list fully paid ordinary shares of A$0.20 each from its issue of $6 million for exploration of gold, nickel, and copper ore deposits in the southern portion of Western Australia's mineral-rich Albany-Fraser Orogen.
The company holds four (4) granted exploration licenses and seven (7) exploration license applications.
November 11, 2021
Cosmos Exploration Limited (ASX:C1X) will list fully paid ordinary shares of A$0.20 each from its issue of A$5 million for exploration of gold, copper, and nickel deposits in Australia.
Its portfolio includes the highly prospective Orange East Project in NSW and the Byro East Project in WA.
Economic News And Market Outlook
On Tuesday the RBA showed its concern with rising prices by jettisoning its policy of yield curve control which capped the yield on three-year bonds at 0.1%.
The RBA's move placed it first among the largest central banks to take policy steps to counter inflation.
However, the bank clarified that it was not in a hurry to implement rate hikes and also kept in place its bond-buying program until mid-February 2022.
The market interpreted the RBA's stance as more dovish than expected.
In New Zealand, data last week showed that the jobless rate fell to 3.4% during the quarter ended September, comprehensively beating consensus estimates of 3.9%.
The reading matched the previous record low in December 2007.
The data showed the strength of the country's economy and raised expectations of another rate hike this month.
In the US, the ISM Manufacturing PMI index slipped 0.3 points to 60.8 in October showing that manufacturing activity slowed, ostensibly due to stretched supply chains, and a fall in new orders to a 16-month low.
Though demand was increasing, "companies and suppliers continue to deal with an unprecedented number of hurdles," the ISM said.
ADP Nonfarm Employment data released Wednesday showed US companies added the most jobs in four months, the number rising by 571,000 in October, amidst labor shortages.
US non-farm payrolls jumped 531,000 in October and the unemployment rate fell to 4.6%. However, the participation rate remained unchanged.
The reading solidly beat analysts' expectations of a rise of 450,000 jobs.
At its policy meeting last month the US Fed said it would cut back on its $120 billion bond-buying program beginning this month by $15 billion a month, and end it altogether by mid-2022.
The Fed viewed the current inflationary pressures as transitory and ruled out rate hikes until the country reached full employment.
Inflation has been running at twice the Fed's 2% target over the last five months.
US stock markets reacted to the Fed decision and non-farm payroll data with all the three indices ending the week at record levels.
In the coming week, Australia will release employment data for October on Thursday.
US Producer Price Index (PPI) month-on-month data for October will release on Tuesday.
On Wednesday data will be available on the Core Consumer Price Index (CPI), also month-on-month, for October; Initial Jobless Claims; and Crude Oil inventories.
China will release data in y-on-y change in industrial production for October on Thursday.
Forex Outlook
AUD/USD ended the week at 0.73895, well below last week's close of 0.75180, after it was hammered by bears on Tuesday when the RBA came through with a more dovish stance than expected.
Worse was to follow for the pair after US non-farm payrolls smashed expectations and the dollar rallied – the pair plumbed a low of 0.73600 before a seeming bear rally and profit-booking recovered some of the lost ground.
The outlook appears to be still bearish for the UAD/USD, given the divergence between the US and Australian economies as evidenced by the solid US NFP data, Fed pronouncements of economic conditions, particularly "transitory" inflation, and confident tapering.
Meanwhile, for Australia, China-led pricing pressure on its exports continues relentlessly.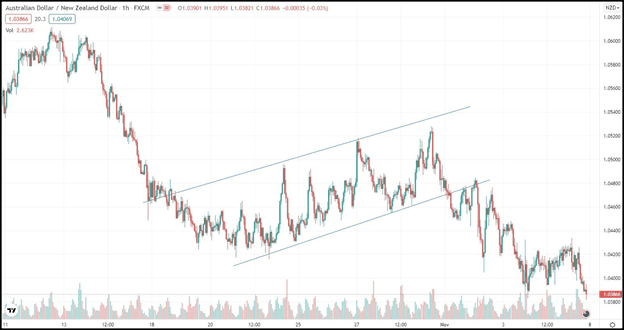 AUD/NZD crumpled during the week, falling out (with a momentary pullback) of a rising flag pattern and rapidly going south after the RBA's "less-hawkish-than-expected" monetary stance struck on November 2.
The one-two punch came on November 3 in the shape of very strong New Zealand employment data that buttressed expectations of another rate hike by the RBNZ.
Though the AUD/NZD closed the week at 1.03866 (compared to 1.04830 last week) it may be only marking time before another downward leg.
Remember that the last major low was as far down as 1.02800 in September and that the RBNZ and RBA appear to be at odds on their respective monetary strategies.