The ASX finally overcame its four-week losing streak last week.
After being up nearly 3% midweek, the market pared a little less than half its gains, and nine out of Australia's eleven sectors ended in the green.
Though investors turned wary on Friday due to a heavy week ahead for macroeconomic events and expectations of record-high reported inflation in the US, the general mood of Australian markets was positive.
The news that the People's Bank of China's (PBoC) decided to inject more liquidity to boost a slowing economy also boosted sentiment.
On the virus, the RBA said it did not think Omicron would derail the country's economic recovery, which also encouraged investors to bid up stocks.
The ASX200, ASX300, and the Ordinaries ended the week up 1.55%, 1.65%, and 1.65%, respectively.
Last Week in ASX Stocks
The ASX Energy Sector (XEJ) ended the week up 1.54% despite a fall in energy commodities over the week after Evergrande went into default and intensified concerns of a Chinese slowdown.
The sector, which is dominated by oil and coal stocks was buoyed by heavy weightage oil companies like Santos (ASX:STO), Oil Search (ASX:OSH), Beach Energy (ASX:BPT), and Woodside Petroleum (ASX:WPL) which ended the week higher 1.25%, 1.55%, 2.14%, and 1.51%, respectively.
About 95% of shareholders of Oil Search voted to greenlight a $21 billion merger with energy giant Santos.
The deal also received final approval from a Papua New Guinea court, paving the way for creating a global oil and gas behemoth.
Oil Search shareholders will receive 0.6275 Santos shares for every Oil Search share.
While oil was a winner, coal was quite the opposite as it is heavily influenced by Chinese demand.
Yancoal (ASX:YAL) and Whitehaven Coal (ASX:WHC) ended the week down 1.21% and 2.04%.
The ASX Materials Sector (XMJ) ended the week up 1.41% with big miners scoring gains and cleantech material miners booming.
Fortescue Metals (ASX:FMG), BHP (ASX:BHP), Rio Tinto (ASX:RIO), and Mineral Resources (ASX:MIN) ended the week 6.28%, 1.91%, 1.51%, and 7.07%.
Iluka Resources (ASX:ILU), Pilbara Minerals (ASX:PLS), and Vulcan Energy (ASX:VUL) won big having ended the week up 8.4%, 6.56%, and 17.23%, respectively.
Iron ore prices have retained an upward bias, thus helping boost mining stocks.
The ASX Industrials (XNJ) closed the week 1.71% higher.
Big winners from the sector were Qantas Airways (ASX:QAN), Sydney Airport (ASX:SYD), Qube Holdings (ASX:QUB) which ended the week up 0.8%, 2.41%, and 3.42%, respectively.
The Australian Competition and Consumer Commission (ACCC) has given its approval for Sydney Airport to be taken over by a consortium of infrastructure investors for $23.6 billion.
However, Australia's Australia's Foreign Investment Review Board (FIRB) and the company's shareholders still need to clear the deal.
The ASX Consumer Discretionary (XDJ) ended the week up 1.02% with entertainers, travel, and retailers having a strong week.
The biggest winners for the week were Flight Center (ASX:FLT), Webjet (ASX:WEB), Harvey Norman (ASX:HVN), Premier Investment Holdings (ASX:PMV), Breville Group (ASX:BRG), and Southern Cross Media Group (ASX:SXL) which ended the week up 4.47%, 2.43%, 2.58%, 2.06%, 5.84%, and 3.02%, respectively.
Corporate Travel Management (ASX:CTD) was up 2.40% after fears on Omicron's virulence abated somewhat.
The ASX Consumer Staples (XSJ) closed the week up by 1%.
The biggest winners from the sector were staple retailers and food producers.
Woolworths Group (ASX:WOW), Wesfarmers Group (ASX:WES), GrainCorp (ASX:GNC), Tassal Group (ASX:TGR), A2m Milk (ASX:A2M), Bega Cheese (ASX:BGA), and Coles Group (ASX:COL) ended the week up 1.12%, 2.59%, 6.58%, 2.42%, 1.99%, and 1.94%.
Metcash (ASX:MTS) put on 8.17% after reporting encouraging numbers for its first half, with net profit growing 3% to about $129 million.
The ASX HealthCare Index (ASX:XHJ) closed the week up 1% with big winners in equipment, product manufacturers, and facility space.
Cochlear (ASX:COH), CSL Ltd. (ASX:CSL), Nanosonics (ASX:NAN), Resmed (ASX:RMD), Ramsay Healthcare (ASX:RHC), Healius Ltd. (ASX:HLS), and Sonic Healthcare (ASX:SHL) closed the week up 1.72%, 0.57%, 9.59%, 0.58%, 3.09%, 5.12%, and 1.47%, respectively.
However, Sigma Healthcare (ASX:SIG) plunged 14% after it lowered its full-year earnings forecast because a bungled SAP rollout affected sales and customers.
The ASX Financials Index (ASX:FHJ) ended the week up 1.17%.
The big banks had a stellar week with Commonwealth Bank (ASX:CBA), Australia and New Zealand Bank (ASX:ANZ), and National Australia Bank (ASX:NAB) ending the week up 1.32%, 2.12%, and 1.81%, respectively.
Westpac ended the week up just 0.68% after the board announced a share
buyback to take advantage of depressed prices due to the bank's recent legal troubles.
ANZ was hauled over the coals by ASIC for ripping off more than 580,447 customers in the past three decades by not delivering on promised interest rate discounts and fee waivers to certain customers since the 1990s.
ANZ would likely pay a fine of $25 million.
The story was the same with small banks with Bank of Queensland (ASX:BOQ) and Bendigo Adelaide Bank (ASX:BEN) ending the week up 4.47% and 3.06%.
The biggest loser from the sector was Magellan Financial Group (ASX:MFG) with a loss of 9.65% on news of the shock retirement of CEO Brett Cairns after 14 years with the company.
The insurers were a mixer bag with Genworth Financial (ASX:GMA) winning big with a 9.95% weekly gain while Insurance Australia Group (ASX: IAG) and QBE Insurance Group (ASX:QBE) ended the week down 0.68% and 0.75%, respectively.
The Information Technology (XIJ) sector ended the week with 1.2%.
The biggest winners from the sector were Altium (ASX:ALU), NextDC (ASX:NXT) and REA Group (ASX:REA) having gone up 1.54%, 1.19%, and 4.87% over the week respectively.
The fintech industry, which is dominated by BNPL players like AfterPay (ASX:APT) and MoneyMe (ASX:MME) ended the week up 0.3% and 9.61% down, respectively, after rumors broke of impending tighter regulation on the industry.
Zip Co. (ASX:Z1P) was a standout having ended the week up 6% after UBS upgraded the stock from"sell" to "neutral."
The Communication Services (XTJ) sector ended the week up 1.5% joining the bandwagon.
Dominated by telecom heavyweights, the index rose on the back of Telestra Corp (ASX:TLS) and Chorus Limited (ASX:CNU), and Spark (ASX:SPK) which ended the week up 0.74%, 1.41%, and 3.54%.
TPG Telecom, unsurprisingly ended the week lower 0.33% after big insiders selling stock over the past few sessions.
The ASX Utilities (XUJ) index ended the week up 1.1%.
The sector, which is dominated by core utilities (power, gas, etc.) enjoyed strong confidence of investors with heavyweights such as AGL Energy (ASX:AGL), APA Group (ASX:APA), and Origin Energy (ASX:ORG) ended the week up 5.92%, 2.86%, and 3.3%, respectively.
The only loser from the sector was energy and gas infrastructure provider AusNet Services (ASX:AST), which ended the week down 0.4%.
Lastly, we turn to the country's best performing sector since the pandemic set in, real estate.
The ASX Real Estate Index (XPJ) ended the week up a mammoth 2.5%.
The biggest winners from the sector were commercial property owners with Mirvac Group (ASX:MGR), SCAP Group (ASX:SCR), Stockland Group (ASX:SGP), Goodman Group (ASX:GMG), Vicinity Centers (ASX:VCX), Dexus Group (ASX:DXS), and Scentre Group (ASX:SCG) ending the week up 0.69%, 2.14%, 1.17%, 2.26%, 3.56%, 1.47%, and 3.99%, respectively.
Real estate ancillaries had a good week too with Brickworks (ASX:BKW) and ADBRI (ASX:ABC) ending the week up 3.47% and 1.06%.
However, construction material supplier Boral (ASX:BLD) fell nearly 3% after it announced its exit from the US market through a sale of its North American fly ash operations for $1 billion to Eco-Materials Technologies.
Total North American divestments by Boral now exceed $4 billion, and the company will return excess capital to shareholders in due course of time.
This Week In ASX Stocks
Results
As the results season is over, no companies are due to report financial results any time soon.
New Listings
A host of new listings are scheduled in the next week, including multiple nine-figure issues as listed below.
Monday, December 13, 2021
Black Mountain Energy (ASX:BME), an oil and gas exploration firm, is due to list on Monday.
The company will list shares priced at A$0.20 from its raise of A$11 million.
The Hydration Pharmaceuticals Company (ASX:HPC), a producer and marketer of hydration products, is listing on the markets on Monday.
The company will list shares priced at A$0.29 from its raise of A$17 million.
Thursday, December 16, 2021
AVADA Group (ASX:AVD), a traffic management operator, is set to make its public debut on Thursday.
The company will list shares priced at A$1.00 from its raise of A$32.54 million.
Qualitas Limited (ASX:QAL), an alternative asset manager focused on real estate, will list shares priced at A$2.50 on Thursday from its monster raise of A$335 million.
XPON Technologies Group (ASX:XPN), cloud-based SaaS company that provides companies marketing services.
XPON will debut on Thursday and plans to raise A$12.5 million from shares priced at A$0.20.
Friday, December 17, 2021
IPD Group (ASX:IPG), an electrical equipment distributor and service provider, debuts on Friday.
The company aims to raise A$40 million from shares priced at A$1.20.
Winton Land Limited (ASX:WTN), a real estate development company, is listing on the markets on Friday.
The company is raising A$350 million from shares priced at A$3.89.
Economic and Market Outlook
Last Monday, the RBA announced that it will keep interest rates on hold.
However, RBA's Governor Philip Lowe said that the bank is willing to remain patient for the economy and wages growth to improve substantially implementing a rise in interest rates.
The US market was treated to both good and bad news.
Though the market was relieved to see initial jobless claims of just 1,84,000, a 50-year low, inflation figures of 6.8% (a 40-year high) spooked markets the world over.
The long-brewing saga on Evergrande finally came to a head last week after the firm defaulted on its offshore bonds, prompting a downgrade from rating agency Fitch.
The market is in for a flurry of macro activity over the coming week with significant reports coming from the EU, the US, and ANZ.
In the US, core retail sales, CPI, Crude Oil Inventories, and the Fed interest rate decision are due on Wednesday, followed by building permits and weekly initial jobless claims on Thursday.
The Euro Zone and the Bank of England are expected to announce interest rate decisions on Thursday.
The UK is also scheduled to publish Manufacturing, Services, and Composite PMI on Thursday.
On Wednesday, Australia is due to report employment figures while New Zealand is to publish its Q3 GDP figures.
Lastly, on Friday, the UK aims to announce its retail sales figures for November while the Euro Zone is due to publish core CPI for November.
Forex Outlook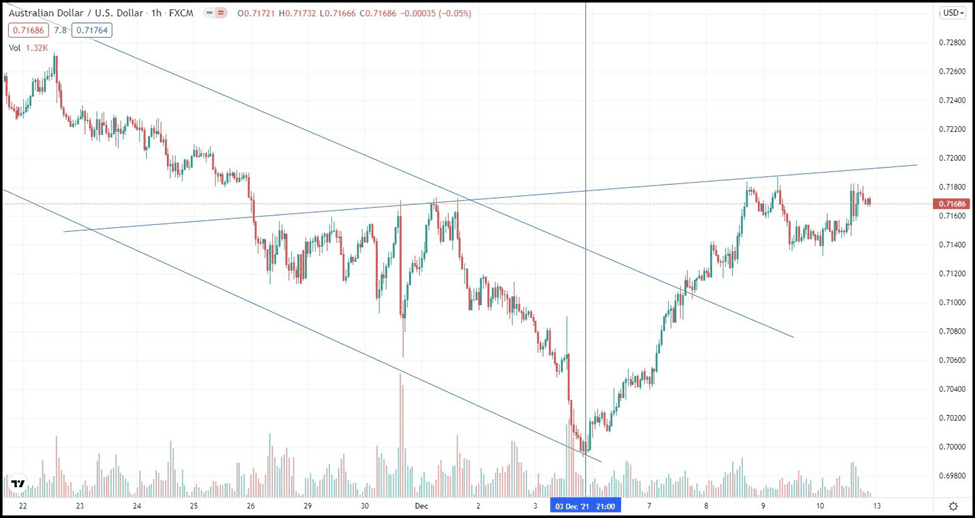 AUD/USD closed the week at 0.71686, significantly above its previous close of 0.69946. Interestingly, the pair took support at the exact November 2020 line and rebounded.
Though it looked bullish through the week, likely due to a wind-down on Omicron fears, a retracement in iron ore prices, and news of Chinese stimulus, AUD/USD still is not out of the woods.
It is entirely possible that this week's pop could be a bear rally because it stalled at the level of the September low of 0.71730.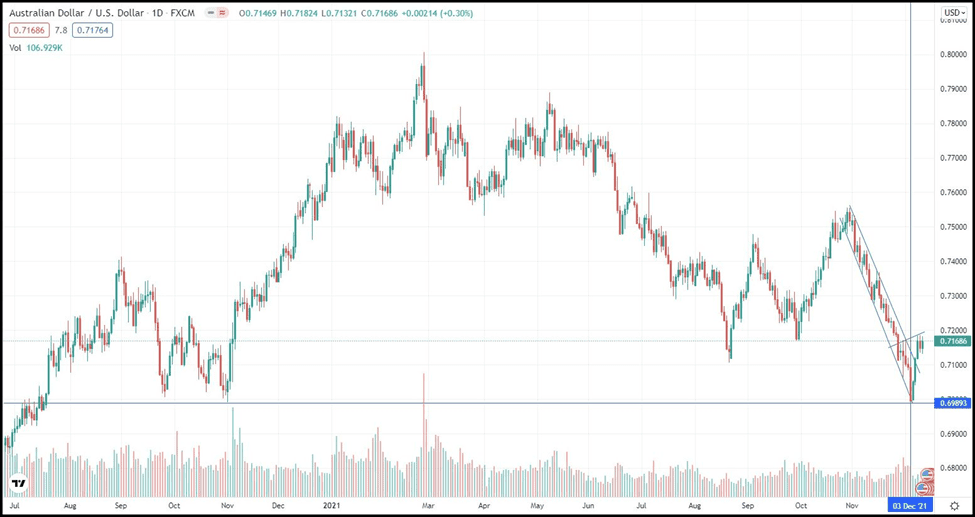 On the weekly chart (not shown here) AUD/USD may have dropped through the neckline of a head-and-shoulders pattern and pulled back to the neckline.
Meanwhile, the Dollar Index is not showing any signs of surrendering the 96 level and has been vacillating around it for the last three weeks.
Powell has suddenly changed to a much more hawkish tone and the Index could well lunge higher in a breakout, with negative implications for AUD/USD.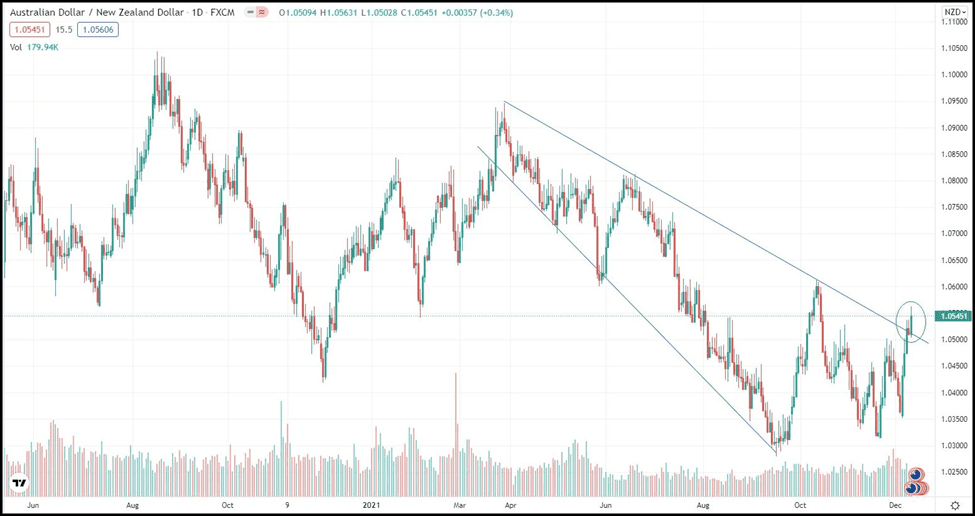 AUD/NZD closed the week at 1.05451, well above the previous close of 1.03630.
On the daily chart, AUD/NZD clearly negated the 1.03000 level, formed a series of higher lows and higher highs and sliced through the upper line of the downward channel (green ellipse).
This looks like a change in trend in the making and it could be that the storm clouds on the Aussie are lifting.
However, only a decisive move beyond the current level, and also 1.06000, will prove the reversal of the trend.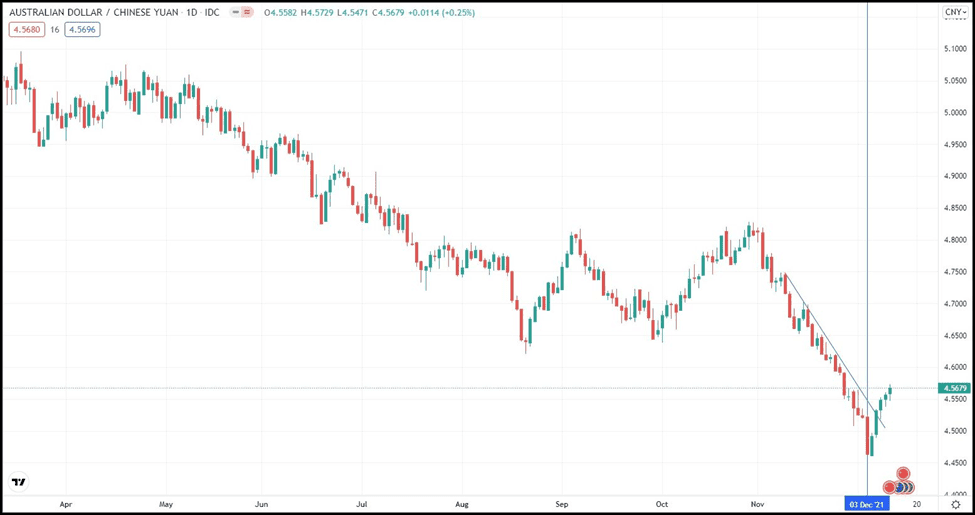 AUD/CNY closed the week at 4.5679, well above last week's level of 4.4633 and the snapback formed a huge bullish engulfing candle on the weekly chart, contrary to all expectations of a bearish continuation.
Australia's move to join a diplomatic boycott of the Winter Olympics spearheaded by the US has put another spoke in the relations between the two countries.
Furthermore, Evergrande's default has cast a pall over the growth prospects of the construction industry in China.
This, taken with the climate-related shutdown of many Chinese steel-making units has clouded exports of Australian iron ore to China, though prices have rallied in recent days.
In sum, it appears that AUD/CNY has corrected after its plunge from 4.8231 levels, but it's not a given that the rally can sustain. That will need a look if it takes out 4.6350.