The Australian market finally ended its month-long losing spree, closing marginally higher on the week after shaking off volatility and sharp corrections in US and Europe.
Gains were driven by China's sharper-than-expected bank rate cut and signs of the country finally easing its COVID-zero policy.
The ASX200, ASX300, and ASX Ordinaries closed the week higher by 1.00%, 1.07%, and 1.14%, respectively.

Last Week In ASX Stocks
ASX Materials Sector (ASX:XMJ)
The ASX Materials Sector (ASX:XMJ) started off the week on a bearish note but trended higher on news of Shanghai's reopening, followed by China's rate cut later in the week.
Given China's importance as a customer to the country's flagship mining sector, the XMJ closed up by 3.65%.
Mining heavyweights Rio Tinto (ASX:RIO), Fortescue Metals (ASX:FMG), BHP (ASX:BHP), Mineral Resources (ASX:MIN), and South32 (ASX:S32) ended up 1.66%, 2.69%, 2.45%, 7.08%, and 6.41%, respectively.
Clean energy material miners IGO Nickel (ASX:IGO), Pilbara Minerals (ASX:PLS), Allkem (ASX:AKE), and Lynas Rare Earths (ASX:LYC) ended higher by 6.58%, 10.66%, 15.22%, and 11.61%, respectively.
The sharp gains in new energy miners were primarily driven by China's stimulus and plans of reopening, as it is both a significant component of the global EV supply chain and also the biggest EV market in the world.
Gold miners also bounced back hard from last week's selloff on a weaker US dollar and softer yields: Newcrest Mining (ASX: NCM), Northern Star Resources (ASX:NST), and Evolution Mining (ASX:EVN) closed higher by 3.52%, 4.39%, and 6.63% respectively.
ASX Energy Sector (ASX:XEJ)
The ASX Energy Sector (ASX:XEJ) was an underperformer this week closing 0.80% lower for the week.
Sector majors Woodside Petroleum (ASX:WPL), Santos (ASX:STO), and Beach Energy (ASX:BPT) lost 6.32%, 0.49%, and 3.29%, respectively.
Coal stocks continued to outperform solidly, largely driven by Chinese stimulus and the potential reopening of the Chinese economy.
Yancoal (ASX:YAL), Stanmore Resources (ASX:SMR), New Hope Coal (ASX:NHC), Whitehaven Coal (ASX:WHC), and Coronado Global (ASX:CRN) all ended up 3.14%, 12.32%, 8.57%, 6.90%, and 4.05%.
In other news from the sector, investors overwhelmingly backed WPL's acquisition of BHP's oil assets.
ASX Industrials Sector (ASX:XNJ)
The ASX Industrials Sector (ASX:XNJ) closed higher by 3.05%, even though industrial materials manufacturers ADBRI (ASX:ABC), Brickworks (ASX:BKW), and Boral (ASX:BLD) all closed in the red at 4.76%, 4.04%, and 10%.
Boral highlighted a large drawdown in guidance stemming from adverse weather and high inflation.
Industrial majors Amcor CDI (ASX:AMC), Downer EDI (ASX:DOW) and Reliance Worldwide (ASX:RWC) were a mixed bag with the former two ending flat but the last losing 5.57%.
Brambles (ASX:BXB) had a roller-coaster week after it announced it was a potential A$20 billion private equity takeover target; unfortunately, it backtracked on that statement the very next day and closed down 0.53% for the week.
Infrastructure companies Transurban Group (ASX:TCL) and Qube Holdings (ASX:QUB) ended up 1.27% and 2.26% while airlines Qantas (ASX:QAN) and Air New Zealand (ASX:AIZ) closed up 3.25% and down 3.10%, respectively.
ASX Consumer Discretionary Sector (ASX:XDJ)
The Consumer Discretionary Sector (ASX:XDJ) closed the week 1% in the red.
Over the week, embattled casino operator Crown Resorts (ASX:CWN) finally agreed to an A$8.9 billion offer from Blackstone and gained 1% for the week.
Other hospitality and entertainment stocks like Tabcorp Holdings (ASX: TAH) and Star Entertainment (ASX:SGR) closed 4.66% and 0.65% in the green.
Travel stocks Webjet (ASX:WEB), Flight Center (ASX:FLT), and Corporate Travel Management (ASX:CTD) went up by 7.54%, 3.1%, and 4.3%.
Many analysts have responded positively to Webjet's FY22 numbers with a confirmation of their Buy ratings.
However, retailers Temple and Webster (ASX:TPW), Kogan (ASX:KGN), Harvey Norman (ASX:HVN), and JB Hi-Fi (ASX:JBH) were all hammered by investors and clocked sharp losses of 11.55%, 4.92%, 3.96%, and 4.59% respectively; it became clear all over the world that inflation had finally started biting into consumer spending – the bad news adding to retailers' margin and supply chain woes.
ASX Consumer Staples Sector (ASX:XSJ)
The Consumer Staples Sector (ASX:XSJ) ended in the red by 4.12% facing the same pressures.
Food producers Tassal Group (ASX:TGR), Bega Cheese (ASX:BGA), and GrainCorp (ASX:GNC) closed nearly flat, 4.64% and 1% down respectively.
Food brands Dominos (ASX:DMP) and Costa Group (ASX:CGC) ended down 2.02% and 1.82%, respectively.
Sector heavyweights Coles (ASX:COL), Wesfarmers (ASX:WES), and Woolworths (ASX:WOW) were painted with the same black brush as Walmart and Target in the USA and gave up 3.51%, 3.69%, and 6.15%.
However, the Australian Agricultural Company (ASX:AAC) was a big winner in the sector and ended the week up 8.84% on strong beef demand.
Woolworths made an offer to buy 80% of online retailer MyDeal (ASX:MYD) for about A$218 million after the underwhelming performance of its own online initiatives.
The MyDeal stock closed the week up a massive 67.5%.
ASX Financials Sector (ASX:XFJ)
The Financials Sector (ASX:XFJ) slid into the red at 0.09%.
Banking majors Westpac (ASX:WBC), ANZ (ASX:ANZ), and National Australia Bank (ASX:NAB) ended the week down 2.74%, 0.39%, and 1.09% while Commonwealth Bank (ASX:CBA) ended up 1.23%.
While second-tier bank Bendigo-Adelaide (ASX:BEN) ended flat, Bank of Queensland (ASX:BOQ) gained 0.67%.
Wealth managers Magellan Financial (ASX:MFG), Platinum Asset Management (ASX:PTM), and AMP Ltd. (ASX:AMP) closed in the red at 7.17%, 5.16%, and 3.72% while insurers IAG (ASX:IAG) and QBE Insurance (ASX:QBE) suffered the same fate closing negatively by 2.47% and 1.66% through Suncorp (ASX:SUN) ended up 1.84%.
Investors cold-shouldered Magellan despite the news of a $75 million investment by Barclays in Magellan-backed financial services company Barrenjoey.
ASX Real Estate Sector (ASX:XPJ)
The Real Estate Sector (ASX:XPJ) was yet again pressured by rate hikes and lost 0.39% on-demand apprehensions.
Sector majors, both retail-specific and industrial-focused players including Dexus Property (ASX:DXS) and Goodman Group (ASX:GMG) all closed flat or negative.
ASX All Technology Sector (ASX:XTX)
The ASX All Technology Sector (ASX:XTX) had a roller-coaster week which saw it go down by 3.5% and then bounce back to end 0.62% in the green.
Platform companies REA Group (ASX:REA) and CarSales.com (ASX:CAR) closed lower by 0.61% and 2.37% while SaaS companies Xero (ASX:XRO) and WiseTech Global (ASX:WTC) ended mostly flat. Nuix (ASX:NXL) and Appen (ASX:APX) lost 4.33% and 0.61% respectively.
On the other hand, semiconductor and data center companies Altium (ASX:ALU) and NextDC (ASX:NXT) were back to their winning ways and closed higher by 5.26% and 5.72%, respectively.
Lastly, BNPL players were a mixed lot – Block (ASX:SQ2) ended up 5.99% while peers Zip Co. (ASX:Z1P) and MoneyMe (ASX:MME) declined 9.36% and 1.23%.
Block received analyst (and investor) love following its presentation to US investors last week.
However, Zip Co has been unable to recover from its Q3 report and news of escalating credit losses.
ASX Healthcare Sector (ASX:XHJ)
The ASX Healthcare Sector (ASX:XHJ) slipped into the red by 0.74%.
Healthcare providers Ramsay Healthcare (ASX:RHC) and Fisher & Paykell (ASX:FPH) were a mixed bag for the week has risen 1.65% and losing 1.91% respectively.
Medical equipment makers Cochlear (ASX:COH), Sonic Healthcare (ASX:SHL), and Resmed CDI (ASX:RMD), ended 0.32%, 1.7%, and 1.08% in the red while CSL Limited (ASX:CSL) closed up 0.69%.
Among biotech companies, Polynovo (ASX:PNV) and Mesoblast (ASX:MSB) both lost 4.33% and 1.55%, however, Imugene (ASX: IMU) rocketed 14.29% higher after it announced the commencement of human trials for its tumor-fighting oncolytic virus drug.
ASX Utilities Sector (ASX:XUJ)
The Utilities Sector (ASX:XUJ) continued to outperform as a safe haven in these volatile times, putting on 3.24% for the week.
While sector majors APA Group (ASX:APA) and AGL Energy (ASX:AGL) gained 7.32% and 2.87%, Origin Energy (ASX:ORG) closed down by 0.29%.
Rumors are swirling around APA as a potential takeover target, with Global Investment Partners named as a potential suitor.
ASX Telecommunications Sector (ASX:XTJ)
Lastly, the ASX Telecommunications Sector (ASX:XTJ) closed slightly lower at 0.48%.
Sector majors Telstra (ASX:TLS) and TPG Telecom (ASX:TPG) ended up 0.25% and down 1.32% while smaller contemporaries Uniti (ASX:UWL) and Chorus (ASX:CNU) closed down 0.2% and up 1.69%, respectively.
Telecom infrastructure provider Spark Infrastructure (ASX:SPK) ended down 2.03%.
This Week In ASX Stocks
There are no major earnings reports due next week other than agriculture company Elders (ASX:ELD), which is due to report on Monday.
| Name | Symbol | Date | Issue Size | Operations |
| --- | --- | --- | --- | --- |
| Bellavista Resources | BVR | 25th May | A$6.5 Million A$0.20/share | Mining and Exploration of Base and Exotic Metals in West Australia |
| Nordic Nickel | NNL | 25th May | A$12 million A$0.25/share | Nickel Mining and Exploration in Finland |
| Oceana Lithium | OCN | 27th May | A$6 million A$0.20/share | Mining and Exploration of lithium assets in Brazil and Australia |
| TG Metals | TG6 | 26th May | A$6 million | Mining and Exploration of lithium, nickel and gold in West Australia |
Economic and Market Outlook
The week started with US markets flattering to deceive amidst a brief bear market rally that was unfortunately short-lived.
Fed Chair Jerome Powell continued his determined and hawkish pronouncements against inflation, which spooked markets.
Though April retail sales growth of 0.9% in the US calmed the market's 'recession' nerves, it strengthened the Fed's hand with respect to rate hikes.
Furthermore, markets were shaken by underwhelming earnings reports from retail majors Walmart, Target, and Home Depot that showed they were struggling with slowing demand, inflation, and supply constraints.
Minutes from the ECB's April meeting and the RBA echoed similar concerns given inflation's runaway train.
The RBA meeting showed a "do what it takes" approach to reign in inflation and bigger rate hikes that are clearly on the table for June and July.
Though the ABS' Australian wage growth figures of 2.4% in April against expectations of 2.5% were not received too well, future prints that show low unemployment (<3.8%) and strong wage growth could force the RBA's hand on aggressive rates, according to analysts.
Meanwhile, the Australian election seems to have triggered a "seismic shift" in the country's politics following the Labor Party's victory on Saturday, with the ruling coalition sidelined by voters after almost a decade of running the country's fortunes.
The win by the left-leaning party, led by Anthony Albanese, may be viewed somewhat bearishly by the markets on Monday.
China was front-and-centre, however.
Global markets appeared to welcome that Shanghai's COVID situation seemed to be easing with a gradual reopening underway.
Also, the PBoC (People's Bank of China) overshot expectations with a 15 basis-point cut to the interbank rate to stimulate the economy and reiterated plans of heavy infrastructure spending moving forward.
However, the market was rocked on its heels by the extent of damage that the Chinese economy suffered from zero-COVID given that retail sales slumped a massive 11.1% against expectations of 5%-6%.
The PBoC also cut 20-year mortgage rates by 20 basis points for the first time since 2014 to stimulate its ailing real estate sector.
Clearly, the sector's crisis seems to be far from resolved after its third-largest developer, Sunac, which has about US$11 billion of offshore debt and other onshore debt, followed in the footsteps of Evergrande, Fantasia, and Kaisa into default.
This is worrisome as Sunac was considered to be one of the stronger companies in the sector with a reputation for good management and debt repayment.
The real estate sector has seen its market capitalization depleted by 80% over 2021, which is a huge gut punch to the Chinese economy given its size in proportion to GDP.
Home sales data too painted a grim picture with April sales down 50% YoY, potentially creating a problem for bond payments of US$14.3 billion coming due in the sector over the next couple of months.
These have ramifications too for Australia's commodities sector because the Chinese construction sector is a major user of exports like copper, iron ore, nickel, and coal.
Next week, on Tuesday, BoE Governor Bailey addresses the media, followed by the UK's Composite, Manufacturing, and Services PMI data.
On Wednesday, the US publishes New Home Sales and Core Consumer Durable Goods Orders for April while the Reserve Bank of New Zealand announces its Interest Rate Decision and addresses the media.
On Thursday, Crude Oil Inventories, FOMC Meeting Minutes, Initial Jobless Claims, and Q1 QoQ GDP are significant data points from the US.
Lastly, on Friday, the US reports Pending Home Sales for April (MoM) while Australia publishes its MoM Retail Sales for April.
Forex Outlook
AUD/USD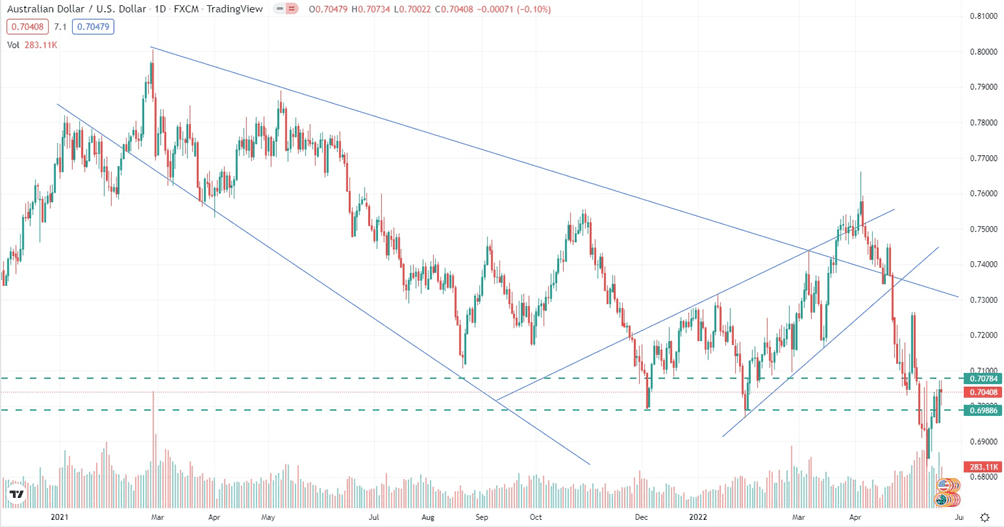 AUD/USD closed the week at 0.70408, a shade below the previous weekly close of 0.70706.
However, it charted a mostly bullish trajectory during the week, bolstered by Chinese moves to cut its interbank and mortgage rates to revive the economy in general and the real estate sector in particular.
Given that the resource-laden sectors of Australia are joined at the hip to the Chinese economy, these stimulatory moves by China improve the risk-on allure of AUD/USD.
Australia reported that its jobless rate fell to 3.9% in April, a 50-year low.
However, data also showed that only 4,000 jobs were created and that people worked longer hours.
"Given the continued strength in demand and limited additional domestic supply of workers (including the slow recovery in inward migration), it is likely that wages growth will accelerate from here," said KPMG senior economist Dr. Sarah Hunter.
Moreover, the minutes of the RBA's latest meeting showed the heightened possibility of a 40 bps rate hike, thus helping along with AUD/USD.
Furthermore, the US Dollar Index has been weak through most of last week in tune with a pullback in benchmark yields and entering a correction after momentarily breaking the 105 level – its highest level since December 2002 – after six successive weeks of gains.
These factors are bullish for the AUD/USD, but the pair could be negatively impacted by the Labor Party's win in the Australian election.
AUD/NZD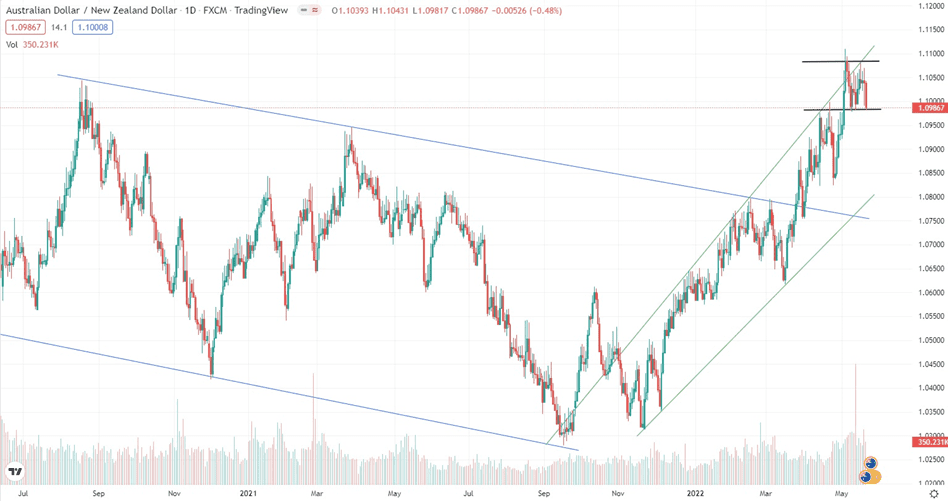 AUD/NZD ended the week at 1.09867, well below the previous week's close of 1.10320.
The pair is vacillating in a rectangle pattern and more clarity on the direction will emerge after the RBNZ rate decision next week.
Analysts expect the RBNZ to hike by 50 basis points to 2%, and at a trajectory that will ultimately reach 3.4%.
Meanwhile, the pair could also be under pressure following the victory of the left-leaning Labor Party in the Australian election.
Technically, AUD/NZD could fall out of the rectangle and test the support at 1.09500.