The Australian market continued its winning streak this past week marked by the swearing-in of Prime Minister Anthony Albanese and solid retail spending in April.
Other tailwinds included a sharp cut to China's loan prime rate in order to stimulate economic activity, which by extension led to gains for domestic companies that export to China.
The ASX200, ASX300, and Ordinaries ended the week up 0.52%, 0.44%, and 0.30%, respectively.

Last Week In ASX Stocks
ASX Materials Sector (ASX:XMJ)
The ASX Materials Index (ASX:XMJ) was a solid outperformer gaining 1.78% for the week.
As mentioned above, signs of stimulus in China boosted the country's flagship metals and mining sector has given China's importance as a buyer of commodities.
Heavyweights BHP (ASX:BHP), Rio Tinto (ASX:RIO), and Mineral Resources (ASX:MIN) ended 2.73%, 4.4%, and 0.04% up while Fortescue Metals (ASX:FMG) and South32 (ASX:S32) lost 5.34% and 0.63%respectively.
According to a news report, Fortescue could face paying traditional owners millions of dollars in a native title compensation claim.
New Energy/Clean Tech miners IGO (ASX:IGO), Pilbara Minerals (ASX:PLS), and Allkem (ASX:AKE) closed higher by 2.54%, 1.22%, and 4.87% while Lynas Rare Earths (ASX:LYC) ended lower by 2.29%.
Gold miners Newcrest Mining (ASX:NCM) and Northern Star Resources (ASX:NST) ended lower by 3% and 3.58% following softening spot gold prices over the last three days of the week.
ASX Energy Sector (ASX:XEJ)
The ASX Energy Sector (ASX:XEJ) was up 1.9% for the week as oil continued to trend upwards.
Oil majors Woodside Energy (ASX:WDS), Beach Energy (ASX:BPT), and Santos (ASX:STO) closed up 3.59%, 0.92%, and 1.67%.
On the flip side, coal heavyweights closed largely in the red with New Hope Coal (ASX:NHC), Stanmore Resources (ASX:SMR), Coronado Global (ASX:CRN), and Whitehaven Coal (ASX:WHC) closing lower by 4.28%, 7.17%, 1.32%, and 2.47%; however, Yancoal (ASX:YAL) was the only standout, gaining 4.48%, likely on the back of a Reuters report that said the company's parent Yankuang Energy Group was mulling a $1.8 billion buyout at $3.60 per share of the remaining 37.7% of Yancoal that it did not already own.
ASX Industrials Sector (ASX:XNJ)
The ASX Industrials Sector (ASX:XNJ) was slightly down at 0.70% for the week.
Though industrial commodities makers Boral (ASX:BLD) and ADBRI (ASX:ABC) closed higher by 2.68% and 0.36%, Brickworks (ASX:BKW) ended lower by 3.47%. Industrial heavyweights Brambles (ASX:BXB), Amcor CDI (ASX:AMC), Reliance Worldwide (ASX:RWC), and Reece (ASX:REH) closed down by 3.43%, 0.27%, 2.04%, and 1.49%.
Infrastructure companies Transurban Group (ASX:TCL) and Qube Holdings (ASX:QUB) ended up at 0.07% and 0.34%. Qantas (ASX:QAN) and Air New Zealand (ASX:AIZ) closed 0.73% and 3.23% down despite strong retail spending.
Agri-chemical company Nufarm (ASX:NUF) slumped 7.41% after strategic partner Sumitomo Financial dumped its 15.9% stake due to the company's unsatisfactory performance.
ASX Financials Sector (ASX:XFJ)
The Financials Sector (ASX:XFJ) had a good week ending higher by 1.31%.
Major banks Commonwealth Bank (ASX:CBA), Australia New Zealand Bank (ASX:ANZ), Westpac (ASX:WBC), and National Australia Bank (ASX:NAB) ended in the green at 1.89%, 0.27%, 2.42%, and 2.31% respectively; smaller peers Bendigo Adelaide (ASX:BEN) and Bank of Queensland (ASX:BOQ) followed suit, ending 1.92% and 0.4% in the green.
Wealth/Asset managers Magellan Financial (ASX:MFG) and AMP (ASX:AMP) fell 1.39% and 2.06% while Platinum Asset Managers (ASX:PTM) closed up 0.84%.
Insurance providers QBE (ASX:QBE) and IAG (ASX:IAG) closed positively by 0.32% and 1.76%, while SunCorp (ASX:SUN) gained 0.58%.
National Australia Bank (ASX:NAB) became the next of the big banks to hop on to the BNPL wagon after announcing NAB-Now-Pay-Later, its own installment product.
Consumer Discretionary Sector (ASX:XDJ)
The Consumer Discretionary Sector (ASX:XDJ) ended with slight losses of 0.38% despite record retail spending.
Entertainment/Hospitality companies Crown Resorts (ASX:CWN), closed higher by 0.39% while News Corp. (ASX:NWS), and Star Entertainment (ASX:SGR) were down 5.01% and 3.55%.
Tabcorp Holdings (ASX:TAH) spun off profitable businesses like lottery and Keno into another company – The Lottery Corporation Limited (ASX:TLC) – to unlock value with unprofitable ventures such as wagering and media continuing inside Tabcorp (ASX:TAH); Tabcorp closed down 81.25% resulting from the demerger.
Travel stocks Webjet (ASX:WEB) closed 0.84% up while Flight Center (ASX:FLT) and Corporate Travel Management (ASX:CTD) ended 0.97% and 2.74% down.
Retailers Harvey Norman (ASX:HVN), Temple and Webster (ASX:TPW), Kogan (ASX: KGN), and Nick Scali (ASX:NCK) closed 0.23%, 1.59%, 2.17%, and 0.34% down while JB-HiFi (ASX:JBH) closed up 1.06%.
Consumer Staples Sector (ASX:XSJ)
The Consumer Staples Sector (ASX:XSJ) had a brutal week, losing 2.20%.
Food producers GrainCorp (ASX:GNC), Tassal Group (ASX:TGR), and Bega Cheese (ASX:BGA) ended 2.17%, 1.63%, and 0.42% in the red while Costa Group Holdings (ASX:CGC) rocketed 5.07% after a strong trading update.
Dominos (ASX:DMP) closed lower by 3.32%, continuing on the downhill path that commenced in September 2021.
The stock has now lost nearly 40% over the past year. Nutritional food makers Bubs (ASX:BUB) and A2M Milk (ASX:A2M) had mixed fortunes – the former shot up 10.23%, while the latter sulked 2.27%.
Bubs (and President Biden) announced it will be shipping 1.25M cans of baby formula to address the shortage in the US.
Sector heavyweights Wesfarmers (ASX:WES), Woolworths (ASX:WOW), and Coles Group (ASX:COL) closed 0.38%, 2.87%, and 0.30% down.
ASX All-Technology Sector (ASX:XTX)
The ASX All-Technology Sector (ASX:XTX), down 2.67%, continued its losing streak.
Platform companies REA Group (ASX:REA), Carsales (ASX:CAR), and RedBubble (ASX:RBL) closed down by 0.96%, 0.97%, and 8.74%, respectively.
SaaS companies Xero (ASX:XRO), Nuix (ASX:NXL), WiseTech Global (ASX:WTC), and Appen (ASX:APX) ended lower by 2.12%, 1.60%, and 3.69% while Nuix (ASX:NXL) closed up 1.01%.
BNPL players Block (ASX:SQ2) and Zip Co. (ASX:Z1P) lost 3.91% and 5.52%, knocked back as a confluence of rising rates, increasing competition, and repricing of risk assets hit the segment.
However, semiconductor and data-centre firms Altium (ASX:ALU) and NextDC (ASX:NXT) closed down 3.91% and 0.91%, respectively.
ASX Real Estate Sector (ASX:XPJ)
The ASX Real Estate Sector (ASX:XPJ), for a change, had a green week and closed higher by 1.04%.
Industrial and logistics-focused players like Charter Hall Group (ASX: CHC) and Goodman Group (ASX:GMG) closed higher by 0.76% and 1.98% while retail-focused companies like Scentre Group (ASX:SCG) and Vicinity Centers (ASX:VCX) closed 2.27% and 0.81% up, respectively.
ASX Healthcare Sector (ASX:XHJ)
The ASX Healthcare Sector (ASX:XHJ) closed lower by 1.48%.
Healthcare providers Ramsay Healthcare (ASX:RHC), Fisher & Paykel (ASX:FPH), and Healius (ASX:HLS) lost 0.31%, 5.81%, and 0.82% respectively.
Health equipment makers CSL Ltd. (ASX:CSL) and Sonic Healthcare (ASX:SHL) closed down 0.98% and 1.06% while Cochlear (ASX:COH) and ResMed CDI (ASX:RMD) ended up 0.60% and 1.42%.
Biotech firms Polynovo (ASX:PNV), and Mesoblast (ASX:MSB) gave up some of the gains made in the last few sessions by closing down 6.84%, and 1.50%, respectively.
Immugene (ASX:IMU) slumped 9.52% despite a note from its chairman that said the company is "as strong as it has ever been in its history."
Nevertheless, Imugene has already lost over half its value during the past year.
ASX Telecom Sector (ASX:XTJ)
The ASX Telecom Sector (ASX:XTJ) closed was a similar story at 1.37% down for the week.
Telecom majors Telstra (ASX:TLS) and TPG Telecom (ASX:TPG) both ended lower by 0.89% and 3.02%.
Over the week, Telstra announced that it compensated 67,000 customers by paying A$11 million for improper service and maintenance.
Smaller contemporaries Uniti Group (ASX:UWL) and Aussie Broadband (ASX:ABB) ended 0.10% and 2.18% higher while Chorus (ASX:CNU) closed 2.10% down, and telecom infrastructure provider Seek Ltd. (ASX:SPK) lost 0.92%.
ASX Utilities Sector (ASX:XUJ)
Lastly, the ASX Utilities Sector (ASX:XUJ) lost 0.80%.
Sector heavyweights APA Group (ASX:APA) and Origin Energy (ASX:ORG) ended down 3.76% and 0.07% while AGL Energy (ASX:AGL) closed up 2.55%.
The war in AGL's board room regarding the demerger of generation and distribution intensified as institutional investor HESTA announced it would vote against the proposal, joining Atlassian founder Mike Cannon-Brookes.
The vote is due on June 15 with 75% of shareholders required to vote in favour for the demerger to proceed.
This Week In ASX Stocks
Biotech company Mesoblast (ASX:MSB) is due to report earnings on Wednesday.
Other than that no major earnings are due in the next week.
New Listings
No new listings are due to debut next week.
Market and Economic Outlook
Markets were relatively calmer this week after initial nervousness.
However, the three major US indexes gathered strength from Wednesday onwards to end one of the worst losing streaks in decades.
Markets turned upwards after FOMC meeting minutes highlighted key economic indicators such as slowing home sales/permits underscored that Fed's monetary policy actions against inflation may be working. Thereafter, falling yields pressured the US dollar.
Australia on the other hand had an eventful week, starting with the swearing-in of a new Prime Minister.
Over the week, consumer confidence jumped nearly 2% after declining almost 8% in the recent past.
Consumer confidence was likely boosted by low unemployment of below 4% while April retail spending came in at all-time high levels of just under A$34 billion, up 9.6% YoY, both factors giving the RBA ground to be more aggressive to tame inflation.
Inflation persists at 20-year highs of 5.1% while consensus points to 6% later in the year.
Markets expect rates to be hiked by 25 basis points at the upcoming June meeting with year-end expectations being as high as 2.5%.
This implies a 25%-30% increase in monthly mortgage payments. However, on the bright side, Australians are saved up well with cumulative cash savings of A$1.6 trillion.
In China, in a country-wide broadcast to officials, the CCP underscored its commitment to COVID-zero while warning that the impact of the lockdowns would be felt in the second quarter and that risks of a YoY contraction in GDP are very real.
However, the CCP also made it clear that it will cumulatively push hard to reopen businesses and that its annual target of 5.5% might well be achieved.
Next week, the US markets are closed on Monday for the Memorial Day holiday.
China's all-important Manufacturing PMI and the Eurozone's May CPI is due on Tuesday.
On Wednesday, the US reports CB Consumer Confidence and ADP Non-Farm Payrolls for May, Australia declares its Q1 QoQ GDP, the UK publishes its Manufacturing PMI, and ECB President Lagarde addresses the press.
On Thursday, Australia reports MoM Retail Sales while the US posts Initial Jobless Claims, ISM Manufacturing PMI, and JOLT Job Openings.
Lastly, on Friday, the US publishes Crude Oil Inventories along with Non-farm Payrolls and the Unemployment Rate for May.
Forex Outlook
AUD/USD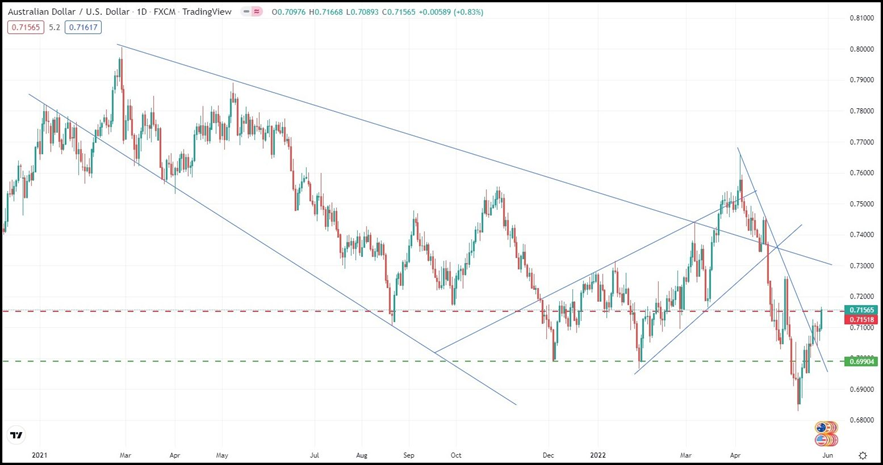 AUD/USD closed the week at 0.71565, well above the previous weekly close of 0.70408.
The pair was well-supported during the week by US dollar weakness following the FOMC minutes, and at home, very high retail spending during April and solid consumer confidence amidst an environment of record inflation and low unemployment.
It is significant that the FOMC minutes seem to have ushered in a market expectation that the Fed may take it easy on its hawkish moves later this year.
The RBA is likely to keep up with its rate hikes based on a "take it as it comes" eye on key economic data in an effort to balance growth and inflation.
This could keep AUD/USD well-bid particularly if GDP data next week is good enough, all things considered.
A move above 0.71500 could indicate further bullishness for the Aussie.
AUD/NZD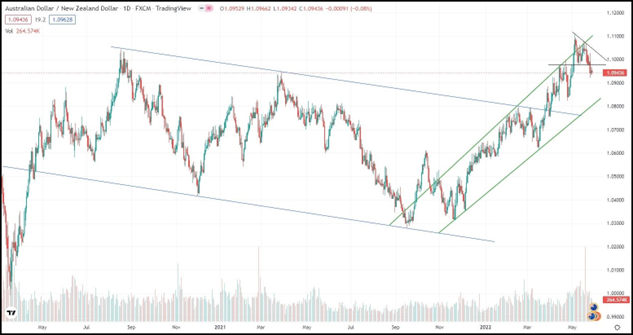 AUD/NZD ended the week at 1.09436, well below the previous week's close of 1.09867.
As expected, the pair declined out of a consolidated pattern, but the fall stopped at the support zone of 1.09500, albeit temporarily.
Last week, the RBNZ went all out in its war against inflation, hiking its official cash rate by a well-anticipated 50 bps to 2%, the highest level in six years.
RBNZ Governor Adrian Orr also hinted that more hikes would likely follow, implying larger and earlier increases might be needed in the face of inflation that could become persistent.
The rate trajectory is clearly more hawkish than neighbour Australia and raises a bearish flag on the trend for AUD/NZD. A fall to the level of 1.08500 is entirely possible.