The ASX closed the week deeply in the red in step with global markets after the RBA joined the BoE and the US Fed is implementing unprecedented rate hikes.
A lot of the pain inflicted on the local bourse in the second half of the week stemmed from a brutal sell-off in the US markets.
The ASX200, ASX300, and Ordinaries closed the week lower by 3.09%, 3.15%, and 3.33%, respectively.

Last Week In ASX Stocks
ASX Materials Sector (ASX:XMJ)
The ASX Materials Sector (ASX:XMJ) closed down 3.14% as rising rates threatened global growth, and in turn, demand for materials.
Mining majors BHP (ASX:BHP), Rio Tinto (ASX:RIO), South32 (ASX:S32), Fortescue Metals (ASX:FMG), and Mineral Resources (ASX:MIN) tanked 2.15%, 2.52%, 2.12%, 2.63%, and 1.12%.
Specialty miners IGO Ltd. (ASX:IGO), Pilbara Minerals (ASX:PLS), Vulcan Energy Resources (ASX:VUL), and Iluka Resources (ASX:ILU) ended down 4.60%, 0.37%, 7.23%, and 1.19%.
Even gold miners Newcrest Mining (ASX:NCM), Northern Star Resources (ASX:NST), and Evolution Mining (ASX:EVN) closed lower by 1.71%, 2.07%, and 4.51%, respectively, as the stampede for the exits spared no one, not even safe-haven assets.
ASX Energy Sector (ASX:XEJ)
The ASX Energy Sector (ASX:XEJ) was a relative outperformer this week at just 0.07% down for the week, ending almost flat.
This significant outperformance was likely due to the sector's inflation resilient nature and the EU's proposed ban on Russian oil by the end of the year.
Moreover, the sector is a big exporter of coal and was, therefore, buoyed by China's reassurance of serious stimulus measures.
Sector heavyweights Woodside Petroleum (ASX:WPL), Santos (ASX:STO), and Beach Energy (ASX:BPT) closed up 2.92%, 1.51%, and 2.16%.
Coal stocks New Hope Coal (ASX:NHC), Whitehaven Coal (ASX:WHC), Yan Coal (ASX:YAL), and Stanmore Resources (ASX:SMR) ended higher at 2.83%, 2.06%, 6.13%, and 8.86%.
ASX Financials Sector (ASX:XFJ)
The Financials Sector (ASX:XFJ) had a particularly volatile week after the RBA hiked rates on Tuesday.
Major banks decided to pass on the entire hike to variable-rate mortgage holders and other applicable lending.
Over the week, majors ANZ and NAB both reported after-tax earnings growth of 20% and 10.7% for 1H.
Nonetheless, the big four banks, Commonwealth Bank (ASX:CBA), National Australia Bank (ASX:NAB), Australia New Zealand Banking Corp (ASX:ANZ), and Westpac (ASX:WBC) closed the week down 0.68%, 1.83%, 0.85%, and 0.084%, respectively.
Financial Services major Macquarie Group (ASX:MQG) reported a solid full-year earnings number of A$4.7 billion (up 56% YoY); however, the stock ended down 8.86% for the week in a bleak macro environment.
Insurers IAG (ASX:IAG), QBE (ASX:QBE), and Suncorp (ASX:SUN) ended higher at 2.54%, 4.03%, and 0.44%, respectively, while wealth managers Magellan Financial (ASX:MFG) and Platinum Asset Managers (ASX:PTM) closed up 7.46% and down 0.82%, respectively.
Magellan was bid up by investors after its latest FUM report showed a decline in outflows and there was more clarity on leadership.
Lastly, mortgage companies Liberty Financial (ASX:LFG) and Genworth Financial (ASX:GMA) closed the week down 1.54% and flat, respectively.
ASX Industrials Sector (ASX:XNJ)
The ASX Industrials Sector (ASX:XNJ) closed the week lower by 1.36%.
Building and construction materials makers Boral (ASX:BLD), and Brickworks (ASX:BKW) ended the week down 6.21% and 3.53%, while ADBRI (ASX:ABC) ended higher by 3.09%.
Industrial majors Washington Soul Pattinson (ASX:SOL) closed down 0.77% while Amcor (ASX:AMC) and Brambles (ASX:BXB) closed up 6.24% and 0.43%.
Infrastructure majors Transurban Group (ASX:TCL) and Qube Holdings (ASX:QUB) ended down 1.04% and 5.41%.
Lastly, Qantas Airways (ASX:QAN) lost 6.62%, after it announced projections to return to profitability by FY24 and a buyout of Alliance Aviation for A$614 million.
ASX Telecom Sector (ASX:XTJ)
The ASX Telecom Sector (ASX:XTJ) closed down 2.5% as the prospects of higher rates would hit the capital-heavy sector.
Heavyweights Telstra (ASX:TLS) and TPG Telecom (ASX:TPG) ended up 0.13% and 3.88% down, respectively.
Smaller players Chorus (ASX:CNU) and Uniti Group (ASX:UWL) ended down 1.66% and up 0.51%, while Spark Infrastructure (ASX:SPK) ended lower at 1.33%.
ASX Healthcare Sector (ASX:XHJ)
The ASX Healthcare Sector (ASX:XHJ) closed lower by 2.59%, again due to the prospective increase in the cost of capital from rate hikes.
Healthcare providers Ramsay Healthcare (ASX:RHC) and Fisher Paykell (ASX:FPH) closed down 2.82% and up 1.27%, respectively.
Equipment makers Cochlear (ASX:COH), Sonic Healthcare (ASX:SHL), and CSL Ltd. (ASX:CSL) closed down 3.07%, 0.99%, and 0.26% while Resmed (ASX:RMD) ended up 1.44%.
Biotech companies took a beating as investors fled high-risk assets, thus Immugene (ASX:IMU) and Mesoblast (ASX:MSB) ended down 14.29% and 3.33%, respectively.
However, Immugene's slide had more to do with the termination of its supply agreement with Merck Sharp and Dohme.
ASX All Technology Sector (ASX:XTX)
The ASX All Technology Sector (ASX:XTX) took a heavy, rate-hike-rattled beating due to its high-risk, high-growth nature, declining 7.26% for the week.
Platform companies REA Group (ASX:REA) and Carsales.com (ASX:CAR) ended lower at 12.47% and 6.86% down for the year.
BNPL players MoneyMe (ASX:MME), and Zip Co. (ASX:Z1P) ended lower by 13.36% and 4.17% while Block (ASX: SQ2) closed up by 1.75%.
SaaS players Xero (ASX:XRO) and Nuix (ASX:NXL) ended down 6.15% and 6.05% while Appen (ASX:APX) closed higher by 2.97%. Life360 continued its brutal losing streak, slipping 17.87% to a two-year low after it cancelled plans for a US IPO.
RedBubble (ASX:RBL) also lost considerably at 4.97% down for the year. Datacenter and semiconductor players NextDC (ASX:NXT) and Altium (ASX:ALU) closed down 5.53% and 4.13%.
ASX Utilities Sector (ASX:XUJ)
The Utilities Sector (ASX:XUJ) continued to be an outperformer in these times of volatility at just 0.30% down for the week.
Sector heavyweights APA Group (ASX:APA) and AGL Energy (ASX:AGL) closed down 0.35% and 4.25% while Origin Energy (ASX:ORE) closed up 2.63%.
AGL was in the news after billionaire Atlassian founder Mike Cannon bought an 11.3% stake in the company, becoming its largest shareholder.
Cannon is determined to block the company's proposed demerger of its electricity production and distribution business as he disagrees with the board on the rationale for the transaction.
ASX Real Estate Sector (ASX:XPJ)
The Real Estate Sector (ASX:XPJ) closed lower by 5.73%, due to the sector's heavy debt exposure and the prospect of high rates hurting margins, depressing asset prices, and increasing the cost of capital, apart from already high inflation.
Sector majors Goodman Group (ASX:GMG), Mirvac Group (ASX:MGR), Scentre Group (ASX:SCG), and Dexus (ASX:DXS) closed lower 9.57%, 5.45%, 4.10%, and 1.00%, respectively.
Retail asset-heavy companies were padded by March retail sales jumping 1.6% MoM and 9.4% YoY led by east-coast stockpiling.
ASX Consumer Staples Sector (ASX:XSJ)
The Consumer Staples Sector (ASX:XSJ), like other defensive assets, was a relative outperformer at 0.64% down for the week.
Food manufacturers were a mixed bag with grain and basics producers GrainCorp (ASX:GNC) and Elders (ASX:ELD) ending higher at 1.53% and 0.42%; however, Tassal Group (ASX:TAL) and Bega Cheese (ASX:BGA) closed lower by 2.13% and 1.60%.
Processed food producers A2 Milk (ASX:A2M) and Bubs (ASX:BUB) ended down 4.54% and 10.71% as investors fretted over supply chain issues, margin pressures, and lockdowns affecting the Chinese market.
F&B brands Dominos (ASX:DMP) and Costa Group (ASX:CGC) dropped 9.88% and 9.70% over the week.
Most importantly, sector heavyweights Wesfarmers (ASX:WES) and Coles Group (ASX:COL) ended up 1.35% and 0.54% while Woolworths (ASX:WOW) dropped 0.31%.
Woolworths stated in its trading update of A$11.7 billion for the quarter that supply chain and inflation remained serious concerns for the company.
ASX Consumer Discretionary Sector (ASX:XDJ)
Finally, the Consumer Discretionary Sector (ASX:XDJ) closed down 2.59% for the week.
Travel stocks Webjet (ASX:WEB), Corporate Travel Management (ASX:CTD), and Flight Center (ASX:FLT) closed down 6.5%, 10.88%, and 8.64%.
CTD saw selling from investors following the release of its Q3 trading update.
Hospitality and Entertainment stocks Crown Resorts (ASX:CWN), Star Entertainment (ASX:SGR), and Tabcorp Holdings (ASX:TAH) closed lower by 0.47%, 3.17%, and 4.28%.
Retailers Kogan (ASX:KGN), Temple and Webster (ASX:TPW), and Harvey Norman (ASX:HVN) dropped 6.77%, 21.68%, and 7.08%, respectively.
Investors voted with their feet on Temple and Webster's proposal to expand into the home improvement market.
Electronics retailer JB-HiFi (ASX:JBH) broke down 6.92%, after providing a strong trading update, but refrained from providing profit guidance.
This Week in ASX Stocks
There are four major earnings announcements scheduled for next week.
Starting Monday with banking major Westpac (ASX:WBC) declaring 1H results, followed by wealth manager Pendall Group on Wednesday and GrainCorp (ASX:GNC) on Thursday.
Lastly, on Friday, software heavyweight and market darling Xero will declare its half-year FY22 results.
Economic and Market Outlook
This was a particularly volatile week in markets from a macroeconomic standpoint.
On Tuesday, the RBA surprised the markets when it hiked rates for the first time in 11 years but did so by a bigger margin than the consensus among analysts and economists of 15 basis points.
However, the RBA hiked 25 basis points in a bid to reign in 25-year high inflation.
Over the week, Australian markets were greeted by strong retail spending trends in March.
However, building permits for March fell a sharp 18.5% YoY, following a 42.0 percent rise in February.
The drop is a matter of concern given Australia's hitherto hot housing market amidst rising rates.
The US markets had a roller coaster ride of their own.
On Wednesday, Fed Chair Jerome Powell unveiled a widely expected 50 basis-point rate hike and put to rest any speculation regarding a possible 75-point hike over the rest of the year.
His statements sent markets soaring in the last minutes of the session by nearly 3%.
However, sentiment quickly reversed the next day with a 3+% drop in major indexes and a 5% decline on the tech-heavy NASDAQ.
On Friday, the US markets were slightly calmed by a better than expected jobs report but still ended in the red.
Meanwhile, the UK followed suit with its fourth consecutive rate hike to 1%, after inflation hit a worrying 7% and the BoE highlighted recession risk later in the year.
The Euro-zone was mostly quiet over the week but announced plans to cut Russian oil imports to zero later in the year.
However, it is not clear if they will be able to make good on these promises as Hungary equated the plan to dropping an atomic bomb on its economy.
Next week, on Wednesday, we have ECB President Lagarde's Press Conference followed by the all-important US MoM Core CPI for April.
On Thursday, the UK reports YoY, QoQ, and MoM GDP for Q1 along with Manufacturing GDP while the US publishes Crude Oil Inventories, Producers Price Index (PPI), and Initial Jobless Claims.
Forex Outlook
AUD/USD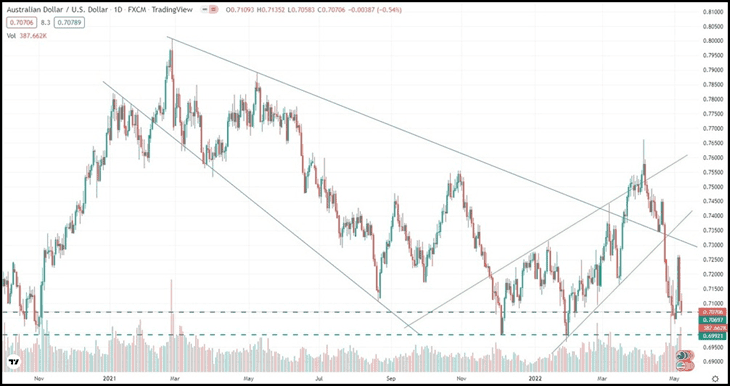 AUD/USD closed the week at 0.70706, marginally above the previous weekly close of 0.70597.
During the week, as expected, the pair bounced off a support band after the FOMC rate hike, and global markets entered a relief rally.
However, this up move was a flash in the pan, and risk assets, the very next day, were mauled by fresh strength in the US Dollar.
The Dollar Index, at 103.658, is threatening to break out into new multi-year high territory.
It is a moot point whether the Aussie, despite the new hawkish actions by the RBA, will be able to counter the US dollar, which is likely to have the upper hand.
It appears to be only a matter of time before the AUD/USD breaks below 0.70000, and thereafter 0.69920.
AUD/NZD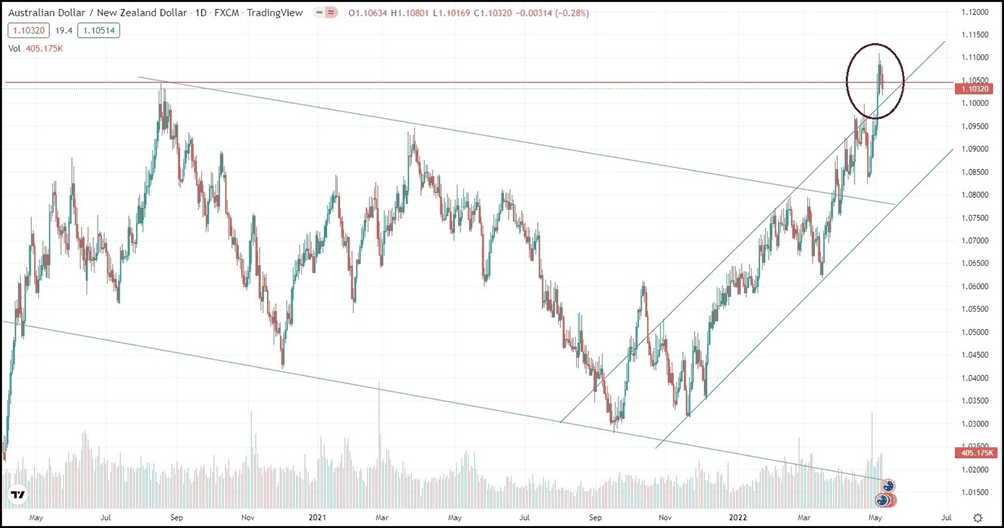 AUD/NZD ended the week at 1.10320, well above the previous week's close of 1.09313.
Despite strong employment and wage numbers out of New Zealand, the Aussie seized the advantage with the larger-than-expected rate hike from the RBA, which in turn telegraphed the Australian central bank's hawkish trajectory.
In its latest Financial Stability Report the RBNZ warned that "a larger correction" in house prices remains a possibility that could "significantly reduce housing wealth and lead "to a contraction in consumer spending."
The AUD/NZD has broken out of its rising channel (see maroon circle) and is held back only by the 1.10500 resistance line stemming from the August 2020 top.
The pair could consolidate around that line and the upper channel line until the RBNZ's rate review on May 25.