Today we will look at why we think Breville shares (ASX:BRG) have strong upside potential in our BRG share price forecast and analysis.
Breville Group Ltd (ASX:BRG) is one of Australia's very few global consumer brands.
The company has carved a reputation for itself with its high-quality and attractively designed appliances.
Breville shares flourished despite last year's pandemic due to consumers having to stay at home.
With more people cooking in, more appliances got ordered.
Unsurprisingly, the company posted a record financial performance over the past 12 months.
With the shift in the way we work globally, the company is planning to capitalise on it by shifting focus to high growth and global expansion.
Even on the longer horizon, Breville's stock has been a great performer having gone up 900%+ over the past decade, far outperforming the ASX 200 index.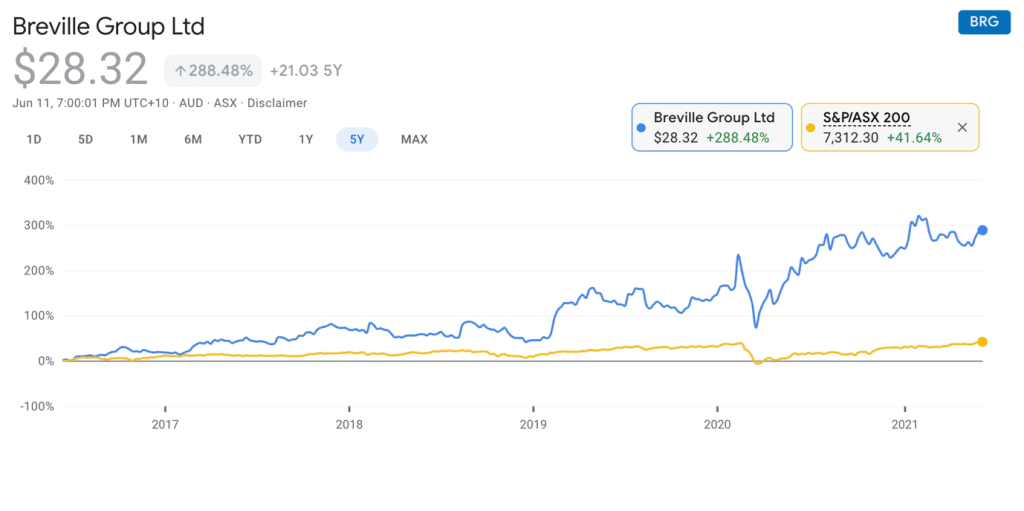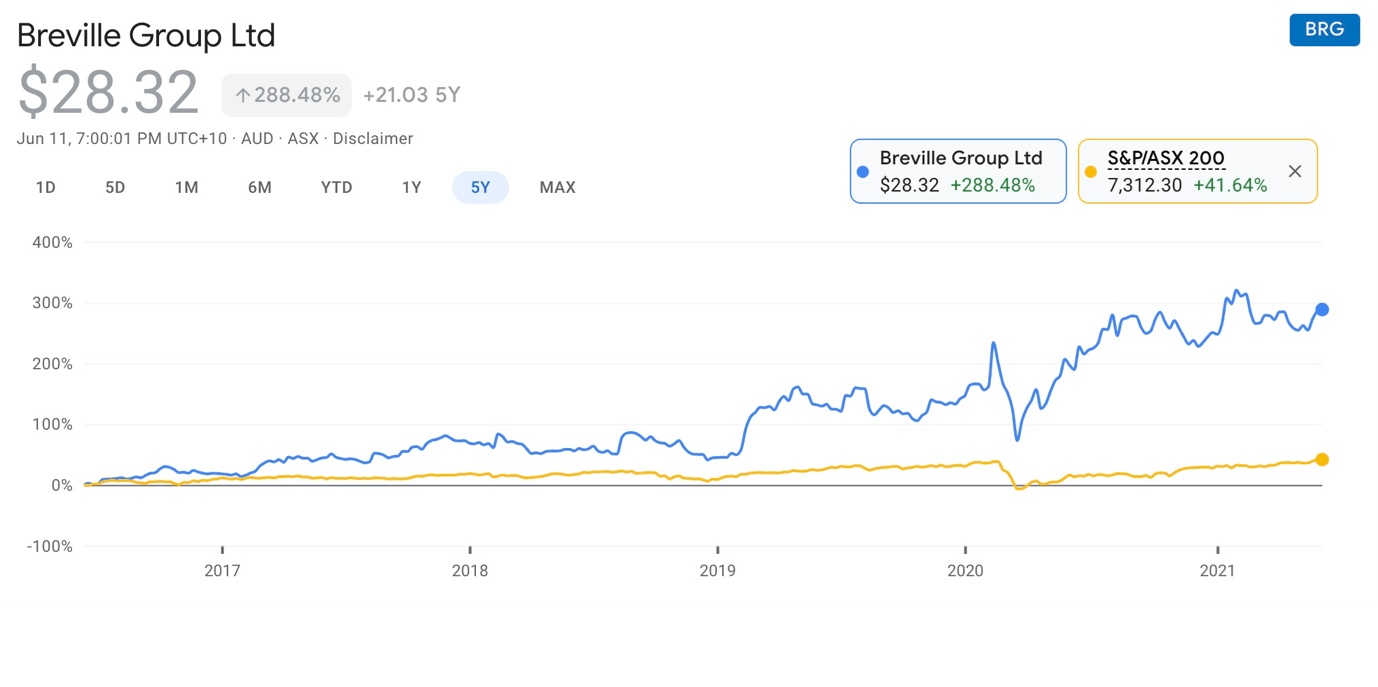 Breville (ASX:BRG) is a manufacturer of home appliances.
The group produces toasters, ovens, coffee makers, microwaves, juicers, blenders, and commercial-grade appliances.
While many major appliance manufacturers have outsourced manufacturing to China over the past two decades, Breville has stayed true to its heritage of Australian manufacturing, a decision that has helped the brand maintain its reputation and quality.
The company follows an industrial design philosophy with most products made of stainless steel.
The company's biggest markets are North America followed by Australia and New Zealand (ANZ), Europe, and the rest of the world.
Breville operates two business segments – Global Product and Distribution.
Under Global Product, the brand sells products produced and developed by Breville (ASX:BRG) in Australia, while sales are made directly or through third parties.
In Distribution, Breville operates under a licensing or distribution agreement.
Products in the distribution segment are not developed and manufactured by Breville, but branded and sold as Breville products or sister brands.
Great Business Model With Secular Tailwinds But Forex Exposure Could Hurt Financials
Breville's share price has received a massive tailwind from COVID.
As consumers were forced indoors, they increased spending on home appliances.
The company has been particularly successful in the coffee-maker segment over the last few years.
The segment got a boost because coffee-lovers who usually obtained their coffee at work, or from cafés, were forced by the pandemic to buy equipment for brewing coffee at home.
The group also recorded strong sales across other segments because work-from-home led to a spike in home-cooking and boosted demand for appliances, particularly those in the premium category.
Furthermore, the company has successfully capitalised on the goodwill and brand image created by its high-quality, well-designed big-ticket appliances for marketing products in the distribution segment.
Products in this segment are usually low-volume because of their niche nature (eg. air fryers) or lower-tier, sister brands where margins are slim and hence R&D ROI is low.
This strategy has helped the company compete in lower-tier segments in its Distribution business.
However, exposure to forex volatility is a continuing threat to Breville shares.
Any weakening of the US Dollar due to COVID-induced money printing and fears of inflation could lead to a negative impact on the company's financials.
Since North America accounts for 75% of the company's revenue, a depreciation in the US Dollar could hurt reported financials.
Temporary Supply Chain Disruptions but Big Growth Opportunities Ahead
While the BRG share price has had a stellar year, the company was forced to hold excess inventory over the past few quarters as a hedge for supply chain disruptions from COVID.
Recently, the company also added to its UK inventory citing Brexit as a threat to its supply chain.
In May last year, the company raised external funding of A$104 million for the first time since its IPO to hedge against supply chain disruptions from COVID by building up inventory.
However, the pandemic has persisted far longer than expected and the company has entered the second half of FY21 with tight inventory in all markets.
As a result, Breville (ASX:BRG) reported record-high payables of A$228 million (up 31% YoY).
Prolonged pandemic-related disruption could cause the company to run into stock shortages.
Additionally, the recent price hikes in shipping costs (up to 5 times higher), tonnage scarcity, and route disruptions could also raise the cost of imports.
Note that CFO Martin Nicholas stated on the 1H21 call the "heavy impact of freight costs" on earnings.
On a positive note, the BRG share price has excellent headroom for growth.
The pandemic has induced a structural shift from office working to work-from-home.
As more people shift to work-from-home, household cooking activity will increase over time and so will the demand for high-quality cooking appliances.
According to a Morgan Stanley report cited by the company in an investor presentation, Breville share price has a A$9.7 billion potential opportunity for revenue growth.
The figure was extrapolated from household and GDP per capita figures from the company's biggest markets.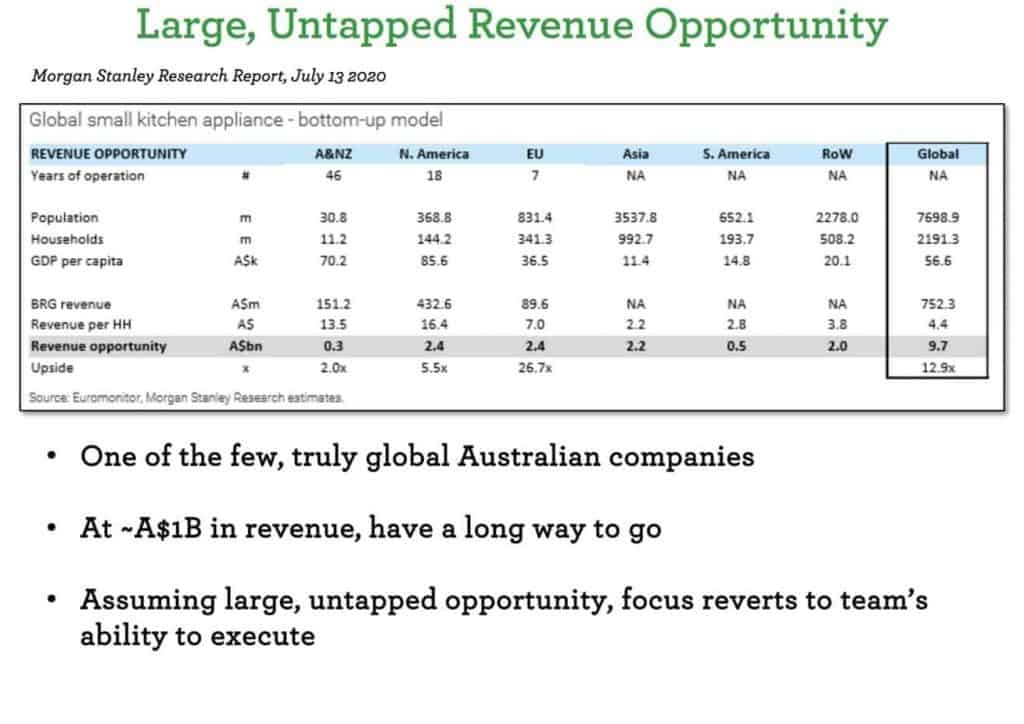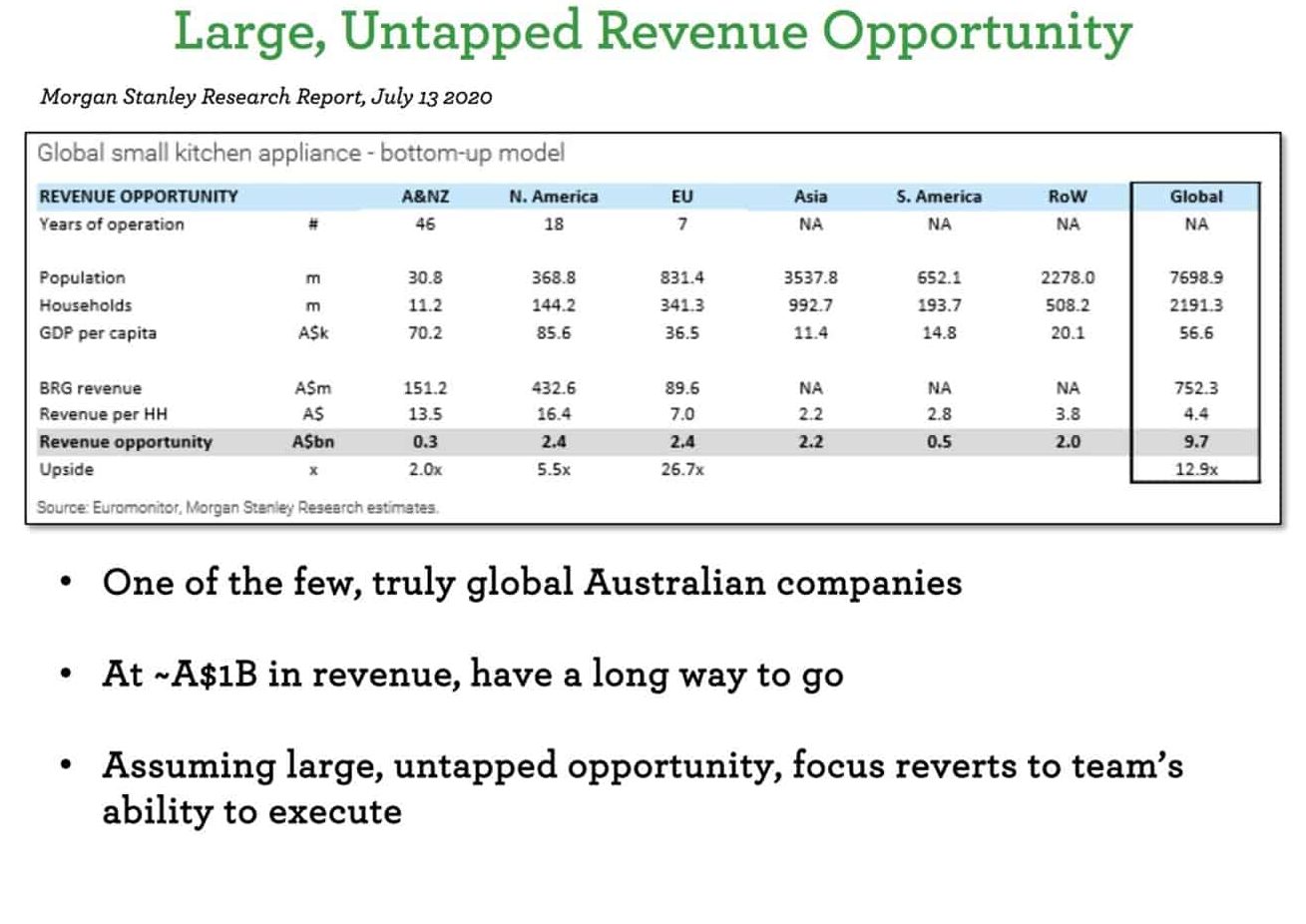 Source: May'21 Investor Presentation
Stellar Financial Performance Despite Pandemic But Moving Forward It Is Growth Over Profits
Even before the pandemic, the company has been a spectacular growth story with double-digit growth in EBIT and dividends over the past three years.
In the first half, the company reported revenues of A$711 million (up 28% YoY) despite the pandemic.
All regions delivered double-digit growth with solid gains across all categories including beverage, cooking, and food preparation.
Europe, Middle East, and Africa (EMEA) regions led from the front with revenue up 56.1%, followed by the Asia Pacific (+49.7%) and the Americas (+29.1%).
Annual EBIT growth surged from 10% in FY18 to 16.2% in FY20 while FY21 growth is expected to be in the region of 20%.
Based on Breville's guidance and 1H21 results, the company is expected to achieve a record EBIT of A$136 million, up 20% YoY, in FY21.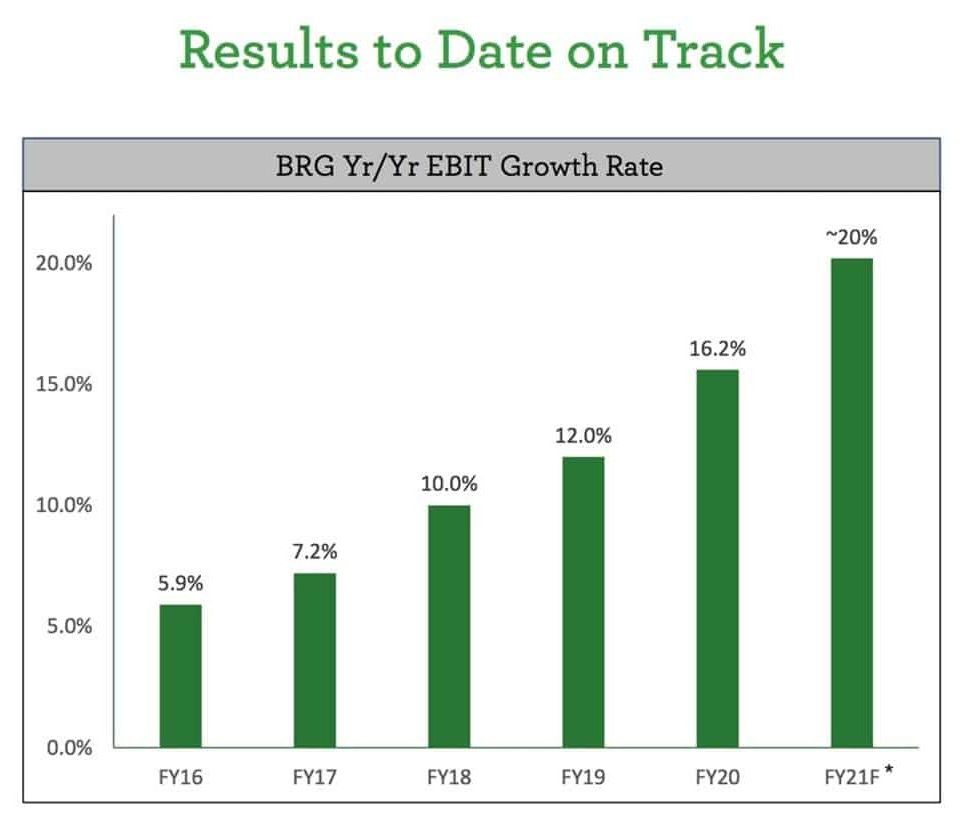 * Estimate based on current EBIT guidance of $136m for FY21.
Source: May'21 Investor Presentation
Net profit after tax in 1H21 was A$64.2 million (up 29.2% YoY).
Assuming the company's 2020 net profit margin, the company should post a profit of almost A$90 million, up 20% YoY in FY21.
Lastly, Breville shares enjoy solid free cash flows (FCF) and over the past 3 years, the company has consistently generated 60+% of EBIT as FCF.
Nevertheless, Breville (ASX:BRG) recently announced that it will reduce its dividend payout ratio from 70% to 40% over the next three years to fund growth and geographical expansion.
The company announced that it will be entering Portugal, Mexico, and Italy in 1H22, and plans to increase R&D and marketing expenditure to 12% of EBIT (the average over the past six years has been about 9.6%).
Investors should therefore expect the company to focus on growth and investment rather than the bottom line over the next few years.
We will compare Breville shares to De'Longhi (BIT:DLG), an Italian appliance manufacturer focused on coffee appliances (which is one of Breville's biggest segments), and LG Electronics (KRX:066570), a Korea-based electronics manufacturer that is one of the biggest appliance companies in the world.
| | | | |
| --- | --- | --- | --- |
| Metric | Breville | De'Longhi | LG |
| P/E (TTM) | 47.88 | 21.88 | 14.78 |
| P/Sales | 3.54 | 2.49 | 0.39 |
| ROE (5 year average) | 20.84% | 16.61% | 7.49% |
As you can see, Breville shares are by far the most expensive stock amongst the three in terms of price multiples.
That is primarily due to the BRG share price rally over the past couple of years.
However, the Breville shares have sustained higher ROE over its peers over the past five years and that trend is likely to continue over the next few years due to significant growth headroom and investment in expansion.
Furthermore, De'Longhi is solely focused on coffee appliances which is a growing but limited market and LG is a conglomerate that doesn't have the same growth prospects.
While the stock is more expensive, we believe that Breville shares are still an excellent growth story in the making with strong potential upside in the BRG share price as opposed to its competitors which have limited growth opportunities.
Conclusion
While the stock is expensive compared to peers, the company enjoys solid goodwill and its management has delivered good results.
However, investors should factor in lower dividends, rising shipping costs, higher R&D costs on product development, additional marketing costs from new territories, and currency headwinds.
Nevertheless, reported and projected profitability are both impressive, and the company's products have excellent growth potential given that home cooking is now far more prevalent than it was before the pandemic.
Further, Breville's (ASX:BRG) entry into new markets would give it a global presence and a cushion against volatility in any individual markets, thereby stabilizing the delivery of sales and profit.
Considering that the BRG share price is currently trading at a premium and fairly high PE, it may be wise to wait until a pullback in the overall market and wait for a temporary dip in the BRG share price before taking a position.