Today we'll take a look at why we think Hipages shares (ASX:HPG) have some great upside potential in our HPG share price forecast and analysis.
Hipages Group Holdings Ltd (ASX:HPG) is the holding company for a market-leading business that focuses on the Australian home improvement industry and uses technology, on the one hand, to optimize the way tradies build, manage and grow their businesses; on the other, it connects homeowners and commercial organizations with dependable tradies.
A "tradie" is a skilled manual worker operating in a particular craft or trade, for example, an electrician, plumber, carpenter, or painter.
Hipages is a potential beneficiary of massive latent demand for home improvements that is likely to emerge in Australia as lockdowns ease.
The HPG share price appeared to bottom out in March 2021 and has since erased its underperformance opposite the ASX200 index post-listing in November 2020.
At the current HPG share price, Hipages shares year-to-date are up a solid 53.97% versus the 10.39% gain in the index.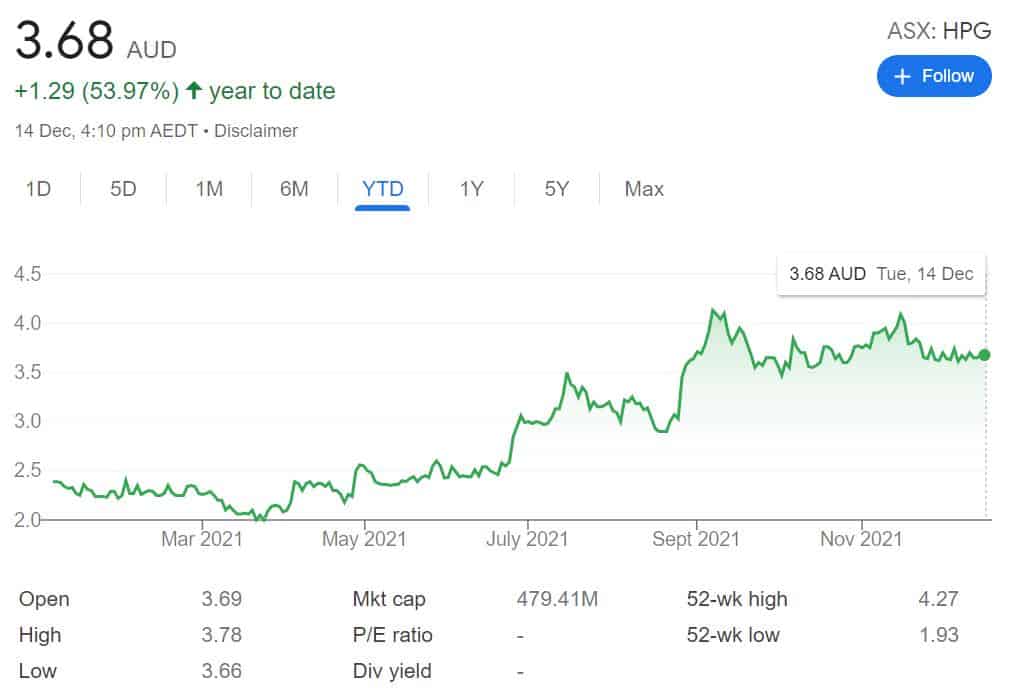 About Hipages Group Holdings Ltd (ASX:HPG)
Hipages is Australia's largest online tradie marketplace and Software-as-a-Service (SaaS) provider for tradies and their customers.
The platform helps tradies grow their business by providing job leads from homeowners and organisations looking for qualified professionals while enabling them to optimise their business through its SaaS product.
Hipages generates revenues by charging a platform fee to tradies. Previously, it used to apply a charge everytime a tradie completed a job. However, HiPages has now switched to a subscription model.
Founded out of a garage in Sydney in 2004 by childhood friends Roby Sharon-Zipser and David Vitek, Hipages addresses an on-demand tradie market sized at approximately A$83 billion – the amount spent on tradies annually by homeowners.
For perspective, there are approximately 257K trade businesses in Australia, which employ about 1.1 million tradies. Of these, about 34,000 tradies are members of hipages.
To date, more than 3 million Australians have posted a job on the hipages platform, and a job is posted by a user every 20 seconds.
The platform has hosted over 7 million job postings till date. During FY20, the hipages platform received on average 1.5 million visits per month.
Hipages shares listed on the ASX in 2020 and at the current HPG share price, it currently has a market capitalisation of about A$480 million.
Hipages is poised to reap the benefits of a number of macro tailwinds in the near future.
First off, the pandemic has triggered a rapid shift towards digitisation and the adoption of online methods of procurement of goods and services by Australian households and businesses.
This trend should encourage the flow of more business into online platforms such as Hipages.
People will move from antiquated directories, lists, advertisements, internet searches, and word-of-mouth to focussed and immediate information on the availability of reputable tradies that have the requisite skills for the specific work to be performed.
Tradies also benefit greatly from the online platform because they instantly get good quality leads on customers looking for their skills.
A proprietary algorithm matches consumers and tradies and is optimised to provide up to three customer contacts in the first invitation batch to a trade.
Tradies are thus able to fill up their daily job roster quickly and completely, adding to their income.
In addition to the online trend, Hipages eyes a huge Australian home improvement market, driven by bullish real estate trends in place for years.
Australians are flush with cash for buying and improving homes bought on low-interest mortgages and that have already appreciated in value.
The pandemic has also birthed the work-from-home and study-from-home trends which require more space at residences, creating demand for home extensions and renovations.
Besides, the lockdowns have boosted household savings.
That eliminates questions such as 'should I paint the house or fix the car?'
To Hipages' advantage, consumers are cashed up enough to likely do both.
Therefore, in a "flywheel" effect Hipages enjoyed growth on both sides of the marketplace during FY21 – increased tradie subs, as well as user interest.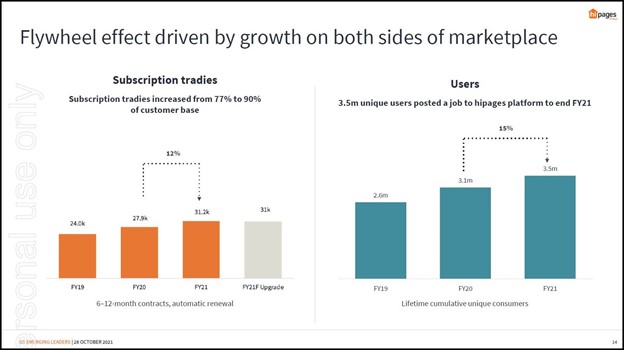 Hipages listed on the ASX in November 2020, and has the visibility and brand strength to juice these emerging trends for maximum value.
Its marketing strategy appears to be successful, and according to a June note from Goldman Sachs, this is borne out by statistics on website visits and app downloads.
Hipages (ASX:HPG) Provide Digitisation and Value Adds to Tradies
Hipages' customers are its tradies, which provide the platform with revenues.
To the company's credit, it has gone the extra mile to provide platform value to tradies by adding features such as payment solutions, insurance and management of their own supply chains including materials.
Hipages' Tradiecore app is designed to ease the burden of everyday admin for trade businesses – it eliminates unnecessary paperwork, creates quotes and invoices that can be sent out through the app itself, and provides job management tools.
Note that there is a clear need for a digital boost for builders and tradies to rebuild their businesses after the pandemic.
According to the Small Business Health Index released by MYOB lockdowns did impact the construction sector and tradies adversely.
"MYOB modelling shows there are nearly 80,000 SMEs in the construction industry alone with no or very low levels of digitisation of their business processes," says Denita Wawn, CEO of Master Builders Australia.
"Digitally advanced SMEs are 50% more likely to succeed in growing," she adds.
"With the construction industry home to more SMEs than any other industry, meaningful digital adoption will have perhaps the greatest impact in business recovery and improving business resilience."
Apps such as Tradiecore may, therefore, prove to be the need of the hour.
The company is thus investing in the ongoing "professionalisation" of tradies, and for accelerating their digitisation.
Accordingly, tradies are more likely to stick with Hipages for longer terms and enhance its revenue streams.
Change in Hipages (ASX:HPG) Revenue Model Creates a More Predictable Revenue Stream
Hipages has also made a timely change to its revenue model.
Instead of charging tradies a cut on every completed job, it now offers them a subscription-based model.
Tradies thus get access to leads for a monthly subscription fee.
For Hipages this means more recurring revenues that are also predictable.
According to chief executive Roby Sharon-Zipser, the company made the change in 2019, and after extensive tinkering, has finally optimised the model.
The subscription-only product now accounts for 94% of recurring revenue.
With more predictable revenue comes a potentially less volatile HPG share price.
Hipages (ASX:HPG) Management Goes from Strength to Strength
In terms of management, it appears the company is run by professionals with a sound vision and strategy for growth.
Last month, Hipages invested in a 25% stake in Bricks+Agent, a property management platform, for $6.25 million.
The transaction gives Hipages expanded access to users, tradies, and the home improvement market.
There is, therefore, a confluence of strengths from a well-timed public listing, successful marketing and branding, a strategic reworking of the revenue model, timely development of platform "adjacencies" such as Tradiecore, and a sensible acquisition.
These abilities place Hipages in pole position to ride the macro tailwinds of digitisation, the burgeoning home improvement market, and the potential user spending.
Shortage of Tradies a Potential Concern
There is, however, one area of concern.
There is a critical shortage of skilled tradies amidst surging demand for home improvement, repairs, and new construction.
The shortage of tradies attracted comment from the Housing Industry Association (HIA).
In a recent report, HIA Economist Angela Lillicrap observed: "The HIA Trades Availability Index deteriorated further in the September 2021 quarter indicating that the industry is experiencing the most significant skills shortage since the inception of the Report in 2003."
During the quarter the HIA Trades Index declined from -0.53 to -0.69 with any number below zero indicating a skills shortage.
HIA economist Thomas Devitt said roofers, site preparation excavators, and ceramic tilers were very difficult to find.
With scarcity comes scarcity pricing.
According to one report, tradies are set to receive further big wage increases that could push their average salaries close to six figures as border closures end.
"It does seem like the wage pressures and skills shortages are more acute in construction than over the economy in general," Devitt told Daily Mail Australia.
"It's been a broader trend of home building since last year: the surge in demand for new housing and renovations."
High labor prices could turn off users contemplating home improvement jobs, and that could pressure demand for tradies' services.
Hipages (ASX:HPG) Has An Early Mover Advantage In A Huge Addressable Market
Hipages has a total addressable market estimated at A$110.3 billion and has captured a share of 2.1% of that, so there is clearly a lot of headroom for growth.
This total addressable market (TAM) now also has a liquidity wall behind it.
According to one statistic, a huge boom in home improvement and repairs is predicted over the coming six months, estimated in value to be A$34 billion in trade jobs.
Families are expected to divert money they would have spent on travel and entertainment (and saved during the pandemic) into their properties.
Hipages research found that 83% of Australians were saving an average of $1,183 per month during the Covid lockdown period.
About 67% of homeowners are planning to use these savings on home maintenance, improvement, repairs, or renovations (also to repair DIY 'fails' during the pandemic!)
Almost half of those surveyed by Hipages planned to spend between $1,000 and $10,000 on home improvements in the next six months.
There is thus a very lucrative opportunity staring Hipages.
Additionally, Hipages is leveraging this development through its strategic investment in property management platform Bricks+Agent.
The transaction gives Hipages access to an additional 360,000 users, a pipeline of almost 500,000 properties under management, and 21,000 tradies.
According to a statement, Bricks+Agent delivered "spectacular" growth over the last 12 months and is expected to be EBITDA positive in FY22.
Post integration between the two platforms, significant opportunities exist for cross-selling and led generation.
Additionally, as mentioned, a structural shift is taking place towards online, and a quarter of Australian homeowners use mobile applications at least once a fortnight to purchase services.
This is evident from numbers – 3.5 million unique users posted a job to the platform to end FY21, up 15% from 3.1 million in FY20.
In 2021, the platform booked as many as 1.53 million jobs.
Meanwhile, Hipages (ASX:HPG) captures only about 5% of industry advertising spend.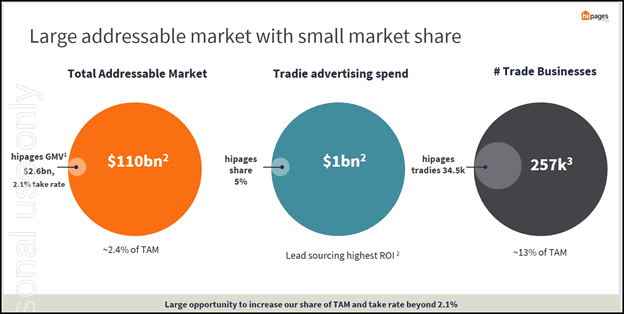 According to a Goldman Sachs note: "We see scope for this to grow at a meaningful rate as HPG's service offering addresses a greater proportion of a tradie's needs, noting that REA/CAR now capture c.40-60% of spending in their respective categories."
Goldman is referring to Carsales.Com Ltd (ASX:CAR) and REA Group Limited (ASX:REA), companies that have delivered, over the past five years, returns of 154% and 241% respectively.
Economic Cyclicality in Disposable Incomes a Potential Risk
However, investors do need to keep some inherent risks in mind.
Over the longer term, general economic cyclicality may affect disposable incomes.
Home improvement expenses typically get pushed to the back of the queue when there is economic depression, with food, energy, and education taking priority.
More specific to the real interest market, interest rates that are currently very low, may rise and therefore raise mortgage servicing costs for homeowners.
This could affect user spending on homes and repairs.
More specific to the platform, Hipages does not have much control over the integrity and ability of a tradie.
If an unknown tradie dissatisfies customers for any reason, these users may, unfairly, equate the experience with the Hipages platform.
Ultimately, the company could lose these customers.
Hipages Group (ASX:HPG) Financials
For FY21, Hipages reported a net profit after tax of A$1.2 million, up 128% for the year.
Significantly, the average annual revenue per tradie (the annual operating revenue divided by the average of the opening and closing number of tradies for the period) was A$1,536, which was up 29%.
On total revenue of A$55.8 million (which was up 19%) the company reported an EBITDA of A$11.7 million, up 91%.
Its gross margin was an impressive 85% compared to 79% the previous year.
As seen from the following chart, the positive swing in EBITDA and operating cash flow between FY19 and FY21 is dramatic.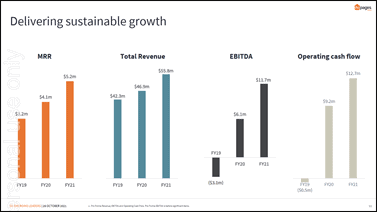 For the first quarter of FY22, Hipages grew total revenue by 14% compared to the corresponding quarter in the previous year.
Furthermore, average annual revenue per tradie shot up 22% to A$1,721, while the number of tradies paying subscriptions jumped 10% to 31,300.
"The Australian home improvement market remains very buoyant, and the long-term opportunity is as attractive as ever," the company maintains.
A comparison of Hipages shares at the current HPG share price with US-listed Angi Inc and ASX-listed Airtasker is tabulated below:
| | Period | Hipages Group | Angi Inc | Airtasker Ltd |
| --- | --- | --- | --- | --- |
| Ratio | | ASX: HPG | NASDAQ: ANGI | ASX: ART |
| 5 Year Sales Growth % | 5YA | – | 33.66 | – |
| Price/Book | MRQ | 14.41 | 4.76 | 9.65 |
| Price/Earnings | TTM | – | – | – |
| Operating Margin% | TTM | -5.34 | -3.28 | -38.76 |
| Net Profit Margin% | TTM | -11.11 | -3.57 | -36.52 |
| Return on Equity% | TTM | – | -4.92 | – |
| Dividend Yield% | ANN | – | – | – |
| Measure | | | | |
| Total Revenue (USD) | LAST FY | 40.99M | 1.47B | 19.52M |
| Market Cap (USD) | Nov 15′ 21 | 385.58M | 5.52B | 314.33M |
Source: Investing.com
All three companies offer the complete gamut of tradie jobs from cleaning to repairs, improvements, and new installations.
While HPG is Australia-focused, the other two have international operations.
Even though at the current HPG share price, Hipages shares are the most expensive on a Price/Book basis, its size and scope of operations are not entirely comparable with Angi.
However, compared to Airtasker, Hipages shares is evidently more profitable.
Hipages (ASX:HPG) Is Positioned Well And Offers Solid Growth Prospects
Strategic moves by Hipages such as rejigging its revenue model, listing on the ASX, and acquiring Bricks+Agent have positioned it well to take advantage of the burgeoning demand for home improvements as Australia emerges from COVID restrictions.
On a longer horizon, the already profitable company is likely to clock solid growth as it achieves a bigger share of the impressive TAM in Australian home improvements and services.
Meanwhile the Hipages digital platform is well-placed to take advantage of the rising trend for online satisfaction of goods and services, particularly a spending backlash after forced savings during lockdowns.
Tradie shortages may be short-lived and last until the economy fully reopens.
In sum, Hipages shares (ASX:HPG) offer an opportunity to get in on the early stages of its rapid and profitable growth trajectory with great potential upside for the HPG share price.