Today we will take a look at why we think Ioneer shares (ASX:INR) has strong upside potential in our INR share price forecast and analysis.
Ioneer (ASX:INR) aims to be a world-class lithium producer supplying the burgeoning EV and battery market in the USA.
The company's facility will be located in Nevada at the Rhyolite Ridge which holds the largest known lithium and boron deposit in North America.
Though ecological issues at the site have made news, the company is positive it can work with the relevant authorities to reach a solution.
The company has been a major beneficiary of the tailwind behind electrification due to climate awareness and record-high fuel prices, the Biden administration's inclination towards decarbonization, and the DOE's (Department of Energy) willingness to help fund projects that align with this policy.
Ioneer shares at the current INR share price have been an underperformer YTD at 14.46% down and have lagged the ASX 200 by about 14%.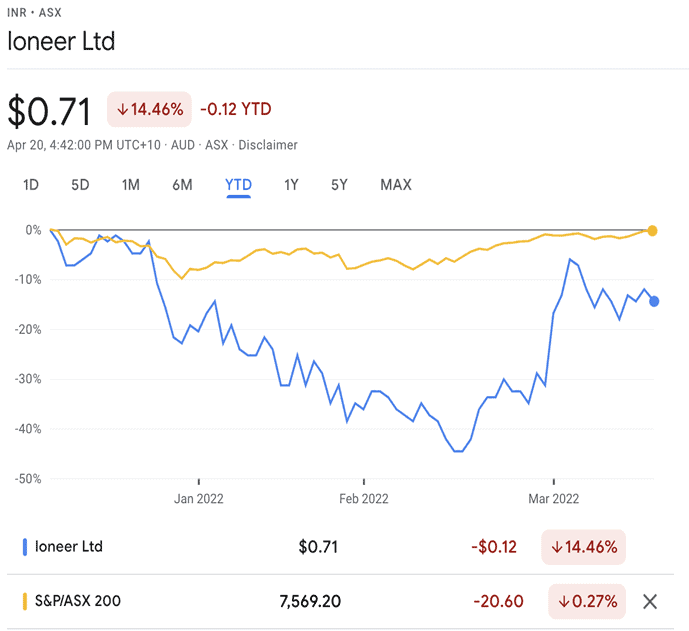 Ioneer was earlier known as Global Geosciences. In 2016, the company bought the option rights to the Rhyolite Ridge lithium-boron deposit and completed the acquisition by 2017.
The company's asset base is unique as it holds two high-growth assets, lithium and boron, both of which are key components in the fight against climate change.
The company has a stellar partner roster to ensure top-tier functions across all operations and is led by a board of mining industry veterans, and headed by the ex-chairman of Australian mining major Orocobre.
Ioneer shares at the current INR share price have a market capitalisation of A$1.51 billion and are trading at about a 12% discount from its all-time high price.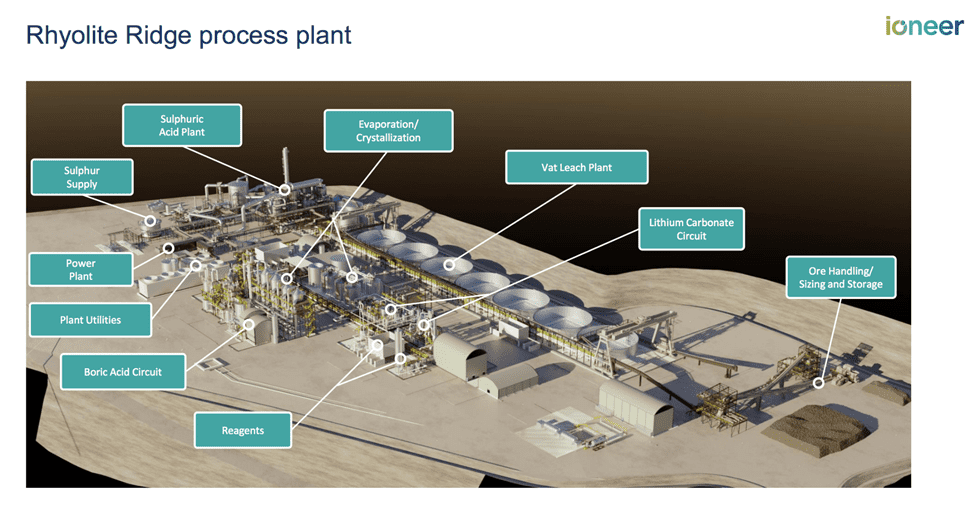 Strong Market Tailwinds with Ultra-Competitive Costing and Production But Contingencies Pose Significant Risk To Investors
Ioneer shares (ASX:INR) strong outlook is largely driven by the solid market potential for its core product, lithium.
The company's location is an added advantage since it is well placed to feed into the various upcoming battery/EV gigafactories across the United States.
The United States is intent on building its own supply chain in critical technologies rather than sourcing from developing economies – a route it took for much of the past two decades.
However, as geopolitical tensions grow, economies including the US are now starting to look inward to ensure economic/national security.
Ioneer is slated to commence production of lithium carbonate by 2024 and lithium hydroxide by 2026.
Located in Nevada, the company is strategically placed to supply to EV majors Tesla, which operates two gigafactories in Nevada and neighboring California, and has another site coming up in Texas.
There is also a huge supply opportunity generally across the US with nearly a seven-fold increase in battery production capacity expected to come online by 2026.
However, apart from location and the solid demand outlook for its product, the company's biggest strength is its operating cost structure.
Boron gives the company an excellent stream of secondary revenue and earnings that will help to substantially lower its production cost for lithium carbonate to about $2500.
This is at the lower end of the global cost curve.
Even without the boron credit, the cost of production is roughly $5,500, which is competitive and in line with global averages, especially given the strong demand outlook and the long-run price outlook.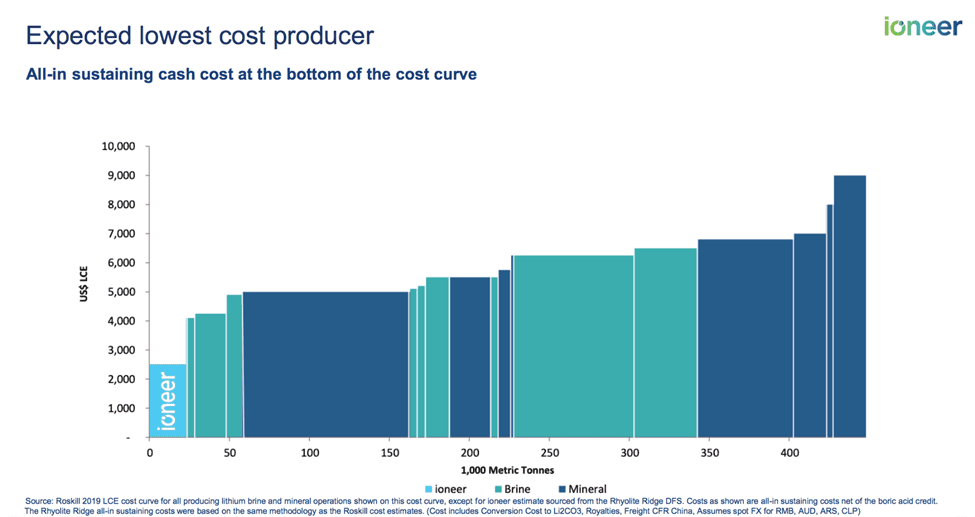 Instead of working with brine or spodumene, the company will extract lithium from clay directly using a sulphuric acid leaching process.
This process eliminates the large evaporation lakes required in the brine production method, allows for quicker production, and requires 30x lower water per unit.
Further, the company is also in the process of finalizing its choice of power supply, which will likely be a CO2-free source and generated on-site.
Solar is the front runner giving the company, even more, cost resiliency.
However, all these strengths are only on paper, and only time will tell if the management can to execute these plans effectively.
While the company appears to have well managed the project so far, including successful pilots for both boric acid and lithium carbonate, investors still face execution risks.
The company still needs to secure a few permissions before it can get to the final investment decision stage.
However, given the US government's commitment to building a domestic green energy supply chain, these hurdles are likely to be overcome because of the strength of the project and the caliber of its management.
Further, the company has already secured initial offtake agreements for both products.
These will help significantly in persuading strategic partners and lenders to fund the final project.
At present, Ioneer (ASX:INR) is funded right up to the final investment decision stage.
Boric Acid a High-Quality Supplement to Product Mix and Cost Reducer but Ecological Risks Could Push Timelines
While lithium is the company's core product, boron reserves are a rare asset with an excellent demand outlook.
It is required as an input in various products such as electronics, magnets, agriculture, industrial processes, displays, and exotic ceramics.
Boron has the potential to strengthen Ioneer's lithium operations as well as buoy the company in times of an unfavorable price environment for lithium as it has relatively stable pricing of about $600-$800 per ton.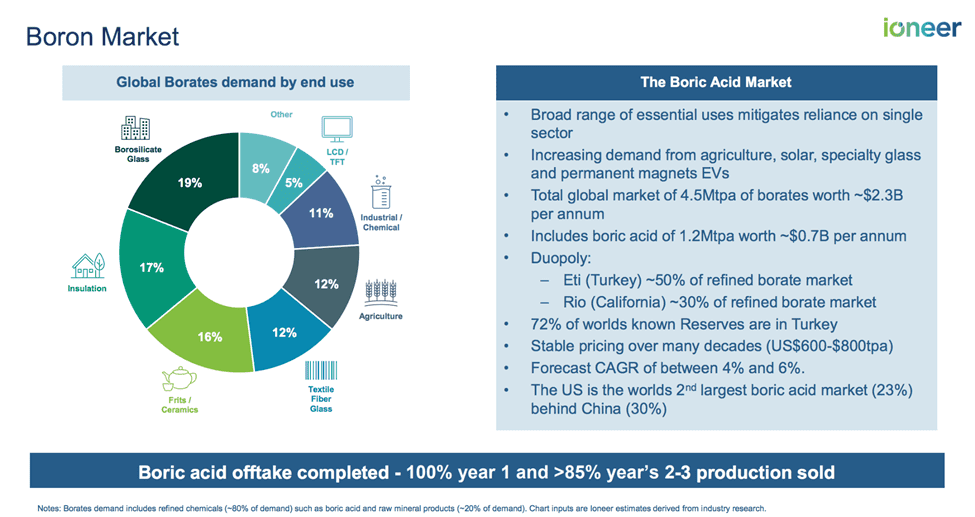 Ioneer (ASX:INR) is well-placed to service the boric acid market, slated to grow at 4%-6% p.a., with the US making up nearly a fourth while China makes up a bit more at 30%.
To serve the Chinese market, the company has partnered with Dalian Jinma Boron on a 61% off-take agreement for the first five years of production.
The company will sell boron in the form of boric acid, presently a $700 million a year market with a demand of 1.2 Mtpa.
At present, the boric acid market is dominated by a Turkish nationalized miner called Eti, and mining conglomerate Rio Tinto, both of whom have controlled about 80% of the world supply for decades, with their assets now slowly starting to deplete.
The company aims to produce 11.9 Mt of boric acid over the mine's 26-year life.
A significant threat facing the company is the risk of ecological damage to the rare Tiehm's buckwheat plant, which is present near the mining site.
Tiehm's buckwheat was recently declared an endangered species by the Fish and Wildlife Service with the current site being ruled as its critical habitat.
However, Ioneer is confident that it can work with the relevant authorities to assure operations will not negatively impact the species and will ensure best practices.
The final decision on this issue is due in September 2022.
Financials – Capital Requirements Easily Covered and Very Viable Operational Metrics, All Down to Execution
The company has not commenced production, and therefore, no operational financial data is available.
According to Ioneer's projections, it would cost US$785 million to bring the mine to production.
The company has raised A$60 million (US$46.5 million) through an equity raise to fund project development.
This will cover expenses until the final investment decision on the project.
In September 2021, Ioneer (ASX:INR) agreed to establish a joint venture with Sibanye Stillwater Limited to develop the project.
Under the terms of the agreement, Sibanye-Stillwater contributed US$490 million for a 50% interest in the joint venture.
Ioneer plans to raise the remaining capital expenditure through debt post the final investment decision.
It expects to raise the money from multiple sources such as the DOE new energy loan programs, institutional lenders, vendors, strategic partners, and Goldman Sachs, the last-named having expressed serious interest in funding the project should it go as per plan.
The DOE loan application is currently at the third and penultimate stage and should cover the balance funding gap.
Ioneer (ASX:INR) expects the mine to open by 1H 2024.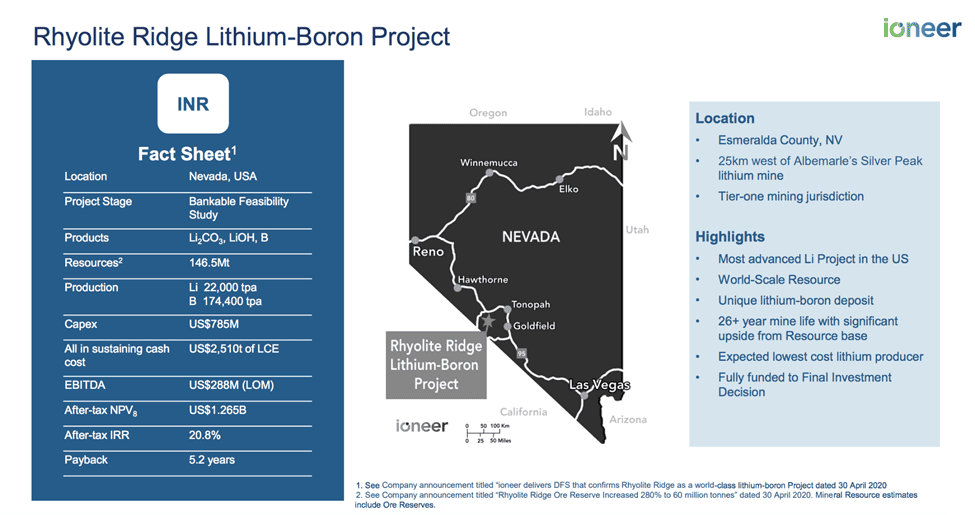 At full operations, the company expects to produce 22ktpa of lithium carbonate and 174.4 ktpa of boric acid.
The all-in sustaining cost of the lithium carbonate, net of boric acid earnings, is expected to be about US$2,500.
The company expects the payback period to be just 5.2 years, a fraction of the mine's 26-year life.
Ioneer (ASX:INR) projects EBITDA of US$288 million over the life of mine, an after-tax NPV of US$1.25 billion, and an after-tax IRR of 20.8%.
Current lithium carbonate prices hover around US$75,000/ton China AFR.
At first appearance, the company is positioning itself for massive profitability.
However, current prices may have been driven by supply chain disruptions, inflation, and increased demand due to rocketing fuel prices.
We should instead consider the expected long-run average price of US$7,000-US$8,000 for battery-grade lithium carbonate.
At this consensus price, Ioneer is sitting on a product worth US$4.29 billion (assuming US$7,500 per ton), nearly thrice its current market cap.
The company currently has off-take agreements in place for about 7 ktpa and expects to add 11 ktpa after the final investment decision.
The offtakes are index-linked with price ceilings and floors, providing the company with insulation against adverse prices.
Valuation – Cheap At Best, Inexpensive At The Least
We compare Ioneer shares (ASX:INR) to Core Lithium (ASX:CXO) and Piedmont Lithium (ASX:PLL), both of which are early-stage lithium miners across Australia and the US.
None of the three companies have commenced production.
However, due to differences in the product (Spodumene vs Carbonate), processing method (Brine vs Leaching), and project valuation methodology (Pre-Tax IRR vs After-Tax IRR or Pre-Tax NPV vs After-Tax IRR), the reasonable metric for a comparison of valuations is the Price/Book ratio.
| Metric | Ioneer | Core Lithium | Piedmont Lithium |
| --- | --- | --- | --- |
| Price/Book | 5.14 | 10.43 | 6.22 |
As you can see, Ioneer shares at the current INR share price is the cheapest stock among the three in terms of Price-to-Book.
There is one other company that is far more comparable in terms of project specifics; however, it is a multiple project company with only one project that is directly comparable.
Lithium Americas (NYSE: LAC) is developing a lithium carbonate project in nearby Thacker Pass, Nevada.
Its second project is split between 2 sites in Argentina and is uncompetitive in terms of cost.
The table below is a comparison between Ioneer and Thacker Pass, adjusted for production size.
| Metric | Ioneer | LAC Thacker Pass |
| --- | --- | --- |
| All in-cost/tonne | $2,510 | $2,570 |
| NPV After-Tax (Size Adj) | US$1.25 billion | US$951.6 million |
| IRR After-Tax | 20.3% | 29.3% |
| Price/Book | 5.14 | 7.42 |
As you can see, Ioneer shares have a cheaper cost of production and higher (size-adjusted) NPV, but a lower IRR than LAC.
However, Ioneer shares at the current INR share price is available at a cheaper Price/Book valuation.
Ioneer (ASX:INR): Reasonably Priced (Even Now) And Crucial To The US Critical Minerals Security Program
The spike in oil prices has put vehicle electrification in the spotlight not only for environmental reasons but also in the context of energy insecurity, especially for transportation.
However, the US is dependent on imports for many of the critical minerals and metals needed for EVs and batteries.
"We don't want supply-chain bottlenecks to prevent us from being able to electrify the transportation sector," said U.S.
Energy Secretary Jennifer Granholm, after the IEA's annual ministerial meeting in Paris last month.
"Making sure that we've got sources for those critical minerals that are sustainably extracted and processed is a big part of what the going-forward work will be of the countries here."
The United States and the 30 other member nations of the International Energy Agency launched a critical minerals security program at the meeting.
There's a lesson in there for potential Ioneer shares (ASX:INR) investors.
By 2024, when the company commences production in Nevada, it will likely have buyers lining up for its lithium, and profitability would be a given.
In addition, Ioneer shares have stability from its boric acid revenue stream.
Given Ioneer shares' pre-production status, we should expect some volatility in the INR share price until the company heads into a production phase by 2024.