Today we will look at why we like MoneyMe shares (ASX:MME) and some analysis on our MME share price forecast.
MoneyMe (ASX:MME) is an Australian financial technology company that provides an array of lending services.
The company's AI-enabled procedures for fast and safe approval of loans led to significant growth because the pandemic triggered an accelerated structural shift from offline to online transactions.
The company has been successful at differentiating its products from other fintechs; it also offers products in some niche but high potential segments.
At the current MME share price, MoneyMe shares have a market capitalization of A$247 million.
Though the stock is down 19.2% from its pre-COVID price, the company has made significant progress in the past three quarters and pivoted to a minor profit in the first half of 2021.
We believe the MME share price is at an inflection point and MoneyMe shares present an investment opportunity.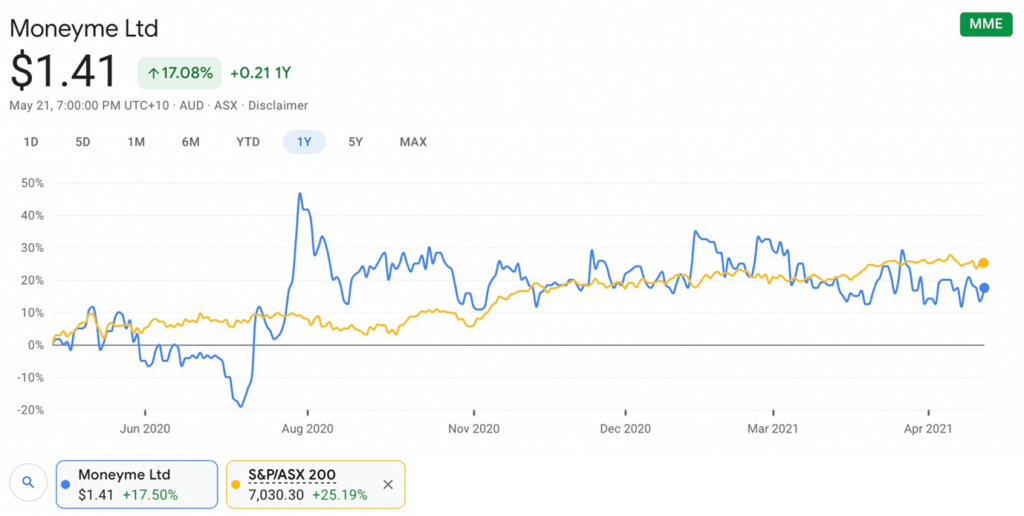 About MoneyMe (ASX:MME)
MoneyMe (ASX:MME) is a digital lender founded in 2013 and uses AI to manage loan origination and servicing.
The company operates in five major segments:
MoneyMe Personal
Freestyle Virtual Card
ListReady/RentReady
Autopay
MoneyMe+
MoneyMe Personal – This is the company's personal loan arm.
MoneyMe (ASX:MME) uses its proprietary AI system for loan origination and collection which is completely digital-based.
Loans are priced based on risk with rates ranging from 6%-19%.
The average loan size is A$8,200 and amounts up to $50,000 are available.
The company also has a Pay-Anyone feature which is an industry first and allows users to spend borrowed money to anyone in Australia directly through MoneyMe.
The personal lending segment makes up 53.6% of the loan book.
Freestyle Virtual Card – These are virtual credit cards issued to customers based on their credit standing.
Customers are onboarded in minutes and the cards generate recurring revenue from their spending activity.
Repayments are scheduled for 2 to 5 year periods at 17% per annum and a fixed subscription fee depending on the outstanding amount.
Freestyle is the company's second-largest product and makes up 38.4% of the loan book.
ListReady/RentReady – ListReady is a niche product in the lending market that provides financing to property owners to cover the listing and selling costs of real estate.
Owners are offered up to A$35,000 in credit at a rate of 4% + GST, which is repayable post-sale.
The average loan size is A$3,200.
RentReady is essentially the same as ListReady, except that credit is extended to renters to cover maintenance, renovations, or short-falls.
RentReady offers credit up to A$50,000 at 17% p.a. repayable over 2 years.
ListReady and RentReady together make up about 2.2% of the loan book.
Autopay – This is the company's newest product.
It offers credit for "same-day" purchases of cars.
According to current industry norms, credit approval for cars takes around seven days; however, Autopay can process and grant loans in 60 minutes.
This is a unique offering because no other BNPL providers or fintechs are currently active in auto-financing.
MoneyMe+ – This product marks the company's entry into the burgeoning "buy-now-pay-later," or BNPL space.
MoneyMe+ allows customers to pay in installments for their purchases at partner retailers.
Interest-free financing is available up to A$50,000 for as long as 60 months.
Although this is a budding space, it is highly competitive and most peers are unprofitable.
MoneyMe+ makes up 6% of the loan book.
MoneyMe (ASX:MME) has a profitable business model and a unique set of products, driven by technology
MoneyMe has simultaneously managed to scale its business and achieve profitability which is rare in the fintech lending space and one of the strengths of the company.
For example, larger rivals such as AfterPay (ASX:APT) and Zip Co Ltd (ASX:Z1P) are both still unprofitable.
The only other company with a BNPL offering that is currently profitable is Humm (ASX:HUM).
This feat can be attributed to the company's significant lending spread and strong unit economics.
This year has proved pivotal as the company has reported a substantial and overall improvement in KPIs.
The company has successfully increased its operating leverage through increases in originations and other loan metrics along with a simultaneous decrease in borrowing costs.
The company secured a new warehouse funding facility from institutions that lead to a 30.7% decline between FY20 and H1'21 in finance costs – a solid boost to the company's bottom line.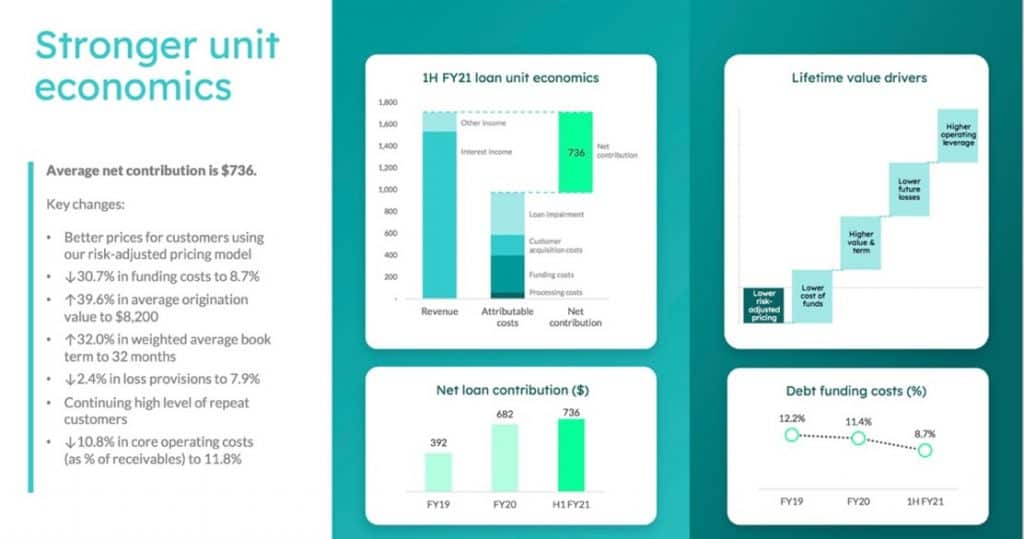 Source: Investor Day Presentation April '21
Furthermore, MoneyMe shares has a unique suite of products supporting its personal loans and virtual credit card businesses.
ListReady and RentReady are niche products, but they have good product-market fit, as shown by their solid average quarterly growth of 41% over the past two quarters.
Although a homeowner can get a personal loan to cover listing or property-related expenses, regular personal loan products are not amenable to the specifics of these use cases.
Lastly, MoneyMe shares have been successful at using technology to drive scale and efficiency.
The company's Horizon system is a completely vertically integrated system that brings all business processes under one umbrella.
The company claims that its proprietary and fully automated credit assessment system outperforms Equifax by a claimed 6.6% in originations and 6.2% in write-offs.
The loan servicing and collection processes are also 92% automated.
AutoPay presents a significant opportunity for the company
AutoPay, the company's latest offering, appears to have solid potential as it is far quicker and efficient in loan origination compared to competing legacy products.
Car dealers love accelerated loan approval and disbursal systems because they can close more deals, faster.
Further, because AutoPay is channelled through dealers, MoneyMe's marketing costs are much lower.
Also, given that cars are big-ticket purchases, the loans originated are for sizable amounts and the borrowers are usually of good standing.
The competition in the auto lending business consists mainly of traditional banks and small fintechs.
The advantage enjoyed by MoneyMe over both these competitors is that banks have a lengthy loan approval process that is available only 24/5 while the small fintechs do not have the scale and hence must charge higher financing fees.
Australia's A$14.5 billion annual car market, therefore, presents a lucrative opportunity for MoneyMe.
MoneyMe (ASX:MME) can lock in long-term high-quality revenue streams given that the volume-weighted average car price is A$28,000 in 2021.
BNPL growth potential but competition a cause for concern
On the other hand, the BNPL sector presents MoneyMe with its biggest threat. The company is hoping for this business to contribute to its growth in a significant way.
However, the segment is ultra-competitive due to competition from bigger fintechs like AfterPay (ASX:APT) and Zip Co (ASX:Z1P).
Fintech gorilla PayPal will enter the Australian BNPL market this quarter. Moreover, the Commonwealth Bank of Australia (CBA) announced in March plans to enter the BNPL market by mid-2021.
Both PayPal and CBA have massive balance sheets and customer bases, so competing with them will be very tough and may hurt MoneyMe's margins.
Note that bigger, pure-play BNPL rivals like AfterPay and ZipPay have struggled to turn a profit despite far bigger volumes and geographical footprints.
MoneyMe reports a maiden operating profit and its financials turn for the better
MoneyMe has had a transformational year. In the first half of the year H1'21 (July-December'20), the company turned its first operating profit of A$0.2 million.
In Q3'21 (January-March'21), MoneyMe shares reported record revenue of A$15 million, and for Q4'21 has forecasted revenue of A$19 million – bringing up its expected revenue in the second half (January-June'21) to A$34 million (up 35% on H1'21).
In February, the company increased its funding pipeline to A$300 million through a new warehouse funding facility from institutions. Out of this, it has already lent A$233 million as of the end of Q3'21.
This new funding facility secured by MoneyMe has dramatically boosted the bottom line because it led to a 30.7% decline between FY20 and H1'21 in finance costs.
The facility has created a foundation for growth as well.
The company has therefore steadily grown its originations, despite COVID, from A$45 million in Q1'21 to A$108 million in Q3'21.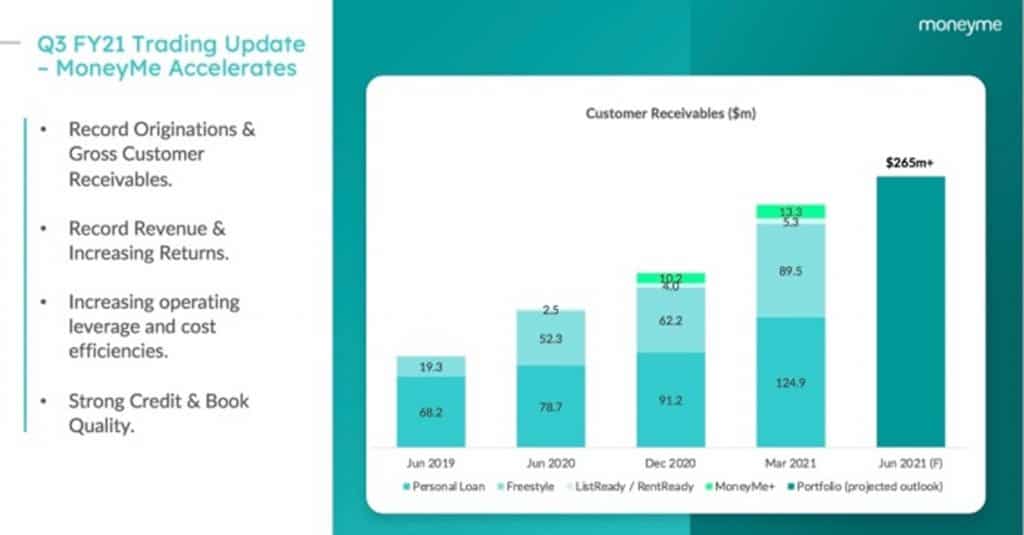 Source : Investor Day Presentation April '21
The company is expecting robust growth going forward from its MoneyMe+ and AutoPay products.
However, given that the MoneyMe+ BNPL segment is ultra-competitive, that growth might come at some cost to margins.
MoneyMe (ASX:MME) enjoys a superior valuation compared to peers
We will compare MoneyMe shares valuation to Zip Co. and AfterPay shares, both of which are high-growth fintech companies.
We shall not use Price/Earnings metric because both Zip and AfterPay are both yet to turn in a profit.
Hence, we will use Price/Book, Operating Margin, and P/Sales as the parameters for evaluation.
| | | | |
| --- | --- | --- | --- |
| Company | MoneyMe | Zip Co. | AfterPay |
| P/Book (MRQ) | 4.96 | 3.51 | 15.38 |
| Operating Margin (TTM) | 33.26% | -13.11% | -0.6% |
| P/Sales (TTM) | 4.79 | 15.74 | 37.59 |
As can be seen, MoneyMe shares have the highest operating margin amongst the three companies.
Further, at the current MME share price, it is the cheapest in terms of Price/Sales.
In terms of Price/Book, MoneyMe is only slightly more expensive than Zip Co, which is justified given its profitability. However, it is much cheaper than AfterPay.
MoenyMe's superior valuation can mainly be attributed to its focus on the local market and efficient scaling instead of aggressive foreign expansion through expensive acquisitions as in the case of Zip and AfterPay.
MoneyMe (ASX:MME) presents a reasonably priced opportunity to play the burgeoning fintech sector
The pandemic has triggered a huge shift towards digitization and an increasingly online economy. This change is likely irreversible and a boon for nimble fintechs such as MoneyMe.
MoneyMe has made consistent progress in terms of growth and scaling its businesses efficiently. The company has an attractive basket of products with good product-market fit and headroom for growth which it has leveraged with technology.
At the current MME share price, MoneyMe shares are also fairly valued compared to other fintechs.
The company is therefore suitable for a long-term bet on the Australian fintech sector at a reasonable price.