Today we will look at why we like Nanosonics shares (ASX:NAN) and some analysis on our NAN share price forecast.
Nanosonics is a producer of HLD (High-Level Disinfection) medical equipment.
The company's products are mainly used in the disinfection of ultrasound probes.
Nanosonics shares (ASX:NAN) has had a rocky 15 months due to the reduced ultrasound activity in hospitals resulting from the COVID pandemic.
However, the recent correction in the stock presents a buying opportunity as we believe underperformance will reverse in the next few quarters due to:
growth in emerging markets,
replacement of end-of-cycle machines in the installed base
and overall recovery from COVID following vaccinations.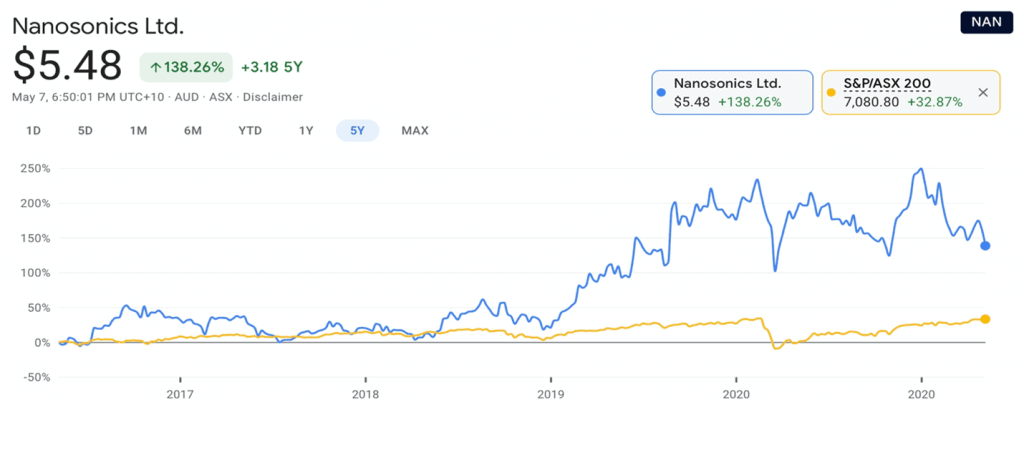 Nanosonics operates in a very niche segment of the healthcare equipment sector.
The company's operations span an expansive geographical footprint across North America, Europe, the Middle East, and the Asia Pacific.
Nanosonics' patented technology uses a sonically activated, low-temperature hydrogen peroxide mist to disinfect sensitive ultrasound probes.
The company has an installed base of 25,100 units and a market opportunity of 120,000 units.
At the current NAN share price, Nanosonic shares have a market cap of A$1.65 billion and the stock is currently up 106% in the past 5 years.
Great business model but overdependence on North America a continuing threat
Nanosonics' (ASX:NAN) tiered business model is one of the biggest strengths of the company.
In H1FY21 (July '20 to December '20), equipment sales were down 35% YoY, mainly due to reduced incremental Capex by medical service providers forced to focus their resources on COVID.
This resulted in lower ultrasound activity in hospitals.
However, the total revenues of the company for the half-year declined by only 11% because consumables, which make up nearly 79% of the company's total revenues, made up for the slack.
The company has a great market opportunity in a niche but growing segment.
The company currently has about 21% global market share and is looking at aggressive expansion through direct sales and distribution in Europe, Middle East, and the Asia Pacific.
However, until that happens, Nanosonics' biggest pain point is its over-dependence on the North American market.
We highlighted the company's sales to GE HealthCare, which was the single biggest component of Nanosonics' North American turnover, in our earlier coverage of the stock.
This issue came to the fore again in 1HFY21, when capital (machinery) sales were down 35% YoY due to unsold inventory held by GE Healthcare.
This unsold inventory was on account of a COVID-induced reduction in ultrasound activity as highlighted above.
The North American region accounts for 88.1% of the company's unit base, while Europe, Middle East, and the Asia Pacific accounted for just 11.9% as shown in the chart.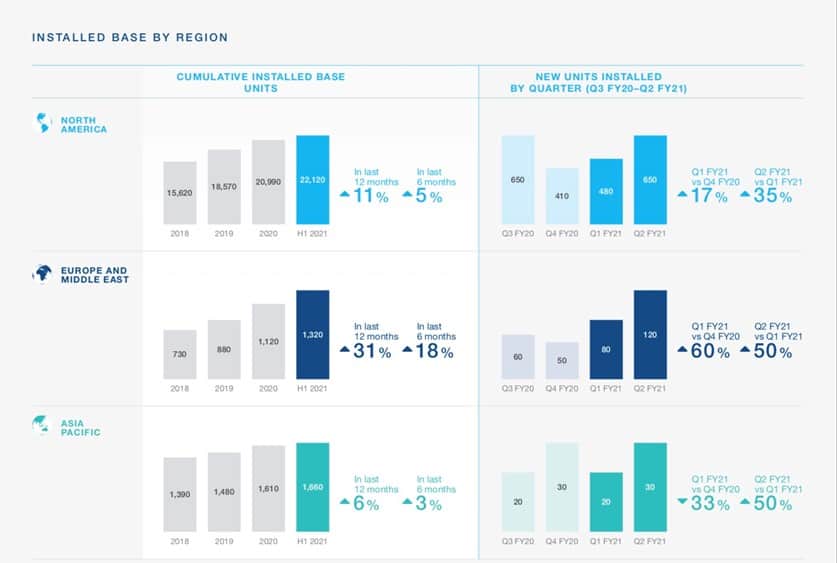 Additionally, a geographical breakdown of revenue in H1FY21 showed that North America accounted for 85.6% while Europe, Middle East, and the Asia Pacific regions accounted for just 14.4%.
Lastly, according to the company's assessment of market opportunity, Europe, the Middle East, and the Asia Pacific together have a penetration of just 7%.
Accordingly, there is a potential for 80,000 new installed units.
This is both a weakness and an opportunity for the company.
Nanosonics (ASX:NAN) has major growth opportunities; R&D is crucial moving forward
We see two opportunities for Nanosonics shares.
One is a major opportunity for expansion in Europe, the Middle East, and the Asia Pacific region.
This is also on the company's priority list.
In Europe and the Middle East, the company, with just a 3% market share has significant headroom for growth.
It has been making steady progress over the past 3 years by growing sales in these two territories at a CAGR of 31.9%.
Further, in 1HFY21 the company overtook FY20 sales by 17.8% in just the first half of the year.
Meanwhile, the company has a comprehensive China entry strategy in the works.
This is because its Asia Pacific segment is heavily concentrated with more than 75% of sales generated in the ANZ region.
Along with a China entry strategy, the company has already embarked on the regulatory approval processes in Malaysia, Indonesia, and Thailand.
The second major opportunity we see for the company is that 18% of its current installed base are machines that are 7+ years old and due for replacement.
The company sold 1380 units in 1HFY21 and earned equipment sales revenue of A$9.4 million at an average unit price of about A$6810.
Machines older than 7+ years are about 4518 units (0.18 x 25100 total unit base), translating into a sales opportunity of A$30.7 million (4518 units x A$6810 per unit) from existing customers over the next few quarters.
We are already starting to see this replacement trend happen.
In November, the company announced that one of its clients, I-MED Radiology, had decided to replace their 200 Trophon EPR machines with Trophon2's.
The company stated in their 1HFY21 report that this revenue will be recognized in 2HFY21.
Hence, we should expect a revenue bump of approximately A$1.362 million in the second half of this year.
Other clients are likely to follow suit.
Source: Nanosonics Limited 2020 Annual General Meeting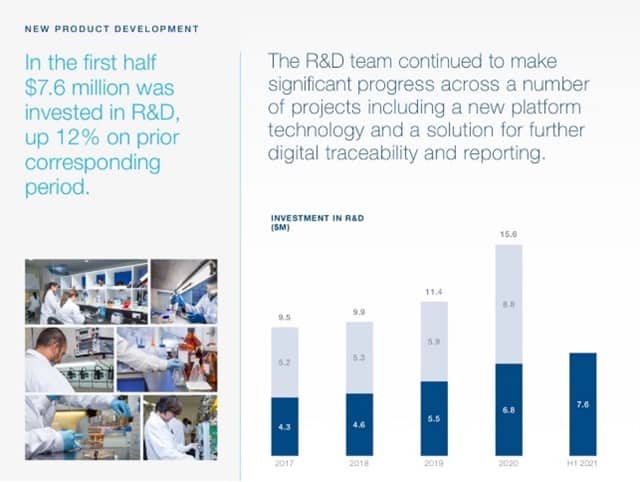 However, one of the biggest threats faced by the company is that the 14 patent families protecting their flagship Photon line are due for expiry in 2025, which is not too far away.
The company, on the other hand, is well aware of this threat and has been taking steps towards the development of new products.
Over the past 3 years, R&D expenditure is up 4.2% (2018), 11.5% (2019), and 36.8% (2020) on a YoY basis. in 1HFY21, the company assigned A$7.6 million to R&D, up 12% YoY from 1HFY20.
Another major threat facing the company stems from its exposure to the US Dollar due to over-dependence on the US market.
Because of the huge impact of COVID on the US economy and quantitative easing from the US Fed (far more than the Reserve Bank of Australia), the US dollar has weakened nearly 20% against the Australian dollar on a TTM (Trailing Twelve Month) basis.
Should this trend continue, it could make the company's equipment more expensive in the US, affecting sales.
Source: Nanosonics 1HFY21 Half-Year Report
Nanosonics shares recently reported poor profitability metrics in its 1HFY21 report. Most of the decline was driven by lower purchases by GE and a strengthening dollar in Q1FY21 (July to September).
The company's underwhelming 1HFY21 performance sent its stock tumbling 33.5%.
However, in Q2FY21 (October to December), the company showed signs of recovering from its problems in Q1.
Q2FY21 revenue was up 48% compared to Q1, and total first-half revenues were down just 11% YoY because sales resumed at GE and impressive growth in Europe, Middle East, and the Asia Pacific regions.
Sales of consumables also compensated to a large degree.
However, we believe the company will put up a much better performance in the second half of FY21 due to growth opportunities in Europe, Middle East, and the Asia Pacific and rising machine replacement revenues.
Source: Nanosonics 1HFY21 Financial Results
Meanwhile, at the current NAN share price, a cause for concern is Nanosonics shares' high P/E – currently at 283, mainly due to the fall in EPS.
Lower sales in the quarter due to COVID, forex losses, and higher R&D expenses were the major contributors to this decline.
Hence, we will not use P/E for valuation comparison. Further, we have used 5-year averages for ROE and NPM to smooth out the effects of COVID.
For valuation, we will compare Nanosonics to Tristel (sterilization equipment manufacturer) and Steris (sterilization equipment manufacturer) even though both these companies are far more mature and do not have the same growth headroom compared to Nanosonics.
There are no similar-sized listed companies in the same space.
| | | | |
| --- | --- | --- | --- |
| Metric | Nanosonics | Tristel | Steris |
| P/B | 12.66 | 9.23 | 4.67 |
| Return on Equity (5 year average) | 12.89% | 19.05% | 8.34% |
| Net Profit Margin (5 year average) | 15.69% | 15.26% | 9.09% |
| P/CF | 79.04 | 136 | 71 |
Source: Investing.com, Marketwatch
As can be seen, Nanosonics ranks between Steris and Tristel on Return on Equity and Price/CashFlow.
However, it has the best Net Profit Margin among the three, though at the current NAN share eprice in terms of Price/Book, the company is the most expensive.
Despite a high valuation and a forgettable half-year, we believe that the underperformance should reverse in the second half of the year due to business environment improvements and developments such as the I-MED deal.
On a medium-term basis, we believe the company will successfully boost its market penetration in Europe, Middle East, and especially Asia.
Further, GE reported a 5% overall increase in healthcare system orders due to double-digit growth in imaging and ultrasound equipment sales for the first quarter this year.
This is promising for Nanosonics, as it portends a quicker return to pre-pandemic levels.
With these factors in play, we believe Nanosonics (ASX:NAN) shares have strong growth prospects with good upside potential for the NAN share price.