Today we will look at why we think Nitro Software shares (ASX:NTO) is poised for strong growth with the accelerated digitisation of the way we work in our NTO share price forecast and analysis.
Nitro Software Limited (ASX:NTO) is a global leader in document productivity software and digital transformation.
Its offerings are relevant in a world that has pivoted to work-from-anywhere, anytime, and on any device.
The company's Nitro Productivity Platform is a solution to legacy document procedures that are a handicap in such a dynamic environment.
Nitro is changing its revenue and product offerings models by transiting to SaaS-based offerings available off a productivity platform.
Though there is obvious growth in top-line metrics, the company is in the red at the operating EBITDA level.
The NTO share price appeared to bottom out in March 2021 and has since erased its underperformance opposite the ASX200 index.
At the current NTO share price, Nitro Software shares year-to-date is up 17.24% versus the 9.57% gain in the index.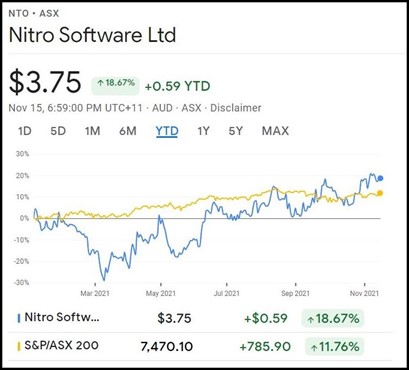 About Nitro Software Limited (ASX:NTO)
Founded in 2005 in Australia, Nitro Software is a significant player in document productivity and digital transformation.
The company counts about 68% of the Fortune 500 amongst its customers. It boasts of 12,000+ customers across 155 countries.
The company started life with a single product, Nitro Pro, the world's first alternative to Adobe Acrobat.
It then added document signature and business intelligence tools.
Currently, the company's chief products are Nitro PDF Pro, Nitro Sign, and Nitro Analytics.
These delivered PDF productivity, eSigning, and intelligence to critical enterprise documents as components of the Nitro Productivity Suite, which then evolved into the Nitro Productivity Platform.
Nitro Software shares has historically competed against Adobe (NASDAQ:ADBE) in the PDF market and created a healthy business with lower-cost offerings intended to disrupt Adobe's market.
Nitro Software is now headquartered in San Francisco, USA, has five offices across the globe, and at the current NTO share price, Nitro Software shares have a market capitalisation of A$746 million.
Nitro Software (ASX:NTO) Gets A Fillip From The Pandemic
The pandemic triggered a sea change in work practices across the globe.
With employees dispersed across various locations, there was limited access to office hardware such as printers and copiers.
As a result, digital workflows and document productivity solutions came into their own.
Nitro says it saw a 108% increase in electronic signature requests and a 67% increase in digital collaboration when stay-at-home orders took effect.
Sam Chandler, Nitro's Co-Founder and Chief Executive Officer, said that years of offline-to-online migration had been compressed into months by COVID-19.
With its toe in the digitisation door, Nitro could continue to enjoy the new business given the inertia to revert to the legacy working modes.
Furthermore, the company has been successful in transiting Business segment customers from perpetual to subscription mode, and this is likely to be completed by end of 2021.
From an 86:14 percentage ratio of Perpetual: Subscription in FY2017, the ratio as of 1H2021 had pivoted to 15:85.
The fact the company has been able to achieve this speaks to the quality of its product and service support.
Another factor could be at play – the company relies on its pricing power opposite its larger rivals such as Adobe and Docusign (NASDAQ:DOCU).
In a July interview, Simon Taylor, Vice President of Global Channel and Alliances at Nitro said: "There's a 'play nice' model with Adobe and DocuSign in the enterprise that will fit.
The midmarket and SMB is more traditional territory for us, and we get a high volume of business there because Adobe has priced themselves out of that.
Our move to a platform gives us a chance for a much more integrated model in this area."
Red Ink Is Not Going Anywhere, Yet
Nevertheless, the company incurred losses in FY2020 and is projecting a negative operating EBITDA of US$9-11 million in FY2021.
The main reason for this is the continued investment in growth the company has been making in its business including (a) hiring in engineering, product management, and go-to-market, (b) build of the Document Productivity Platform, and (c) Scaling up its marketing infrastructure.
Last week, Nitro Software (ASX:NTO) agreed to buy Connective NV, a leading Belgian eSign SaaS business,  for an enterprise value of €70 million (~US$81 million) as a part of its strategy to further strengthen its position as a global eSign and document productivity SaaS platform.
Connective has leading high-trust eSign capabilities and enjoys a fast-growing market share in France and customers in 11 other European countries.
The transaction positions Nitro to become the third global player in the enterprise eSign market alongside Adobe and Docusign.
To fund the acquisition, Nitro Software (ASX:NTO) last week raised about $117 million from institutional and sophisticated investors at $3.43 per new share.
That represented a 10.7% discount to the NTO share price prior to the trading halt.
Given the company's continuing strategy to invest in both organic and inorganic growth, investors may have to endure capital dilution and wait for profitability and dividends.
Nitro Software (ASX:NTO) – Opportunities And Threats
The company's US$6 million acquisition of PDF Pen has brought the Mac, iPad, and iPhone devices into Nitro's fold, broadening its focus from the hitherto Windows functionality.
The transaction, therefore, rounds out Nitro's multi-platform, multi-device reach bringing opportunities in a new market.
In July, Nitro Software (ASX:NTO) announced the integration of the Nitro Productivity Platform with Salesforce (NYSE:CRM) to help customers accelerate the closing of sales contracts and other critical agreements.
This is great news, but Salesforce is integrating with Docusign as well.
Late last month, the two companies expanded their relationship to make it easier to prepare contracts, quotes, and invoices, track and enforce contract terms, and manage the entire contract lifecycle management (CLM) process across DocuSign, Salesforce, and Slack platforms.
Adobe and Docusign have market capitalizations of $315.32 billion and $52.62 billion respectively.
In comparison, at the current NTO share price, Nitro Software shares size it a mere $746 million.
The larger peers have access to acquisition strategies, better technology including AI, and marketing muscle that could be detrimental to Nitro's prospects, even though it may be active in niche and smaller sectors such as SMEs.
There is also the risk of technological disruption from new-fangled technology such as AI making inroads into solutions such as Nitro's Productivity Platform.
For instance, Czech startup Rossum offers an end-to-end AI document processing solution that automatically "understands" different types of documents, such as PDFs and emails, and feeds them into a business process without the need for data entry.
Another area of concern for Nitro Software shares is cybersecurity.
Any vulnerabilities in Nitro's offerings could result in customers being exposed to cyber bad actors and losses.
In May 2020, security researchers identified three vulnerabilities in Nitro's PDF Pro editor application, two of which could be exploited for remote code execution.
In October it was reported that Nitro suffered a massive data breach that likely impacted many top-notch organizations.
Nitro Software (ASX:NTO) Financials
FY2020
During the previous financial year 2020 Nitro reported an ending ARR of US$27.7 million, which was up 64% year-on-year.
It clocked revenue of US$40.2 million with subscription revenue rising 61% YoY.
Operating EBITDA was negative US$2.4 million, and the company ended the year with $43.7 million in cash.
1H2021
In comparison, during 1H21, Nitro reported ending ARR of US$33.8 million, up 56% year-on-year, revenue of US$24.1 million with subscription revenue up 66% y-on-y.
However, operating EBITDA was negative US$3.0 million, and ending cash was $38.6 million.
Between 1H2019 and 1H2021, subscription ARR grew at a CAGR of 60%, while subscription revenue grew at a CAGR of 63%.
Total revenue grew 14% YoY in 1H2020 to US$19.1 million and 27% YoY in 1H2021 to US$24.1 million.
3Q2021
The company enjoyed good demand for its product in the third quarter and ARR at 30 September 2021 was up 50% from the ARR on 30 September 2020.
Notable customer additions and expansions in the quarter included Johnson Controls, Festo, Motorola Solutions, Chubb, Suez Water Technologies & Solutions, and Redfin.
Based on the outlook, the company improved its guidance for FY2021 as below.
FY2021 Guidance
The company has planned this year as one of investment aimed at accelerating both short and long-term growth.
It has guided for ending ARR of US$39-42 million, revenue of US$49-51 million, and operating EBITDA of negative US$8-10 million.
$140m Capital raise
Last week, Nitro Software (ASX:NTO) announced a capital raise of A$140 million comprising a fully underwritten equity raising to fund its acquisition of Connective NV.
This comprised an $80 million institutional placement and a $60 million entitlement offer for Nitro Software shares.
The institutional portion received a subscription of A$117 million at A$3.43.
The balance of A$23 million will be raised through a retail entitlement offer which opened on November 16, 2021 and closes on November 30.
The company is in growth mode as evidenced by the rise in its subscription and total revenues over the past couple of years.
Further, the acquisition of Connective shows the company is not averse to large-ticket buyouts to fuel inorganic growth.
However, because Nitro Software (ASX:NTO) is transitioning its (a) revenue model from perpetual subscription to a recurring SaaS model, and (b) product model from disparate products to a productivity platform, it appears that there is an adverse impact on its profitability.
This is evidenced by the increase in negative Operating EBITDA from US$2.4 million in FY 2020 to US$8-10 million for FY2021 (guidance).
Rapid capital dilution is also par for the course it appears, given the company's growth imperatives.
Nitro Software (ASX:NTO) Valuation
For the same reason, Nitro Software shares is not strictly comparable against peers, both against Nasdaq-listed majors and those on the ASX.
| | Period | Nitro Software | Adobe | Docusign Inc | Bravura Solutions Limited | Nuix Limited |
| --- | --- | --- | --- | --- | --- | --- |
| 5 Year Sales Growth % | 5YA | – | 21.82 | 42.13 | 5.6 | – |
| Price/Book | MRQ | 20.61 | 21.72 | 245.41 | 2.00 | 3.22 |
| Price/Earnings | TTM | – | 54.26 | – | 19.22 | 855.86 |
| Operating Margin% | TTM | -31.03 | 36.53 | -7.83 | 16.75 | -1.46 |
| Net Profit Margin% | TTM | -31.00 | 38.67 | -9.18 | 14.25 | -0.80 |
| Return on Equity% | TTM | -49.07 | 44.7 | -46.17 | 10.79 | – |
| Dividend Yield% | ANN | – | – | – | 2.45 | – |
Source: Investing.com
Nitro Software (ASX:NTO) Offers Post-Pandemic Growth Prospects But Investors Should Wait For Their Price
Nitro Software is executing well on its reimagined business plans with growth given a tailwind by the pandemic.
However, the growth is at a cost to its bottom line and investors should factor that it would be a while before the company moves into the black.
The strategic acquisition of Connective NV gives it broadened access to the Continent and scale opposite larger rivals such as Adobe and Docusign.
What is further interesting is that digitisation is bringing a lot of parts together in a business through third-party integrations.
For instance, banking transactions undertaken by a business (e.g. with Starling Bank) directly update accounts through integration with Xero. So does Ecommerce via Shopify.
Document signing, management, and productivity could also take this route, and therefore Nitro Software's platform approach is likely the right one.
In the longer term, the company is therefore positioning well.
However, the NTO share price has been on an uptrend since March 2021 and it may be prudent for investors take a buy-on-dips approach to accumulate the Nitro Software shares.