Today we will look at why we think PEXA shares (ASX:PXA) have great growth potential in a dominant position in our PXA share price forecast and analysis.
PEXA Group (ASX:PXA) has a near-monopoly status in the burgeoning digital property settlements segment with 85% of all real estate transactions in Australia being routed through its platform.
The company has swung to profitability in 1HFY'22 with a clear demonstration of cash flow with economies of scale and substantial growth opportunities ahead.
The stock has been moderately down since its IPO in July of last year, with most of the listing gains being wiped out by the volatility following the war and inflation woes.
PEXA shares at the current PXA share price are currently trading lower by 25.85% YTD and about 14% down since inception.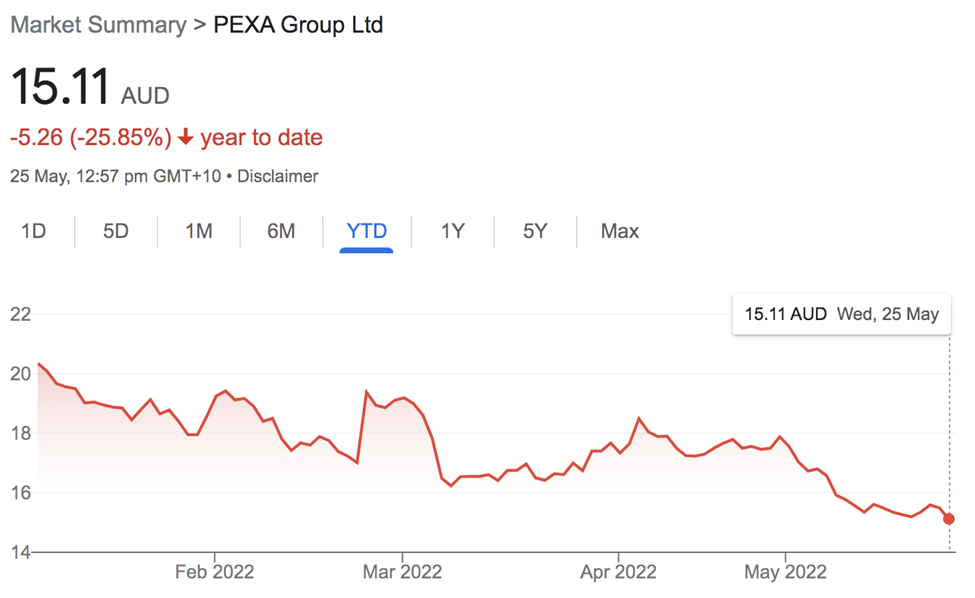 PEXA Group (ASX:PXA) is a digital property transaction settlement platform with an effective monopoly on a large part of the A$32.2 billion Australian real estate services that are rapidly going digital.
PEXA has a strong foothold in the refinance facilitation market in Australia's A$8T valuation real estate market.
The company's core product is its B2B PEXA Exchange product which facilitates the completion of legal and other financial formalities involved in property transactions in a completely paperless manner between various parties such as lawyers, financial institutions, conveyancers, and government entities such as land registries.
PEXA shares at the current PXA share price have a market capitalisation of $2.7 billion.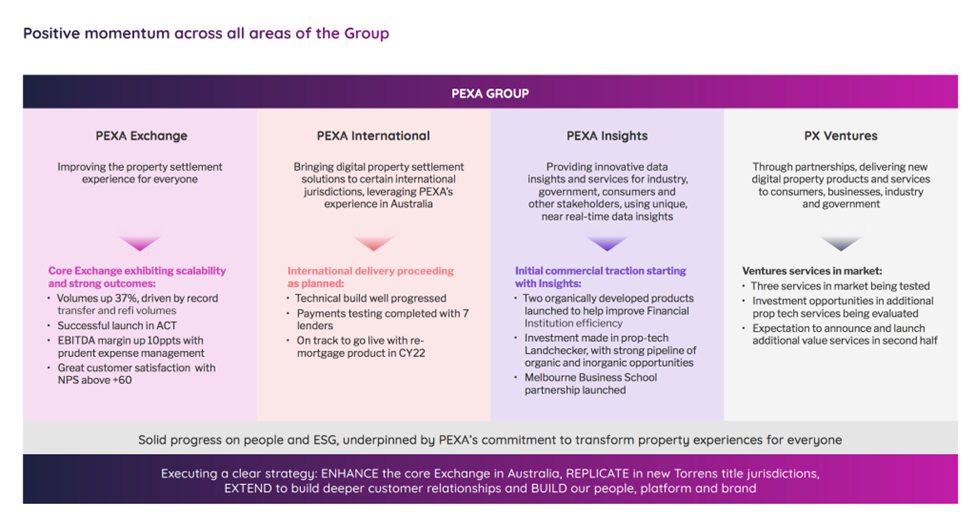 Source – 1H'22 Results Presentation
Entrenched Market Position With Near Monopoly and A Strong Use Case
PEXA Exchange is a paperless digital platform that enables the various people involved in a property transaction, such as buyers, sellers, lawyers, real estate firms, brokers, and financiers to formalize real estate transactions in real-time far more efficiently than through the traditional paper-cum-brick and mortar process.
This leads to massive efficiency increases for all parties involved whilst increasing velocity and lowering the risk across the entire property market.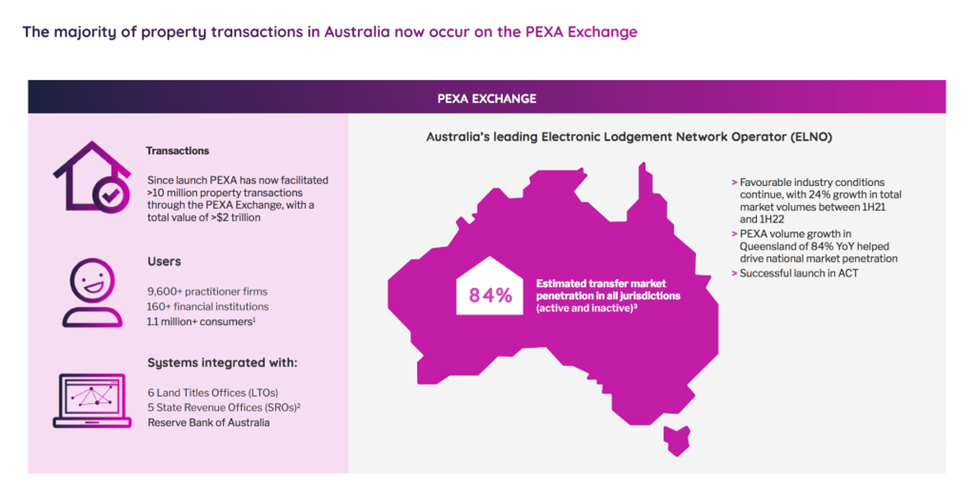 Examples include direct two- and three-way transactions between multiple parties in the event of sales or refinancing; and the settlement/facilitation of multiple property transactions simultaneously in the case of a real estate developer.
To augment its abilities, the company has bought a 38% stake in LandChecker, a property technology company.
This is a property intelligence firm that collates and presents a host of information including, for example, all upcoming developments, buildings and zoning laws in a particular area or lot, or building specifications in various jurisdictions.
PEXA's business model is based on revenues from financial institutions for the facilitation of transactions such as mortgage redemption/origination and/or refinancing or membership fees from conveyancers and lawyers.
Both fee sources are fixed prices and revenue is only generated in the event of successful transactions.
PEXA has in place high barriers to competition because of its solid product, extensive market share, the number of registered practitioners such as lawyers, brokers, and bankers on its platform, and its strong relationship with banks for the generation/facilitation of refinance business.
However, the company is exposed to the ups and downs of the real estate market.
While the market has been hot in Australia for a long time, it is now threatened by the RBA's efforts to rein in inflation through rate hikes, along with global tightening.
Moreover, Australia has one of the highest levels of household leverage in the world, most of which is from mortgages.
Hence, the new macroeconomic conditions can cool down the real estate market and also slow down the economy of the country.
This would make the availability of credit tougher and deal a further blow to the property markets.
Huge International Growth Opportunities of Upto 10x Current Revenue
Though PEXA has an entrenched and dominant position in Australia, it is nevertheless actively pursuing expansion into other markets where governments are eager to drive efficiency, speed, and safety through digitisation.
PEXA, therefore, has countries including New Zealand, Canada, and the UK in its expansion sights.
Governments welcome PEXA's entry as its offerings cut transaction costs, bring transparency and speed to legal, sales, and financial aspects of property transactions, and build real-time transparent databases of the property markets in their countries.
The company is currently in the midst of an expansion into the UK.
The country's housing property market is worth £9.5 trillion while commercial is estimated at another approximately £1 trillion.
These represent a A$700 million a year opportunity for the company because the UK government is committed to digitizing the property market.
PEXA is currently testing its platform with the Bank of England through a transaction partner.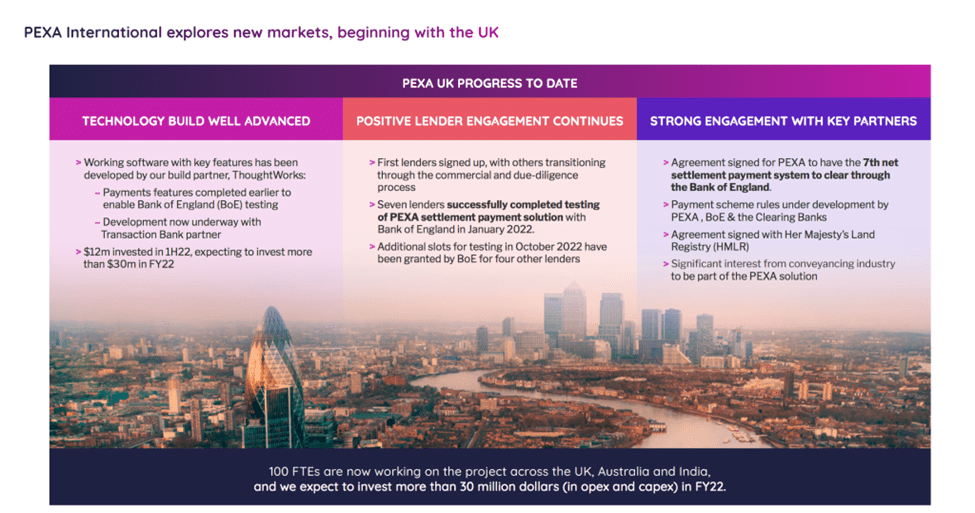 The UK, NZ, and Canada collectively represent a market opportunity of over $1.5 billion a year for PEXA.
A business such as PEXA needs to actively work with government bodies, banks, and regulators and it has a successful track record of doing so in Australia with a clear and demonstrable beneficial impact.
Making inroads into these new territories should therefore be much easier for PEXA compared to any competition.
The positive scope for the business is reflected in the fact that PEXA's holding company, Link Administration Holdings, has continually been the subject of acquisition offers from the likes of private equity giant KKR and Canadian enterprise software firm Dye and Durham (TSE: DND).
The last-named suitor has been selected by Link's board for its offer of A$3.2 billion.
Competition and Rate Hikes Pose Risk To Business
However, a potential risk for the company is that a large portion of its business (14.7% of revenue) comes from financial institutions in lieu of refinancing facilitation.
Global interest rate hikes over the medium term, particularly in Australia where interest payments are a big chunk of expenditure for residents, are detrimental to the refinancing market.
Rising rates would understandably curb the demand for refinancing.
This is a risk that could impact earnings over the medium term.
This is a concern because refinancing is the company's most lucrative and dominant segment, with 99% penetration in the most recent reported period.
There is also market share risk from privately held rivals Sympli and LEXTECH which are backed by the ASX and law firm Purcell Partners.
However, these companies are unlikely to pose a serious competitive threat to PEXA shares as they lack the interoperability it enjoys with land registries, RBA, and other regulatory bodies, not to mention the ability to facilitate transactions/settlements between different platforms.
Nevertheless, regulations to open up such platforms are expected to start playing out by 2024, and PEXA could lose these advantages over time.
Strong Unit Economics and Clear Demonstration of Economies of Scale
1H'FY22 was a key milestone for the company as it offered clear evidence of the financial attractiveness of PEXA's model.
It delivered its maiden Net Profit After Tax (NPAT) and the kicker from economies of scale when costs did not escalate as much as the company's revenues.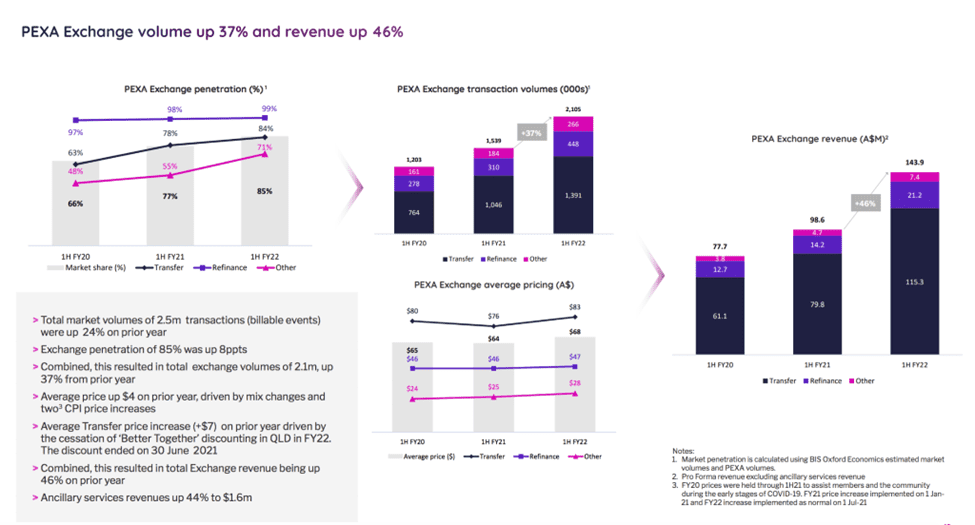 Source – 1H'22 Results Presentation
During the first half of FY22, the company reported revenue of A$145.4 million (up 46% YoY), EBITDA of A$75.5 million (up 71% YoY), and NPAT of A$25.9 million against a loss of A$3.8 million YoY.
However, it must be noted that the reported loss in the previous corresponding period was non-recurring in nature.
Nonetheless, even in adjusted terms, NPAT grew 184% YoY.
EBITDA was driven by the PEXA Exchange unit which garnered A$83.2 million (up 76% YoY).
However, developing segments/assets and investments reduced EBITDA to the reported A$75.5 million.
A key takeaway from 1H'22 was that despite the prevailing inflationary environment, the company could maximize economies of scale and grow its margins.
Economies of scale are evident as operating costs grew by only 19% against revenue growth of 46%.
As a result, gross margin grew 1.6% while the core PEXA Exchange EBITDA margin grew 9.8%.
Over the period, PEXA Exchange penetration grew to 99% from 98% in refinancing, to 84% from 74% in property transfer settlement, and 71% from 55% in ancillaries.
PEXA Exchange revenue is broken down between segments as follows: Transfers (80.2%), Refinancing (14.7%), and ancillaries (5.14%) with average PEXA exchange revenue per transaction of A$68.4 dollars (up 7% YoY) and expenses/costs per transaction of A$30 (down 8.8% YoY).
For the full-year FY22, the company has guided for revenue of A$265 million – A$275 million, pro-forma EBITDA of A$120 million – A$130 million, and pro-forma NPAT of A$70 million – A$80 million.
No Comparable Listed Competition Globally, Yet
As stated previously, the company is unique because it has neither similar domestic competition nor are there any comparable listed companies.
However, a broad comparison may be drawn to Dye and Durham (TSE:DND), which is an enterprise software company with a very wide product portfolio that spans various geographies and use cases including property settlement.
Dye and Durham, also operates in Australia providing regulatory information, workflow technology, property settlement services and legal support solutions.
| Metric | PEXA Group | Dye and Durham |
| --- | --- | --- |
| Price/Sales (TTM) | 10.29 | 3.42 |
| Price/Cash Flow (TTM) | 31.87 | 22.18 |
| Price/Book (Most Recent Quarter) | 2.19 | 1.88 |
PEXA shares, at the current PXA share price on plain optics, look much more expensive.
However, that may be due to its stranglehold on the Australian market and significant progress in penetrating UK, another major developed country.
Further, FY22 numbers from PEXA shares are likely to be much better given its revised, upward guidance.
It is significant, however, that Dye and Durham have placed a $3.7 billion bid for Link Administration Holdings, which owns 43% of PEXA.
The bid is being reviewed by the Australian Competition and Consumer Commission, and according to a report, the Commission's concerns have focused almost entirely on Links' stake in PEXA and associated competitive concerns.
Last year, Dye and Durham also bought SAI Global's property division and GlobalX.
SAI Global's Property Division provides its broad B2B customer base, which includes conveyancers, solicitors, and the financial services sector, with all the necessary workflow software, systems, and information products to facilitate and complete the transfer of property.
GlobalX is one of Australia's most successful technology companies with operations across Australia and the United Kingdom.
Established in 1994, the firm focuses on innovative technology solutions and support services for law firms, conveyancers, financial institutions, property planning professionals and government bodies.
GlobalX offers unique cloud-based software solutions, including online property and business regulatory information.
It appears that PEXA is an important component in Dye and Durham's bid for Link, given its massive share in the Australian market, and compatibility with recent acquisitions.
PEXA shares checks all the boxes with its future-facing digitisation of antiquated and laborious procedures in real estate markets.
Its operating and business model has been resoundingly proven in Australia given that it has completed more than 10 million transactions valued $1.8 trillion.
More than 9,400 legal and conveyancing firms and 160 financial institutions use the company's digital property settlement.
While PEXA priced its IPO at A$17.13, PEXA shares at the current PXA share price are currently available at A$15.11 due to the ongoing turmoil in financial markets.
On the other hand, the company has left its prospectus forecasts in the dust.
This leaves us to believe that there is value to be had at this stage thanks to macroeconomic factors out of its control.
Note that H1'FY22 was a record first-half result for the company and it revised upward its prospectus guidance significantly for revenue, EBITDA, and net profit minus amortization for FY22.
Its international expansions appear to be progressing well and could add dramatically to revenues in the coming years.
Add to that the possibility of M&A action and PEXA shares may well turn out to be a lucrative value buy.