Today we will look at why we think Coronado Global Resources shares (ASX:CRN) have great potential for upside even in this current environment with our CRN share price forecast and analysis.
Coronado Global Resources (ASX:CRN) is one of the world's largest coal producers with a product mix serving the steel market.
The company has been a big beneficiary of the equities market's de-risking from high-growth technology towards defensive value, as well as the recent inflation in commodities prices.
With a strong fundamental and economic base, the company has been able to capitalize well on cyclical opportunities and become highly profitable and a market favourite.
Coronado Global Resources shares at the current CRN share price have been a considerable outperformer versus the market returning +79.07% YTD compared to -5.91% for the ASX200.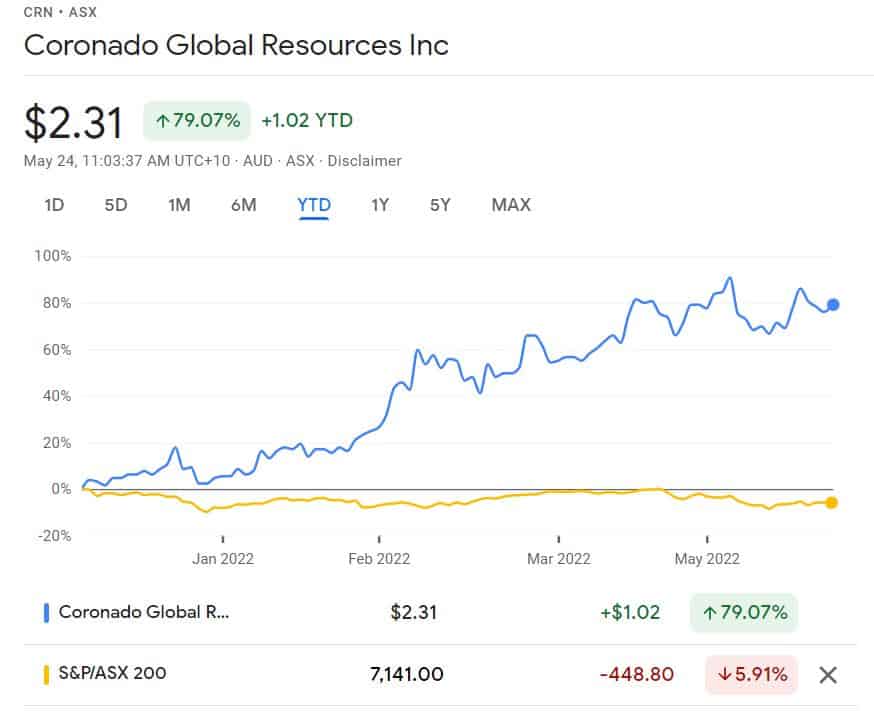 Founded in 2011, Coronado Global Resources has grown to become the world's fourth-largest metallurgical coal producer in a short period.
The company holds more than 2 billion tonnes of coal resources and 822 million tonnes in reserves, with assets in excess of 20 years.
Most of the company's customers are blast furnace operating-steel producers with downstream markets including construction, automotive, and consumer products.
Coronado operates in the United States (Michigan and Utah) and Australia (Curragh); it also has an expansion underway in Pennsylvania.
This footprint gives it geographical diversity and lowers geopolitical risk.
The company's annual production currently stands at 14.5 million tonnes. Its market capitalization is A$3.79 billion.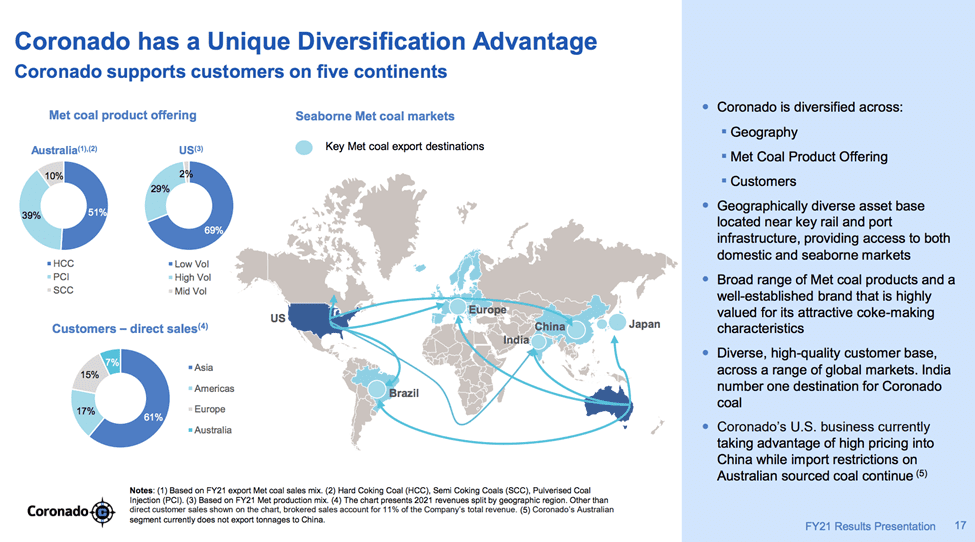 Strong Fundamentals But A Single-Product Portfolio Presents Risk
Coronado Global Resources' (ASX:CRN) biggest strength is the solid fundamentals of its core business.
Due to steel's widespread and multi-sector uses, the company enjoys stable demand for met coal with low dependability on a single downstream sector.
Furthermore, a small portion (about 5%-7%) of its production is thermal coal, which is used in power generation – another very stable market.
The company's geographical diversification across the US and Australia serves as a cushion in the event of political or economic turbulence in any market.
For example, when China sanctioned Australian coal exports, Coronado could continue to serve the Chinese market, the largest in the world, from its US operations.
In another example, the war in Ukraine has forced coal consumers in Europe to consider larger met coal companies such as Coronado for their industrial needs in the face of the EU ban on Russian coal imports effective August.
Furthermore, during the Q1 March quarter, the company said its prices (and revenues) touched record levels due to strong global demand and disrupted Russian coal supply.
The company's sales are split well across major developed and developing economies with 61% sales to Asia (primarily India, which is the biggest emerging economy with a strong demand for steel), 17% to the US, 16% to Europe, and the remainder in Australia.
Apart from geographical diversification, the company also has an assorted product mix (Hard Coking Coal, Soft Coking Coal, Pulverized Injection Coal, High Volatility, Medium Volatility, and Low Volatility) to serve the requirements of various types of steel producers, across multiple geographies.
Further, in the wake of the pandemic, many major economies of the world such as China, the US, and Europe are gearing up to spend massive amounts of capital to stimulate economies through infrastructure including energy and highways.
All of these are big consumers of steel.
In FY21, the company reported an average operating cost per tonne sold of about $92, which represents very attractive operational economics as the average price of met coal over the past 12 years has been $177/ton, a period that had a fair share of lack-luster commodity markets.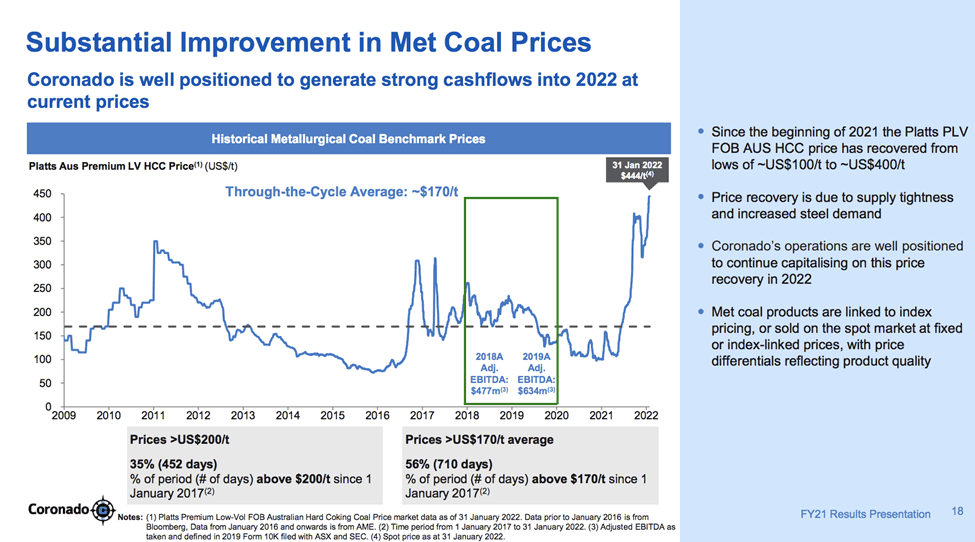 However, despite stable demand for its production, Coronado suffers from its dependence on a single product portfolio.
It is, therefore, prone to cyclical earnings at best and complete disruption at worst.
The ultra cyclical nature of coal pricing can lead to instability in revenue and profitability for the firm.
For example, seaborne met coal prices surged from about $100 to $400 within 2021.
A secondary weakness stems from the company's pricing structure.
Only a very small amount of the company's production comprises fixed price off-takes, while the rest is index-linked or spot/forward curve derived.
This exposes the company to downsides when the cycle turns bad, potentially leading to losses or production halts.
Notably, there are looming threats of a recession in major economies following the inflation-triggered hardening of interest rates at a pace never seen before.
India Presents a Big Opportunity for Coronado Global Resources (ASX:CRN)
Coronado's biggest opportunity lies in India, which is currently the company's largest export market.
India is currently one of the best-performing emerging economies globally and is on the cusp of a China-like transformation.
Apart from strong demographics and rising per-capita incomes, India has a massive requirement for steel stemming from infrastructure, residential/commercial construction, and other applications for steel.
While infrastructure is the Indian government's biggest agenda, the country's intrinsic growth will fuel demand for other downstream markets including cars and white goods consumer products.
Metallurgical coal demand is slated to grow sizably over the coming decades in India, and Coronado is in pole position to take advantage of this due to its vast high-quality reserves and direct sea-borne proximity.
Secondly, though steel-making is maligned for its carbon emissions and environment-hostile process, it should be noted that the metal has significant application in the green and clean energy revolution.
Steel is needed in large quantities for the fabrication of wind turbines, solar panel housings and in components of nuclear, geothermal, and hydro-power plants.
For example, the average wind turbine uses 285 tons of steel, representing a demand of about 220 tons of met coal.
Moreover, most electric vehicles currently use aluminum bodies which are lighter due to the range limitations of current battery technology.
However, as batteries get more advanced in terms of energy density and lower charging times, automakers will almost certainly move back to steel due to its cheaper price and strong supply chain, and to counterbalance the rising costs of other components such as wirings, semiconductors, and batteries.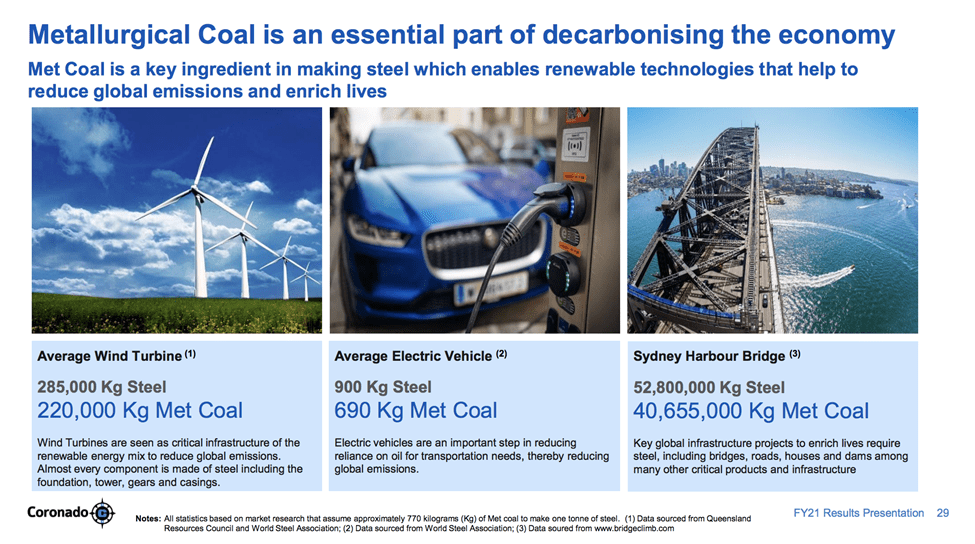 It is therefore opportune that Coronado Global Resources (ASX:CRN) is on track to increase production by about 25% by 2025, and is also developing a new project in Pennsylvania that will increase its total reserves by nearly 10%.
ESG and Green Steel Present Serious Threats
However, a big risk facing Coronado Global Resources (ASX:CRN) from a valuation perspective is the growing dominance of ethical or ESG investing.
As a result, big institutional investors are shunning environmentally harmful industries in favor of greener sectors.
While steel might have a stable demand outlook, coal businesses appear highly unfavorable when viewed through the ESG lens.
This problem could suppress the company's valuations over the longer term.
Moreover, growing inflation and climate risks are fuelling substantial investments in the development of hydrogen steel, which will be cheaper, far more environmentally friendly, and more stably priced due to its renewable nature.
Steelmakers are racing to build prototype hydrogen steel plants powered by green energy including solar, wind, and nuclear.
Any breakthroughs in these technologies could hamper demand in the short term and possibly kill the met coal market over the long term.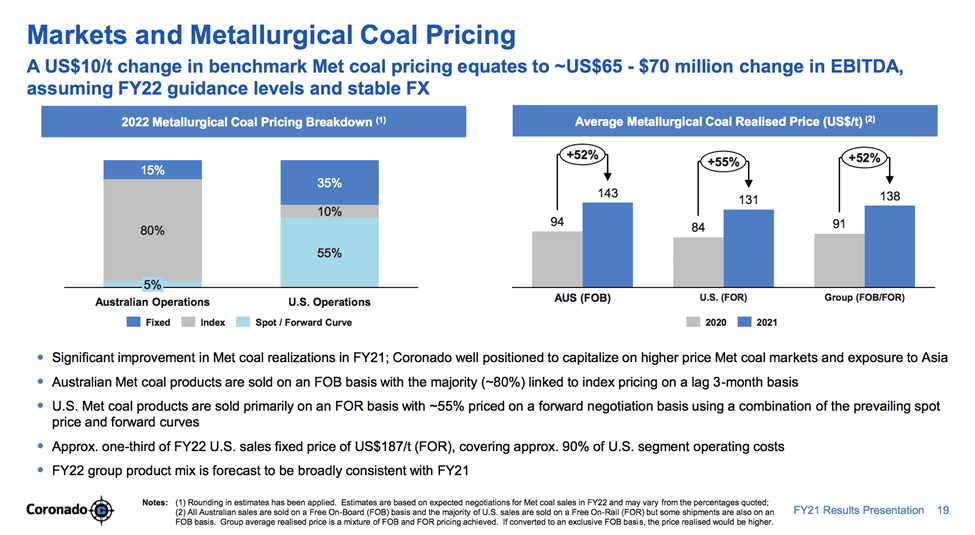 Solid Operating Leverage With Great Cash Payout
In FY21, Coronado Global Resources shares reported revenues of $2.148 billion (up 47% YoY), an EBITDA of $486 million (up 804% YoY), and a net income of $189.4 million (up 184% YoY).
However, production was up only 2% at 17.4 Mt while sales were down 2% at 17.8 Mt.
Furthermore, the average price realized per tonne was up about 50%.
Costs, however, climbed substantially owing to inflation and supply chain bottlenecks with mining costs up 18% YoY and operational costs rose 20% YoY.
The company invested $90 million in CAPEX over the year.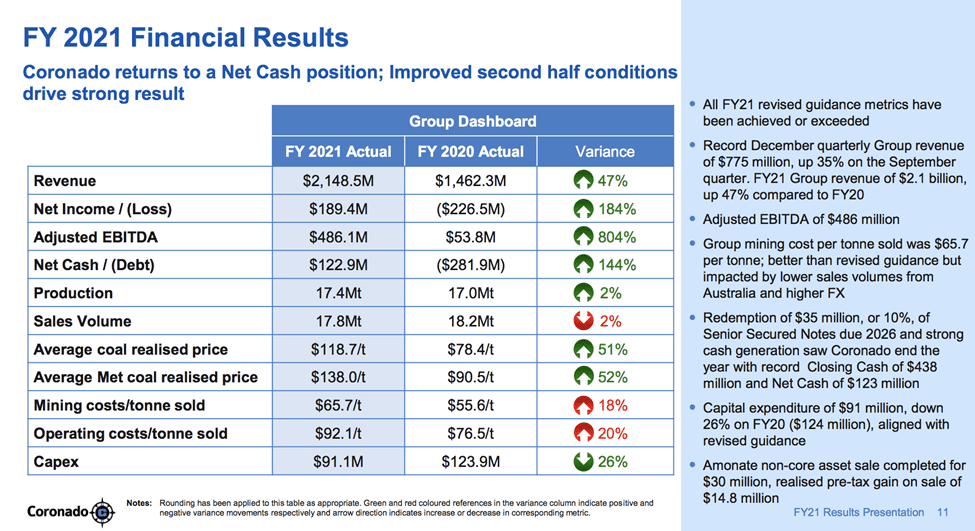 The company's cash flow structure is very attractive from an investor's perspective as its operating structure allows for big dividend payouts while still funding growth.
In FY21, Coronado Global Resources shares reported an FCF of $299 million of which it spent $35 million on redemption of senior secured debt and made an offer to buy back $100 million of the same.
Of the remainder, the company paid out $150 million in dividends (9 cents/share) with the rest being retained as earnings.
Coronado Global Resources (ASX:CRN) currently has ample liquidity of $671 million, of which net cash stands at $257 million.
In Q1'22, Coronado reported sales of 4.4 Mt, up 1.4% QoQ, while realized price/ton of $267 was up 24.4% QoQ, and a record for the company.
Q1'22 revenue was a quarterly record of $947 million, up 22.3% while mining expenses rose to $76.3/ton, up 16.1% on full-year '21 costs.
"Met Coal benchmark prices remain well above long-term averages with elevated demand for Coronado products in Europe," the company said in its Q1 '22 quarterly report.
"Due to our coal contracts in general being on a three-month lag basis, we expect June quarter realised pricing to improve further," Coronado revealed.
It also said the threat of COVID-19 was "dissipating," resulting in higher labour availability rates at all its operations and therefore improved production in the first quarter.
The company spent $39.1 million CAPEX and announced a 10c/share fixed annual dividend policy moving forward.
We will compare Coronado Global shares (ASX: CRN) to Alpha Metallurgical Resources (NYSE: AMR), a US-based metallurgical coal producer, and Yan Coal (ASX: YAL), an Australian coal producer with a focus on metallurgical coal.
| Metric | Coronado Global | Alpha Metallurgical Resources | Yan Coal |
| --- | --- | --- | --- |
| Price/Earnings | 15.61 | 3.89 | 9.07 |
| Price/Cash Flow | 7.51 | 29.58 | 4.37 |
| ROE (5 Year Average) | 12.74% | 12.85% | 5.97% |
| Return on Assets (5 Year Average) | 6.22% | 3.37% | 2.79% |
| Dividend Yield | 5.47% | 1.04% | 9.26% |
Source – Investing.com
As can be seen, the comparison is a mixed bag.
While Coronado Global shares at the current CRN share price are very expensive in terms of earnings, it is moderately priced in terms of cash flow generation.
It has a decent ROE, but a significantly higher ROA, a key measure in valuing capital-intensive businesses.
In terms of dividends, the company is again midway.
However, it has announced plans for a fixed dividend of US$0.005 per CDI biannually, thus providing greater certainty on dividend distributions for shareholders.
Overall, Coronado Global shares at the current CRN share price appear to be slightly expensive compared to its peers.
Interestingly, the company revealed recently that it had been confidentially discussing a merger with Arch Resources, Inc. (NYSE: ARCH), the second-largest supplier of coal in the United States, in an effort to drive shareholder value.
"However, no such discussions are ongoing," Coronado confirmed.
"There are no expectations that the discussions with Arch will resume."
The company also said in its latest quarterly report that S&P Global Ratings had upgraded its credit rating 'B' to 'B+', and Moody's Investors Service upgraded from 'B2' to 'B1'.
Coal Turns From Pariah To Darling, And It Shows On Coronado's Numbers
Coal of all kinds has pivoted from an ESG outcast to a savior in times of war and the resulting supply chain disruptions for both energy and steel-making applications.
Coronado Global shares (ASX:CRN) have therefore made bank in terms of both revenue and profits.
It is sitting on a solid cash balance despite paying out decent dividends and maintaining capex.
Its multi-geographical operations are a bulwark against geopolitical turmoil and economic upheavals such as sanctions.
Coronado also has a huge advantage from the growth and consumption optics of India, its largest export market.
The outlook is good, considering its solid reserves of good quality coal located strategically near transport infrastructure for servicing both local and export demand.
The company is shareholder-friendly, having announced a fixed dividend to improve the payout visibility.
It is also not averse to exploring mergers or other transactions that could enhance the value of the company for its stakeholders.