Today we will look at why we think Piedmont Lithium shares (ASX:PLL) has great upside potential with our PLL share price forecast, as the world looks towards decarbonisation and cleantech.
Piedmont Lithium (ASX: PLL) is developing a mine for lithium hydroxide and its byproducts.
The stock has benefited from the recent market rally in tech and clean energy stocks because it is linked to the rising popularity of EVs. Lithium is core to the batteries used in EVs and for grid storage.
It is also used in the batteries of laptops and cell phones, as well as in the glass and ceramics industry.
The company has also inked a deal in September 2020 to supply one-third of its spodumene production to Tesla.
Additionally, the lithium industry is expected to grow 37% YoY.
At the current PLL share price, Piedmont Lithium shares have gone up a mammoth 760% over the past year after substantial development progress at its North Carolina lithium mine.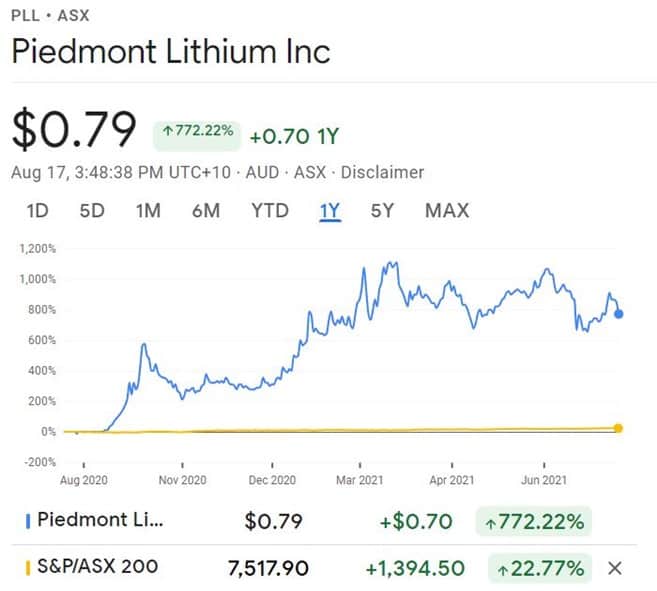 About Piedmont Lithium (ASX:PLL)
Piedmont is a North-Carolina headquartered producer of lithium and its by-products such as quartz, mica, and feldspar.
The company owns interests in three main locations – North Carolina Lithium, which is the company's flagship mine, Sayona Quebec, a lithium mine in Canada where the company has a 39% stake, and Ghana Lithium, where the company has a 50% off-take of pre-processed lithium.
The company also has a chemical plant under development that will be used to process the lithium hydroxide for use in batteries and produce by-product minerals.
At the current PLL share price, Piedmont Lithium shares have a market cap of A$1.38 billion.
Bright Lithium Outlook With Substantial Profit Margins
Piedmont Lithium shares' biggest strength is the bright future of its core product lithium.
There are two types of lithium used in batteries for EV and grid storage applications.
One is lithium carbonate, which is processed from brine, and the other is lithium hydroxide which is processed from spodumene ore.
Piedmont Lithium produces the second kind. Spodumene ore mining is a superior process because it is weather agnostic, cheaper to produce and has a faster production cycle.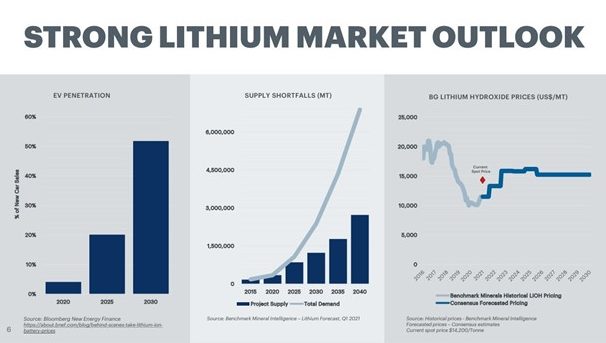 The cost of production at the company's flagship North Carolina mine is just under $3,000/t while the current spot price of lithium hydroxide is about $15,700/t, thus giving the company a potentially substantial profit margin.
The company benefits from location advantages in terms of cost such as cheaper electricity, transport, and personnel compared to other mines, particularly those in Australia.
The company will also monetize the by-products from lithium hydroxide production, such as quartz, feldspar, and mica.
The minerals serve as inputs in growing markets such as solar panels and lightweight ceramics. Together, they will help the company lower its pre-processing mining costs by approx $163/t, a 48% reduction.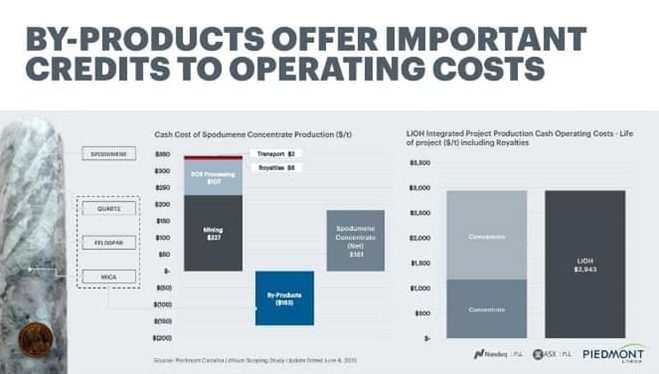 Single Product Focus Presents Risks
While lithium has a bright future, Piedmont Lithium (ASX:PLL) is largely a single product company and that poses a risk for investors.
Consider the collapse in the price of the metal in 2019 amidst a global glut in lithium supply.
Though the future scope for lithium's use in batteries appears to be immense, considerable research and development efforts are underway to find a cheaper and more abundant material.
That's because lithium is a very expensive and exotic metal and its supply will almost certainly lag demand.
While none of these efforts has borne any fruit and lithium is still the front-runner for high-performance battery use, any dramatic innovations in the field could hurt the company's prospects.
Moreover, towards the latter years of this decade, a veritable tsunami of spent batteries would be available for recycling, the technology and cost of which is expected to improve in coming years.
This phenomenon will dampen demand for newly mined lithium.
The company also faces a threat from growing progress towards hydrogen mobility.
Concentrated Control of Lithium Supply by the Chinese Presents Opportunity
Lithium hydroxide demand is expected to grow at 37% CAGR till 2030 and annual demand projections are about 2M tonnes a year, providing a strong tailwind for the PLL share price.
Due to the advantages of lithium hydroxide over carbonate, its share in the use of EV batteries is expected to make up the majority of supply, as opposed to about 50-50 share between hydroxide and carbonate as of now.
Currently, more than 80% of the world's spodumene ore processing capacity lies in China.
This concentration of the lithium hydroxide supply chain is the cause of significant inefficiencies for automakers in Europe and the US due to increased costs and time taken as a result of transport from mine sites to China and then to factories.
Piedmont Lithium's integrated processing plant along with a high-quality mine, therefore, puts it in a unique position to capitalize on this opportunity.
The fact that North Carolina is a coastal state and has direct access to transatlantic freight routes is an added advantage.
There are also added tensions from countries not wanting their supply chains to be overly dependent on China.
Geopolitically, Afghanistan now presents a problem following the exit of the Americans and their allies because the country's vast deposits of minerals including lithium could fall into the hands of the Chinese.
China is said to be already preparing to scale up its ambitions (and presence) in Afghanistan.
If this materializes, it would further concentrate the global lithium supply in the hands of the Chinese.
Europe Presents Significant Opportunity Due to EV Shift
On the brighter side, however, Europe presents a significant opportunity for Piedmont Lithium shares (ASX:PLL) because it is by far the most climate-conscious market.
EU policymakers have made determined efforts to incentivize automakers for developing sustainable mobility solutions by imposing penalties on CO2 emissions.
These penalties are costing automakers a combined $30+ billion a year presently.
While there are no substantial emissions penalties in the US, EVs are projected to make up the majority of new vehicle sales in that country by 2030.
Timely Project Implementation a Risk
The US is home to some of the largest auto manufacturers in the world such as GM, Ford and Tesla.
Therefore, setting up the supply chain for EVs is a crucial challenge for these automakers given the looming supply-demand imbalance for lithium.
Piedmont Lithium (ASX:PLL) must adhere to its project implementation schedule.
The company is expected to commence production in North Carolina by mid-2022 and the processing plant is expected to start operating in 2023.
Any major delay on these timelines could seriously hamper the company's prospects.
Piedmont has been a target of a lawsuit alleging misinformation regarding project timelines because the mining permit was delayed over two years.
The company has denied any wrongdoing and claimed that weak lithium prices cast a cloud on the project implementation. The case is still in progress.
Climate and Environmental Concerns an Issue
Piedmont Lithium (ASX:PLL) also faces risks from rising climate and environmental consciousness.
The North Carolina state legislation recently voiced concerns over a lithium mine of the size of the company's project. Piedmont Lithium will apply for a mining permit this month.
Investors should recognize that the project would require significant Capex to build out the mine and processing plant.
Since the company has no cash flow, investors could face dilution risks in the event of cost overruns.
Piedmont Lithium's (ASX:PLL) Financials
Since Piedmont Lithium is in the development stage, there is no operational performance to assess its financials.
However, the company's projections of mine performance are very attractive.
Further, it has had no difficulty yet in raising project finance. The company raised $57.5 million (A$81 million) from a US listing in December.
In April, the company raised another $122.5 million (A$159 million) after receiving approval for its processing plant at King's Mountain, NC.
The company currently has about $140 million in cash and will fund further expansion through a combination of debt and dilution.
The company has stated that it will apply for a loan from the Department of Energy to help fund the project under President Biden's Advanced Technology Vehicle Manufacturing scheme.
Further, as mentioned above, Piedmont has a very competitive production cost per tonne of lithium.
The North Carolina mine has a 39.2MT spodumene reserve, annual spodumene mining output of 248,000T, annual lithium hydroxide output of 30,000T over 20 years, and a budgeted project Capex of $839 million.
It has an NPV of $1.9B and an annual EBITDA run-rate of $400 million.
The NC mine's payback period is 2.9 years and its IRR is 31%, as shown below.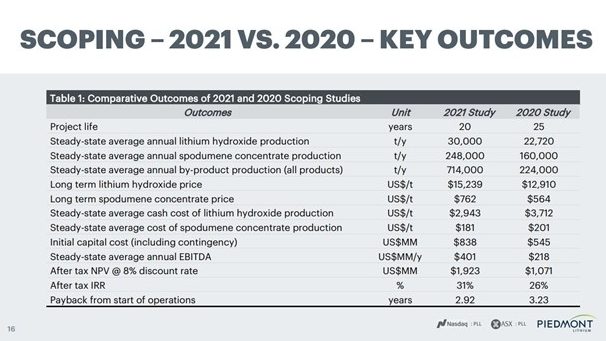 The Sayona Quebec mine, in which Piedmont has a 39% stake, has a spodumene reserve of 12MT and mineral reserves of 20MT.
Sayona is expected to produce 113,000T of spodumene ore annually (Piedmont's share) over 13 years. However, the annual lithium hydroxide production is yet to be crystallised.
Assuming the same ore to lithium ratio and processing costs as North Carolina, EBITDA should be about $48 million from this mine.
The Ghana mine has 14.5MT of spodumene and annual ore production of 295,000T at $247/T, of which Piedmont owns half.
The mine is expected to be operational in 2024 and requires a Capex of $68 million. The NPV of the mine is $345 million and IRR 125%.
Lastly, Piedmont Lithium (ASX:PLL) already has a 5-year, fixed price off-take contract with Tesla that commences in 2023.
Piedmont Valuation
We will assess Piedmont Lithium shares against Standard Lithium (TSE:SLL), a comparable Canadian-headquartered lithium miner.
Measure (US$)
as of August 13, 2021
Piedmont Lithium
Standard Lithium
Market Cap
1.01 billion
1.08 billion
Enterprise Value
0.94 billion
1.06 billion
Price/Book (mrq)
12.65
19.29
Lithium Carbonate
Equivalent Resource (M/t)
7.64*
3.94*
IRR
31%*
36%*
NPV (After-Tax)
(8% discount rate)
$1.9 billion*
$989 million*
Annual EBITDA Run-Rate
$400 million*
$57.8 million
(share of JV)*
Average Selling Price
Assumed
$15239/t
(Lithium Hydroxide)
$13550/t
(Lithium Carbonate)
*Flagship mines only
As can be seen, Piedmont Lithium has the larger lithium resource by a significant margin.
Further, lithium hydroxide is expected to heavily outperform lithium carbonate in terms of use because of the reasons mentioned earlier.
Moreover, Piedmont has a higher EBITDA run-rate than Standard Lithium and at the current PLL share price, Piedmont Lithium shares have a cheaper Price/Book ratio.
Piedmont Lithium (ASX:PLL) An Excellent Play On Dramatic Climatic Imperatives Looming Ahead
Global pressures to counter climate change will propel the development of electric vehicles, aviation, and machinery and provide significant tailwinds for the PLL share price.
In a recent landmark report, the IPCC warned that human influence had warmed the atmosphere, ocean, and land and that the changes inflicted on the planet, especially oceans, would be "irreversible for centuries to millennia."
It also said continued warming will lead to an acceleration of "extreme events unprecedented in the observational record."
Calling the report a 'code red' for humanity, U.N. Secretary-General Antonio Guterres said there was irrefutable evidence that greenhouse gas emissions from fossil fuel burning and deforestation were choking the planet.
Clearly, fossil-burning vehicles and equipment will need to be replaced by cleaner electrical power, making batteries (and lithium) indispensable.
Meanwhile, the cost of solar panels has fallen 70% over the past decade making possible the large-scale use of renewable energy for recharging batteries.
These factors are all bullish for lithium, and Piedmont Lithium (ASX:PLL).
At the current PLL share price, Piedmont Lithium shares are about 35% off its highs made in March 2021 and could present a good opportunity to gain exposure to quality assets in a fast-growing sector.