Today we will look at why we think PointsBet shares (ASX:PBH) is a good low-risk bet on a growing industry through our PBH share price forecast and analysis.
PointsBet Holdings (ASX:PBH) is an online gaming operator whose business spans Australia and the Americas.
The pandemic spurred betting across the globe, but in the US, legal gambling has taken off and is in the midst of a historic expansion in activity.
The virus has sparked an unprecedented spike in online gambling and sports betting, in all their avatars, because casinos shut down and people were locked down inside their homes.
PointsBet has benefited from these market dynamics as apparent from its FY21 numbers.
Nevertheless, at the current PBH share price, PointsBet shares are down nearly 16% year-to-date, significantly underperforming the ASX200, which is up 9%.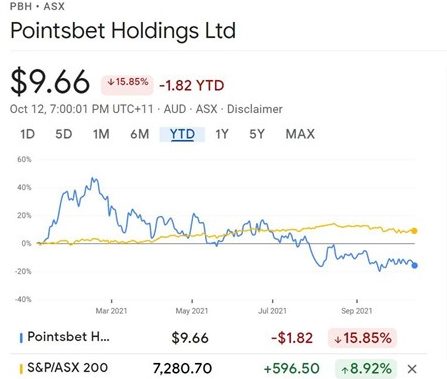 Founded in 2015, Pointsbet Holdings is a global, online, cloud-based gaming operator that provides sports, racing, and iGaming betting products and services in Australia, and in the betting markets of Colorado, Illinois, Indiana, Iowa, Michigan, and New Jersey in the United States.
It has pioneered "points betting," a new way to bet where the bettor's winnings or losses from the bet are determined only at the very end of the game and are amplified by the number of points in which the spread gets beaten.
Its business segments are Australia Trading, United States, and Technology.
The company is headquartered in Cremorne, Australia, and at the current PBH share price, PointsBet shares have a market capitalization of A$2.54 billion.
Profits In Australia, Growth In The US, And Proven Technology
PointsBet's (ASX:PBH) Australian business has already been profitable at the EBITDA level over successive financial years.
Meanwhile, the company is investing to grow its US market share, where its sports app is currently live in seven states.
The company's turnover in the US during FY21 grew 458% over FY20 while its net win rose 481%, reflecting the potential of the US business.
In FY21, PointsBet had an online betting turnover/handle market share in New Jersey of 7.8%, Illinois of 7.7%, Michigan of 4.9%, Indiana of 5.5%, Colorado of 5%, and Iowa of 3.1%.
It is the company's stated goal to achieve a 10% market share across the US states that it enters.
In the financial year to June 30, PointsBet increased its Australian customer base by 117% and active clients in the US jumped 661% to 159,321.
These figures show the strength of its marketing, technology, and the robustness of the betting market.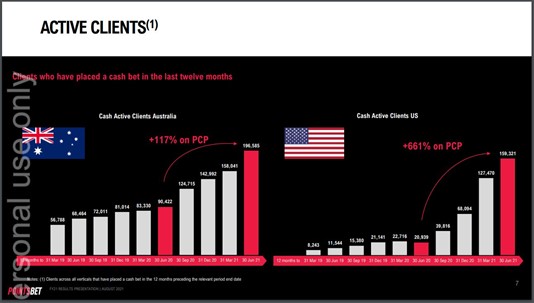 A recent capital raise of A$400 million will be used primarily to fund North American marketing, client acquisition, and US market access, and government fees.
The company is therefore laying the base for a solid business in the US and Canada has already entered various strategic partnerships for the purpose and is cashed up well enough to place big bets on growth in North America.
PointsBet (ASX:PBH) also boasts of a sophisticated and proprietary in-house technology platform which will be further ramped up with inputs from recent strategic acquisitions.
Data from the American Gaming Association (AGA) shows that U.S. gambling revenue hit $13.6 billion in the second quarter of 2021, a new industry record.
According to estimates, 2021 is on track to surpass $44 billion in gambling revenue and become the highest-grossing year in the history of legal gambling.
AGA data also showed that 22 out of 25 states that have casinos recorded greater revenue in the second quarter of 2021 compared with the same period in 2019.
However, it is not known whether the fervour for online betting will diminish when casinos and conventions return to pre-pandemic levels.
Having said that, we know that people are creatures of habit and online betting is a different type of way to bet compared to what casinos can offer.
US Market is A Massive Opportunity
According to a forecast by Goldman Sachs, the US Sports Betting and iGaming market is potentially a US$53 billion TAM (total addressable market) opportunity at maturity.
PointsBet (ASX:PBH) has a game plan in place to launch in 11 new US states by the end of 2022, thereby enhancing its growth trajectory.
It already has successfully launched iGaming in the two US states of Michigan and New Jersey.
According to Goldman Sachs, iGaming will further boost the company's margins through cost and revenue synergies.
With its appointment as one of only seven official sports betting partners of NFL, PointsBet is now an authorized partner of all four major US pro sports leagues.
Furthermore, PointsBet (ASX:PBH) has high expectations from the "transformational" 5-year media partnership with NBCUniversal, owned by Comcast Corp (NASDAQ: CMCSA) entered in 2020.
NBCUniversal is known for its world-leading broadcast and digital assets.
"Being the Official Sports Betting partner of NBC Sports provides outstanding opportunities to create innovative integrations to drive maximum customer engagement," the company claims.
Legalisation of Sports Betting in Canada is Another Massive Opportunity
In June 2021, the Canadian Senate passed a bill to legalise single-event sports betting.
The company anticipates that Ontario will go live first with an open licensing system, followed by Alberta in 2022.
PointsBet hopes to launch operations in Ontario in Q1 of 2022, subject to regulatory permissions, and avail of what may be a significant opportunity as fans throng to legalized and regulated sports betting.
In PointsBet's (ASX:PBH) estimation, the annual spend on illegal sports betting in Canada is approximately C$14 billion.
Further, the estimated Canadian iGaming and sports betting TAM could be as high as US$3 billion.
PointsBet's wholly-owned subsidiary, PointsBet Canada, has already taken steps in this direction.
It has agreed to become the official and exclusive partner of Curling Canada whose events are watched by over 13 million people each season.
Before the tie-up with Curling, PointsBet Canada was engaged on multi-year deals to serve as a sports betting partner to DailyFaceoff.com and The Nation Network.
PointsBet is therefore looking forward to a lucrative future in North America and rising market shares in US states, with likely scalability benefits from the NBCUniversal deal.
M&A Activity in the US a Potential Threat
Competitors have acquired muscle through acquisitions to boost market share and revenue, for example, Flutter's deal with The Stars Group.
Another huge M&A deal is in the works. Online sports betting platform DraftKings (NASDAQ:DKNG) has bid US$22 billion to acquire London-listed Entain PLC, an international sports betting and gambling company included in the FTSE100 index.
These consolidation transactions can affect PointsBet's market position adversely.
Technological innovation to make inroads into the fast-growing online gambling business could also widen the gulf – the share price of IGT is on a tear in recent months and one reason could be its recent introduction of cashless gaming to address concerns of health and safety emanating from the virus.
However, PointsBet (ASX:PBH) is not resting on its laurels here.
It has already sealed the strategic acquisitions of Banach Technology and Premier Turf Club to boost the technological edge of its platform.
PointsBet (ASX:PBH) Financials
During the June'21 quarter, PointsBet's turnover was up 182% to A$986 million, and the company's net win was $60.8 million, up 81%.
For FY21, PointsBet reported Group turnover growth of 228% year on year to A$1151.6 million, a growth of 201% in gross winnings at A$117.3 million, and growth of 152% in net wins at A$82.1 million.
US operations were a bright spot.
The corresponding figures were turnover (+458%, A$321.1 million), gross wins (+481%, A$16.5 million), and net wins (+481%, A$7 million).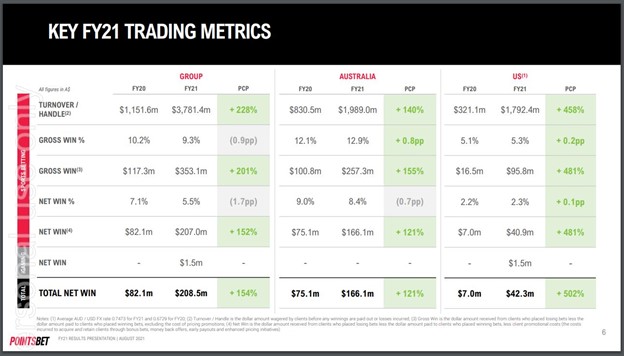 PointsBet's revenue, on a group basis, grew 146% during FY 2021 to A$194.7 million.
EBITDA improved 315% from A$(-)156.1 million to A$(-)37.6 million, while after-tax loss reduced 314% from A$ (-) 164.3 million to A$ (-) 39.7 million.
PointsBet recently completed a A$400 million capital raise through a rights issue (A$185 million) at A$8 per share, and placement of shares to institutions (A$215 million) at A$10 per share.
The issue places the company on a solid footing to implement its plans to expand in the US and to enhance its technology.
The financials show a picture of growth, improving profitability, and a well-timed capital raise.
PointsBet Holdings (ASX:PBH): Valuation
A selection of the company's peers is as follows:
888 Holdings PLC (LON:888), one of the world's leading online betting and gaming companies. 888 listed on the Main Market of the London Stock Exchange in 2005.
International Game Technology PLC (NYSE: IGT), which operates and provides gaming technology products and services worldwide. It runs two segments, Global Lottery and Global Gaming.
Flutter Entertainment PLC (LON: FLTR), a United Kingdom-based global sports betting and gaming operator. The Company operates through four divisions: Online, Australia, US, and Retail.
A comparison of PointsBet with the above companies on key valuation metrics is set out below:
| | Period | PBH | IGT | FLTR | 888 |
| --- | --- | --- | --- | --- | --- |
| Price/Earnings | TTM | – | – | – | 129.6 |
| Earning Per Share | ANN | – | – | – | 0.02 |
| Gross Margin% | TTM | 45.02 | 46.49 | 63.70 | 60.63 |
| Net Profit Margin% | TTM | -96.13 | -7.21 | 4.03 | 1.65 |
| Return on Equity% | TTM | -59.86 | -38.01 | -0.63 | 9.11 |
| Price/Book | MRQ | 4.75 | 4.83 | 2.34 | 12.46 |
| | | | | | |
Source: Investing.com
At the current PBH share price, PointsBet shares don't look favourable to its peers and unsurprisingly, its stock has also underperformed all four rivals, as seen in the chart below.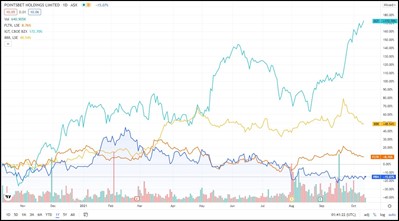 However, the weakness in the stock may spell an opportunity to pick it up on the cheap, especially with a large amount of upside potential the stock has in the US and Canadian markets.
PointsBet shares have been falling since the PBH share price touched a high of A$17.10 in February.
The current price is in the range of what institutional investors paid in the company's July placement issue.
There are signs on the chart of heavy accumulation of the stock from August onwards.
PointsBet shares offer an opportunity to invest in a well-managed, fast-growing, high technology play on the betting industry in two continents, one of which is already profitable.
The opportunity in North America is very attractive and PointsBet has the cash runway to grow its presence in that market and achieve better scale.
The pandemic and its lockdowns have opened up the vistas of digital gambling to a cross-section of new customers and across various age profiles; this trend is likely to remain.
With the PBH share price continuing to look anemic even with strong growth opportunities ahead, PointsBet shares look to be a good low-risk bet on digital gambling.