Today, we will look at why we like Raiz shares (ASX:RZI) and also take a look at our RZI share price forecast.
Raiz is an emerging high growth company with a leading mobile-first micro-investment and savings platform.
The company was initially started by Acorns, a successful micro-investing company in the US with over 7m clients.
Raiz Invest is an innovative solution that utilizes its simple to use and appealing platform to get millennials to start investing.
Raiz has over 320,000 active customers, up 52% over the past year with $581m in funds under management (FUM).
With Raiz's expansion into Southeast Asia just starting, the upside potential for the RZI Invest share price is quite promising.
Raiz (ASX:RZI) is an $80M financial technology company that develops and operates innovative digital financial products such as RAIZ Invest.
RZI was formerly Acorns Grow Australia having started operations in Australia in 2016 but rebranded as Raiz prior to listing on the ASX in June 2018.
Raiz's company strategy is to focus on customer acquisition through increased marketing and to expand its product portfolio to increase the 'Lifetime Value of Customers'.
The company is also focused on expanding into new markets in South East Asia which was evidenced recently by the commencement of operation in Indonesia and Malaysia in July 2020 with plans to launch in Thailand and Vietnam in the near term.
RAIZ (ASX:RZI) Business Overview
RAIZ Invest
Raiz Invest enables customers to acquire, hold, and track the performance of their investments.
The RZI invest platform is funded through lump-sum deposits, recurring deposits, round-ups, and Raiz rewards which can be invested in one of 7 ETF composed diversified portfolios.
The distinguishing feature of roundups simplifies investing by rounding up purchases made by a client to the nearest dollar, for example, if you buy a cup of coffee for $4.50, the extra 50 cents will be invested into your Raiz Invest account.
This is of great significance given that millennials who represent 86.6% of RZI's clients are currently moving through a period of prime spending on consumer discretionary and staples.
Raiz Rewards
If a customer shops with one of the 200 brands including Apple and Woolworths RZI is partnered with, a given percentage of money spent will be reinvested into their Raiz account.
This results in a win-win situation for the brand and customer as well as RZI which earns more revenue on the increased account balance.
Growing Product Portfolio
RZI has operated in line with its strategy to expand its innovative product portfolio and focus on customer needs with the introduction of
Raiz Invest Super
Raiz Insure
Raiz Bundll Mastercard
Among others which have led to Raiz becoming an integrated financial services solution.
Product Pipeline
The company is currently developing a feature that will enable customers to customize their portfolios through choosing their desired asset allocation which is expected to increase customer investment into their accounts.
Raiz also plans to enable Raiz Invest Super to onboard SMSFs which account for $676 Billion invested in superannuation which will consequently boost FUM and revenue.
Macro Environment
Booming Robo Advice Industry
Assets under management by Robo Advisors are forecast to grow by 863% globally from $2.3 billion in 2019 to $22.973 billion by 2024.
This indicates an increased reliance on innovative digital financial services such as Raiz which is driven by trends such as a projected 15% increase in internet penetration by 2023.
This presents the opportunity for Raiz to provide its products to a growing market.
Existence of a Substantial Target Market
30-40% of the population in current and potential markets (~190m people) fall in the target market comprised of millennials and Gen Z which presents a high potential for adoption of the Raiz app.
The simplified round-ups feature, the introduction of a Bitcoin asset allocation in the Sapphire portfolio and Raiz Rewards are representative of Raiz's aim to penetrate this target market.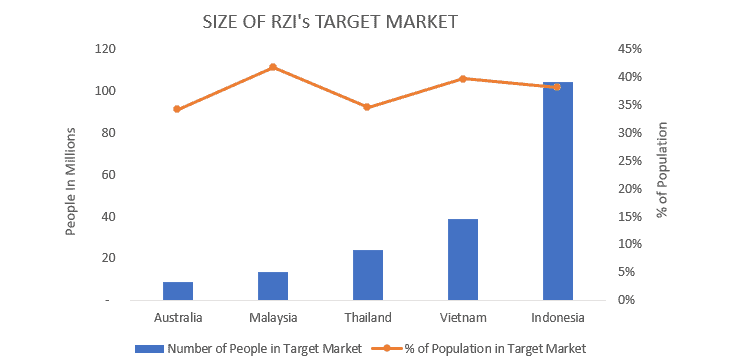 Source: Population Pyramid, MF & Co Asset Management Research
Through providing the first micro-investing platform in Australia and South East Asia, Raiz (ASX:RZI) is an early mover in the growing micro-investment industry which is key in the digital finance space and has thus been able to amass a significant customer base.
Even though Spaceship, FirstStep, and big players such as Commonwealth Bank have introduced similar products, Raiz Invest has still experienced high customer growth rates.

Comparison of Fees
The average account balance on the Raiz invest platform is $1,897 on which the average customer pays ~2% of their account balance in fees.
Fees on a similar amount of funds held on the Spaceship are 0% and on the First Step are 1.3%.
Competitors to Raiz charge lower fees presumably to undercut higher fees charged by Raiz to gain market share, however, this has not had a significant impact on the growing adoption of Raiz.
Performance Comparison
Raiz's best performing portfolio, the Emerald portfolio, has returned 7.57% since inception which is lower compared to Spaceship's Universe and Origin portfolio that has returned 30.33% and 10.93% respectively since inception.
However, Spaceship is in essence structured as an active digital fund manager compared Raiz which predominantly invests passively through ETFs.
Historically passive investment has outperformed active investment which is a fact that has been made popular by successful investor Warren Buffett.
This is suggestive that over the long term, RAIZ portfolios might outperform those of competitors.
Revenue Model
Raiz Invest earns its revenue on a monthly recurring basis charging customers a maintenance fee of $2.50 for a balance under $10,000 which contributes 71% of total normalized and an account fee of 0.275% of the account balance for balances over $10,000 which contributes 8% of total normalized revenue.
Raiz also earns revenue through netting (8%) where they charge spreads on trades of customer ETF units and finally targeted advertising (12%).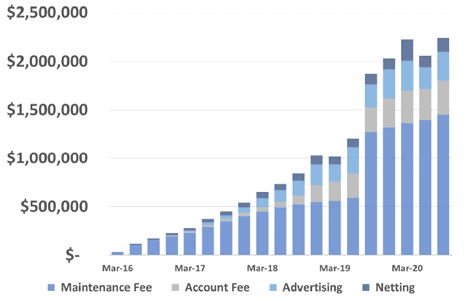 Source: RZI 2021 Report
Financial Performance
100% of Raiz's revenue is earned in Australia and although this revenue has experienced high growth having grown by 255% from FY18-20, the company has yet to turn a profit.
However, the net loss and negative EBITDA have decreased from FY18 to FY20 thus indicating a trend towards profitability.
In FY20, no fees were charged in Indonesia and Malaysia hence monetization of its customer base in these markets will significantly increase revenue in the FY21.
This should have a meaningful impact on revenue and subsequently the RZI share price.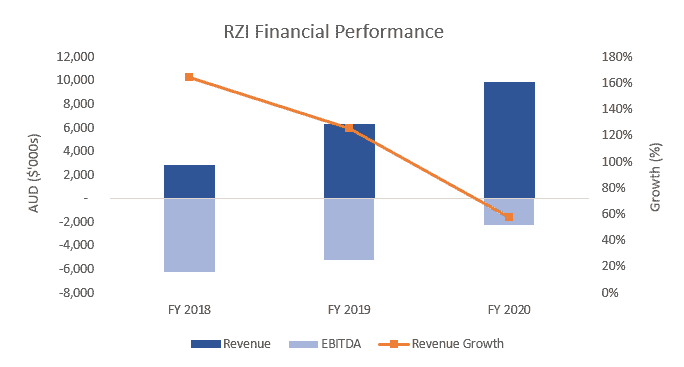 Source: RZI Annual Reports, MF & Co Asset Management Research
In FY 2019, Raiz Invest (ASX:RZI) increased its fees from a monthly maintenance fee in Australia from $1.25 to $2.50 which contributed to the 125.5% increase in revenue.
This fee increase did not significantly affect the use and growth in the use of the investment platform indicating Raiz's customer loyalty.
Financial Position
Importantly for a company that is running at a loss, Raiz shares have a strong financial position.
As per the most recently released Appendix 4C (quarterly cash flow report) for the quarter ending 30th September 2020 the company has cash and cash equivalents of $11.68m.
These funds based on the current cash burn rate indicates that the company has sufficient cash to operate for a further 5 years at the current loss rate.
This excessive cash should however be used to finance aggressive marketing activities as well as finance Raiz's further expansion in South East Asia where substantial growth potential lies.
Raiz Customer Growth and Acquisition
Rapid growth in the Customer Base
Raiz has experienced high growth rates in both monthly customer sign-ups and more importantly active customers who are customers who have a positive account balance.
Recent growth has been boosted by the entry into Malaysia and Indonesia where active customers have grown by 655% from 5,008 to 37,787 and by 160% from 26,333 to 68,377 respectively since July 2020 when operations commenced.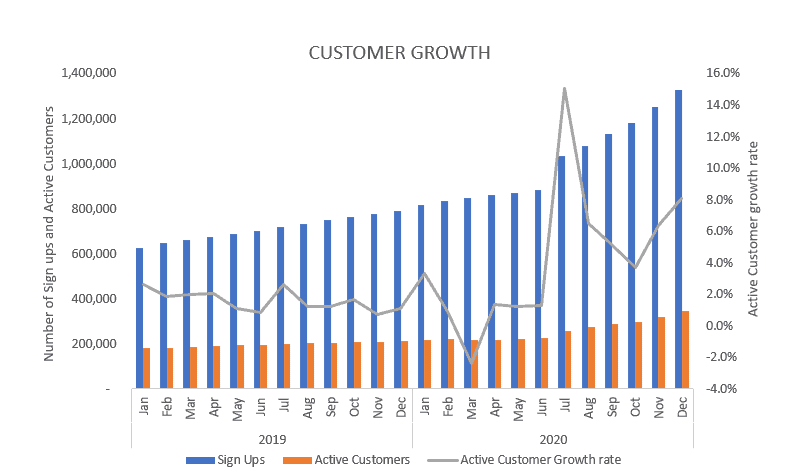 Source: RZI Key Metrics, MF & Co Asset Management Research
The Raiz system operates on the AWS infrastructure and utilizes the Aurora Cluster database solution which can be easily scaled to match the growing customer base.
We expect the RZI share price to reflect the growth in customers with further potential upside.
Marketing and Advertising
In Australia, monthly customer sign-ups growth has slowed from 3.3% in January 2020 to 1.6% in December 2020.
This is likely due to the company reducing its expenditure by 32.7% since H1 2019.
As of H2 2020, Raiz Invest has pursued a marketing strategy termed "growth hacking" which focuses on low-cost alternatives to traditional marketing such as word of mouth.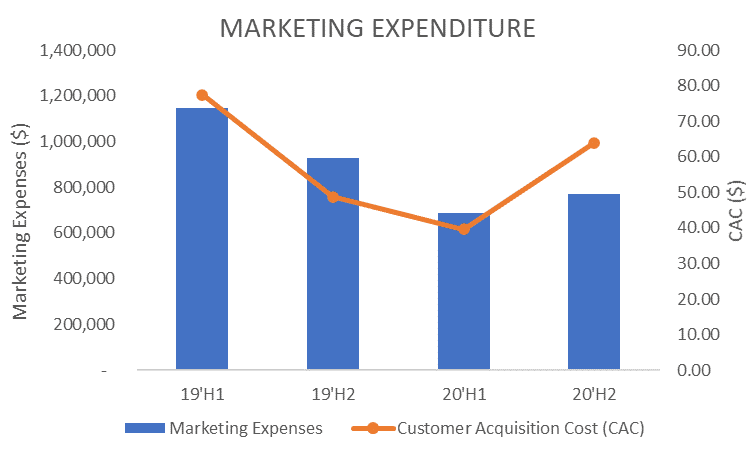 Source: RZI Half Year Reports
Even though Australian sign-up growth has slowed, the new strategy has increased client acquisition mainly driven by growth in Malaysia and Indonesia.
Conversion of Sign Ups to Paying Customers
Although Raiz shares (ASX:RZI) has posted phenomenal growth, it currently has a low conversion rate of 25% which has decreased from 28.8% in January 2019 for customer sign-ups to active customers.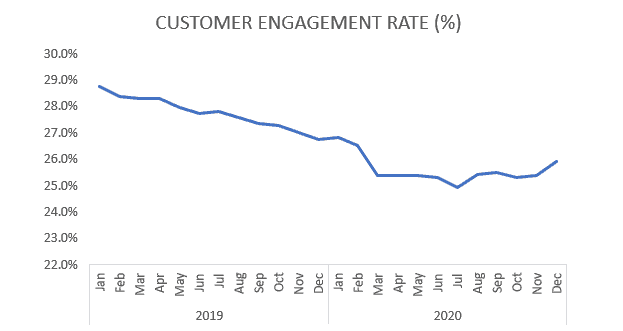 Source: RZI Key Metrics, MF & Co Asset Management Research
Average Customer Balance
Average customer balance has grown 110% from $903 Q1 2018 to $1,897 in Q1 2021 mainly attributed to increased contributions by customers to their accounts and the growth in account balances due to portfolio returns.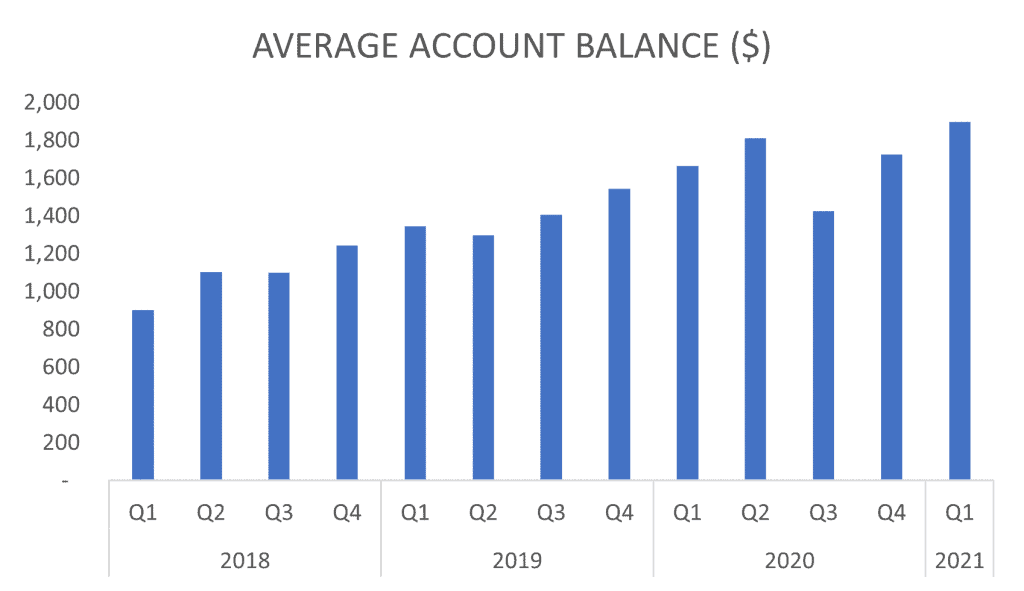 Source: RZI Key Metrics, MF & Co Asset Management Research
Revenue Per Customer
Revenue per customer has increased 82% from $4.19 in Q4 2018 to $7.63 in Q1 2021 which has been driven by increasing account balances on which maintenance and account fees are charged.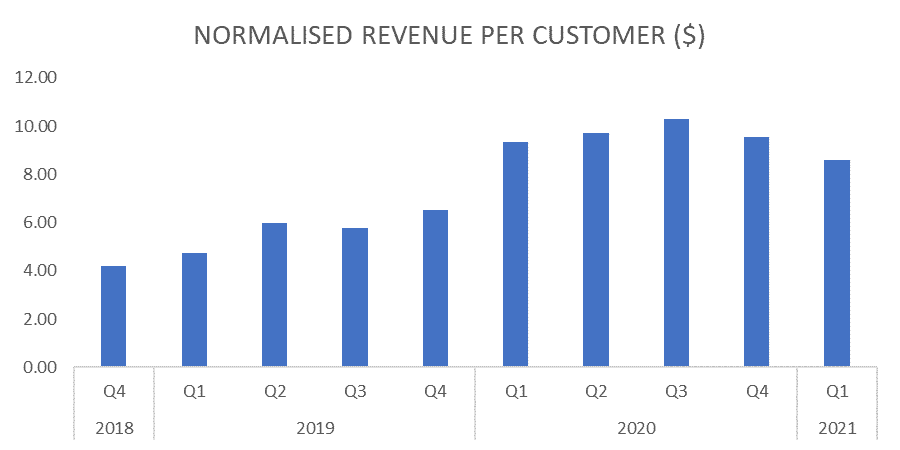 Source: RZI Quarterly Reports, MF & Co Asset Management Research
Southeast Asia Expansion
Malaysia
Raiz Invest launched in Malaysia in July 2020 through a joint venture with the nation's largest fund manager, PNB, and surpassed its 2020-year end goal having signed up 203,470 customers (3x the goal).
The target age group in Malaysia represents 42% (13.5m) of the total population with 10m millennials to be exact.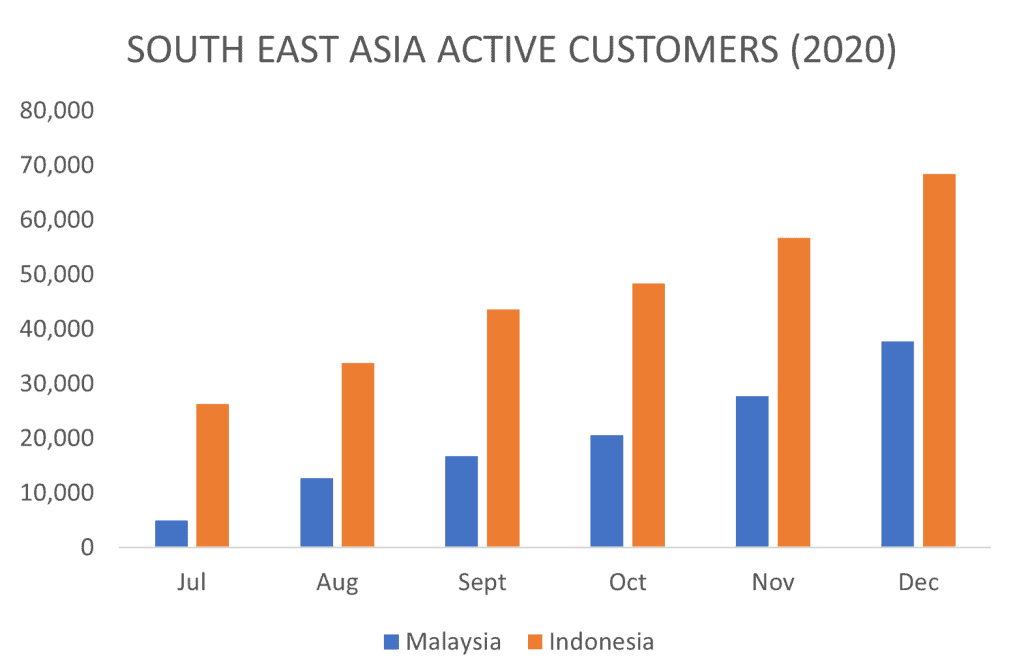 Source: RZI Key Metrics, MF & Co Asset Management Research
Indonesia
Raiz (ASX:RZI) launched in Aug 2019 in partnership with CIMB Niaga, the 6th largest bank in the country.
80m Indonesians are millennials which present high growth potential in the user base.
If Raiz's expansion into South East Asia succeeds, the upside potential for the RZI share price would be substantial.
Potential for Fee Increase
Similar to the 2019 fee increase in Australia, current relatively low account fees in Malaysia and Indonesia could also be increased if a target customer base is gained which would enhance revenues.
Funding of Expansion
Funds used in the expansion into South East Asia have been sourced from Joint Venture partners in exchange for a stake in the incorporated entity in the country.
This indicates that RAIZ shares expansion ambitions are not restrained by its availability of cash but are dependent on the ability to establish key strategic partnerships in potential markets.
Key Risk
Southeast Asia Expansion Risks
Raiz expansion into potential markets risks being delayed or reporting lower than expected growth due to macro factors such as falling GDP per capita, civil unrest (i.e. Thailand), or the introduction of a similar product.
This will diminish Raiz share's revenue prospects given that South East Asia is Raiz's major source of growth potential.
Low Switching Cost Amongst Micro-Investing Apps
Raiz (ASX:RZI) faces increased customer attrition should existing customers switch to lower-cost offerings such as Spaceship due to the absence of significant switching costs such as exit fees.
Conclusion
Raiz is an innovative fintech company that operates the market-leading Raiz  micro-investing platform aside from a growing portfolio of products such as Raiz Super and Raiz Rewards.
The company has achieved high growth rates in its customer base and FUM through entry into Southeast Asia markets such as Indonesia and Malaysia which have also increased potential for revenue generation.
Macro tailwinds in target markets such as increased internet penetration and growing demand for digital financial services such as Robo Advice will also continue to drive growth in customer acquisition.
The RZI share price thus presents strong upside potential if continuous growth in key metrics is maintained.