Today we will look at why ADBRI shares (ASX:ABC) is a good way to shore up a high-quality, blue-chip portfolio with an attractive dividend payer in our ABC share price forecast.
ADBRI LIMITED (ASX:ABC) is one of Australia's largest core sector companies.
The company is involved in the production of inputs for sectors including construction, mining, and infrastructure.
After weathering a very rocky 2020 due to the effects of the pandemic on its business, ADBRI is currently depressed due to the spread of the delta variant of the virus.
However, we believe that the stock is a solid buy given the potential of the company's businesses amidst infrastructure spending and mining for metals required in climate-related electrification.
At the current ABC share price, ADBRI shares are up 2.95% YTD and the stock is currently lagging the ASX200 by 9.43%.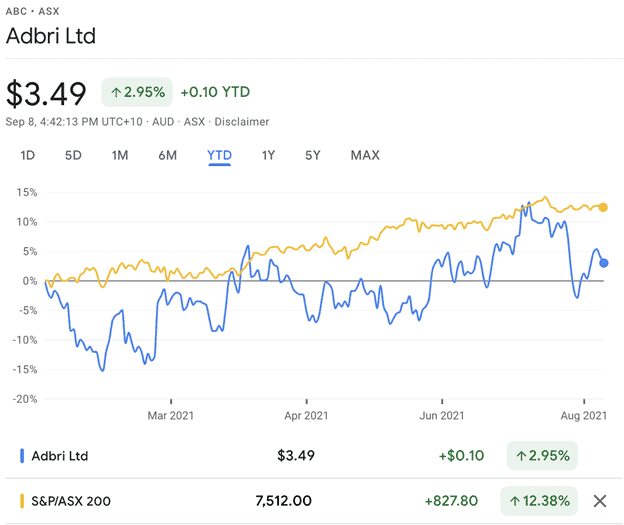 About ADBRI LIMITED (ASX:ABC)
ADBRI Limited (ASX:ABC) is one of Australia's oldest conglomerates having been in operation since 1882.
The company's core products include concrete, cement, lime, ancillaries such as paving materials, landscaping materials, bricks, and industrial minerals.
ADBRI has a vast geographical footprint across Australia with 177 sites spread over all states.
At the current ABC share price, ADBRI shares have a market capitalization of A$2.3B.
Low Interest Rates Fuel Strong Sector Tailwinds as Housing Boom Continues
Though the pandemic adversely affected ADBRI due to the resultant lockdowns and social distancing, it proved to be a blessing for housing and construction, one of its largest markets.
The pandemic fuelled a housing boom in Australia, leading to high demand for the company's biggest products such as cement, concrete, paving/landscaping materials, and bricks.
In fact, three important long-term trends set off by the pandemic deliver a strong tailwind for the company.
Firstly, the pandemic has forced the RBA into a second cycle of low-interest rates that are expected to persist for a while.
Because bank rates are lagging inflation, debt is cheap, and equity market valuations are at record highs, a house is increasingly becoming a very attractive investment.
This phenomenon can be observed all over the world where interest rates are low and lagging inflation, for example, there is a similar housing boom unfolding in the US.
Second, the pandemic has sparked a systemic shift in work culture.
Amidst social distancing and lockdowns, companies and employees alike were forced to adapt to working from home.
This change has been well received by employees and companies and many are now considering this as a permanent change in their work culture.
This trend has added to the attractiveness of an investment in a home.
These developments are good for ABC shares because construction is its biggest strength and housing is one of its biggest markets.
ADBRI generates 88% of its revenue from core construction materials such as concrete and cement and 37% of total revenue from residential construction materials.
Lastly, the pandemic has induced massive spending by the government on infrastructure and commercial construction – a market from which the company generates 45% of its revenue.
Infrastructure spending in Australia is at an all-time high as the country has made a historic commitment to spend A$110 billion over the next decade.
ADBRI has identified a A$150 billion infrastructure pipeline over the next five years, from both the private and public sectors.
With these factors in consideration, the company has some very strong systemic tailwinds working in its favour.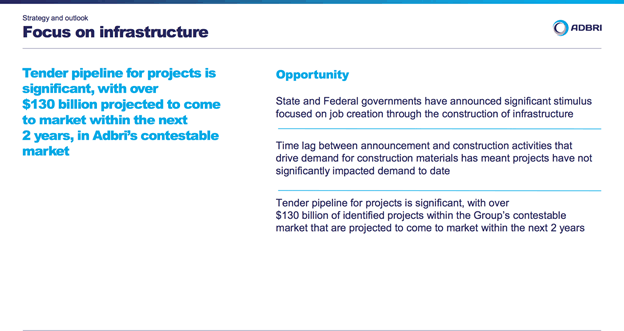 Environmental Issues a Long Term Concern
The carbon-intensive nature of ADBRI's business is a worry.
Cement and concrete, the company's core products, are among the largest sources of carbon emissions in the world.
As a result, the company has a low standing in terms of ESG, having a Sustainalytics ESG Risk Rating score of 33.09 on a scale of 0 to 40+, indicating "High Risk."
As climate consciousness is on the rise, institutional and retail investors alike are flocking towards ESG-friendly companies and distancing themselves from high-emission businesses.
This could lead to declining investor interest in the stock, and by extension, the potential risk of lower returns.
However, the company appears to be tackling the issue and has committed to zero emissions by 2050.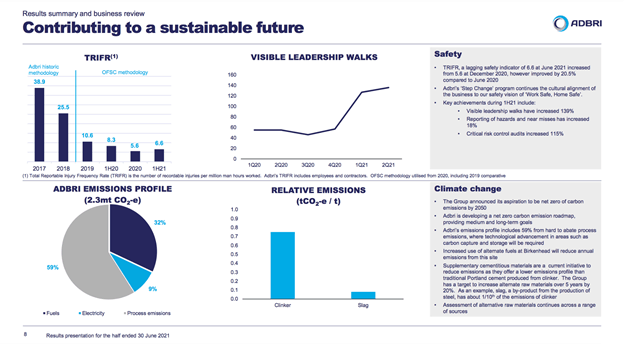 With this commitment, we can expect its ESG score to improve, thereby attracting more attention from ESG focused investors and providing a material tailwind to the ABC share price.
Big Opportunity In Lime From Decarbonization
One of the ADBRI shares' biggest opportunities is in its lime business.
Lime is a key input used in the processing of mined materials.
It is used extensively in the processing of copper, alumina, zinc, lithium, and nickel.
All five of these metals are crucial to the decarbonization of sectors like mobility and power.
According to a BloombergNEF report, the demand for copper, aluminium, lithium, and nickel is expected to grow by 10x, 14x, 9x, and 14x, respectively by 2030, due to their extensive use in wind turbines, solar panels, and batteries.
This presents an attractive opportunity for the company to grow its business with miners because it is one of the country's biggest lime producers with sizeable pricing power.
Furthermore, because Australia is one of the leading producers of these metals, ADBRI's lime possesses a geographical advantage over international players.
Lime is also used in the processing of gold, which has historically done well in times of low interest rates and high inflation due to its popularity as an inflation hedge.
This is an added opportunity for the company over the medium term.
At present, lime represents just 12% of the company's revenue.
Over the next decade, the company's lime business will be its biggest growth driver on the back of the decarbonization megatrend.
In 1HFY21, just 16% of the company's revenues came from the mining sector, but this may change dramatically in the coming years.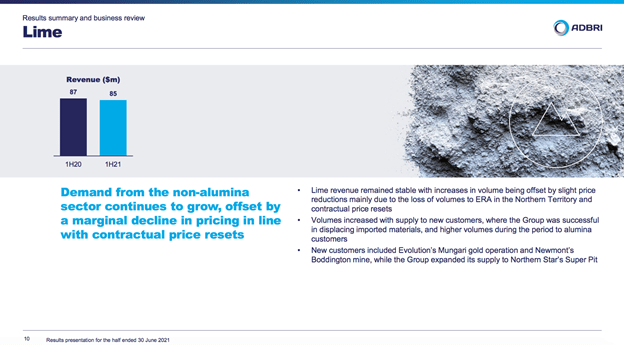 COVID Pandemic Continues to Present Risk
Unfortunately, Australia's resurgent pandemic poses a threat to the company as its business is very labour-oriented.
The lockdowns enforced so far this year are expected to affect the economy's growth numbers during the current quarter.
Moreover, Australia reported record cases over the past weekend.
The continuation of this trend can prove harmful for the company as it might derail the boom in the housing and construction market.
Australia's progress on vaccination is therefore extremely crucial for the company in the short to medium term.
Loss of Major Lime Customer a Concern, but ADBRI (ASX:ABC) Bullish on Lime Business
Another concern for ADBRI is the loss of its long-standing lime supply contract with Alcoa, which made up 40% of its lime sales, with effect from June this year.
Notably, Alcoa is said to be substituting ADBRI's lime with cheaper imports.
However, ADBRI Limited (ASX:ABC) has announced that it has already found five new customers to make up part of the sales loss.
It is finalizing plans for a further $60 million – $80 investment in a Kalgoorie lime site and a potential partnership as a lime supplier by mining group Lynas (ASX:LYC), which is building a rare earths processing plant.
Despite the Alcoa development, the company has reiterated its very bullish stance on its lime business due to the strong outlook from mining.
We expect the lime business to provide a material tailwind to the ABC share price as they continue to grow this sector of its business.
ADBRI (ASX:ABC) Financials
ADBRI shares reported stellar results in FY20 despite a challenging environment due to the pandemic.
The company reported a 98% jump in NPAT to A$93.7 million on revenues of A$1.45 billion (down 4.1% YoY).
Over the year, the company was able to increase its EBITDA margins by 18.7% despite higher costs from COVID-19 measures.
Operating cash flow over the year was A$256.2 million (up 32.6% YoY).
In 1HFY21, the company reported revenues of A$752.3 million (up 7.4% YoY) and a net profit after tax of A$56.6 million (up 94.5% YoY).
The company continued to improve its EBITDA margins from 17.5% to 17.7%.
However, the company reported a decline of A$39.5 million in cash flow due to the reversal of COVID stimulus programs.
Over 1H, the company reported substantial growth in non-alumina customers for its lime business, in line with our thesis of an increase in lime demand from electrification metal miners.
The company has planned a CAPEX of A$200 million for FY21, most of which will be towards its integrated Kwinana cement and concrete plant.
The company is very well-capitalized and liquid with a net-debt ratio of just 25% and EBITDA interest coverage of 14x.
The company also recently announced plans to divest non-strategic assets like excess land and use the proceeds to expand capacity in growth arenas like lime.
This will generate A$20 million – A$30 million in proceeds over the next two years.
However, the company has stated in its guidance that 2H performance will not be in line with its stellar 1H performance due to a reduction in volume from a plant shutdown, the opening of a cement import terminal in NSW, and COVID related costs.
We compare ADBRI shares (ASX:ABC) to CSR Limited (ASX:CSR) and Brickworks Limited (ASX:BKW), both of which are Australia's largest industrial and manufacturing companies.
CSR produces building products and has a 25% share in the Tomago aluminium smelter located near Newcastle, New South Wales.
Brickworks is a concrete block and brick manufacturing company.
| Metric | ADBRI Ltd. | CSR Ltd. | Brickworks Ltd. |
| --- | --- | --- | --- |
| Price/Earnings Ratio | 19.06 | 18.65 | 11.85 |
| ROE (5 Year Average) | 11.38% | 13.63% | 9.4% |
| Price/Book Ratio | 1.86 | 2.43 | 1.61 |
At the current ABC share price, ADBRI shares and CSR are very close in terms of valuation though CSR has a slight advantage in terms of ROE and P/E.
While CSR has a comparable building materials business, it does not have a lime business with such high growth potential, and this compensates for ADBRI's moderately higher valuation.
Brickworks is cheaper than both companies but has a lower ROE and does not have the same growth prospects.
ADBRI is a mature dividend-paying company and its financials reflect this fact.
ADBRI Is A Dividend-Paying Stock With Excellent Long-Term Potential
In sum, ADBRI Limited (ASX:ABC) is a heritage Australian company closely linked to the country's economic fortunes through its expansive footprint.
Though the stock is currently under the weather due to the impact on the economy from the delta variant, investors could buy it on "this too shall pass" considerations.
ABC provides a decent dividend yield of 3.65% and has reported good numbers through the turbulence in 2020 and 2021.
It is well-covered for interest on with low levels of debt, placing the balance sheet in a strong position.
The company is likely to benefit from the impending and inevitable infrastructural spending as well as the housing boom.
Further, its lime business is dovetailed into the mining and processing of climate-positive metals such as copper, aluminium, lithium, and nickel, and an inflationary hedge such as gold.
Investors with a long-term perspective could consider accumulating the stock on declines.