Today we will look at why we like BHP shares (ASX:BHP) as a dividend play along with some analysis on our BHP share price forecast.
We first wrote about BHP back in March 2018, when the price was about $29.
Since then, at the time of writing, the BHP share price is now trading at $49.55, 71% higher. This doesn't include the numerous dividends the company has paid during that period.
In 2020, the stock was under pressure from the pandemic and the sharp deterioration in Australia's relationship with China, its largest trading partner.
However, BHP shares witnessed a swift reversal of fortunes based on hopes of a global recovery from the pandemic.
That, and a rally in commodities with an accompanying hawkish global inflationary scenario has pushed the stock past its pre-GFC and pre-pandemic levels into an uncharted, all-time high zone.
The stock was up as much as 21% year-to-date at one point, but labour issues and climate-related events in China have triggered a correction.
However, we believe commodities are in the early stage of a long-term upcycle, and BHP shares will benefit from the trend.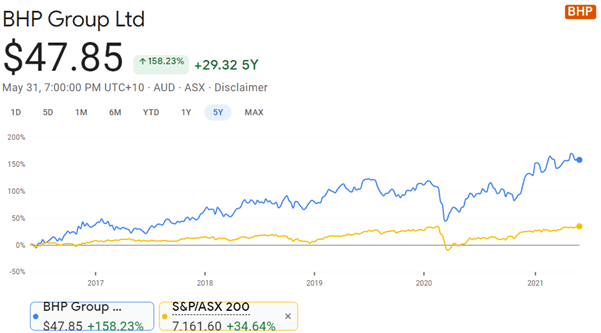 At the current BHP share price, BHP shares have a market cap of $188 billion.
BHP is an Australia-headquartered mineral and petroleum conglomerate.
The company has operations in iron ore, coal, copper, nickel, crude oil, and gas.
The company's operations span 20 countries and five continents. Mining operations are concentrated in Australia and the Americas while oil and gas activities are mostly based in the US, Trinidad, the UK, Algeria, and Australia.

BHP Global Locations (Source: FY20 Annual Report)
BHP shares have five major operational segments:
Coal operations
The company's coal business is mainly focused on high-quality metallurgical coal used in steel production.
The company has three coal assets in Queensland, New South Wales, and Colombia.
The biggest markets for this segment are steel mills in:
China
Japan
India
Southeast Asia
South Korea
Latin America
Europe
In FY20 (July 2019-June 2020), BHP share price produced 70 million MT of met coal.
Iron Ore operations
This is the company's biggest and most important segment. Iron ore is used in the production of steel.
BHP's iron ore assets are concentrated in Australia with 5 mines, 4 processing plants, and massive logistical infrastructure.
They also have a presence in Brazil through a JV with Vale.
In FY20, BHP (ASX:BHP) produced 280 million MT of iron ore.
Petroleum operations
BHP is a global player in the petroleum space with assets in the Gulf of Mexico, Trinidad and Tobago, Australia, and Algeria.
The company also holds options and exploration rights in Eastern Canada, Barbados, and locations of existing assets.
The main products in this segment include crude oil, natural gas, and natural gas liquids.
Total FY20 production was 109 million barrels per day.
Copper operations
BHP is a major copper miner, producing 1.7 million MT in FY20 and commanding an 8.5% global market share.
BHP has 3 copper assets in Chile and one in Australia.
In our opinion, moving forward, the red metal will be the driving force for the company due to global electrification demand across various industries.
Nickel operations
This segment is also likely to be a major growth driver for the company because nickel is a key component in the production of lithium-ion batteries in electric vehicles (EVs).
BHP shares operate a fully integrated mine-to-market plant in South Australia.
In FY20, BHP shares produced 80,100 mt of nickel, of which 75% was sold to the EV industry.
BHP (ASX:BHP) is well-placed to juice a commodities supercycle
We believe BHP's biggest strength is its dominant position in the global commodities market and the lucrative payback from the latter's potential cyclical uptrend.
The company has a great portfolio of long-term assets and a balanced price exposure due to its diversified presence in key commodities.
A rise in global inflation may also prove advantageous for the company, boosting its operational leverage.
To illustrate, BHP (ASX:BHP) and the BHP share price have both hugely benefitted from the recent run-up in prices in iron ore and copper.
Both these commodities have a solidly positive outlook in the medium-term due to rising demand flowing from massive global infrastructural spending likely over the next 5-8 years.
This month the company achieved first ore at its US$3.6 billion South Flank iron ore mine in central Pilbara, Western Australia.
The mammoth mine will add 80 MTPA capacity along with an improvement in ore quality.
Furthermore, copper will see additional demand because it is an integral commodity in climate control and decarbonization applications.
Oil is also showing promise as demand is picking up globally.
Notably, Brent crude closed at a two-year high last week.
However, demand in South East Asia looks weak due to continued COVID woes.
Exposure to the USD could hurt BHP earnings
One of the company's biggest weaknesses is its exposure to the US Dollar.
Due to inflation and the high US current account deficit, the USD is expected to be on a downward trajectory in the medium term.
Moreover, investors are worried because equities are trading at record valuations and dollar-denominated fixed-income securities are looking less attractive in inflationary environments.
These factors together could lead to outflows and put further pressure on the USD.
This currency overhang is a concern for BHP shares because the bulk of its revenue is denominated in USD.
On the other hand, a major portion of its costs is denominated in Australian dollars, thus leading to potentially downward pressure on reported earnings.
Nickel presents an attractive new opportunity while overdependence on China is a worrisome threat
BHP's (ASX:BHP) over-dependence on the Chinese market is a concern.
China accounted for nearly 52% of the company's revenues in FY20.
Last week, China announced a clampdown on its commodities markets in a bid to prevent asset bubbles.
Previously, it placed restrictions on operations of steel mills citing environmental concerns.
That led to a correction in iron ore and steel prices.
BHP shares are also at risk from diplomatic tensions between China and Australia.
Relations have soured to low points, particularly after China imposed several trade sanctions on Australian exports to China.
These were retaliations after Australia banned Huawei from its 5G network in 2018 and called for an independent probe into the origins of the coronavirus outbreak in 2020.
Another matter of concern is the sudden and recent spurt in labour trouble at BHP's giant Escondida copper mine in Chile.
If the situation escalates, it could cause a valuable loss of production.
However, shareholders can look forward to payouts following BHP's avowed divestments of fossil assets such as coal and petroleum.
In 2020, BHP (ASX:BHP) chief Mike Henry said the billions generated by divesting these assets could also be "recycled" into acquisitions in copper, nickel, or potash – so-called "future-facing" assets.
A potential opportunity, therefore, beckons for BHP shares via an expansion of its interests in the nickel sector.
It could use the funds from the divestment of 'dirty' assets to explore opportunities in the nickel segment, which has a bullish outlook due to EV adoption.
BHP's financials show a robust bounce from the pandemic
BHP shares reported excellent results in H1FY21 (July 20 -December 20) with EBITDA of $14.7 billion (up 21% YoY), ROCE of 24% (a 5-year high), and a 3% improvement in EBITDA margins.
The company also reported its highest EPS in five years.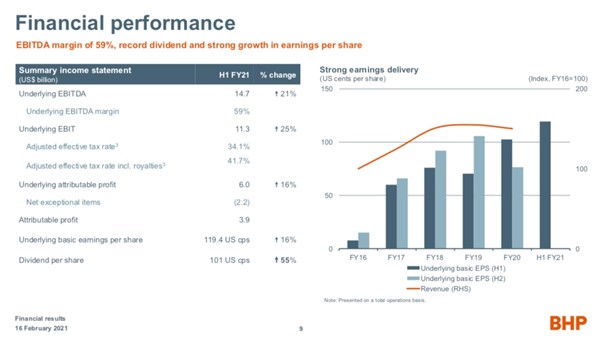 Source: H1FY21 Investors Presentation
Meanwhile, iron ore and copper prices have firmed up even higher since the H1FY21 results announcement, increasing BHP shares' profitability and the cash on its balance sheet.
The current inflationary environment has also increased the company's operating leverage.
The stock is currently rated as a buy by major investment banks and rating agencies.
Goldman Sachs projects expected revenues of $57.4 billion and EBITDA of $34.8 billion in FY21, up 31.3% and 57.4% YoY, respectively.
FCF is expected to double to $17.6 billion.
The medium-term outlook is also robust.
In FY22 and FY23 projections for revenue are $60.4 billion and $61.2 billion respectively; those for EBITDA are $36.3 billion and $37.2 billion respectively.
Estimated ROCE is 26.5%, 29.1% and 27.6% for the years 2021-2023 respectively.
Goldman Sachs has projected dividend yields of 7.3%, 7.5%, and 6.3% during 2021-23, which are substantial by any standard.
BHP valuation and peer analysis
We will compare BHP to Rio Tinto (ASX:RIO) and Anglo American, both of which are major global commodities and mining players.
| | | | |
| --- | --- | --- | --- |
| Metric | BHP | Rio Tinto | Anglo American |
| Price/Earnings (TTM) | 27.13 | 15.87 | 26.76 |
| Price/Free Cash Flow (TTM) | 38.94 | 40.24 | 60.46 |
| Debt/Equity (MRQ) | 46.4% | 29.39% | 52.32% |
| Operating Margin (TTM) | 34.27% | 36.96% | 19.61% |
As can be seen, BHP shares outperform Anglo American and lag Rio Tinto on most metrics.
However, BHP is more attractive on a long-term basis due to lower iron ore capital intensity.
Rio Tinto's projections of about $3 billion in iron-ore Capex per annum are double that of BHP.
Also, BHP has a better mine portfolio with a low need for replacement compared to Rio Tinto, which has to replace and build approximately 12 mines from scratch over the next six years.
The more expensive BHP share price can be attributed to the company having a higher quality revenue stream and less ongoing Capex expenses.
BHP (ASX:BHP) is a solid resource play with potentially juicy dividend yields
We believe that BHP shares are well-placed to take advantage of the global inflationary environment and an upcycle in commodities that are poised to last.
The company's products are poised to cater to a structural shift toward de-carbonization.
As the company says, it has the right assets in the right commodities in the right jurisdictions.
Further, over the rest of the decade, BHP shares will enjoy rising demand for energy, metals, and fertilizers due to expansion in global and urban populations; growth in nominal GDP; and capital expenditure on infrastructure.
However, the company is susceptible to the weakening of the US dollar which could crimp profitability.
Nevertheless, all factors considered, BHP shares present investors with an opportunity to play both the commodity supercycle as well as the shift to green energy.
A potentially lucrative dividend yield is the icing on the cake.