Today we will look at why we think Core Lithium shares (ASX:CXO) has great upside potential with one of the best low-cost mines ready to go in 2022, in our CXO share price forecast and analysis.
Core Lithium (ASX:CXO) is an Australian mining company aiming to become one of the biggest exporters of lithium to the Asian region.
The company has seen its stock skyrocket a monumental 887% over the past 12 months due to the ever-increasing price of lithium and substantial progress towards the commencement of production.
At the current CXO share price, Core Lithium shares have returned 132% YTD, substantially outperforming the ASX200 by nearly 122%.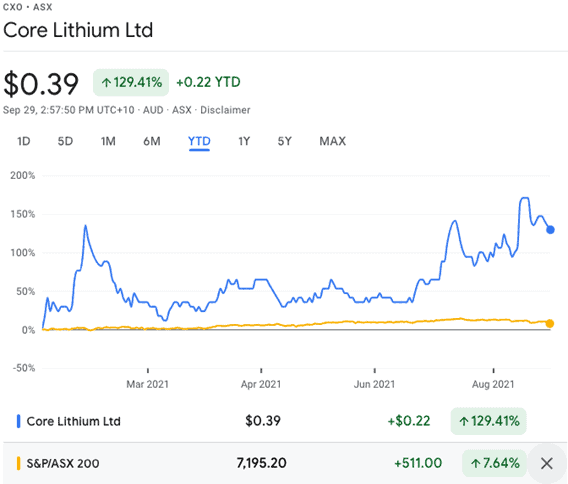 About Core Lithium (ASX:CXO)
Core Lithium (ASX:CXO) owns the Finniss Lithium project in North Australia.
The company claims it will be one of the lowest-cost lithium spodumene producers in the world once its Finniss mine enters production.
The project is also highly capital-efficient, given that its production is based on the simple DMS process which uses just gravity and water.
This is two-thirds cheaper compared to the floatation process.
Moreover, the Finniss project is now fully funded.
The company will potentially enter production in 2H'FY22 and produce about 197,000 mtpa.
It has also executed an option agreement to potentially acquire lithium and tin tenements nearby Finniss, thereby expanding its resource base and the life of the Finniss Project.
Apart from the Finniss mine, the company owns rights to mine copper, zinc, silver, lead, base metals, and uranium across various sites in Australia.
At the current CXO share price, Core Lithium shares have a market capitalization of A$604 million.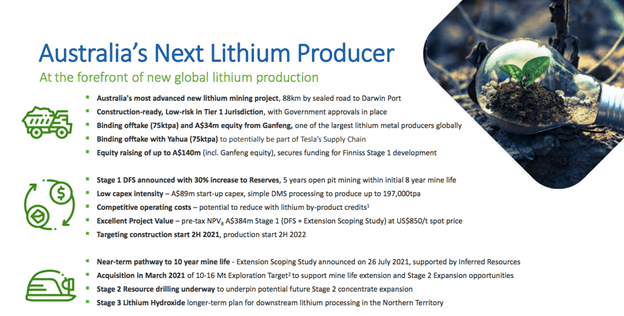 Core Lithium's Ultra-Low Costs for a Product Which is in Perpetual Shortage
Like most new lithium companies that have enjoyed investor interest this year, Core Lithium's biggest strength is the bright future of its core product.
The lithium market is set to explode in the years to come as the world makes a secular shift towards electrification and decarbonization.
The two clear major drivers for lithium will be batteries for grid/personal energy use and vehicles.
It is expected that EVs will make up the bulk of new vehicle sales by the end of this decade and battery demand will grow ten-fold.
By Bloomberg estimates, demand for lithium will grow from a little under 0.6 million metric tons in 2021 to more than 2 million metric tons a year by 2030, triggering a likely supply shortage over the next few years.
This radical surge in demand will lead to a significant appreciation in lithium prices.
This is clearly a huge upside catalyst for the Core Lithium shares and the CXO share price.
According to company management, the global lithium sector is forecast to be in perpetual deficit.
Core Lithium's key strength is its location near the Darwin port, making it a prime candidate to supply its product to Asian markets like Japan, China, and India, all three being big markets for EVs due to high levels of pollution and expensive crude oil imports.
The proximity to Darwin port gives Core Lithium a cost advantage over other miners due to lower transportation costs, which it can pass on to buyers to garner more market share.
Furthermore, with an ultra-low expected operating expense of US$363/ton, Core Lithium sits comfortably in the absolute lowest cost quartile of lithium producers in the world.
The company currently has offtake agreements with Chinese companies for nearly 80% of its first-stage production of 197,000 tons/year, the pricing being indexed to the market price of lithium, subject to certain adjustments and a price floor.
According to a recent S&P Global Platts Report, the current lithium spodumene price is US$2,444/ton, thus underlining Core's solid profit margin.
Single Product Portfolio has High Disruptrion Risks
Core Lithium's (ASX:CXO) overreliance on lithium as its sole product is a structural weakness.
While the company owns mining rights for several other metals including copper, silver, zinc, and uranium, most of these projects are far from being commercialised and the company has expressed interest in selling some of these interests to fund its lithium aspirations.
Though lithium has a very bright future at this point, it is still a very expensive and exotic metal, which has prompted extensive efforts all over the world to build batteries based on chemistries made up of more abundant materials.
For example, China's CATL recently unveiled a sodium-ion battery that is significantly easier to scale and cheaper than lithium-ion batteries whilst solving big EV bottlenecks like fast charging and long life cycles.
The CATL sodium-ion battery will enter production in 2023.
Other developments like these could derail the dominance of lithium-ion batteries and undermine the demand for lithium.
Big Medium and Long Term Opportunities
There are two major opportunities available to Core Lithium shares – one long-term, the other medium-term.
The commercialization of the company's mining rights to copper, zinc, silver, lead, base metals, and uranium across different regions of Australia presents a long-term opportunity.
The company owns 100% interest in seven jurisdictions to mine the metals listed above.
Similar to lithium, the demand for copper is expected to boom 10x due to use in batteries, turbines, wiring, etc.
The story is the same for zinc and silver, which have extensive uses in solar panels.
Further, uranium is particularly important because nuclear energy has been receiving substantial funding of late.
Breakthroughs have been achieved recently in the pursuit of nuclear fusion, which is substantially safer than nuclear fission.
Apart from the fact that copper, zinc, silver, and uranium are extremely important for renewable energy for lithium and enjoy the same bright prospects, these metals will diversify Core's product offerings and can lead to better profitability from operating leverage.
Over the medium term, a big opportunity for Core Lithium (ASX:CXO) is moving down the supply chain to produce lithium hydroxide from spodumene.
Lithium hydroxide is a form of lithium used in batteries and is expected to make up the bulk of the lithium market in the years to come.
The company can make substantially higher margins from moving downstream given that the current price of lithium hydroxide per ton is north of US$25,000.
When combined with Core's ultra-low-cost of spodumene, this could dramatically improve the company's profitability and also increase pricing power with battery makers.
This will create some strong tailwinds for the Core Lithium shares and the CXO share price.
The company aims to get into lithium hydroxide processing in the third stage of its current plan.
Core's Stages 1 and 2 include getting to production and further expansions.
Stage 3 is scheduled for FY2024.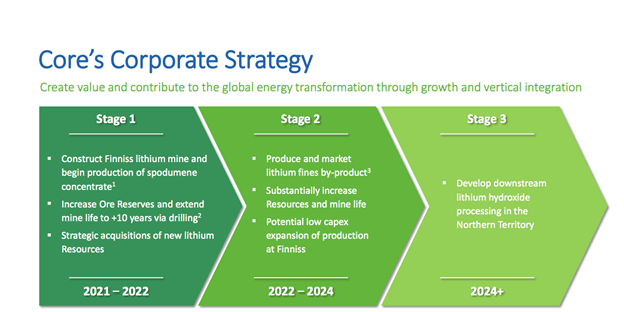 Two Potential Threats – Recycling and Non-ore Lithium
Core Lithium (ASX:CXO) must contend with two potential threats.
The first is the increasing focus on the recycling of batteries and materials.
Over the next few years, recycling capacity and technology are expected to improve dramatically.
Recycled batteries/materials will add supply to the market, thus suppressing lithium prices and making mining less feasible.
Secondly, there is a lot of investor interest and funding flowing into mining technology due to the bull run in commodities that will benefit from clean electrification.
For example, Lilac Solutions, a US-based startup recently unveiled technology that can produce lithium from brine, previously considered too low-grade, at a much cheaper and faster rate than the traditional spodumene-to-lithium hydroxide process.
Such technologies, if successful, could cause a supply glut and suppress prices, but also make traditional spodumene mining unviable.
Core Lithium (ASX:CXO) Financials
Core Lithium is yet to enter production, hence no operational financials are available.
Over the past few months, the company has raised nearly A$150 million to fund its Dense Media Separation plant at Finniss.
The company raised A$91 million through an institutional placement earlier this year followed by a strategic A$34 million investment by Chinese Lithium major Ganfeng.
This was topped off by a A$25 million Support Share Purchase Plan, a kind of rights issue, which was heavily oversubscribed.
The company is using its total A$178 million of liquidity to bring the Finniss plant into production by the second half of next year, the bulk of which will go towards startup Capex of A$89 million, exploration and project development costs of A$40 million, and working capital requirements of A$37 million.
The Finniss Stage 1 has a pre-tax NPV of A$384 million, assuming a spot spodumene price of a mere US$850/ton.
As we mentioned above, the current spodumene spot price is nearly three times that, so the company has a big margin of safety.
At the current spot rate, an 8-year mine life, and production of 1,97,000tpa, Core Lithium is sitting on product worth A$3.78 billion, way higher than its market cap of A$604 million at the current CXO share price.
In Stage 2, the company aims to enter lithium fines production as a by-product, this will increase efficiency and yield and the company projects a pre-tax NPV for the lithium fines at A$33 million.
Core Lithium Valuation
We will compare Core Lithium (ASX:CXO) to Liontown Resources (ASX:LTR), a similar-sized Australian spodumene manufacturer that is yet to enter production, and Piedmont Lithium (ASX:PLL), an upcoming Australian spodumene miner with operations in the US.
We researched Piedmont Lithium recently as well.
| Metric | CXO | LTR | PLL |
| --- | --- | --- | --- |
| Price/Book | 6.5 | 157.78 | 5.57 |
| Life of mine Price p/T Spodumene | US$363 | US$470 | US$313 |
| IRR (Flagship Mine) | 76% (Pre Tax) | 37% (Pre Tax) | 31% (Post Tax) |
At the current CXO share price, Core Lithium shares are available at a substantially cheaper valuation than Liontown and moderately more expensive than Piedmont.
Life-of-mine price-per-ton is slightly higher than Piedmont and lower than Liontown.
However, Core Lithium has a significantly higher IRR than Liontown.
Further, a direct comparison to Piedmont cannot be made as Core's IRR is pre-tax and Piedmont's is post-tax.
Core Lithium (ASX:CXO): All Systems Go!
Core Lithium is sitting on reserves of a product that is forecasted to see boom times in the foreseeable future.
The company's flagship project is fully financed, has all approvals in place, is construction-ready, and is strategically located near the port of Darwin.
Less than a year away from production, Core Lithium shares is the only ASX-listed, Australian mining entity that will come online with new lithium spodumene capacity in 2022.
Compared to less-advanced lithium projects worldwide, Core Lithium, therefore, has a lower risk profile.
Moreover, the sale of Core Lithium's product is already sewn up with offtake agreements, and in the longer term, the management is eyeing avenues for adding further value, such as processing of lithium hydroxide.
Core Lithium shares look to be a very promising long term play in a high growth industry.