Today we'll look at why we like Healius shares (ASX:HLS) and we'll give you a rundown of our HLS share price forecast.
Healius is a healthcare services provider with three main businesses – pathology, imaging and medical centres.
With an aging population and a growing pathology industry, Healius is well-positioned to take advantage of the growth in this industry.
Even though the company has underperformed recently, a lot of this can be attributed to COVID-19.
As the world starts to dig itself out of the COVID-19 issue, we should see a strong rebound in revenue as a backlog of revenue is realised.
With an NTM EV/EBITDA valuation 10x lower than the likes of Cochlear (ASX COH) and 3.4x lower than CSL (ASX CSL), Healius is a good option to get exposure to healthcare with more upside potential in lieu of the more expensive options.
Healius (ASX HLS) is a healthcare company that provides support services and facilities to independent general practitioners, radiologists, and a range of other healthcare professionals.
The company engages in three main businesses – Pathology, Imaging and Medical Centres:
Pathology
Pathology (72.5% of HLS' revenue) is a medical specialty that focuses on determining the cause and nature of diseases.
Healius' Pathology division is the second largest of Australia's leading providers.
Imaging
Advancements in diagnostic Imaging are opening new realms of possibilities for detecting and treating disease.
Imaging Services employs the latest technologies to provide affordable, accessible, and quality Imaging for all patients.
Medical Centre
Healius partners with over 1,500 independent general practitioners, dentists, specialists, and other healthcare practitioners who address both acute and chronic conditions in their patients.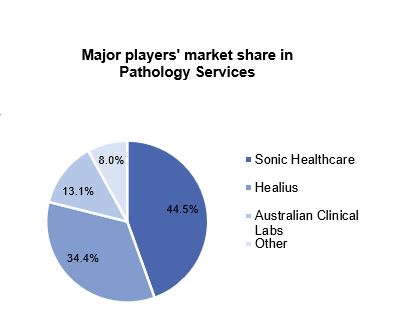 Source: IBIS World

Source: Morningstar
Over the last 2 years, the HLS share price outperformed the ASX by over 20%.
Strategic positioning
Healius is committed to positioning itself as a high-quality, consumer-centric healthcare services provider in the forefront of community healthcare sector delivering accessible services and creating value for its stakeholders.
Investment in R&D
Healius continuously invests in IT upgrades to core technology platforms, including investments in radiology through Imaging Core Application Refresh (iCAR) and a new Laboratory Information System (LIS) in Pathology.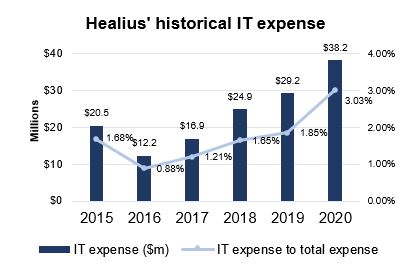 Source: Morningstar, Healius annual report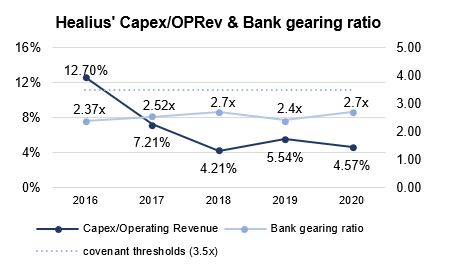 Source: Morningstar, Healius annual report
Business optimization
The sale of the Healius Primary Care (HPC) has strengthened the balance sheet, achieved a more simplified business, and eliminated a capital-intensive unit (CAPEX/OPRev drops) within the group.
It allows Healius to focus more on Pathology, Imaging businesses and other emerging businesses that have foreseeable upsides.
Improved cost-saving
Healius is conducting a Sustainable Improvement Program (SIP) to reduce costs and improve efficiencies.
In FY2020, SIP has achieved $54 million savings and it aims to conduct SIP stage two to implement more complex but value-added structural improvements in FY2021.
Industry analysis
Pathology – a growing industry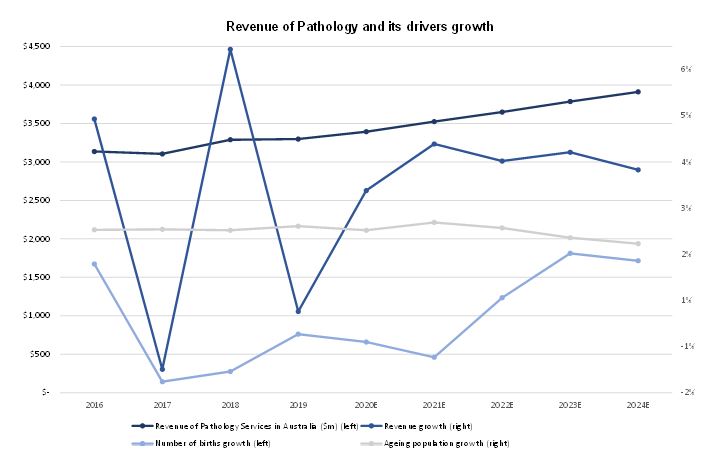 Source: IBIS World
This industry is expected to grow in the next 5 years, driven by ageing populations and the number of births.
The increasing aging population (closed to 2% annual growth) and the prevalence of chronic conditions create a strong demand for pathology service.
Meanwhile, the annual births number reaches a new high (in 2016-17) despite the record-low fertility rate, creating demand for prenatal pathology services.
However, the revenue of pathology services is highly dependent on government funding and it is inherently subject to political uncertainty.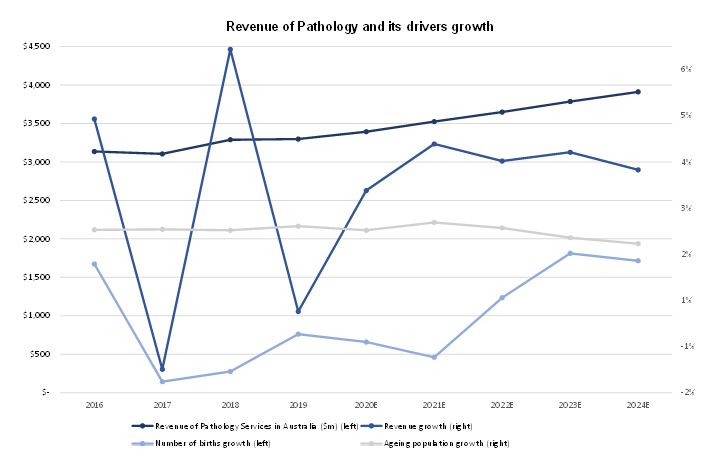 Source: IBIS World, Australian Bureau of Statistics
Flexibility in capital management & strengthened B/S
Healius shares will have a more flexible balance sheet and higher liquidity after the sale of HPC.
In June 2020, Healius announced a sale agreement with BGH Capital, which brings Healius $470 million cash proceed for sale of HPC.
Once the sale is completed, Healius will have free cash on hand to improve its core business (Pathology and Imaging), emerging business (IVF) or to conduct M&A.
Additionally, a significant reduction ($43 million) in capital expenditure resulted from discontinuing capital-intensive investment in HPC can also improve Healius shares' profitability (FCF and ROIC).
Additionally, lower leverage in these uncertain times will act as a cushion to further insulate from impacts caused by COVID-19.
Specifically, Healius shares' leverage of 2.7x Net Debt/EBITDA in FY2020 is below the covenant thresholds of bank gearing ratio (3.5x),
The HLS share price is undervalued in a growing industry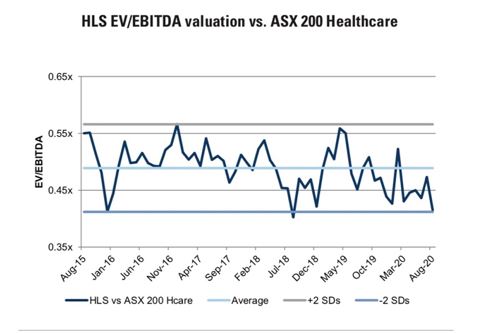 Source: FactSet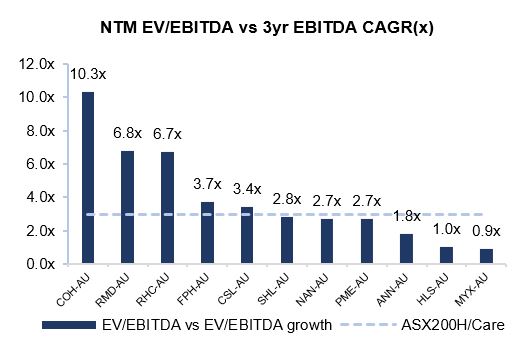 Source: FactSet, Goldman Sachs Global Investment Research
The HLS share price is undervalued among its peers.
In the healthcare sector, the ratio of HLS' EV/EBITDA vs ASX 200 Healthcare as at a historical low.
Taking EBITDA growth into consideration, Healius shares is one of the cheapest firms (1.0x EV/EBITDA to growth ratio) in the sector.
Emerging business is improving profitability
Healius' IVF business– "Adora Fertility" was loss-making because of its significant greenfield investment.
Healius continue to optimise its service model through digitisation of delivery activities, social media campaigns and additional pricing mechanisms.
It delivered a 50% growth of revenue in July and positive profits in June and July after the easing of COVID-19 restrictions.
According to Goldman Sachs research, Adora Fertility is expected to deliver 10% EBIT margin in FY2021.
Sustainable Investment Program (SIP) delivers cost-saving
SIP initiated a target of $70 million annualised savings (4-5% of Group cost base).
In FY2020, over 150 initiatives were commenced and $37 million savings (53%) were achieved.
From FY2021, the program aims to deliver margin expansion, with a focus on addressing more complex but valuable structural improvements.
In particular, network optimisation by the closure of inefficient collection centres (10% of Healius' current footprints) is expected to increase Healius' profit margin by 50bps (Estimated by Goldman Sachs).
COVID-19 impact
Revenue of Pathology recorded growth in FY20 due to average fee increase and revenue from COVID-19 testing which partially offset the COVID-19 impact in business-as-usual (BAU).
However, Imaging volumes rapidly declined since mid-March yet peaked in excess of 40% compared to the prior comparable period due to Victoria lockdowns.
With volatile testing volume, FY20 revenue was down 4% and EBIT recorded a decrease of 55%.
Overall, COVID-19 still poses risk to the volume of Pathology and Imaging and other business as well as income stream stability.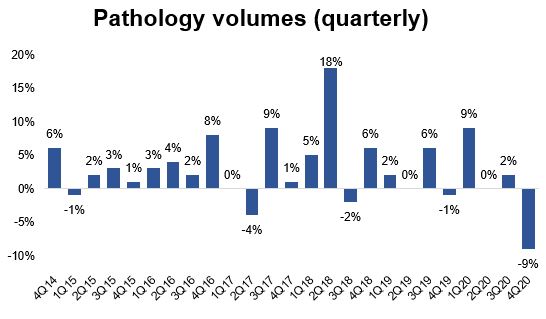 Source: Medicare
Challenges from execution
Healius has not always reported the explicit track record in operational execution.
It may lead to higher uncertainty and lower accuracy in estimating future performance of SIP.
Moreover, Healius is likely to conduct M&A in a fragmented Australian Imaging industry and management will face inherent executive challenges.
Nevertheless, HLS is standing at the crossroads after the sale of HPC, and whether to focus on a simplified business portfolio or to develop its emerging businesses (Day hospitals & IVF) remains a big challenge to management.
Government funding
Healius providing affordable services by bulk-billing its services and receiving reimbursement from the Government.
Meanwhile, after the sale of HPC, Healius' revenue becomes more concentrated.
Therefore, Group's revenue and profitability will be more influenced by government funding schedule.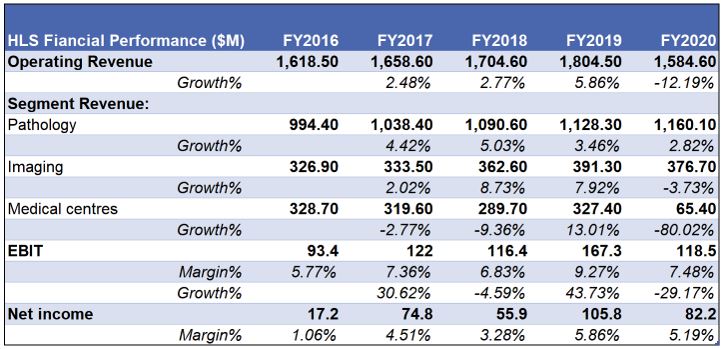 Source: Medicare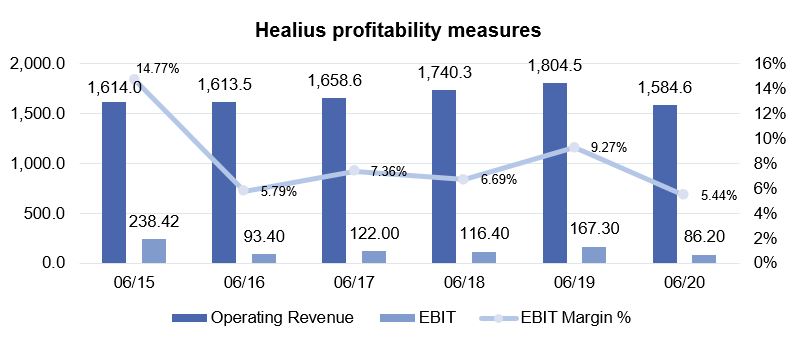 Source: Morningstar
The group's underlying revenue in FY2020 recorded a 2% growth (eliminate HPC effect) but EBIT margin decreased to the lowest level over 6 financial years.
Specifically, strong trading performance in Pathology (EBIT growth of 4% to $115.1 million) and Montserrat Day Hospitals (EBIT growth of 520% to $3.1 million) during COVID-19 period partially offset the significant COVID-19-related decreases in Imaging (EBIT decrease of 55% to $17.2 million).
Overall, Net profit for FY2020 was -$70.5 million, which also includes a $142.5 million loss from the sale of the HPC.
However, the Group's financial performance is expected to normalise soon by a 'backlog' tailwind from the easing of COVID-19 restriction.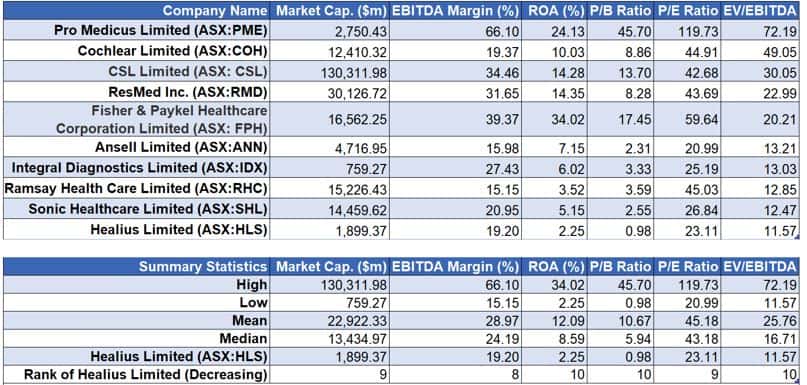 Source: Morningstar

Source: S&P Capital IQ, Goldman Sachs Investment Research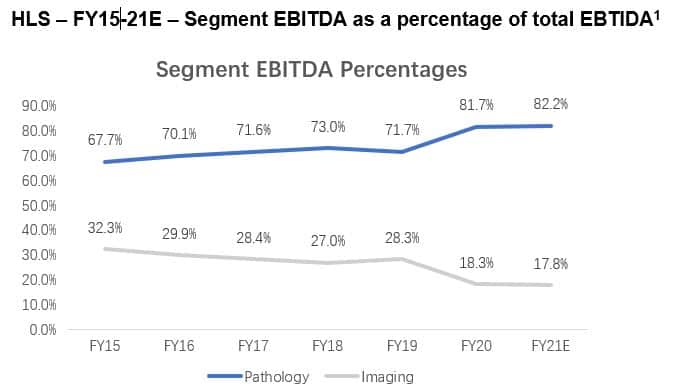 Source: S&P Capital IQ, Goldman Sachs Investment Research, MF & Co Asset Management Research
1The total EBITDA is calculated by excluding extraordinaries, negative and insignificant items
Constituent stocks in the ASX 200 Healthcare sector and Healius' direct competitors (SHL & IDX) in Pathology and Imaging industry are selected to be the peers of Healius.
Healius shares underperformed in ROA and EBITDA margin, but it is expected to pick up.
Healius shares (ASX:HLS) have the lowest ROA (2.25%) and the 3rd lowest EBITDA (19.20%) margin compared to its peers.
Its profitability is currently far below the industry average.
However, as illustrated, pathology and imaging services dominate HLS's income generation and the HLS is expected to contract the gaps between its pathology and imaging margins and its peers'.
Lowest P/B, P/E and EV/EBITDA ratio
The HLS share price is trading at the lowest valuation level among peers.
It has the lowest P/B and EV/EBITDA ratio, and the second-lowest P/E ratio.
Considering Healius reported a negative net profit, all the P/E ratio is calculated by using the pre-abnormal earnings (adjusted the non-recurring operations) per share.
Healius shares' P/B ratio is at 0.98x compared to the median of 5.94x, P/E ratio at 23.11x in contrast to the median of 43.18x and EV/EBITDA at 11.57x against the industry median of 16.71x.
Overall, the HLS share price is one of the cheapest stocks in the Healthcare sector.
Conclusion
The HLS share price is undervalued with good growth potential.
In the short term, as COVID-19 restrictions ease, we expect an upward momentum in Pathology services and a sharp recovery in the Imaging and Day hospitals division, which may provide tailwinds for financial outperformance in FY21.
In the long run, we expect that Healius management would redirect its focus to the core business through the sale of HPC division and the cost-saving SIP program.
Healius' low valuation resulted from recent underperformance presents a window of opportunity as we expect to see margin improvements in the long term.
Improvement in margins will see strong upside potential in the HLS share price.