Today, we will look at why we like Megaport shares (ASX:MP1) and take a look to see if the MP1 share price is worth buying.
Megaport is a cloud service provider across 130 cities and 23 countries and a NaaS (Network-as-a-Service) pioneer.
With the advent of COVID-19, cloud computing is becoming ubiquitous with working from home.
In fact, research and surveys have shown that up to 70% of companies expect between 5 to 20 per cent of their workforce to work from home post-covid.
The NaaS sector alone is forecasted to grow at 35% CAGR in the next 4 years.
With an all-star list of customers and partners such as Adobe, BHP, Tesla and Zoom, Megaport has proven that they have a quality and popular product to go with the strong growth in their revenue.
Even though growth stocks have fallen out of favour temporarily as investors rotate from high growth stocks to value stocks, companies such as Megaport will benefit permanently from a structural change in how we work post-COVID.
Megaport Limited (ASX MP1) is a Software-Defined Networking (SDN) company founded in Australia in 2013 and has become a leading global provider for software-based elastic interconnection services.
At the end of 2020, Megaport services more than 2,050 enterprise customers globally and provides access to 700+ enabled data centres in 130 cities across 23 countries, which are located in North America, Europe, Asia, and Australia.
The company's main objective is to provide enterprise customers with the largest SDN-based elastic connectivity platform that allows customers to connect between other networks and cloud service providers, which instantaneously and flexibly integrates into Megaport Ecosystem (Megaport's Marketplace).
It also enables customers to connect their own equipment in different locations via Internet exchanges.
Megaport's leading innovation in technology
Megaport pioneered the as-a-service model for networking.
The benefits of the model are demonstrated by the outcomes of post-COVID in the world today as well as the global ecosystem.
The company continues to focus on building its position as leading innovators in the global network by constantly evolving its platform.
Another core technical strategy of Megaport is to build an ecosystem named 'Marketplace', an online platform that allows the connection between global service providers and customers.
Besides the development of an online cloud connectivity hub, Megaport also looks into the creation of new product suites, such as Megaport Cloud Router (MCR), and Megaport Virtual Edge (MVE).
The company's innovative roadmap shows that they have continually developed and advanced their product into a market-leading offering.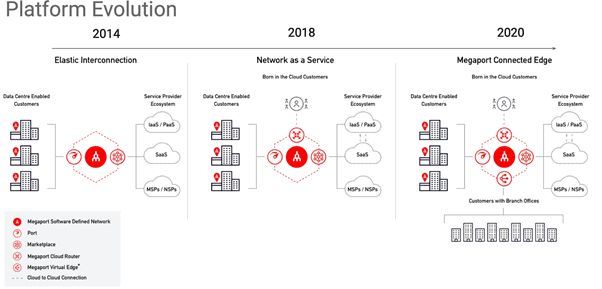 Source: Megaport annual report 2020
Diversification in Revenue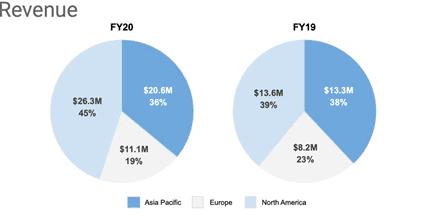 Source: Megaport annual report 2020
Megaport services 128 cities across 24 countries.
Looking at the revenue composition of Megaport companies:
North America – 45%
Asia Pacific – 36%
Europe – 19%
Compared with FY19, North American revenue grew by 94%.
Further, the latest half-year report shows Megaport's monthly recurring revenue has now reached 6.3 million AUD, which is a 37% increase over the same period last year.
The company provides various kinds of services for its customers.
Megaport's current business revenue is generated via 4 different sectors, which include Ports, Virtual Cross Connections (VXCs), Megaport Cloud Router (MCR), and Internet Exchange (IX).
Robust relationship with cloud provider partners
Megaport (ASX:MP1) highly values the relationships with their public cloud provider partners (e.g. Amazon, Microsoft, Alibaba, Google), where they occupy more than 90% of the market share.
CY2020E Public Cloud Market Share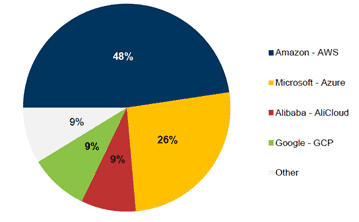 Source: Gartner, Goldman Sachs Global Investment Research
Megaport continues to invest in expanding its platform by accelerating partner enablement and maintaining the existing partnership to maximise sales opportunities.
Industry Analysis
Overview of the industry
Megaport (SDN company) provides the public cloud computing service, specifically Network as a Service (NaaS), for enterprise customers who use multiple clouds.
The following chart, released by Statista, shows that the total size of the public cloud computing market increased consistently from 2008 to 2019 and the worldwide market size has reached 208 billion U.S. dollars in 2019.
This indicates the huge potential demand for public cloud computing service in the following years.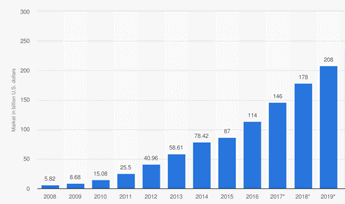 Source: Statista
The report from GM Insights shows that the NaaS market size in 2018 exceeded USD 5 billion and it is estimated to grow at a CAGR of over 35% from 2021 to 2025.
Moreover, GM Insights points out that the main factor contributing to market growth is an extensive adoption of network virtualization technologies such as Software-defined Networking (SDN).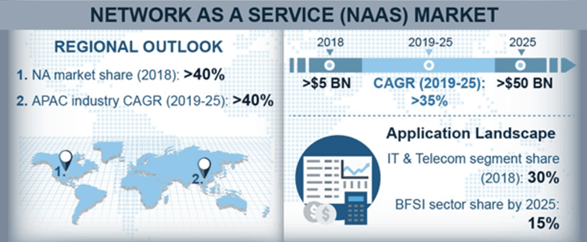 Source: GM Insights
Attractive growth in Cloud Computing Market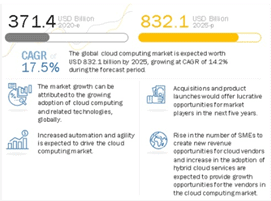 Source: Markets and Markets
The illustration above demonstrates that amid the COVID-19 crisis, the global market size for cloud computing services is estimated to grow from USD 371.4 billion in 2020 to USD 832.1 billion by 2025.
The Compound Annual Growth Rate (CAGR) of 17.5% over the analysis period 2020-2025, portrays the strong growth trend in the industry.
The rapid rise in Enterprise Cloud Service Spend
Although the company focuses on the migration to public cloud services, it also focuses on the pursuit of global themes.
The phenomena of post-COVID-19 outcomes demonstrate the increased potential for expanded adoption of public cloud as workforce mobility and security tailwinds.
The research from Gartner shows that the spend of enterprise cloud rapidly grew from 2019 to 2022, further the global enterprise cloud service spend is expected to grow to USD 354.6 billion in 2022.
Due to the impact of COVID-19, more and more enterprises are adopting the remote working model and migrating their workloads to the cloud (see Exhibit 9), which accelerates the expansion of the public cloud computing service and NaaS market.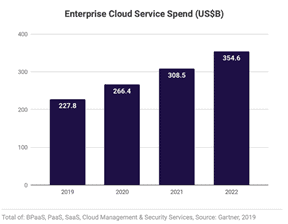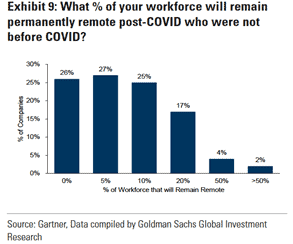 Advanced ecosystem and product suite for its enterprise customers
Combined with more than 700 enabled data centres across 105 data centre operators at the end of 2020, Megaport's advanced service provider ecosystem puts Megaport in a unique position to drive the connectivity model.
Due to the steady growth in demand for MCR service, Megaport plans to launch Megaport Virtual Edge (MVE) product in 2H FY21.
Strong technological development capabilities and continuous expansion of its product suite allow the company to be at an advantage, where they retain existing customers and attract new target customers.
The more service customers consume, the less likely customers are to churn, which is beneficial for the company's medium-term operating leverage.
This drives value to Megaport's partners, ecosystem, customers, and shareholders.
High-quality customers and global leading partners
Megaport has more than 2049 customers around the world, including Adobe, BHP, Blizzard Entertainment, FedEx, ING, Major League Baseball, Tesla, and Zoom, which strongly strengthens the intrinsic value of Megaport.
The company builds and maintains an ongoing relationship with global leading cloud providers, such as AWS, Azure, Google Cloud, Alibaba Cloud, and so on.
The more vendor partners integrated with the Megaport platform, the more potential enterprise customers who utilize these cloud services.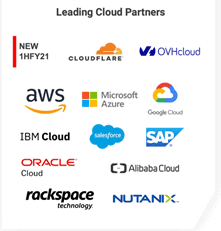 Source: Megaport 1HFY21 report 2021
Furthermore, Megaport also works in close collaboration with high-quality technology partners like Cisco.
Megaport and Cisco have the initiative to integrate Megaport Virtual Edge (MVE) with Cisco's secure SD-WAN to enable interoperation of Megaport's SDN and Cisco's SD-WAN fabric technology.
This collaboration benefits users of the Megaport's platform, to quickly interconnect with locations and services.
Broadening Megaport's ecosystem with leading technology companies bolsters the capability to service the market as well as discover new market opportunities.
Attractive pricing strategy and unique payment system
Megaport offers its customers an affordable pricing strategy and monthly contracts with flexible terms.
Another attractive system is the cost, where customers pay what they use, by means cost is based on consumption, in terms of bandwidth, speed, and contract length without any setup fees.
Additionally, Megaport provides a unique payment system to cloud and data centres on a pay-as-you-go basis in terms of capacity, speed, pricing, and contract length, rather than licensing or subscription fees.
Competitive industry
The constant competition between technologies, network reach, products, and service offering has become a great challenge for Megaport, especially in maintaining its position as leaders in the deployed market.
In addition, since the company doesn't have its own data centres, it may face competition from the existing telcos and data centre operators, such as NEXTDC.
These operators can take advantage of their existing customer resources, data centres, marketing channels, and greater name recognition to decrease the operating cost and control the local market share.
New entrants to the network-as-a-service and elastic interconnection markets are also the underlying threat to the company.
International market operation barrier
Megaport has business operations in 23 countries across the world and plans to expand to several more countries in the following year, exposing the company to a range of multi-jurisdictional risks.
This includes licensing requirements, labour practices, data security, difficulty in enforcing contracts, and changes to or uncertainty in the relevant legal and regulatory regime.
All of these risks may increase Megaport's operation costs and slow their process in expanding international market business.
Due to the geographic advantage of local companies, their offer of the same/similar products and services tend to induce greater brand recognition, company reputation, preferential taxation policies, and information security in its domestic market.
This definitely becomes a barrier for Megaport's entrance to the new market.
As the following chart shows, the growth in Monthly Recurring Revenue (MRR) of Megaport shares is strong quarter to quarter.
The MRR for Dec 2020 was 6.3 million AUD, up 37% compared with Dec 2019 and up 11% vs June 2020.
Goldman Sachs also forecasts that the free cash flow of Megaport shares will be in a positive position, evident by its healthy cash position and its strong balance sheet.
Furthermore, the company announced that continuous growth is mainly driven by increased utilisation of Megaport services globally, which is beneficial for a growing company.

Source: Megaport 1HFY21 report 2021

Additionally, the half-year report of Megaport (ASX:MP1) indicates that the total number of customers in Dec 2020 is 2043 and the total number of installed data centres is 386.
The high and stable growth rate in both two critical indicators supports the increase in MRR.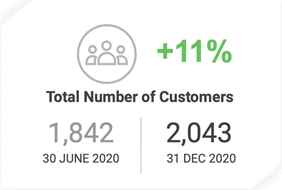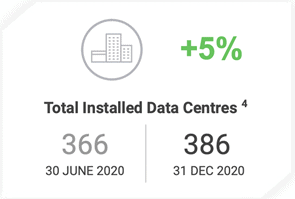 Source: Megaport 1HFY21 report 2021
The operating leverage chart shows that Megaport's (ASX:MP1) revenue and gross margin continue to maintain a strong increasing trend.
Furthermore, the group EBITDA loss has narrowed and the EBITDA margin has significantly improved in Dec 2020, since all regions were EBITDA positive in 2QFY21.
Although the direct network costs of the company keep increasing as a growth company that needs to build its own cloud infrastructures, the group profit after direct network cost margin has continued to expand.
For this reason, Megaport is in a strong position as MRR growth continues to outstrip the growth in indirect network costs.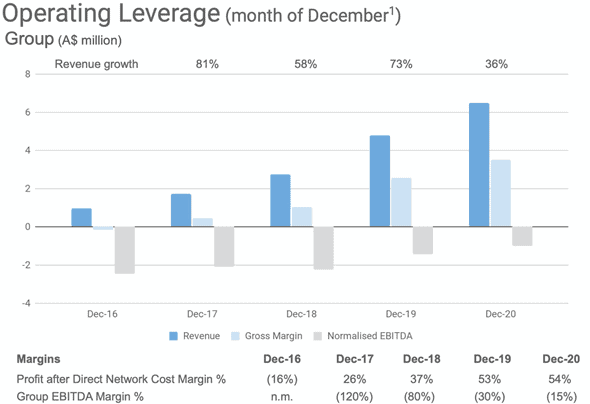 Source: Megaport 1HFY21 report 2021
Overall, Megaport continues to support MMR growth by attracting customers through installing data centres, investing in R&D, collaborating with more partners, providing more ports and services.
With strong growth in underlying Revenue, we should expect the company to become profitable in the near future which would provide a lot of upside potential for the MP1 share price.
Megaport (ASX:MP1) Peer Comparison

Source: S&P Capital IQ
Peers Selection
The competitors of Megaport shares include NEXTDC Limited (ASX NXT), Superloop Limited (ASX SLC), and Over the Wire Holdings Limited (ASX OTW).
Constitute stocks, listed in the Internet Services and Infrastructure Sector of ASX and offering the same services as MP1, is selected to be its peers.
All these three companies are headquartered in Australia and have a global business.
Strong Revenue Growth Rate and Debt/Capital ratio
Megaport shares (ASX:MP1) have the highest 1- year revenue growth rate (49.09%) and the least Debt/Cap ratio (7.96%) compared with the other three peers.
The lowest Debt/Cap ratio confirms that the balance sheet of Megaport shares remains strong.
The 1- year revenue growth rate of Megaport shares is approximately twice that of NEXTDC (25.42%).
As previously mentioned, Megaport plans to launch the new product-MVE, expand the international markets and collaborate with other technology partners to improve its platform ecosystem in 2021.
This should support the continuous and strong growth in revenue for Megaport shares in the future.
Good gross margin
As the table shows, Megaport shares have the 2nd highest gross margin (50.7%) among its peers.
Considering its competitive advantages, there is a high possibility for Megaport shares to sustain its relatively high gross margin.
Additionally, since Megaport is a growing company and capital expenditure is high due to new data centres or other cloud infrastructure, the company remain unprofitable but its negative EBITDA margin is acceptable during this high growth phase.
Conclusion
Megaport (ASX:MP1), as the pioneer of the NaaS model, is a global leader in the cloud computing service industry, especially the cloud connectivity sector, and famous for its ecosystem (Marketplace), MCR service, and MVE service.
Megaport aims to expand its product suites for customers and collaborate with more leading cloud vendors and technology partners to further maintain, improve its ecosystem and expand its cloud connectivity service around the world.
Influenced by COVID-19 and the adoption of remote working models, migration to public cloud infrastructure has become a worldwide trend.
Enterprises, especially multinational corporations, increase their budgets for using cloud services.
The macro-environment shows the huge demand for the cloud connectivity service and the great potential of the cloud computing service market.
It is true that new entrants and international market operation difficulties bring underlying risks for the further development of Megaport.
However, Megaport (ASX:MP1) is expected to maintain its high growth supported by its competitive advantages, strong partner relationships, and its flexible price strategy in the following 2 to 3 years.
Additionally, compared with its peers, Megaport has a relatively high growth rate of total revenues, the strong balance sheet and healthy FCFs, are good indications for long-term development.
With the strong revenue growth, healthy balance sheet, and increased demand for the services, the MP1 share price looks to have strong upside potential.