Today, we will look at why we like Xero shares (ASX:XRO) and give you a rundown of our XRO share price forecast.
We first looked at Xero towards the beginning of Covid back in mid-July 2020 when the stock was trading at $90 as a great opportunity due to the expected digitisation of many SME's.
Since then, at the current XRO share price, Xero shares have rallied 68%.
Xero (ASX:XRO) is one of Australia and New Zealand's biggest and most successful tech companies.
The company has slowly morphed from a niche SaaS (Software-as-a-Service) company into a tech conglomerate after consistent growth and due to strong sector tailwinds.
While the company is very highly valued, it is attractive for its growth prospects and heritage of innovation.
The pandemic has accelerated the growth of digitization and business processes, a trend that benefited Xero handsomely in recent years.
At the current XRO share price, Xero shares have gained 0.52% in 2021 YTD, significantly underperforming the 8.8% return from the ASX200.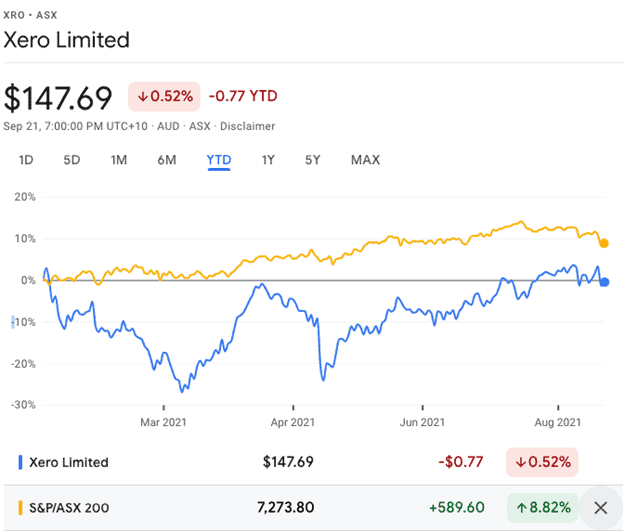 However, over the past 12 months, the stock has returned a solid 55.37% compared to 25.76% for the index, post which it has been in a consolidation phase.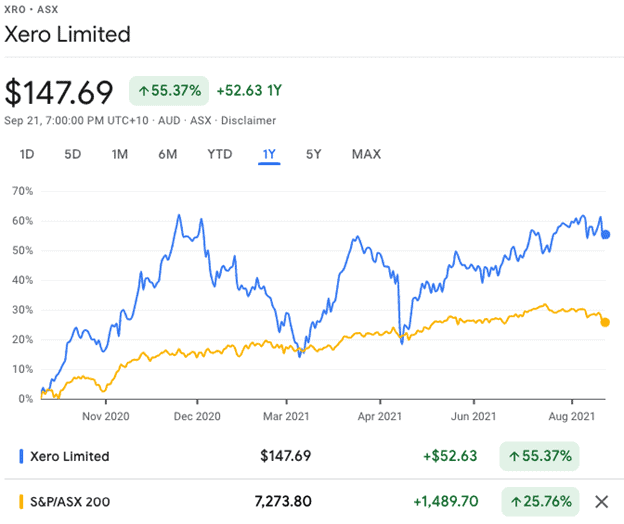 The fact that the company has been able to sustain its sky-high valuation despite having underperformed the index is a strong sign of investor bullishness for its future.
Xero Ltd (ASX:XRO) is a cloud-based accounting software company that aims to automate and streamline cumbersome accounting processes for SMEs (small and medium-sized enterprises).
The company's platform provides companies with a one-stop solution for handling various business processes including multi-currency accounting, cash-flow management, banking integration, expenses, payroll management, workflow, taxation, inventory, and invoicing.
Xero operates a subscription-based business model that gives the company consistent and predictable cash-flows while offering clients a capital-light and flexible solution.
The company has already achieved carbon neutrality by purchasing certified carbon offsets and in FY21, was certified carbon neutral by the Australian Government's Climate Active program, a world-renowned carbon neutrality program.
At the current XRO share price, Xero shares have a market capitalization of A$21.9 billion.
Great Growth Prospects in Developing Markets
As mentioned above, cloud-based commerce platforms such as Xero and Shopify received a shot in the arm from the onset of the pandemic because businesses all over the world were forced to go digital, virtually overnight.
According to a McKinsey report, global adoption of digitization has been sped up by at least three years due to COVID.
Further, the digitisation of businesses was already an ongoing trend even before the virus struck, and the pandemic may lead to a snowballing effect in the cases of businesses like Xero.
The increasing streamlining of digital tax filing in major jurisdictions has also been a tailwind.
In FY21, Xero shares (ASX:XRO) grew its monthly revenue run-rate by 17%, subscriber base nearly 20%, and operating profit by 89%.
The recent acquisition of workforce management platform Planday has made Xero a major contender in the digital employee management space as the work-from-home/work-from-anywhere space grows.
While online employee management is a booming space in itself, it also integrates well with Xero's core product features including workflow management, payroll management, and expense reimbursements.
The company reported nearly 30% growth in the number of employees paid through Xero's platform on pre-pandemic levels.
Apart from the company's dominant position in the ANZ market, the company has been highly successful in its expansion into North America, the UK, and ROW (Rest Of the World including Europe, South America, Asia, Africa, etc.).
ROW was the company's biggest growth avenue in percentage terms in FY21.
Developing markets in South America, Asia, Africa has great potential and will be the biggest growth driver for the company as technical debt in these countries is very low.
In simpler terms, these countries had little to low SME activity till now but will be the highest growth economies in the decade to come.
As the business environment and internet availability in these countries take off, Xero will have an opportunity to ramp their SMEs directly onto cloud-based accounting by offering a solution that is cheaper and more flexible than traditional offline accounting software, thus leading to quicker customer acquisition.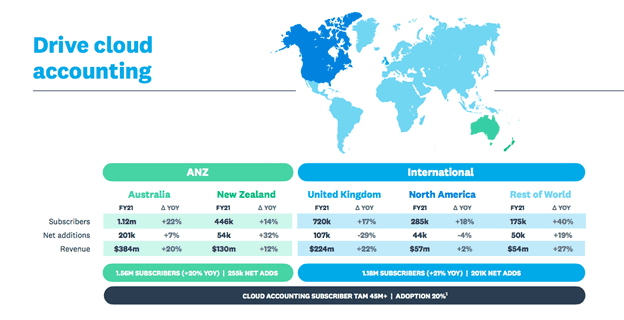 Growth Headwinds in Mature Markets a Concern
While the company has excellent growth prospects in international markets, it is facing growth headwinds in developed economies like North America and the UK due to rising competition from open-source software and Intuit's Quickbooks, the undisputed market leader in the space.
In NA and the UK, which are huge markets, Xero (ASX:XRO) net subscriber additions dipped 4% and 29%, respectively in FY21.
The company reported a spike of nearly 24% in CAC (Customer Acquisition Costs) in its international segments for FY21, which shows that while the company will grow its top-line, less of that growth will benefit the bottom line.
Further, the increase in CAC was despite a deliberate reduction in sales and marketing costs in 1H'FY21, on account of the pandemic.
Xero also reported a 2.2% drop in average revenue per user on the group level in FY21.
This is worrisome as the company already has a 4-digit P/E multiple and international markets are crucial to its growth.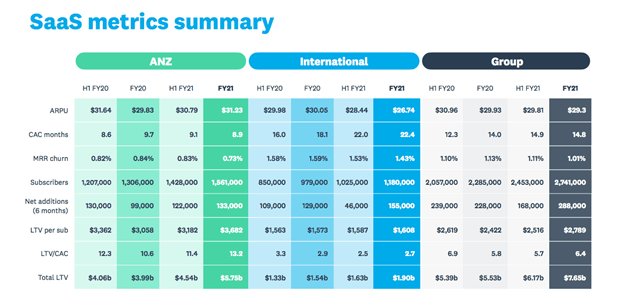 Recent Insider Sales Makes for Poor Optics
Not helping the stock's market optics are its recent sales by co-founder Rod Drury, who off-loaded shares worth A$252 million in December 2020 and another A$300 million tranches last month.
The jury is out on whether these transactions are shrewd sells taking advantage of the ebullience in global stock markets, or based on concerns regarding Xero's prospects.
Drury still sits on Xero's (ASX:XRO) board, though he retired as chief executive in 2017.
Big Opportunities To Leverage Data
A big opportunity for Xero shares lies in the use of the data generated by its services.
The company's acquisitions give us a glimpse into their plans to leverage this data.
Being a complete accounting solution, the company has access to very granular level financial data of the companies that are its clients.
With its acquisition of Waddle, Xero plans to get into the invoice financing business.
This is a significant opportunity for the company because it can originate very high asset-quality loans at a very rapid pace and at scale as compared to traditional financial institutions such as banks who are burdened with the analysis of a company's financials.
Not only does Xero have access to high-quality financial data, but it also is fully aware of their banking history through their bank feeds, which links the accounting package to a company's bank accounts.
This is a big opportunity for the company which it can take advantage of either on its own or through partnerships with financial institutions.
If Xero can build a successful credit platform, it would dramatically increase the appeal of its core products too.
Xero also has a tough-to-breach competitive moat due to its data hoard – which also encourages clients to stick with the company.
Other data-based ancillary opportunities, such as credit ratings, also beckon.
Xero App Store a Profitable Opportunity
Another potentially very profitable opportunity for the company is the commission that it can earn from third-party app development for its platform.
Last month, the company inaugurated the Xero App Store.
Xero (ASX:XRO) already has 1000+ 3rd party apps on its platform and plans to charge a 15% commission on revenues generated by these 3rd parties.
These commissions will have nearly 100% profit margins.
However, attracting third-party developers depends heavily on the growth and relevance of the Xero platform.
Given that Xero has third-party apps from major publishers like Stripe/Paypal (NASDAQ:PYPL)/Square (NYSE:SQ) – all companies that generate billions in payments revenues – this could be a huge profit driver for the company.
Growing Competition a Risk
However, a major threat facing Xero shares (ASX:XRO) is growing competition from other SaaS companies.
Price competition from deep-pocketed or growth-oriented rivals could hurt the company's profitability.
Furthermore, there are numerous local cloud-based accounting startups in international markets (for example, Counto in Singapore) that are more attractive, at first, to local companies due to different accounting standards across geographies.
Moreover, Shopify (NYSE:SHOP), which holds a chunk of the digital SME market, recently invested in Canadian cloud accounting startup Bench in an attempt to vertically integrate more business processes into its platform.
These new startups are backed by deep-pocketed venture capitalists and have no problems with long cash burn phases in the pursuit of growth.
Accounting software giant Intuit (NASDAQ:INTU) is also making extensive efforts to grow its cloud-based Quickbooks platform.
Earlier this month, Intuit acquired Mailchimp, a global customer engagement and marketing platform for small and mid-market businesses, for US$12 billion in cash.
Small and mid-market businesses can combine their customer data from Mailchimp and QuickBooks' purchase data to get actionable insights into their business.
Note that Intuit has a much larger market share, a huge client base that it can migrate to the cloud, and a much bigger balance sheet compared to Xero.
Xero (ASX:XRO) Financials
In FY21, Xero reported revenues of NZ$848.7 million, +18% YoY, while operating expenses rose to NZ$663.8 million, +14% YoY.
EBITDA for the year was NZ$191.2 million, +39% YoY, operating profit was NZ$61.6 million, +89% YoY, and net profit was NZ$19.7 million, +490% YoY.
Free cash flow for the year was NZ$56.9 million, +110% YoY.
Furthermore, the company currently has total liquidity of NZ$1.3 billion.
While the company reported strong financials in FY21, major investment banks such as Goldman Sachs believe the best is yet to come.
Goldman Sachs projects a revenue CAGR of 26% moving forward, representing a doubling of revenue by 2024 on account of subscriber growth, higher ARPU from recently announced price increases, and revenues from third-party apps, which it believes can be worth as much as NZ$1.4 billion annually.
These projections do not take into account potential revenues from invoice financing, a sector the company plans to enter.
The company projects that operating expenses will be in the region of 80%-85%.
Extrapolating Goldman Sachs projection of 26% revenue growth, the company should generate operating revenue of NZ$1.069 billion, incur operating expenses between NZ$855 million and NZ$908.6 million, thus representing an operating profit of between NZ$214 million and NZ$161 million (up between 247% and 161% YoY).
Xero Valuation
We compare Xero shares (ASX:XRO) to Intuit (NASDAQ: INTU), a US-listed software accounting company that is the world's largest in the space, and Sage (LON: SGE), a UK-listed enterprise software firm and one of the biggest accounting software firms in the world by market share.
| Metric | Xero Ltd. | Intuit | Sage |
| --- | --- | --- | --- |
| Price/Earnings | 1093.27 | 74.05 | 34.77 |
| Price/Book | 29.74 | 15.35 | 6.15 |
| Price/Cash Flow | 392.55 | 61.07 | 42.9 |
| Return on Equity | 3.39% | 27.54% | 15.92% |
| Asset Turnover | 0.53 | 0.73 | 0.51 |
As you can see, at the current XRO share price, Xero shares are massively overvalued compared to peers based on every metric.
However, there are no comparable pure-play, SME-focused, SaaS cloud-based accounting companies on listed exchanges.
The above rivals have their own cloud-based accounting segments but don't enjoy the same growth prospects as Xero as a whole.
As Buffett Says, Buy A Wonderful Company, But At A Fair Price
Xero (ASX:XRO) has a powerful buy case going for it on account of a global digitization tailwind that could play out meaningfully in developing markets.
Visible and predictable cash flows, a history of successful innovation, and a solid financial track record are other factors that make Xero the investor favourite it is.
Its foray into Enterprise may also turn out to be highly successful.
Lastly, Xero's app store and potential opportunities to leverage its enormous trove of data could add significant revenue streams in the future.
On the flip side, formidable competition from Intuit and upstart SaaS startups, growth concerns in the ANZ region, meaningful stock sales by insiders, and most of all, an extremely rich valuation, call for a pause before hitting the buy button.
On valuation, recall that Shopify and Zoom Video (NASDAQ:ZM) once had peak P/Es of 700 and 1790 respectively.
Currently, the ratios rule at 74 and 84 due to earnings growth.
As Buffett says, it is always better to buy a wonderful company at a fair price.
Note that Xero has faced significant resistance at the A$150 level, yet has tested support at $113 twice over the past year.
At the current XRO share price, Xero shares are trading at their highs at the $150 resistance level.
It may be prudent to keep Xeros shares on the watch list and wait for a pullback of the XRO share price to the support level before taking a position.