Today we'll look at why we think Amcor shares (ASX:AMC) is a good defensive stock with a good dividend yield in our AMC share price forecast and analysis.
Amcor is a consumer goods packaging company with a client roster that includes some of the world's largest names in consumer and healthcare.
The company has been a market favourite of late due to the tailwind of strong retail spending figures and the somewhat easier supply chains as pandemic restrictions abated.
Despite the operational challenges such as supply chain disruptions and rising raw material costs, the company has been able to stand its ground well in recent quarters.
With smaller rivals yet to get back on their feet after the pandemic, Amcor is now primed to capitalise on the return to normalisation.
Amcor shares at the current AMC share price are up 3.58% YTD, though it underperformed the ASX200 by 0.03% during that time.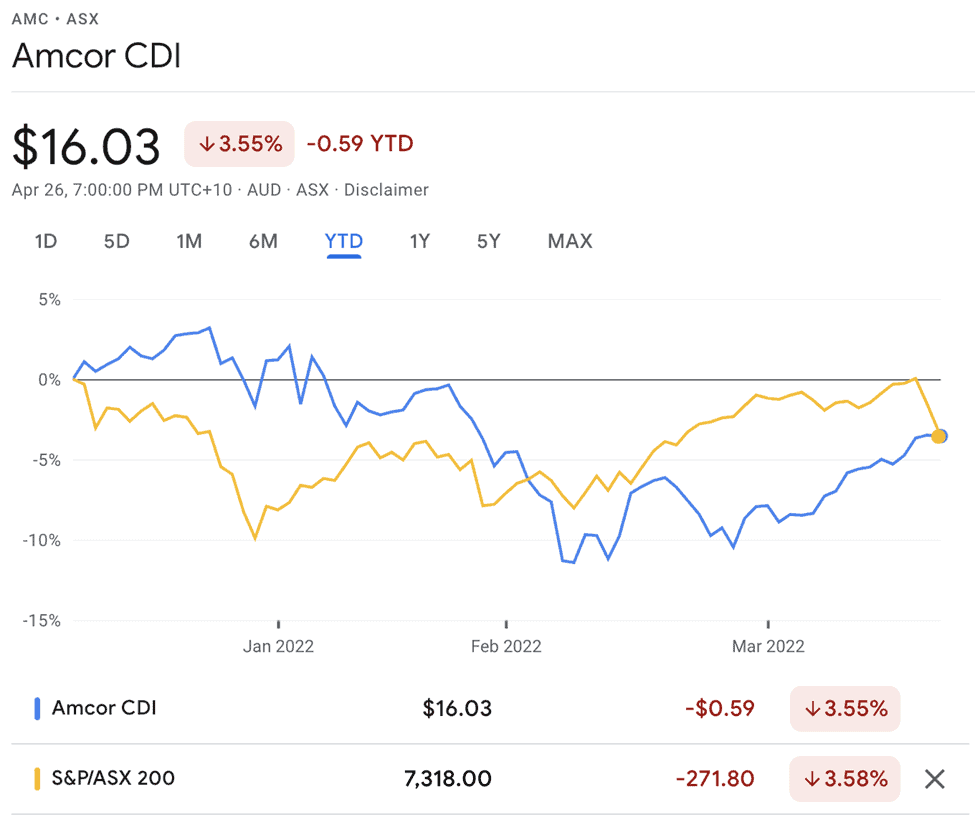 Founded in 1860, Amcor (ASX:AMC) is one of Australia's oldest companies and one of the world's largest packaging firms.
Amcor's business model revolves around impressive economies of scale across major packaging verticals.
The company has two main segments, flexible packaging (77% of revenue and 89.8% of EBIT) and rigid packaging (23% of revenue and 10.2% of EBIT), both of which serve a host of global consumer brands.
The company operates 225 packaging plants across 40 countries and on almost every continent.
Amcor shares at the current AMC share price have a market capitalisation of A$18.51 billion.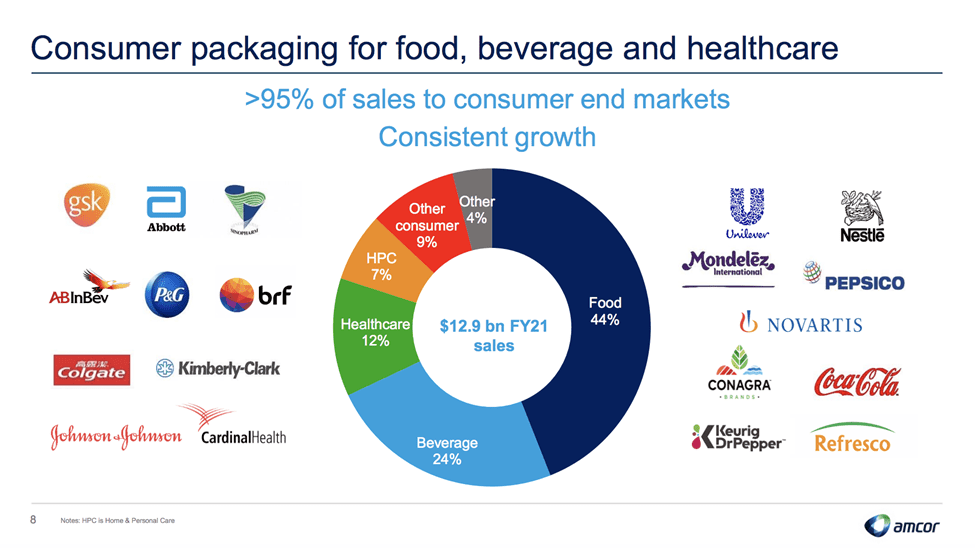 Strong Resilient Business With Growth Headroom
Packaging is a volume business, and having a client roster of the world's biggest brands is the company's biggest strength.
That enables the company to achieve economies of scale that again, win it more big-name clients.
The added advantage of this is that Amcor has a variety of big accounts across various geographies, as well as a diverse, multi-sectoral client portfolio that gives its operations more stability.
However, Food & Beverages (68%), and Healthcare (12%) make up 80% of revenues.
The company's F&B sector is dominated by essentials like packaged meats and ultra-popular beverage brands such as AB-Inbev and Coca-Cola.
Further, low cyclicality sectors such as healthcare, pet food, and packaged meats make up a significant part of Amcor's business, followed by premium coffee (pods/pouches) and beverages.
Since it acquired Bemis in 2019, Amcor has a global reach covering North America, Latin America, Asia Pacific, Europe, the Middle East, and Africa.
Crucially, the company has also established a significant presence in the biggest emerging economies of the world, including Brazil, China, and India, among others.
Per capita GDP in these highly populated economies is on the cusp of crossing critical inflection points when consumption takes off.
Nearly 25% of Amcor shares' revenues are generated from emerging economies, with lucrative exposure to high potential segments like packaged meats and healthcare.
The future of its EM businesses is therefore very bright.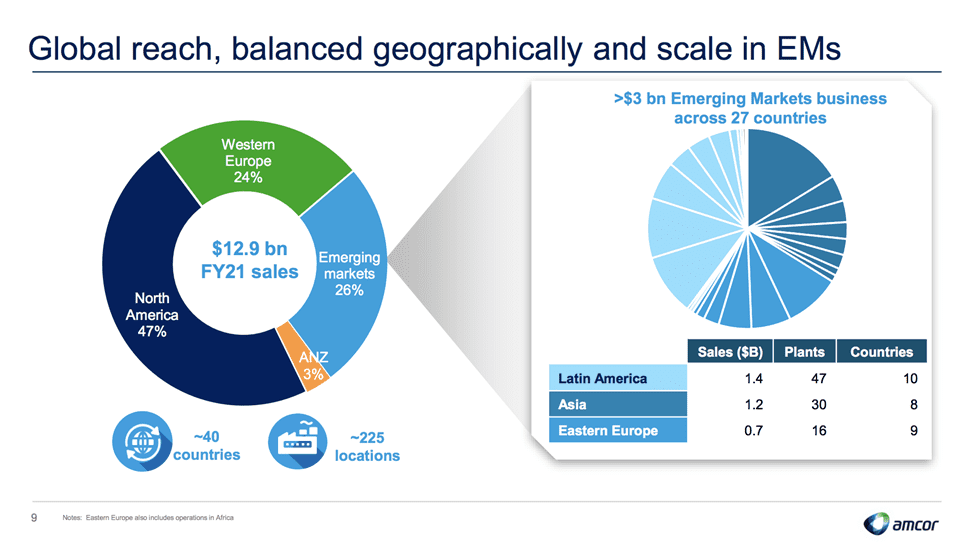 Apart from a great combination of growth and defensibility, the company also has a fortress balance sheet with very low leverage, excellent free cash flow generation (US$1.1 billion) of 8.5% of revenue, and a stellar management track record.
However, Amcor is currently vulnerable to the raging inflation in both labour and commodities.
The impact of this problem is visible from the revenue growth generated by the company in FY20 and FY21, most of which is the result of cost inflation.
While the company was able to grow its bottom line due to synergies and other gains, the unrelenting inflation will eventually start hurting sales because the end-consumer demand could start to falter amidst price increases that stretch affordability.
The Non-cyclical Healthcare Sector and Climate-Friendly Packaging Are Promising Opportunities
The company's presence in healthcare is a significant strength, with the segment accounting for 12% of revenues.
Further, the company produces packaging for a variety of highly stable and non-cyclical products such as contact lenses, tablets, and liquid drugs for big brand clients including Johnson and Johnson, Novartis, Bausch and Lomb, AstraZeneca, and Pfizer.
Apart from the stability of these segments due to the essential nature of healthcare, rising incomes across the globe due to economic growth and globalisation offer tremendous growth opportunities.
As mentioned above, while the effects of inflation and supply shocks are passed on to the end-consumer, there is a point at which it will start to impact demand.
However, given the criticality of healthcare, this segment can buoy the company should things go south economically.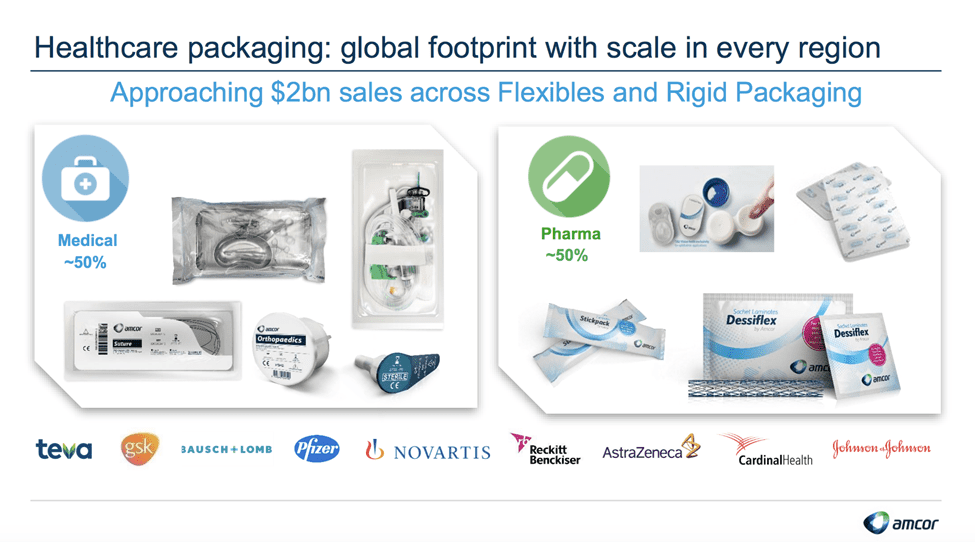 The company is also sitting on a potential opportunity to develop environmentally sustainable packaging solutions given that it invests US$500 million of earnings every year to fund growth and R&D.
Because packaging is a highly carbon-intensive industry, both during production and end-use, there is tremendous pressure by both investors on clients and regulators to transition to a more circular and bio-degradable supply chain. For example, the EU and UK are about to mandate a plastic tax.
While these taxes/tariffs will be borne by the end client, there is a significant opportunity to develop market-leading solutions to fit such requirements.
Given the depth and breadth of its client list, the company has the resources to ideate and develop solutions.
This may not be possible for smaller rivals. Climate-friendly packaging would be hugely attractive to Amcor's customers, all of whom would be looking to reduce their own carbon footprints.
As a result, such innovative Amcor products could enjoy a pricing premium.
The company is very evidently doubling down on this opportunity as seen in its literature and management statements.
In the short to medium term, the company is working on recycling and efficient design while developing more sustainable bio packaging in the long term.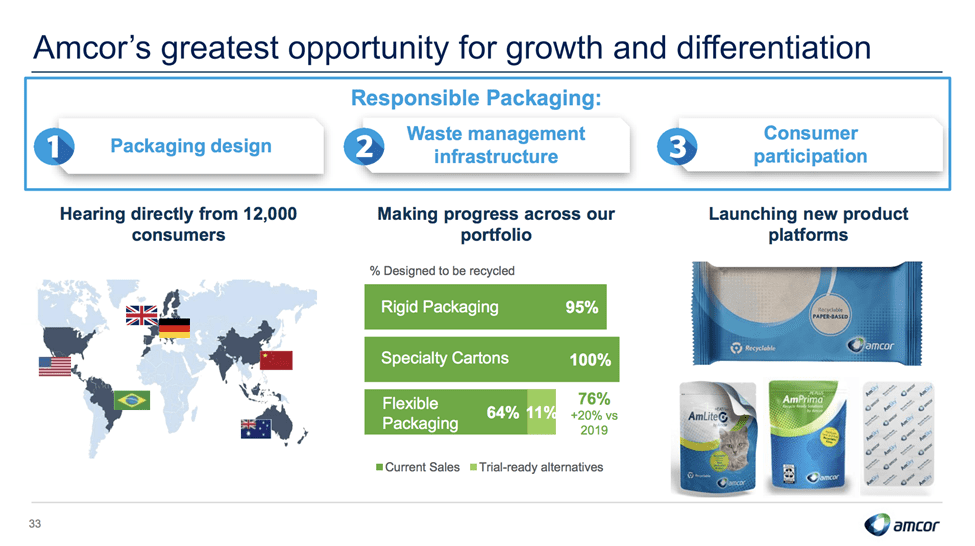 USD Exposure A Serious Risk
However, Amcor is vulnerable to forex volatility. Its reporting currency is the US dollar which accounts for 40%-60% of forex denominated revenue, with the remaining split between Euros and a basket of other currencies.
During 1H'22, the company took a hit of $3M on EBIT and $2M on net income due to currency impact from the strengthening of the dollar against the Euro.
The US is currently in the process of increasing interest rates at a pace and to levels not seen in a long time to counter record inflation.
The resulting strength of the US dollar due to inflows against other currencies can hurt the company's reported financials and maybe even its operations.
Amcor shares (ASX:AMC) have been a stellar performer over the past few years.
The company offers a rare mix of growth, defensibility, and dividends. In 2019, the company snapped up Bemis, its most important acquisition, for US$6.8 billion.
The rationale behind the transaction was to drive growth, increase penetration in the US, which is the world's largest consumer economy, and generate economies of scale.
The strategy has evidently paid off because the company has been able to derive better than expected synergies and could navigate the pandemic relatively unscathed.
The company has a leverage ratio (Net Debt/TTM EBITDA) of 2.9x, far lower than industry standards.
In FY20, Amcor shares reported revenues of US$12.47 billion (up 31.8% YoY) and a net profit of US$612 million (up 42% YoY).
FY21 was even better with revenues of $12.86 billion (up 3.12% YoY) and net profits of US$939 million (up 53.43% YoY), mainly on account of synergies.
The company is generous to shareholders with its free cash flow.
In FY21 it returned a little more than a billion dollars to shareholders, comprising a dividend of US$742 million and US$350 million through share repurchases.
All in all, the company aims to compound shareholder value at 10%-15% per year via capital appreciation and payouts/buybacks, through its commitment to creating long-term value for shareholders.
Moreover, the company stands ready to substitute buybacks to fund acquisitions should opportunities present themselves.
According to one analyst, Amcor has $1 billion in financial firepower to pull off a strategic and earnings accretive acquisition.
In 1H'22, the company reported revenues of US$6.92 billion (up 12% YoY) and EBIT of US$762 million (up 5% YoY).
The company projects earnings growth of 7%-11% despite spending US$600 million on buybacks out of its free cash flow of US$1.1 billion – US$1.2 billion.
It has already executed US$295 million of buybacks and dividends were raised to 12c/share per quarter.
Amcor also reaffirmed its fiscal 2022 outlook for adjusted EPS growth of 7% to 11% in constant currency and adjusted free cash flow of US$1.1 billion to US$1.2 billion.
Amcor shares at the current AMC share price currently have an attractive dividend yield of 4.16%.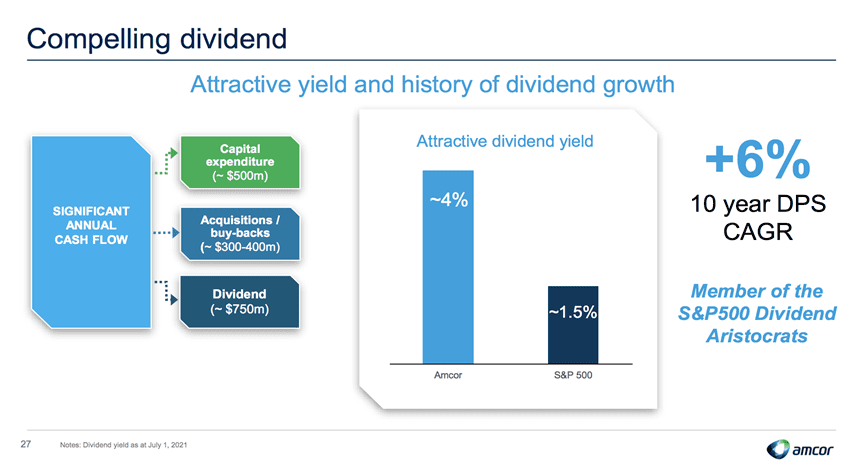 We compare Amcor (NYSE: AMCR / ASX: AMC) to Aptar Group (NYSE: ATR) and Berry Global (NYSE: BERY), both of which are global consumer-facing packaging majors.
| Metric | Amcor | ApTar | Berry Global |
| --- | --- | --- | --- |
| Price/Earnings | 18.91 | 32.01 | 10.95 |
| Return on Equity | 20.47% | 12.78% | 25.23% |
| Net Margin | 7.46% | 7.55% | 5.07% |
| Dividend Yield | 4.12% | 1.32% | |
| Debt/Equity | 157.96 | 63.49 | 314.78 |
Source: Investing.com & Yahoo Finance
As you can see, Amcor shares outperform ApTar by far on every metric, except net margins, where the difference is inconsequential.
On the other hand, Berry Global is significantly cheaper and has a higher ROE; however, it does not offer a dividend, has a lower net margin, and is a far more leveraged company.
Amcor shares are therefore a better bet compared to Berry Global during the prevailing uncertain macroeconomic environment and the potential and dramatic rise in the cost of capital amidst interest rate increases this year around the globe.
Amcor (ASX:AMC) Is An Inflation-Proof Value Buy Amidst Scenarios Of Raging Inflation
Amcor is a 160-year-old company that has established global leadership and dominance in packaging through the timely Bemis acquisition that also helped it to weather inflationary headwinds through valuable synergies, higher earnings, and additional cash flow.
In the present volatile global situation, which is a mix of war, runaway inflation, and hawkish central banks, Amcor shares (ASX:AMC) are a defensive investment that comes with long-term growth potential, relatively low leverage compared to peers, and proven management who is generous to shareholders with dividends and buybacks.
Though the company's business is B2B, it ultimately addresses consumers' day-to-day needs such as foods, beverages, and medical goods.
It is, therefore, more resistant to the vagaries of a recession, should there be one, and its earnings are relatively stable and non-cyclical.
In troubled times, bargains appear, and Amcor is sufficiently cashed up to snap up strategically meaningful acquisitions that may be available on the cheap.