Today we will look at why we think Pro Medicus shares (ASX:PME) have good upside potential in our PME share price forecast and analysis.
Pro Medicus is a health tech software company that provides imaging tools/services to an array of clients such as hospital/diagnostics chains and independent practices.
The company got a serious shot in the arm due to the logistical disruption caused by the COVID-19 pandemic and a growing decline in radiology professionals.
While the former gave the company a shot in the arm, the secular tailwind is a global shortage of radiologists and increasingly complex testing data which can run into several gigabytes from a single test.
Pro Medicus' revolutionary technology allows the easy sharing of huge datasets and brings scale to radiology diagnostics.
Pro Medicus stock has soared 32% YTD, massively outperforming the ASX200.
The outperformance is a staggering 568% over the past 5 years.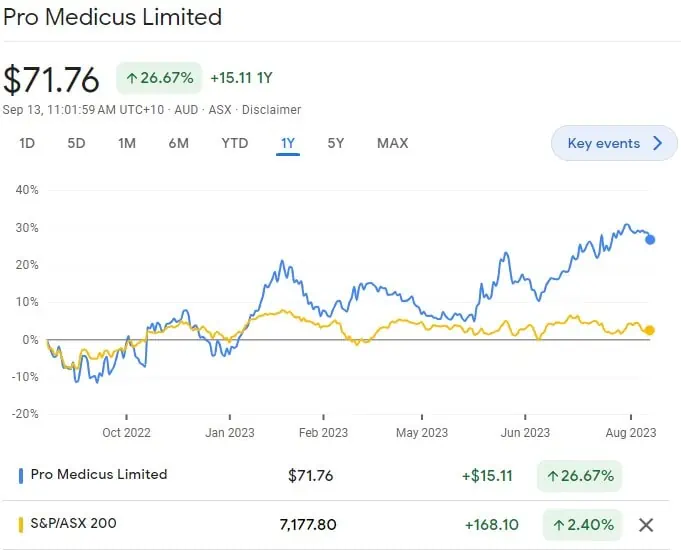 Pro Medicus is a software-as-a-service company that helps healthcare testing providers with a suite of solutions to archive, analyze, manage, and scale their operations.
The company has two major products in a suite, namely Visage RIS and Visage 7.
RIS (Radiology Intelligence System) allows service providers to manage imaging and other administrative actions such as workflow management, patient registration, billing, etc.
The Visage 7 is a cutting-edge analysis tool that enables doctors and radiologists to view multiple test/imaging outputs of extreme complexity effectively by enabling easy sharing for remote diagnosis along with many other functionalities.
Pro Medicus currently trades at a market capitalization of A$7.26 billion.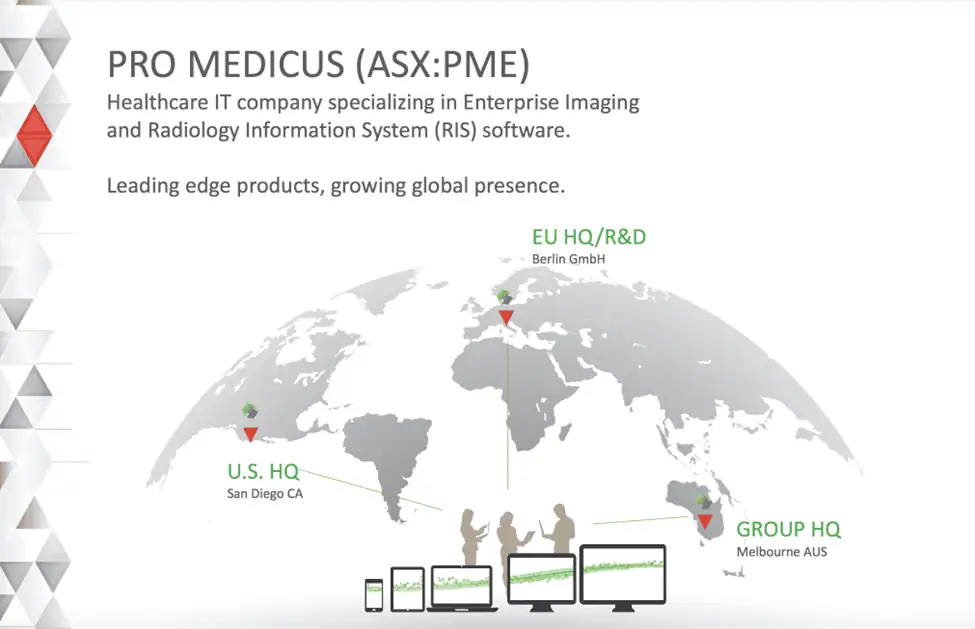 Source – FY23 Results Presentation
Strong Product With Scalability And Pricing Power
Pro Medicus' biggest strength is its product-market fit, which benefits from a secular tailwind in an essential non-cyclical sector.
The key USP of Pro Medicus is the market-leading technology behind its Visage system, which allows sharing of multi-gigabyte test imaging from the cloud between testing providers and radiologists/doctors using a very thin client, making very complex datasets available on a smartphone for diagnosis.
This functionality when combined with archiving on the cloud allows very crucially required scaling of radiology testing practices across the world by connecting them with a scarce radiologist/doctor population, thereby increasing its productivity.
Instead of streaming thousands of 2D high-resolution images from intricate scans such as PET, MRI, or CT, the company's software merges the photos into a 3D image using a proprietary method and only streams pixels to the doctor's/radiologist's smartphone or office.
On the other hand, standard software provided by machine manufacturers such as Siemens or GE sends gigabyte size files the traditional manner, upload followed by download, which is intensely time-consuming considering it takes several minutes for a single patient.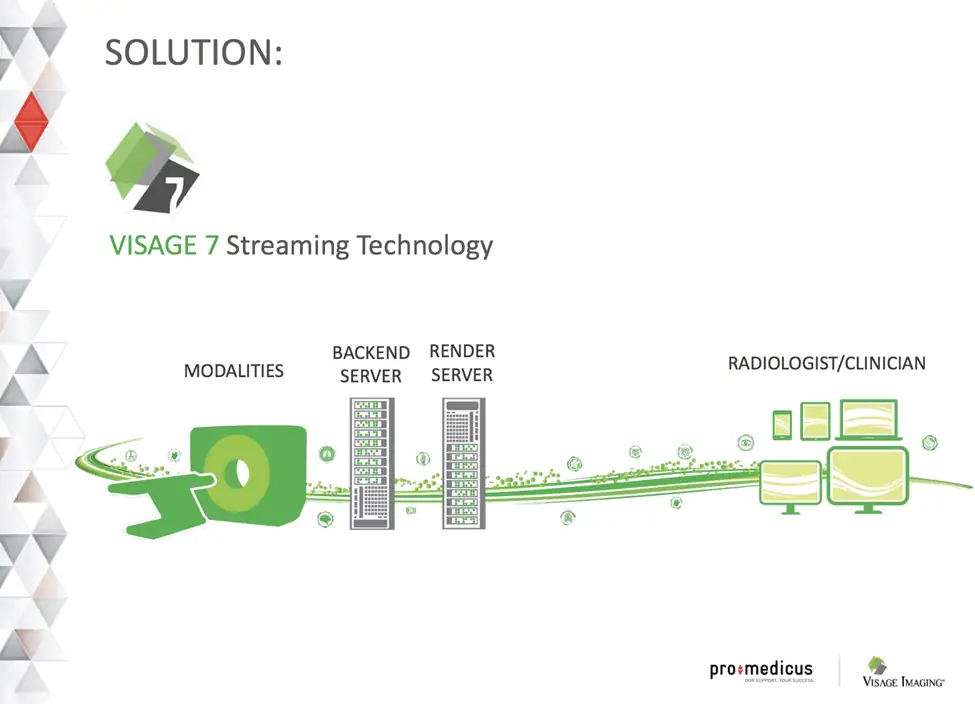 Source – FY23 Results Presentation
Pro Medicus (ASX:PME) is at present the only player providing this technology to customers, thus giving them tremendous pricing power and significant network effects, which in turn gives them more economies of scale and better unit economics.
The company's solid product, tailwinds, and network effects manifest perfectly into a very strong and increasing market share in prominent jurisdictions such as the US, where the company services nine out of the 22 best hospitals, a significant feat and validation for the product.
The company's product has shown promising demand and growth across various customer types such as private health practices, large healthcare network operators, and academic/research organizations.
Combined with administrative features offered by RIS, analysis/diagnosis features offered by Visage 7, and scalability across all the client's delivery points make the company's offering is very valuable to customers.
The increasing complexity and volume of testing are also driving a multi-year story in healthcare cloud adoption.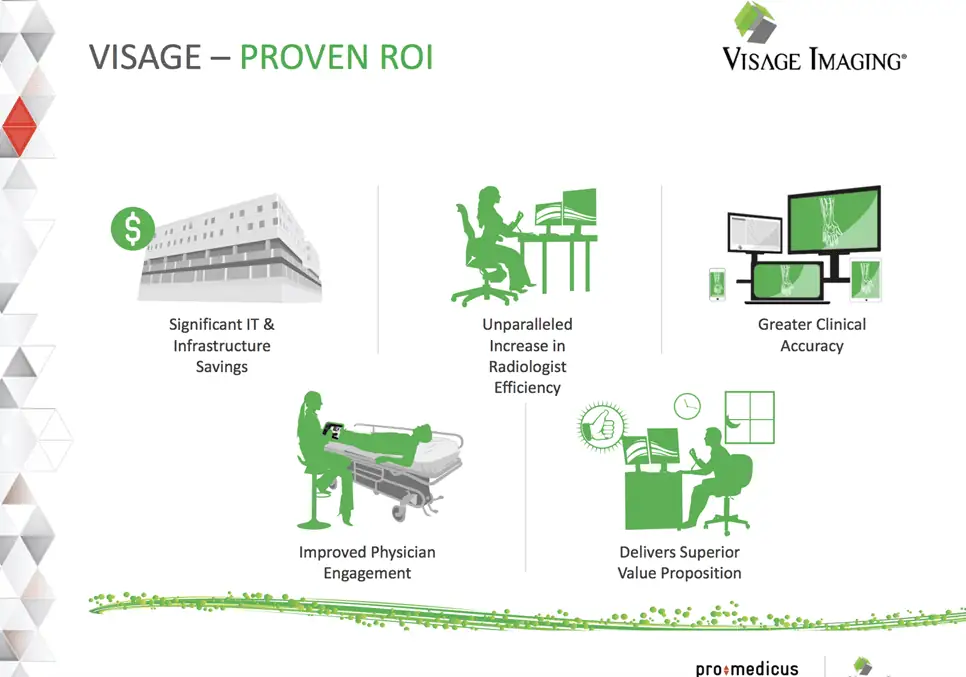 Source – FY23 Results Presentation
Pro Medicus (ASX:PME) operates on a pay-per-click/transaction model with minimums/baseline in place, the former thus giving clients a pay-as-you-go structure above a certain fixed cost.
Transactions form the lion's share of the company's revenue followed by baseline/fixed revenue, on-site hardware, and professional training services.
Lastly, the company is a big beneficiary of the acute worldwide imaging professional shortage which has further been exacerbated by fears of automation.
The shortage of radiology professionals has led to a slowdown in incremental radiology capacity investment, which in turn has manifested in rapidly increasing wait times for radiological tests.
Overall, the company has a secular tailwind along with a proprietary product that is seeing rapid adoption from customers.
The success of the company's business model can be seen by increasing contract wins, increasing contract value, nearly 100% renewal rate, and full-stack subscriptions across various types of clients (on-site hardware, RIS, Visage 7, and off-site cloud).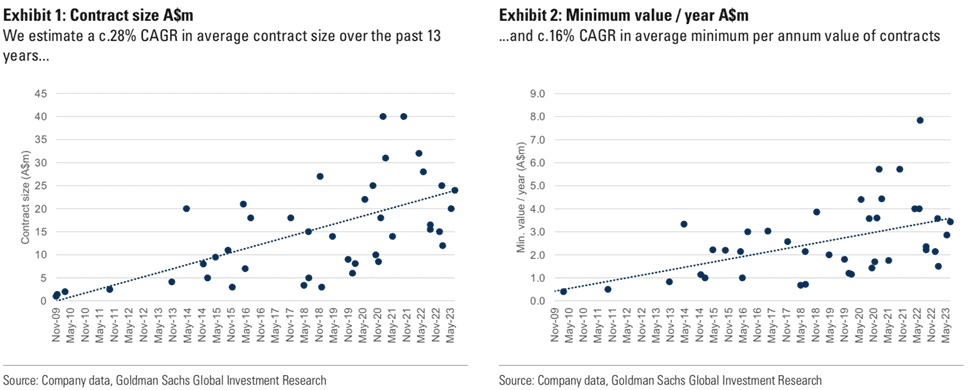 Pro Medicus (ASX:PME) also has a very scalable asset-light business model with no major capital expenditure other than ongoing R&D.
The proprietary nature of its product benefits from significant network effects along with tremendous pricing power, more than 100% over competitors in many cases.
Bleak Macro Environment And Complete Dependence On The Imaging Demand Are Weaknesses
Pro Medicus shares' (ASX:PME) weakness is slow growth in radiological test access due to punitive costs of setting up machinery which has been worsened by a radiology professional shortage.
On top of that, analysts expect the global healthcare sector to reach 2019 levels of capex/investment only by 2025, which could hamper growth for the company.
This weakness could be hampered even further by rising interest rates, which many fear could lead to a global recession at worst, or reduce demand for health services due to already punitive costs for the same in major economies due to the falling purchasing power of citizens and rising costs of consumption.
Since the majority of the revenue is variable based on demand, a slowdown will have a material impact on earnings, and therefore on valuation.
The second weakness is that the company's product is entirely dependent on imaging being the dominant form of health diagnosis for a variety of health issues.
However, there is a huge amount of R&D going on across the world to develop new blood testing and other diagnostics techniques that are cheaper and more accurate at diagnosis.
AI And New Diagnosis Methods Are Opportunities
Pro Medicus shares (ASX:PME) has two major opportunities laying ahead of it, AI and increasing product support for other test types such as cardiology.
AI has dominated headlines in the technology space as the next big megatrend over the last year.
While ChatGPT enthralled users due to its general range of capabilities, the prospective use of AI in radiology is hardly new and has been touted as the solution to the radiologist shortage and in some cases even an avenue for complete automation.
The company's most recent conference call was littered with questions about AI where the company mentioned that efforts to incorporate AI at scale were in full swing in major countries, eg Sweden where efforts yielded a 20% improvement in productivity for radiologists.
Pro Medicus was quick to latch onto this trend and has built AI interfacing capability into the Visage platform that combines with the cloud archive and allows clients to incorporate proprietary algorithms based on their data via APIs.
The company has a very strong R&D team in place and partnerships with marquee educational institutions such as Yale/NYU and clients such as the University of Florida/Memorial Sloan Kettering.
For example, the company's partnership with Yale has developed an AI model that can segment child tumors very accurately and do it in 2-3 minutes as compared to 2 hours manually.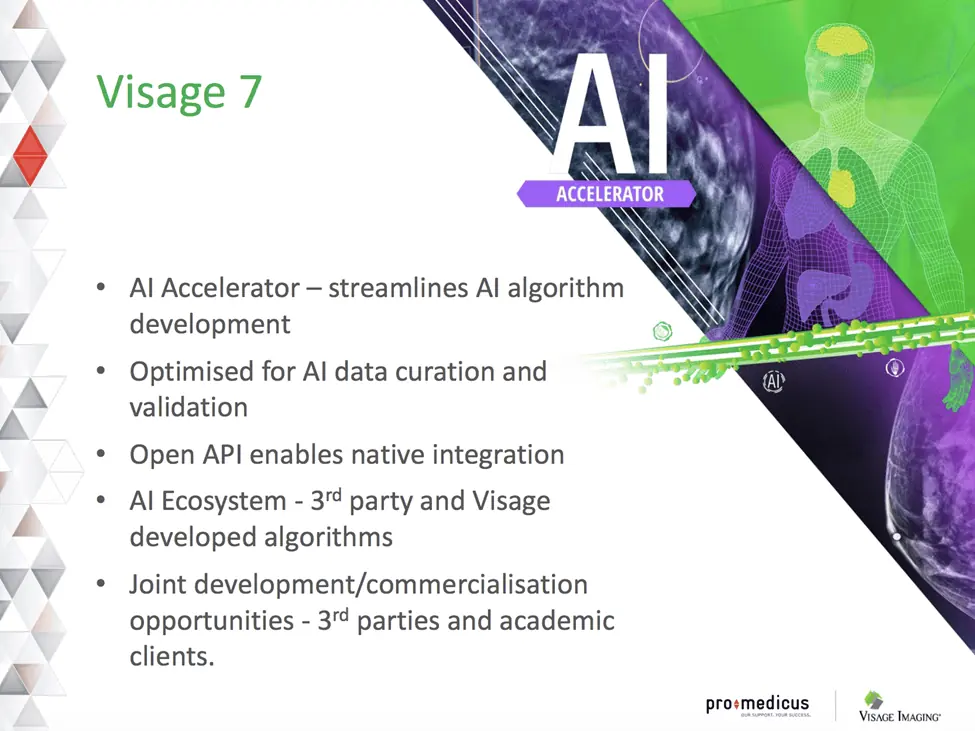 Source – FY23 Results Presentation
The second opportunity is expanding the company's offerings to include other high-volume testing arenas such as cardiology, which the company said it will deploy in the next few months.
The company's offerings include a novel method to use Photoplethysmography (PPG) data (a rather inexpensive and non-invasive test) to ascertain ejection fraction, which could be profound if it performs with suitable accuracy in the field as ejection fraction is a very important cardiological metric which is currently only derived from expensive EEG tests.
Apart from direct AI capabilities directly offered by the company, it has tremendous scope to be a platform for enabling the same.
Given the data-dense nature of radiological tests, the need to be able to share massive datasets seamlessly and incorporate AI and top of them will be a clear requirement for the industry, thus giving the company a massive edge as these requirements are its core competence.
At its FY23 conference call, Pro Medicus (ASX:PME) said that it expects material revenue from AI offerings in the next few months which should see some good upside for the PME share price in the near future.
Impact of Serious Competition On Margins And Valuation Will Be Grave
There is only one major threat facing the company, an unraveling of its market dominance, on which its growth and valuation are entirely contingent. The company's thin-client approach doesn't have any direct competition as yet and allows very steep pricing power.
However, patenting software technologies is a tough task with approvals tough to get.
At the same time, slowing growth for radiology hardware manufacturers such as GE/Siemens may push to look for every avenue for growth such as a bundled version of the type of software Pro Medicus offers.
Material Growth In Financials Continues
Pro Medicus shares (ASX:PME) had a stellar year in FY22-23 with record revenues and profits.
Revenues came in at A$124.9 million (up 33.6% YoY), PAT of A$60.65 million (up 36.5% YoY), and an EBIT margin of 67.2% YoY.
The company paid a fully franked dividend of 17 cents/share (up 36.4% YoY).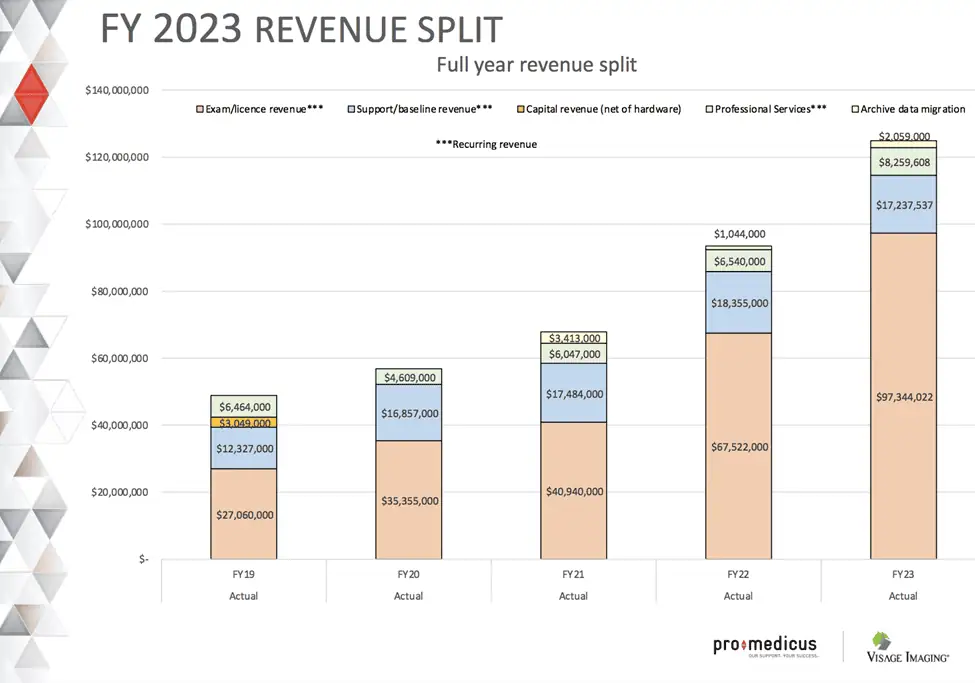 Source – FY23 Results Presentation
The company has no debt, a very strong balance sheet, and a cash reserve of A$121.5 million (up 34.2% YoY).
Pro Medicus has 5 revenue streams – Exam/Transaction, Baseline/Fixed, Capital/Hardware, Professional Services, and Archive Migration. Exam/Transaction revenue is the biggest revenue driver for the company, making up about 78% of revenue and growth of about 44% YoY.
The company expects just Transaction revenues to be A$468 million over the next 5 years.
The bulk of the revenue growth was driven by Exam/Transaction revenue, with Baseline/Fixed revenue coming in nearly flat, showing that growth was driven by increased testing and not new clients at the time of reporting.
However, the company had a huge number of marquee client wins in the year that will start contributing to the financials in FY24 which should see material upside for the PME share price.
As we mentioned above, Pro Medicus shares are a leader in a very niche space with no direct competition, hence direct comparisons are few other than the majors such as GE Health and Siemens.
We will be comparing Pro Medicus (ASX: PME) to Lantheus Holdings (NASDAQ: LNTH), a leading US developer of imaging diagnosis software).
| Metric | Pro Medicus | Lanheus Holdings |
| --- | --- | --- |
| Price/Earnings | 124.86 | 140.36 |
| Return on Equity (5YA) | 43.23% | 38.13% |
| 5 Year Sales Growth | 24% | 23% |
Source – Investing.com
As we can see, at the current PME share price, Pro Medicus shares (ASX: PME) are cheaper in terms of earnings, ROE, and 5 Year Sales Growth.
However, it must be noted that their products are not directly comparable.
It must also be noted that many analysts like to compare Pro Medicus (ASX: PME) to non-health SaaS companies such as Xero and WiseTech, where the company is head and shoulders above them due to superior product-market fit, demand, and pricing power.
As Good As They Come As Far As High Growth SaaS Is Concerned
Pro Medicus shares (ASX:PME) are a secular growth story with a dominant market position due to a proprietary product, a very rare combination.
The company has a very scalable and capital-light business model with very limited incremental costs for growth.
Further, the company has the foundation and product that could benefit greatly from AI adoption, both on the research front and on the diagnosis front.
The scope for growth beyond the current US and Australian markets is huge, validated by the dominance of the company's product in world-class hospitals and research organizations along with the growth from increasing diagnosis capabilities in fields such as cardiology.
Overall, the growth story is as good as they come with very strong unit economics.
While the price is a bit lofty, material growth is due to come in from recent contract wins over the next year along with ever-increasing margins.
Therefore scope for the PME share price to grow into and above the current multiple is massive.