FlexiGroup (ASX:FXL) was renamed Humm (ASX:HUM) as of 30th November 2020 to better reflect their better known Buy Now Pay Later brand.
Today, we will look at why we like Humm shares (ASX:HUM) and a dive into our HUM share price forecast.
Buy Now Pay Later (BNPL) shares have been running hot right now, with APT and Z1P both going gangbusters – fully recovering from the correction in early 2020.
With both those stocks running so hard, the HUM share price has been left in the dust.
However, Humm is the only company with BNPL exposure that is profitable with a solid and growing business that we think has been overlooked.
They are also transforming their business and online sales volumes have grown strongly. This is creating capital growth as they ramp up their BNPL business.
In addition, Humm shares pay a huge grossed-up dividend yield of 9.82% – levels that generally only banks can reach.
In 2020, the global economy has taken a severe hit due to the spread of the coronavirus.
While almost all sectors have suffered due to the virus, companies engaged in financial technology and digital finance are experiencing a rise in demand for their services.
This due to a global shift towards cashless transactions and a rise in demand for credit.
According to the latest financial reports, the company has a cash reserve of A$168 million and debt of A$2.55 billion.
Over the past five years, the HUM share price has significantly underperformed the ASX index by 51.5%.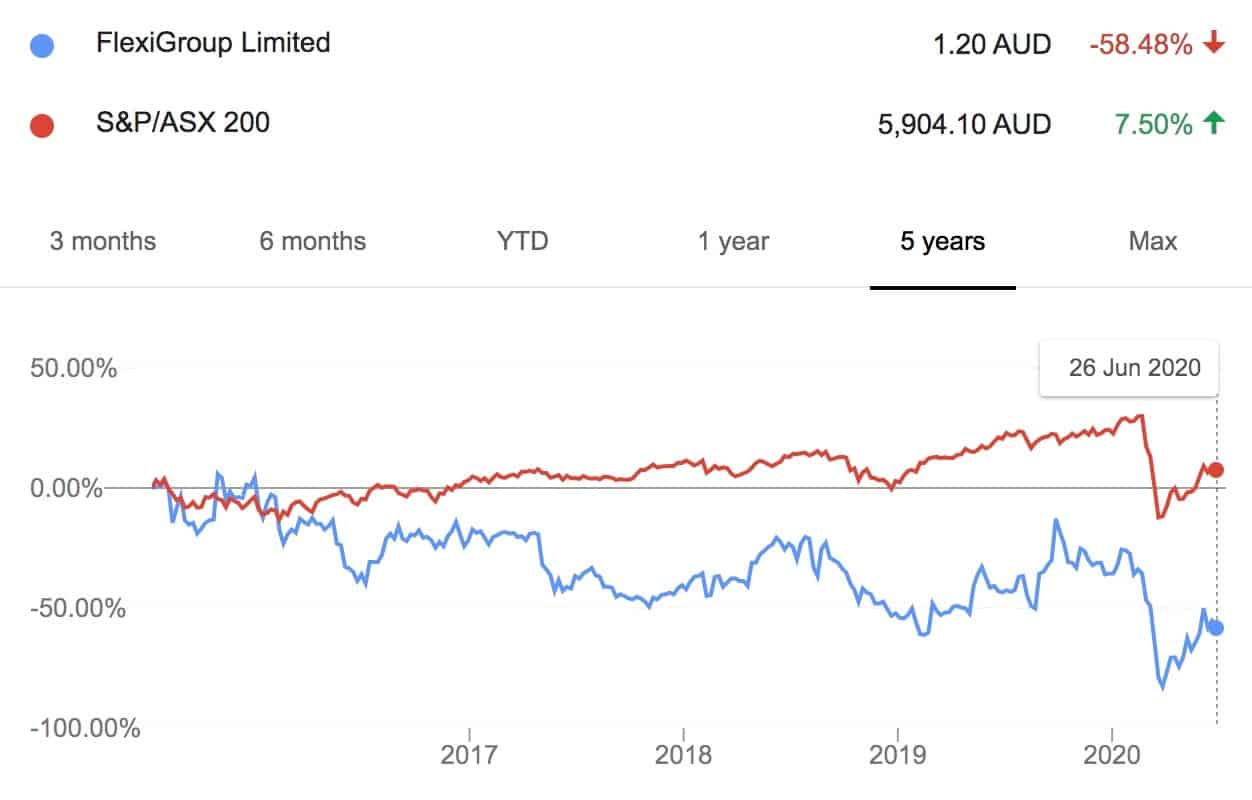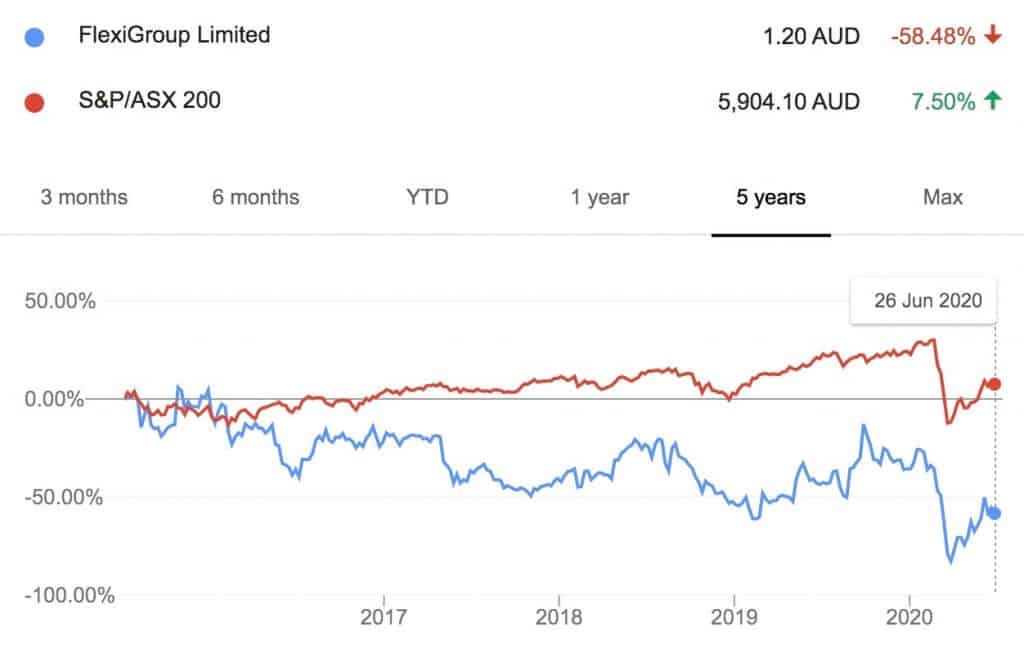 Source – Google Finance
Humm is a financial services company based in Australia.
The company provides an array of financial services to the consumer and the small and medium-sized (SME) sectors.
Its services include interest-free Buy Now Pay Later (BNPL) schemes for consumers as well as various credit and lease products for SMEs. As of June 2020, the company has a customer base of 2.1 million.
On the consumer side, the company's most significant products are its BNPL services, Humm and Bundll, along with interest-free credit cards. For SMEs, the company offers FlexiCommercial, which is a secured lease product to fund large one-off purchases.
The company's largest market is in the Australia and New Zealand (ANZ) region. Over the long term, the company aims to provide a large-scale basket of services that provide easy and economically feasible credit to retail consumers and SMEs.
At the current HUM share price, the company has a market capitalization of A$471 million. For perspective, industry peers Afterpay (ASX APT) and Zip Co (ASX Z1P)  have market caps of A$15.3 billion and A$2.13 billion respectively.
Humm (ASX:HUM) Business Transformation Strategy
Humm is a well-positioned company in the finance sector catering to the rapidly growing consumer finance segment.
Until the past couple of years, consumer finance was a relatively underserved segment of finance. However, as smartphones become more ubiquitous, consumer finance is on the brink of exceptional growth due to the mass digitization of financial services.
The spread of the coronavirus and cash-aversion have also helped bring more potential customers online. One of the company's biggest strengths is its BNPL line of interest-free credit products that charge a fixed fee instead of interest.
Humm, a product that the then FlexiGroup (ASX FLX) launched in 2019, provides interest-free consumer credit for large one-off purchases at partner retailers and is repaid in instalments over a pre-determined time.
It is the only product in the market that can offer instant finance for purchases up to $30,000, interest-free.
In February, the company launched Bundll, an interest-free consumer credit product designed to fund small regular purchases rather than large one-off ones, and repayable over 14 days.
Since their launch, both Humm and Bundl have seen over 600,000 mobile downloads.
One of the company's biggest assets is its partnership with Mastercard, which allows Bundll customers up to $1000 of instant credit on all MasterCard transactions globally, thus opening up a huge range of purchase and financing options for consumers.
In FY2020, Humm (ASX:HUM) has seen online sales volumes go up 102% in 1H20 and 282% in 2H20 (so far).
Across all products, the company has added 380,000 new customers over the past 11 months, despite the economic turbulence from the coronavirus.
Given that fintech adoption in Australia is just 58% and rapidly growing, Humm shares is very well placed for growth over the next few years.
The credit provided by the company is of high quality because most of its customer base is well employed, over 35 years of age, and with a high percentage of homeownership.
Additionally, the company's risk profile benefits from its diverse funding base in a highly capital-intensive sector. There is also comfort from the company's diverse business operations. No business segment singly accounts for more than 35% of the company's pre-tax profits.
The company has executed very well on its business transformation strategy launched in 2019 under CEO Rebecca James. The strategy has achieved growth in profits and volume, and a reduction in losses in proportion to volume.
Notably, Humm shares are the only profitable company in the BNPL sector (see chart below) having turned around an after-tax loss of A$9.1 million in FY 2018 into a profit of A$61.7 million in FY 2019. For the HY2020, Humm posted an NPAT of $33.3 million.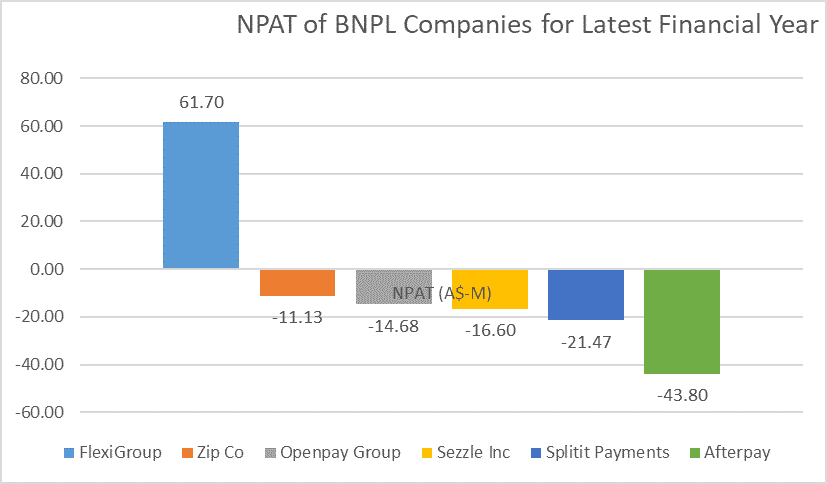 However, one major potential weakness of the company arises from the continual issue with COVID-19.
In May, the unemployment rate in Australia had shot up to 7.1%. With a looming global recession, the company might see its customer base shrink due to job losses and a decline in some customers' creditworthiness.
However, the government's $130 billion JobKeeper relief package could help counter this risk.
For 2020, the IMF expects the Australian GDP to contract 4.5%. In a shrinking economy, paeople are unlikely to splurge on non-essential purchases, thus driving down the demand for credit. This could adversely impact Humm's business.
Having said that, COVID-19 is an issue for most companies and is macroeconomic, not a fundamental issue with the company.
The rapid spread of the coronavirus does however bring a potential opportunity for Humm shares. Due to lockdowns and various other containment measures, the bulk of SMEs, such as those in the entertainment, food, and hospitality sectors, have suffered major liquidity issues.
As things gradually get better and demand begins recovering, these companies might require credit to get operations going. These SMEs, therefore, present a sizeable opportunity for the company in terms of the growth of its customer base.
However, a prolonged economic downturn could exacerbate the company's credit risks.
On the other hand, as mentioned before, the company's risk management strategies, and its diversified funding base and business model should act as cushions during economic volatility.
Meanwhile, regulatory authorities in Australia view the BNPL sector with a wary eye. Earlier this month, the Australian Securities and Investments Commission (ASIC) was highly critical of the draft code of conduct presented by BNPL companies including Afterpay, Zip, and Humm to the Australian Finance Industry Association.
There appears to be a lurking threat of more regulatory glare arising from a perceived lack of consumer protection afforded by BNPL companies compared to the country's credit laws.
We will compare Humm shares to AfterPay (ASX APT) and Zip Co. (ASX Z1P). Both these companies are primarily financial technology companies in the consumer credit and BNPL space and are based in Australia.
| | | | |
| --- | --- | --- | --- |
| Ratio | Humm (ASX HUM) | Afterpay (ASX APT) | Zip Co (ASX Z1P) |
| Price-to-Book (x) | 0.74 | 17.72 | 12.08 |
| Total Asset Turnover (x) | 0.15 | 0.38 | 0.14 |
| Total debt-to-equity  (%) | 397.58% | 49.73% | 504.78% |
Source – Investing.com
We will use the price-to-book ratio to compare valuations, total debt-to-equity to compare leverage, and asset turnover to compare the efficiency of the company to its peers.
In terms of valuation, Humm shares has a P/B of just 0.74 and is much cheaper compared to AfterPay and Zip Co. which have a Pd/B of 17.72 and 12.08 respectively.
When it comes to the efficiency of utilization of assets, Humm (0.15) looks inefficient compared to AfterPay (0.38) and about the same versus Zip Co (0.14).
Humm shares has a total debt-to-equity ratio of 397.58%, making it much more leveraged than AfterPay (49.73%), but less geared than Zip Co (504.78%).
At the current HUM share price, Humm shares' P/E is also very low at just 7.8x. Taking into consideration both AfterPay and Zip have negative P/E's, Humm shares are looking to be fairly cheap.
In addition, Humm also pays a Trailing Twelve Month (TTM) dividend yield of 6.88% fully franked – a yield of 9.82% in gross dividends.
This is an extremely high yield generally only banks can achieve. However, keep in mind that with the COVID-19 issues, HUM like many other companies may cut their dividend to preserve cash positions.
At the current HUM share price of A$1.135 and a P/E of just 7.8x, Humm shares allow entry into a 30-year old, established fintech company that is reporting solid profits.
The company is achieving discernible benefits of profit and volume growth and brand appeal from a turnaround strategy launched in 2019.
Additionally, Humm's (ASX:HUM) business risk appears to be well under control, pandemic-related economic uncertainty notwithstanding.