Today, I'm going to show you why we think Zip (ASX Z1P) is a great stock.
In fact, we have been recommending this stock since August 2018.
We recommended this stock when the Z1P share price was trading at just $0.80, whilst everyone else was banging on about Afterpay (we did as well).
Since then, the Z1P share price has rallied more than 125% to over $1.80 as of the time of writing.
Zip is one of the leaders in the buy now, pay later segment, along with Afterpay (ASX APT).
So let's get started.
About Zip (ASX Z1P)
Zip (ASX Z1P) is a digital point-of-sale & fast-growing payment solution, that operates in the buy-now-pay-later sector similar to Afterpay.
Zip has two main products, ZipPay which is designed for individual use, and ZipMoney which is designed like a traditional credit card.
Ultimately Zip is focused on delivering an easy & simplified process of delivering a transparent, responsible, and fairly priced consumer credit-products.
Like AfterPay, Z1P shares are leveraged to the fast-growing digitisation of the traditional lay-by offered by stores in days past, offering potentially phenomenal growth to early investors.
Zip is one of the top shares to buy for 2019.
How ZipPay Works
ZipPay is the first main product that Zip is known for.
It is designed for younger individuals and is nearly identical to Afterpay. ZipPay offers a line-of-credit on a buy now pay later schedule for small purchases from $250 – $1,000.
This product is pitched to younger, more tech-savvy generations as a new version of credit cards, without the stigma that has been built-up against credit cards that millennials have.
ZipPay has a number of retail clients that include the likes of Anaconda, Tigerair, Kogan, Harris Farm Markets, and Virgin.
They offer a number of repayment options such as weekly, fortnightly or monthly. This provides consumers with flexibility and choice.
They also offer interest-free with no annual fees and no establishment fees making it cheaper and simpler for consumers.
ZipPay also has some great features for merchants as they don't have to pay a set-up fee, no monthly charge, and no commitments.
Instead, ZipPay charges a per transaction fee as well as a percentage fee based on volume.
Comparison between ZIP & APT (AfterPay)
| | | |
| --- | --- | --- |
| | AfterPay (ASX APT) | Zip (ASX Z1P) |
| Cost | 30c per transaction + commission | 15c per transaction + Commission |
| Commission | Ranges from 4 to 6% | Ranges from 2 to 4% |
| Merchant Payment | Receive payment up to 48hours after the transaction | Receives payment every day at 4 pm. |
| Ongoing Fee | No Monthly Fee, and late fees ranging from $10 or 25% of the original order value or $68, whichever is less. | $6 if balance not cleared, and a late cap at $10. |
How ZipMoney Works
ZipMoney is the second main product of Zip (ASX Z1P) and is designed around a traditional form of a line-of-credit.
The platform is similar to ZipPay but has a larger credit limit and is mainly used for bulk orders from other retailers for items like furniture.
It acts more like a traditional credit card, with an interest rate from 19.9% p.a., and a min $1,000 to a maximum of $30,000 unsecured credit.
When a company signs up, a credit limit tier will need to be established:
| | | |
| --- | --- | --- |
| Credit Limit | Minimum Repayment | Establishment Fee |
| $1000 | $40 | $0 |
| $2000 | $40 | $25 |
| $3000 | $80 | $49 |
| $4000 | $80 | $75 |
| $5000 to $30,000 | $500 or 3% (Whichever is greater) | |
ZipMoney also offers an interest-free period of a minimum of three months for new customers.
Additionally, a debit card or bank account needs to be provided to ZipMoney.
This reduces the number of defaults compared to competitors like Afterpay which don't have this requirement.
ZipMoney also allows a customer to keep their account open at no extra cost if the customer pays out the balance. However, a monthly fee of $6 is charged every month if there is an outstanding balance.
Recent Senate Inquiry
Zip (ASX Z1P) recently appeared before the Senate Inquiry into the credit and financial services industry targeting Australians at risk of financial hardship.
This did not impact Z1P and they welcomed the recommendations:
Minimum standards are set for up-front due diligence and consideration for consumers' personal financial situations.
Customers clearly understand the products they are signing up for.
Hardship safeguards are in place to help customers should their financial circumstances change.
How is Zip (ASX Z1P) Performing?
From HY19 Results Investor Presentation, Zip added 12,500 new retailers including a number of bigger players such as Officeworks, Tigerair, Kogan, and soon Virgin.
This means greater exposure to new customers and more variety of products on offer. Zip also added 536,000 new customers.
Zip increased transactions revenue by 114% to $34.2M. This was all followed by great numbers with transaction volume up from $235.3M to $495.2M.
Consumers were up 100% to 1M, receivables up 112% to $489M, and retail partners up from 7.8K to 12.6K.
Overall this is an exceptional performance from Z1P shares. This is reflected in the Z1P share price, as the shares have rallied strongly.
How Does Zip differ from AfterPay?
Most of us will probably remember how Myspace fell by the wayside when everyone started using Facebook.
Afterpay and Zip do have some parallels.
However, we believe there is plenty of scope in the market for both APT and Zip with merchants offering both products.
It does not hurt for merchants to have a competitive market in a new payments sector.
Zip does appear to be at an earlier stage of development when compared to AfterPay.
AfterPay clearly has more people using their product and recently became cash flow positive and is EBITDA positive.
However, Zip is playing catch up and is offering merchants better terms to close the gap with Afterpay.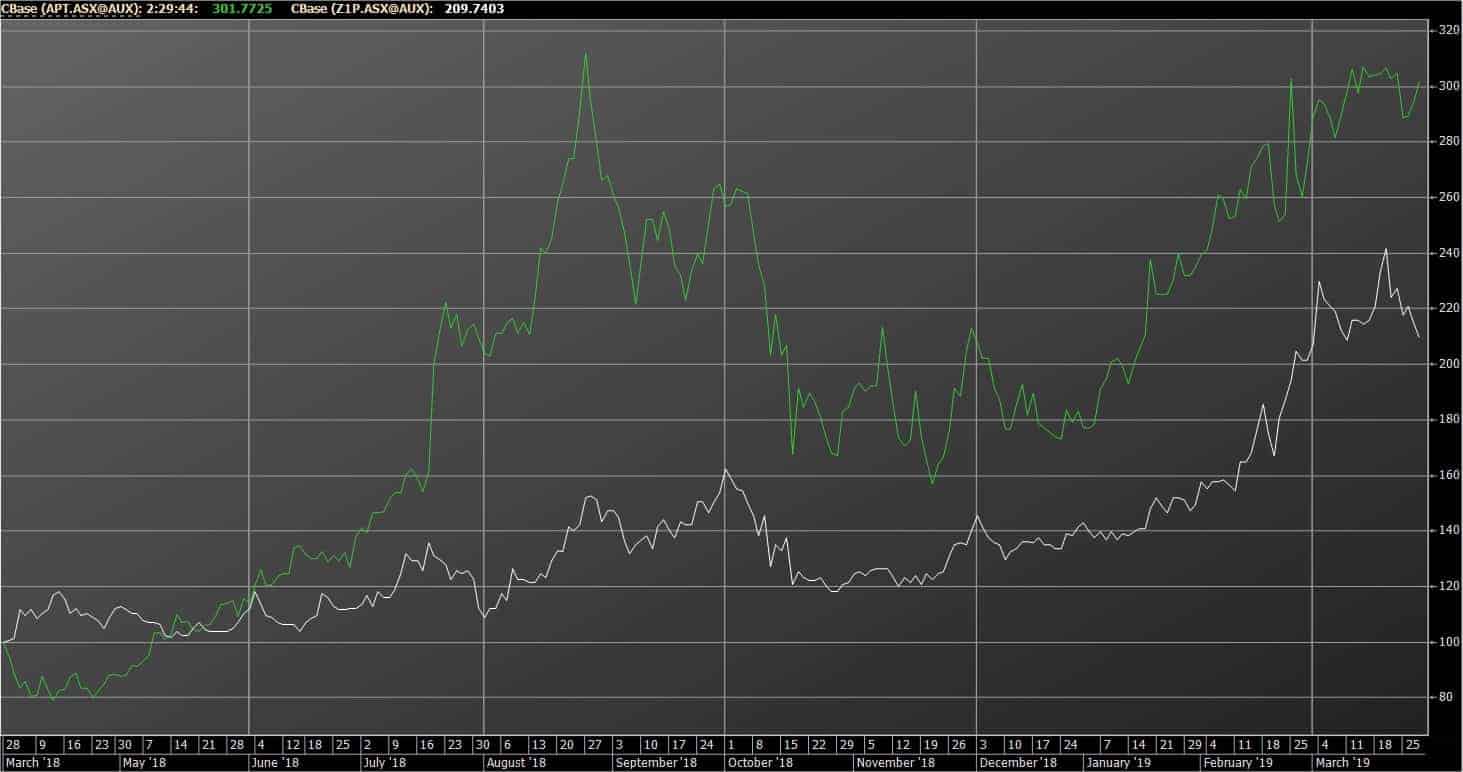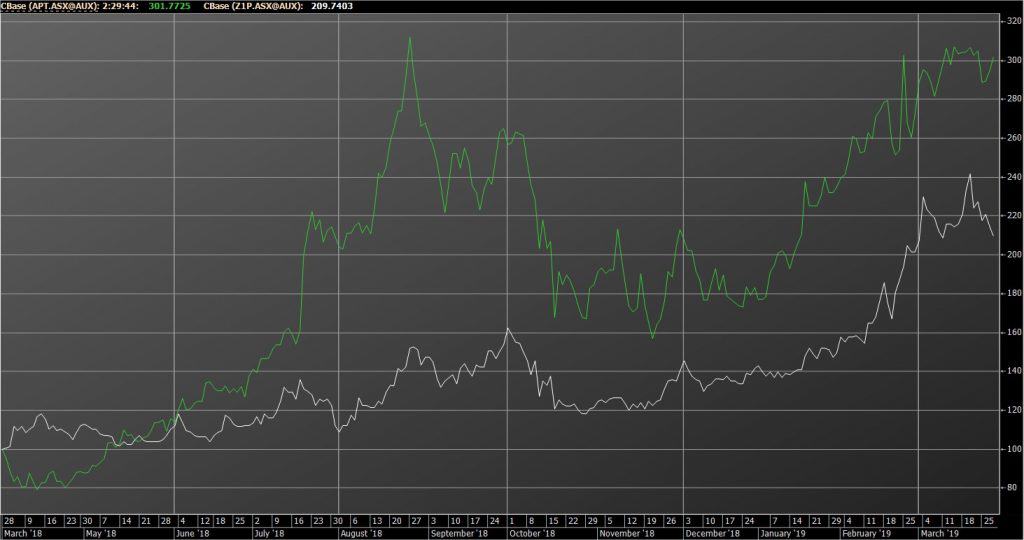 Afterpay (ASX APT) in green, vs Zip (ASX Z1P) in white.
Z1P shares are a fantastic alternative if you are looking for another APT.
It shows great promise and as a second mover, will have the advantage of seeing what does and doesn't work for APT.
We are sure Zip is keeping both eyes on Afterpay with what works in the Australian market and the US market.
If ZIP were to emulate Afterpay's success in Australia and to the US market in the future, the upside for the Z1P share price could potentially be just as strong, if not stronger, than Aftterpay.