Today we will look at why we think Iluka Resources shares (ASX:ILU) has great upside potential in our ILU share price forecast and analysis.
Iluka Resources (ASX:ILU) is a mining company with a unique asset mix and a solid project development pipeline.
The company's current product portfolio has a positive outlook due to a potential imbalance in demand and supply over the medium to long term.
The company has been in the news lately for its plans to build the country's first integrated rare earth processing plant in partnership with the Government of Australia, as well as general sector strength.
This rare-earth segment also has a solid future due to the upcoming clean energy revolution.
Iluka Resources shares at the current ILU share price have significantly outperformed the market YTD with a 10.6% excess return.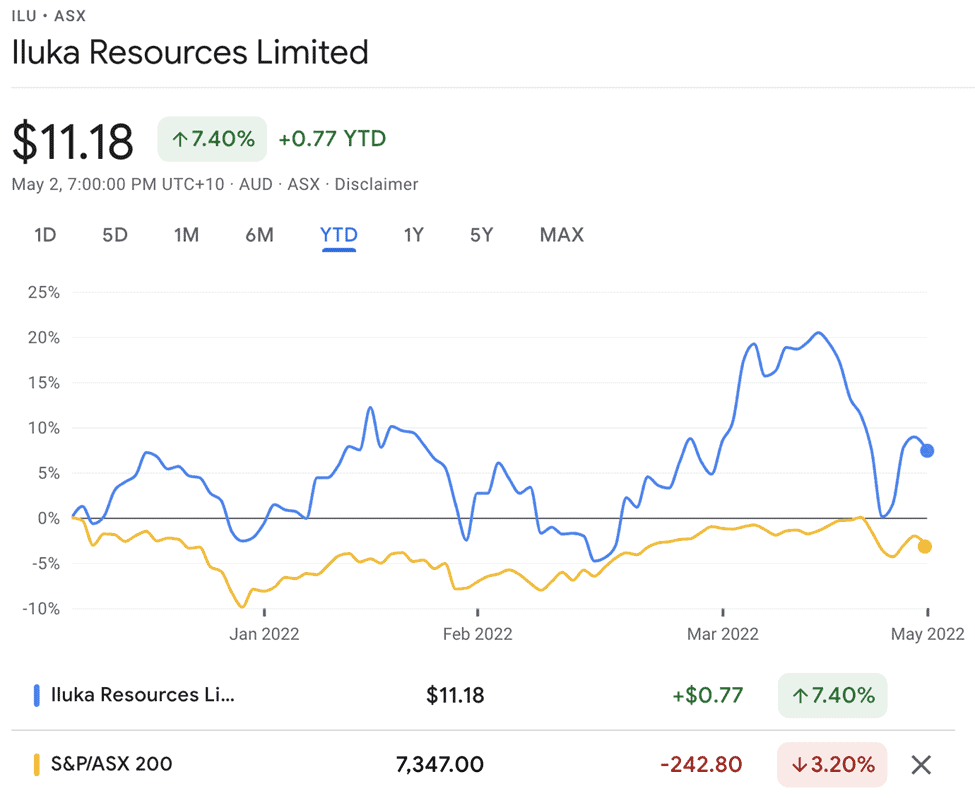 Iluka Resources (ASX:ILU) is an Australian mineral sands producer with an upcoming integrated rare earth processing plant.
Mineral sands, the company's main product, has extensive use in high-temperature applications such as refractories, pigments manufacturing, and ceramics, while the rare earth segment would be key to high-performance magnets and other components of an array of electric products including cars, turbines, and batteries.
Iluka's main assets are located in Australia, namely, Cataby, Jacinth Ambrosia, Eneabba, and Sierra Leone, South Africa.
The company also has three more assets under development in Australia.
Iluka Resources shares at the current ILU share price have a market capitalisation of A$4.71 billion.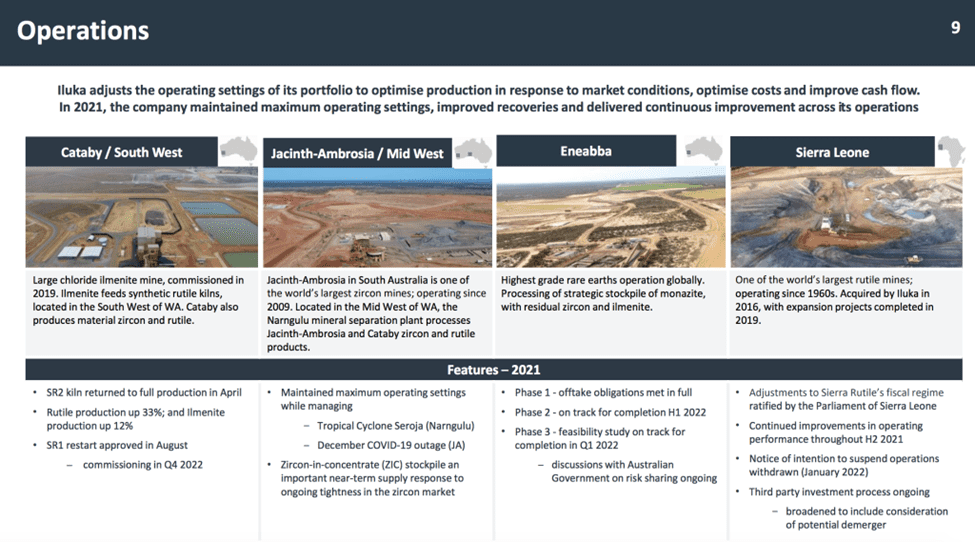 Global Zircon Shortage and Strong Fundamentals Underpin Iluka Resources (ASX:ILU)
Iluka enjoys solid and attractive fundamentals.
The company's main segment of mineral sands is a crucial feedstock in many major industries and has robust demand.
Further, the company has four products in the mineral sands segment, namely, zircon, ilmenite, rutile, and synthetic rutile, three of which are titanium feedstock.
Zircon, which currently makes up most of the company's revenue, is used in a variety of industries and more interestingly has applications in general along with very specialised industries due to exceptional strength and resistance to heat and corrosion.
Zircon is used extensively in the making of ceramics, foundry materials, medical implants, and various other products.
A high-potential use case is zircon rods, which are used to hold nuclear fuel for nuclear reactors, a power source that has regained traction in the light of the climate crisis, and is slated to grow in the next few years.
The world is currently facing a potential zircon shortage in the years to come due to a multitude of factors.
Firstly, mine depletion of existing producers is an issue that is forecasted to lead to a 30%-40% contraction in supply.
However, the bigger problem lies in the quality of zircon, specifically, its slightly radioactive property due to traces of uranium and thorium.
The resulting radioactivity is a concern for the ceramics market, the largest market for the mineral.
Currently, about 95% of available zircon supply (and about half of the slated projects) is from sources that have 500+ppm of uranium and thorium.
This will play right into the hands of Iluka Resources (ASX:ILU), which holds extensive reserves of low radioactivity zircon.
Zircon is also currently facing supply chain issues with customers suffering low inventories.
This means the short to medium-term outlook for Iluka Resources is attractive given that zircon made up 41% of its revenue in FY21.
Iluka Resources' other products are ilmenite and rutile, which are titanium feedstocks and used extensively in a variety of industrial pigments that inputs into products such as paints, adhesives, and metals.
The biggest application is in TiO2 (Titanium Dioxide), which is used in the production of pigments for paint, sunscreen, and food colouring industries.
Similar to zircon, the titanium feedstock industry is also suffering from supply shortages, ensuring strong demand for Iluka Resources (ASX:ILU) in FY22.
Like zircon, Iluka Resources' high-grade titanium feedstock product places it on a sound footing.
Note that in 2021, 77% of the company's production was high-grade (95% Titanium Dioxide content).
As lower-grade feedstocks need more processing, customers are showing a clear preference for a higher-grade product due to elevated costs of energy and other inputs.
According to the company's latest quarterly report, Zircon sand prices increased US$100/tonne, effective 1 April 2022.
Based on current capacity, global titanium feedstock production is likely to reduce by about 40% over the next four years.
Meanwhile, newer mines do not hold the same quality or quantity of high-quality products.
Further, China, which is a major market for feedstock, is facing a significant crackdown on environmentally harmful industries.
As a result, Chinese companies are now more inclined to source from high-grade feedstock producers due to lower waste and carbon emission concerns.
Unsurprisingly, spot prices for rutile and synthetic rutile are both at ten-year highs, as per the Q1 22 quarterly update.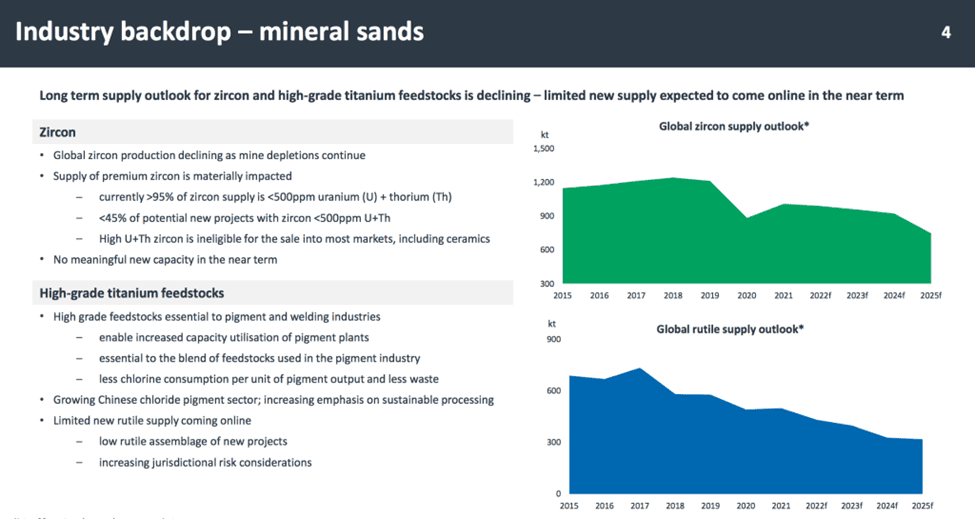 Rising Rates Both Directly and Indirectly a Problem
A potential weakness for the company is the company's complete exposure to industrial activity despite a demand outlook that currently looks strong.
Most zircon is consumed by the ceramics market, to make various products such as tiles, countertops, walls, and bathrooms, with ultimate linkage to the real estate sector.
This market has been hot on the back of cheap money and a global real estate boom.
However, the real estate and housing sectors are under a cloud now that governments all around the globe are on the cusp of unprecedented rate increases.
Unfortunately, this spells trouble as both are very leveraged sectors and joined at the hip with economic growth – which is poised to slow with higher rates.
Given that zircon currently makes up 41% of operational revenue, this could spell trouble for Iluka Resources (ASX:ILU) as customer demand may potentially drop with an economic slowdown, thus suppressing zircon prices.
The effects of a slowdown could also spill over into the titanium feedstock segment.
Furthermore, rising interest rates are a direct threat to the company itself as mining is a heavily capital-intensive business.
A persistently high-rate environment could change the economics of future projects adversely or hurt profitability.
Further, since lines of credit usually come with variable interest rates, the cost of drawing on its A$512 million credit facilities might prove costlier than budgeted.
This could be a problem considering the massive development pipeline facing the company and the need to fund various feasibility studies and other project expenses.
Rare Earths A Massive Growth Opportunity
However, the company's diversification into integrated rare earth refining is a significant opportunity.
The company is rich in monzonite and xenotime, which are rare earths usually found as by-products of mineral sand deposits.
These metals can be processed into high-value rare earths such as Neodymium, Praseodymium, and TREOs (Total Rare Earth Oxides).
The refining plant will be fed by the company's existing stockpile from depleted operations at Narngulu, while by-products from operations at Jacinth-Ambrosia and Cataby will continue to replenish feedstocks.
There is also significant scope for rare earths as by-products from operations at Wimmera, not to mention pure-play processing opportunities using feedstock from external sources.
Rare earths such as NdPr (Neodymium-Praseodymium) and TREOs are used extensively in high-performance/high-efficiency magnets for electric motors and wind turbines.
The uptake for these products is expected to skyrocket as the green energy revolution gathers pace.
Projections show a significant rare earth demand-supply mismatch in the years to come, ensuring solid demand for Iluka Resources shares.
To fund the rare earth refining project, the company has received a non-recourse A$1.25 billion from the Australian Government under the Critical Minerals Facility to be serviced at the Bank Bill Swap Rate + 3%.
Out of the total amount, A$200 million is for contingency on account of overruns.
Meanwhile, the company is putting up A$200 million of equity along with A$1.27 billion of raw material resources, on which it is entitled to A$81 million/year of royalties, in addition to earnings from operations.
The project has a nine-year life on existing feedstock with average TREO production of 12.4 ktpa and 2.7 ktpa of NdPr, representing a post-tax NPV of A$524 million, excluding terminal value.
However, it must be noted that the prices assumed in the projections have advanced by more than 20% over the past few months, improving the project's economics.
Significantly, Goldman Sachs said in a recent note:
"We are positive on ILU's project pipeline and forecast >40% production growth in mineral sands volumes, c.18ktpa of Rare Earths (~3.5-4ktpa of high-value NdPr), and a >50% increase in EBITDA over the next 5 yrs to 2026."
The first production from the plant is planned for early 2025.
However, the Chinese situation is a matter of concern.
With most end customers of Iluka Resources' products located there, there is a considerable risk of production-halting lockdowns in case the country's COVID situation worsens.
Widespread suspension of manufacturing may cloud Iluka Resources' sales.
Also, China's housing market, the world's largest, is in debt-fuelled disarray putting at risk the demand for many end products that the company's products are used for.
However, the Chinese government has pledged extensive stimulus to assuage the problem.
Meanwhile, the US is the second-largest consumer of titanium feedstock in the world behind China.
Since 2011, the Australian has weakened against the US Dollar but has rebounded from post-Covid lows, affecting Iluka Resources' export receivables.
However, recent US dollar strength has dented that narrative.
In any case, forex volatility is an overhang for Iluka Resources' operations.
Furthermore, the US and other developed nations are increasingly focusing on securing their own supply chain for critical metals and minerals required for EVs and clean energy applications.
Iluka Resources (ASX:ILU) Financials
Since Iluka Resouces shares (ASX:ILU) report on a calendar year basis instead of June, our latest point of reference is the FY21 full-year performance.
In FY21, Iluka Resources shares reported revenue of A$1.486 billion, up 56.9% YoY, with EBITDA of A$652 million, up 54% YoY, and adjusted NPAT of A$366 million, up 124% YoY.
The company's impressive performance was achieved despite a negative currency impact of 8.8%.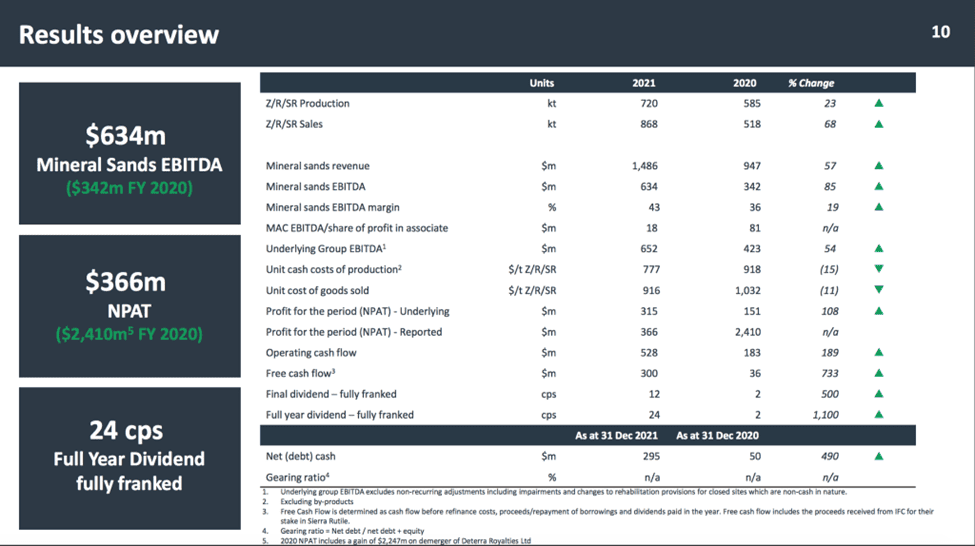 Production and sales were up 23% and 68% YoY while operating and free cash flows grew 189% and 733%.
The company has A$512 million of credit lines at its disposal.
Lastly, the company paid a dividend of 24c/share, higher by 1,100% YoY.
As of December, net cash was A$295 million, up 490% YoY.
Iluka Resources shares at the current ILU share price have a dividend yield of 2.17%.
The company is also a 20% stakeholder in Deterra Royalties (ASX: DRR), whose main asset is BHP's Iron Ore Mining Area C.
We covered Deterra Royalties last year and is a stock that is featured in our High Conviction Report.
In FY21, the company received dividends of $15 million.
This asset is currently operating at just about 40% of its capacity, so there is scope for higher dividend income in the future.
For FY22, the company has projected a 3% higher overall production, 4.5% lower total costs, but 24.7% higher cash costs.
The company is also in the process of demerging its Sierra Leone asset in an attempt to create value as it has been an underperformer compared to its Australian operations.
The demerger should go through in FY22 and would likely simplify Iluka's structure.
This would also provide investors with the opportunity to customise their desired exposure to each business based on their individual portfolio priorities for varying geographic exposures and risk-return profiles.
In Q1'22, the company reported production growth of 43.7% YoY across all divisions, while sales were down 12.4% YoY.
However, revenues were up 20.4% YoY, despite a 6.3% negative forex impact.
We compare Iluka Resources shares (ASX: ILU) to Kenmare Resources (LON: KMR), one of the largest mineral sands miners in the world, and to Tronox Resources (NYSE: TROX), an American mineral sands mining and processing company.
| Metric | Iluka Resources | Kenmare Resources | Tronox Resources |
| --- | --- | --- | --- |
| Price/Earnings | 12.91 | 5.12 | 9.79 |
| Net Profit Margin | 23.46% | 28.19% | 8.04% |
| ROE | 25.3% | 14.04% | 14.57% |
| Asset Turnover | 0.62 | 0.4 | 0.57 |
Source – Investing.com
As can be seen, Iluka Resources shares at the current ILU share price are the most expensive in terms of P/E but more than makes up for that with a significantly higher ROE than both peers.
While its net profit margin is in the middle ground, it has a higher asset turnover, which is a key efficiency metric for capital heavy businesses such as mining.
However, neither of Iluka Resources' peers has a high growth opportunity like rare earths in the pipeline.
The company is also significantly cheaper than pure-play rare earth miners in terms of P/E such as Lynas Rare Earths (ASX: LYC) which has a P/E of 29.72, as things stand.
Iluka Resources Presents a Lucrative Investment Opportunity
Iluka Resources shares (ASX:ILU) have just turned out impressive financials for FY21 that provide a peek into what's possible in the future.
Though the impacts of war and a reversal of monetary policy are current overhangs, resource companies, in general, maybe a comparatively safer place to hide when all assets get pummeled by these mega-events.
Among resource assets, Iluka Resources shares present a superior investment opportunity given the strong demand outlook for its mineral sands products, as well as the rich potential from the rare earths expansion when it comes online in 2025.
Iluka Resources also receives a steady dividend stream from a resource asset that has the potential to grow in the future.
The company's cash flow allows for balance sheet strength (the mineral sands business is debt-free) and dividend payouts to shareholders.
The company has done well to simplify its structure by demerging the Sierra Leone assets, and shareholders, therefore, get additional optionality to cherry-pick between the demerged entities according to their portfolio strategies.