Today we will look at why we think Johns Lyng shares (ASX:JLG) have great potential upside in our JLG share price forecast and analysis.
Johns Lyng Group (ASX:JLG) is a construction and repair services company with a focus on contract insurance services and commercial real estate.
The company has benefited from Australia's real estate boom and is a growing player in the strata (collective management of property by individual owners) services space.
The company's business model puts it in a unique position in this market and its focus on post-catastrophe services is a rapidly growing field due to the effects of climate change.
The stock is nearly flat YTD due to the recent turmoil in global markets from inflation and the Russia-Ukraine war but is still a slight outperformer compared to the ASX200.
However, the company is up a staggering 129% over the past 12 months on the back of strong investor demand.
JLG is also on the cusp of breaching its all-time high touch in January.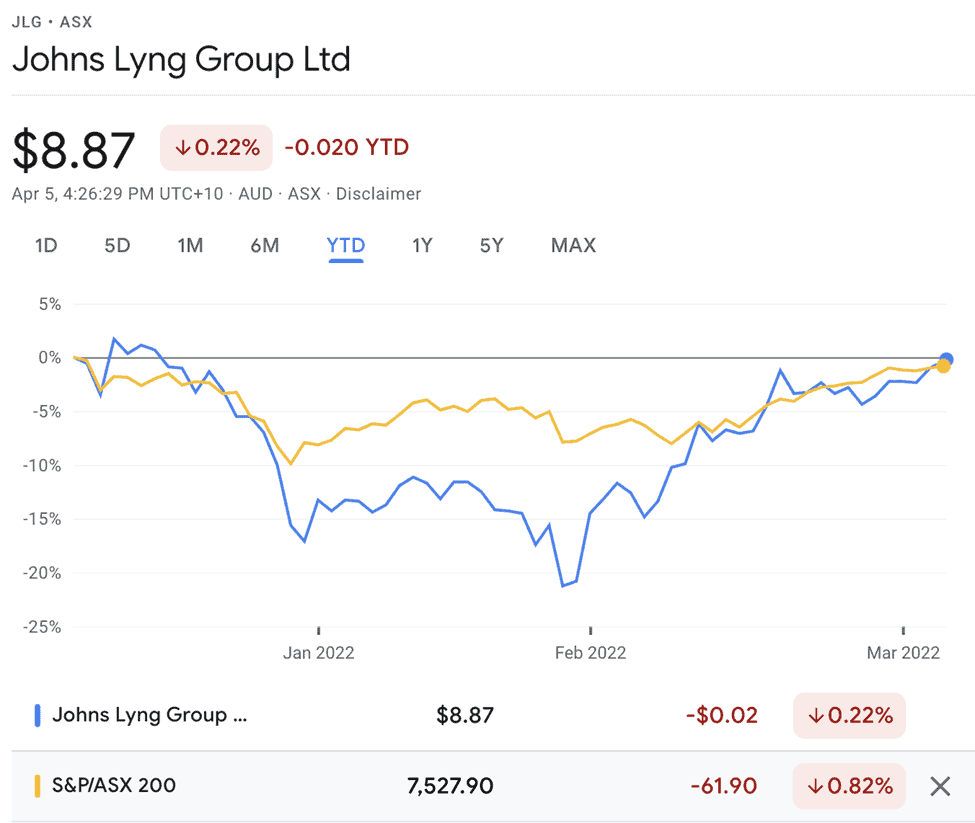 About Johns Lyng Group (ASX:JLG)
Johns Lyng Group (ASX:JLG) was founded in 1953 and has become a construction services powerhouse.
The company operates a multi-tiered business model under which it has multiple brands offering services ranging from insurance reconstruction, commercial construction, renovation, hazardous waste disposal, property maintenance, and damage repairs and HVAC services, to community/strata management, professional cleaning, plumbing/electrical services, restoration, flooring, etc.
JLG operates across 34 jurisdictions in Australia, primarily on the East Coast, and has now entered the US market with 50 locations through a recent acquisition.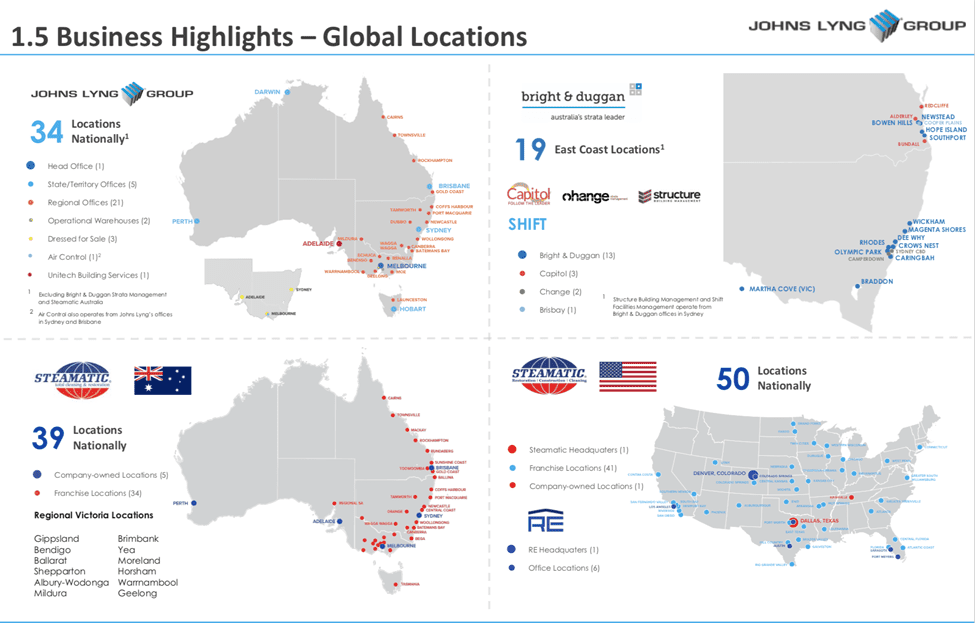 At the current JLG share price, Johns Lyng shares have a market capitalisation of A$2.29 billion.
Asset & Capital-Light Business Model
JLG has a rather interesting business model.
The company has two main segments, Insurance & Restoration Services, and Commercial Building Services/Construction.
The company's biggest segment is Insurance & Restoration which serves property insurers and their claim requirements.
The post-catastrophe rebuilding services are also growing at a fast clip.
Claims from the property insurance market ensure a consistent work pipeline to the company with little customer acquisition cost; all JLG has to do is be cost-competitive.
Further, the company's multi-tiered structure combined with its business model gives it a significant opportunity to cross-sell other services along with core construction.
Again, the company's rapidly growing Strata, (a.k.a home owner's associations) division also benefits from cross-selling advantages from insurance and construction.
More importantly, the fast-growing Strata business is crucial for the company's Huski brand, which is a direct-to-consumer repairs/maintenance service and enjoys much higher margins due to the absence of competing bidders, and mostly bilateral negotiations.
An inherent feature of JLG's business is the nature of the repairs business.
For an owner, home repairs are likely to take top priority, and this "non-discretionary" facet ensures dependable revenues for the company.
Apart from a solid business model, an added advantage is that the business is relatively capital-light.
Its CAPEX extends only to machinery and vehicles.
This allows the business to generate very high RoCE (~60%), RoE (~30%), and cash flows.
In a kind of virtuous cycle, the cash enables smart acquisitions that enhance JLG's growth and profitability, and so the cycle goes on.
Low Pricing Power and Concentrated Client Base Could Be A Weakness
While Johns Lyng shares (ASX:JLG) has a lot going for it, some of its strengths also have a flip side.
The biggest chink in the company's armor is that its unique and vertically integrated suite of products is still very commoditised and the company has to compete with very similar contemporaries leading to low pricing power.
A further problem is that Insurance Restoration makes up ~80% of the company's revenue as well as ~90% of EBITDA and this segment is generated from a very small number of customers (insurance writers) who have a large number of options and always favor the cheapest bidder.
According to company reports, an individual client can represent as much as 13% of company revenue, which is a very high concentration of risk from dispute/non-payment.
JLG is also very dependent on its network of ~6,000 contractors who are not full-time and are hired on a job basis.
Further, supply chain constraints or unionization of labor could impinge on the company's operations.
US Market A Huge Opportunity
JLG's recent acquisition of Reconstruction Experts (RE) in the USA presents a highly attractive opportunity for the company as the US market presents a far bigger addressable market.
The US market represents a TAM (Total Addressable Market) of US$100 billion.
Of this, US$17-US$20 billion is accounted for by defects and damages services which make up about 80% of RE's revenue.
The repairs and maintenance market constitutes about US$80 billion – US$90 billion, a segment that comprises just 20% of RE's revenue.
Both these segments signify huge growth potential for RE.
Further, 70% of RE's customer base are homeowners associations, apartment blocks, etc. where contracts are bilaterally negotiated instead of being bid on by multiple players.
This results in higher margins and slightly better pricing power.
Once large property customers are locked in, they also represent significant cross-selling opportunities.
Johns Lyng (ASX:JLG) track record of successful integration/monetization of its seven previous acquisitions builds strong confidence in the management for realizing RE's potential.
At the time of acquisition, RE has a locked-in pipeline of US$709 million from operations in just four states and has permits to expand into another nine states post-acquisition.
Given all these advantages, it appears that JLG was able to pull off the RE acquisition at a highly advantageous valuation.
Though JLG is currently trading at an EV/EBITDA multiple of 39.9x the RE acquisition was sealed at an EV/EBITDA multiple of just 7.8x.
This could be considered cheap given that the acquisition will add 25%-30% (US$127 million) to revenues of JLG without taking into account future growth.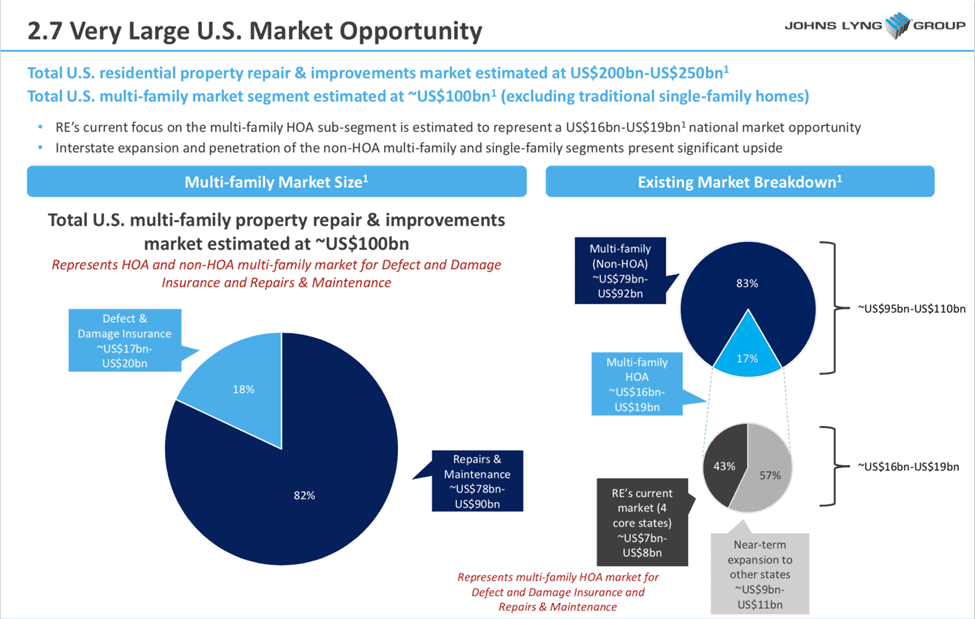 Source – Dec'21 Investor Presentation
COVID, Inflation, Supply Chain, and Labor Risks Pose A Serious Threat
There are two major threats that JLG faces.
The first is supply chain shortages and the resulting inflation – a fact that becomes very evident after the pandemic.
Any disruption in supplies of construction inputs can severely hamper the company's productivity/revenue generation.
Rampant inflation in items such as copper wiring or timber can even halt production or push prices up (as can be seen by the Australian Bureau of Statistics Construction Inputs Index, which is up nearly 13% YoY after an already steep increase last year).
Another key supply chain concern is contractor risk.
In times of catastrophe, contractors can hike their rates as much as 2x-3x.
This could hurt the company's operations or pressure its margins.
However, the company has done very well despite these risks in the recent past.
The COVID-19 pandemic also presents a major risk to the company as it exacerbated the threats above and seriously impacts the company's business.
Signs are already showing that new cases across Australia are up nearly 4x from their low in February.
Strong Cash Generation and Solid Growth Track Record
In FY21, Johns Lyng shares (ASX:JLG) reported revenues of A$568 million (up 14.8% YoY), an EBITDA of A$52.6 million (up 28.3% YoY), and a net income of A$20.7 million (up 26.3% YoY).
Playing a major role in the company's stellar show was solid growth in its IB&RS division which clocked 15.4% growth YoY in revenue and 29% growth in EBITDA contribution.
The company reported another impressive performance in 1H'22, with revenues of A$371.3 million (up 33.6% YoY in absolute terms, and 27.1% YoY adjusted for abnormal demand), EBITDA of A$36.5 million (up 31.6% YoY in absolute terms, and 25.6% YoY adjusted), and net income of A$18.6 million (up 32.4% YoY).
The IB&RS division contributed 80.3% to revenues and 92.3% to EBITDA while construction made up the rest.
The IB&RS division was a big beneficiary of adverse climate effects in Australia early this year as catastrophe services were up 72% YoY.
In this area, with climatic catastrophes increasing in size and frequency, JLG's position as the top repair provider in the country is likely to cut a lot of ice with large insurers.
Commercial construction also grew reasonably well with 21.6% YoY as the economy opened up.
JLG's capital-light business also results in an admirable 98% cash conversion from EBITDA.
As of its 1H'22 report, the company reported net assets of A$306 million and net cash of A$23.2 million.
However, earlier in the year, the company raised A$187.5 million/US$131.3 million through a private placement of equity to fund its acquisition of RE in the USA.
The company has undrawn credit facilities of A$55 million and US$10 million.
On the back of a solid 1H, the company has revised upwards its revenue guidance by 11% for FY22.
The company now projects revenues in FY22 of A$802.4 million (up 41.2% YoY) and EBITDA of A$73.1 million (up 49.7% YoY).
At the current JLG share price, Johns Lyng shares have a dividend yield of 0.62%.
The company intends to maintain its dividend payout ratio in the 40%-60% range moving forward.
Expensive, But Justifiably So
We compare JLD to Maas Group (ASX: MGH) and NRW Holdings (ASX: NWH), both of which are Australian companies operating in the same verticals.
| Metric | Johns Lyng Group | Maas Group | NRW |
| --- | --- | --- | --- |
| Price/Earnings | 95.23 | 33.13 | 13.53 |
| RoE (LTM) | 30.7% | 12.03% | 13.32% |
| Price/Cash Flow (MRQ) | 114 | 311 | 27.89 |
| Market Capitalisation | A$2.25B | A$1.4B | A$0.947B |
Source – Investing.com
On first glance, at the current JLG spare price, Johns Lyng shares P/E multiple looks extremely expensive, but it should be noted that the company generates a much higher RoE than both its rivals. In the longer run, this will likely close the gap.
In fact, if we value Johns Lyng shares in terms of its FY22 guidance, the P/E is in the mid-to-late 40s.
JLG also deserves a higher multiple for its superior management which has delivered an exemplary track record in terms of growth, profitability, and strategic acquisitions.
Crucially, they also have skin in the game, as apparent from significant shares held by members of the Board of Directors.
However, at the current JLG share price, Johns Lyng shares are much cheaper than Maas in terms of Price/Cash Flow, though more expensive than NRW.
On the other hand, NRW is of a much smaller size and doesn't have the same growth runway.
In sum, Johns Lyng shares represent a highly profitable, recession-proof, well-run company that is on the cusp of a huge new opportunity in the U.S. acquired on rather lucrative terms.
Its management has shown a readiness to embrace inorganic growth through a succession of well-digested acquisitions, putting the company's cash flows to good use.
Climate-change-triggered catastrophes are on an unfortunate uptrend, and the damage they wreak would need companies, like JLG, to conduct large-scale restoration and repairs.