The three ASX indices (200, 300, and Ordinaries) closed last week lower by 1.839%, 1.72%, and 1.70% respectively.

The Australian stock markets last week opened in the green with energy shares in the limelight due to tight global supplies.
However, the markets were on tenterhooks given the tight leeway the RBA has in a situation of rising inflation on the one hand and its own stand of holding off on rate hikes until 2024 on the other.
Last week's data showed inflation muscled into the RBA's action zone earmarked for rate hikes.
Rising bond yields pushed the ASX to sharp losses on the last day of the week.
The RBA did not step in to buy bonds and cap rising yields, raising chatter that it would advance its agenda for rate hikes.
Real estate was therefore a bearish sector.
Even globally, traders are looking at potential rate actions by other central banks' in the face of challenging prices.
Last Week in Stocks
Real estate took it on the chin due to hardening rate expectations.
Goodman Group (ASX:GMG), Scentre Group (ASX:SCG), Dexus (ASX:DXS), and Mirvac Group (ASX:MGR) all closed in the red by over 3%. Stockland (ASX:SGP) fell 4.61%.
Technology stocks were a mixed picture this week too.
Afterpay (ASX:APT) closed the week flat (-0.21%) and so did Xero (ASX:XRO) (-0.32%).
Though Computershare (ASX:CPU) gained 4.57%, Wisetech (ASX:WTC) was down 4.54%, and NextDC (ASX:NXT) lost nearly 0.68%.
However, computer hardware distributor Dicker Data (ASX:DDR) was up a solid 14.25% for the week after the market appreciated its Q3 trading update.
The company said its profit before income tax from January to September 2021 was $76.6 million, a year-on-year increase of 26.0%, with some credit due to its acquisition of the Exceed Group this year.
Energy stocks were also under pressure last week. Santos (ASX:STO) and Woodside Petroleum (ASX:WPL) were down by 2.24% and 1.27% respectively.
Petroleum distributor Ampol Ltd (ASX:ALD) was down nearly 2%.
Oil Search (ASX:OSH) reported a 12% jump in its third-quarter sales compared to the preceding quarter, driven primarily by higher energy prices.
It also trimmed its full-year production guidance to 26 million barrels from 28 million.
The stock declined by 2.5%.
Origin Energy (ASX:ORG) will sell a 10% stake in Australia Pacific LNG to global energy investor EIG for A$2.12 billion with an eye on debt reduction and to enhance returns to its shareholders.
The stock dived 3.63%.
Banks were mostly lower, albeit with marginal losses.
Commonwealth Bank (ASX:CBA), ANZ Banking (ASX:ANZ), Westpac (ASX:WBC), and National Australia Bank (ASX:NAB) were down 0.30%, 0.39%, 0.54%, and 0.59% respectively.
However, the Bank of Queensland (ASX:BOQ) lost over 4%, continuing its sell-off from previous weeks after it declared its FY2021 report.
ANZ Bank (ASX:ANZ) declared a strong set of numbers, with profit for the 12 months to September coming in at A$6.2 billion and a final dividend of 72 cents per share.
Meanwhile, investors are expecting a $5.7 billion cash profit and $1.13 total dividend from Westpac (ASX:WBC) on Monday.
There is also speculation that Westpac could announce an off-market share buyback of between $4 billion and $5 billion, following in the footsteps of buybacks from Commonwealth Bank (A$6 billion), National Australia Bank (A$2.5 billion), and ANZ (A$1.5 billion).
Macquarie Group (ASX:MQG) on Friday announced a record first-half profit that doubled to A$2.04 billion.
Reuters reported that the firm raised A$1.5 billion by selling 7.73 million shares priced at A$194 each as it looks to step up investments in the green energy sector.
Shares were halted on Friday.
Miners were in correction mode, following a downturn in gold, iron ore, and base metal prices.
BHP Ltd (ASX:BHP) was down 3.28%, Fortescue (ASX:FMG) lost 3.60%, South32 (ASX:S32) gave up 5.80% and Rio Tinto (ASX:RIO) was in the red by 5.51%.
Gold miner Newcrest Mining (ASX:NCM) was down 0.99%.
In healthcare, Sonic Healthcare (ASX:SHL) and Fisher & Paykel (ASX:FPH) were down 0.08% and 0.78% respectively for the week.
Among healthcare winners, Ramsay Health Care (ASX:RHC) was up 1.69%, its second successive week in the green, on brightening prospects for elective surgeries as lockdown restrictions ease off.
In its quarterly update, Resmed CDI reported double-digit growth in both topline and bottom-line metrics, driven by ongoing high demand for its sleep and respiratory care products, and steady growth across the software-as-a-service business.
The stock was up by nearly 4% for the week.
CSL Limited (ASX:CSL) was another healthcare gainer, moving up 1.44%.
Crown Resorts (ASX:CWN) was in investors' good books after it managed to retain its Melbourne casino license.
Rather than canceling its license, a royal commission report suggested measures to prevent organized crime.
The company also paid $125 million to settle a 2017 class action, though it expects to recover most of the amount from insurers.
The stock closed nearly 3% higher.
In a halo effect, shares in Star Entertainment (ASX:SGR) also rose nearly 4% on the week, though the company faces much the same music as Crown for similar lapses.
A2 Milk (ASX:A2M) declined sharply, losing 9.42% after an investor update from the company outlined a new strategy.
The company also warned that Chinese consumers appear to be no longer enamored of overseas brands such as that of A2M.
Telstra will pay A$362 million towards the acquisition of Digicel Pacific.
The balance of the A$1.7 billion deal price, about A$1.7 billion, will be paid by the Australian government, through Export Finance Australia.
Communications equipment and metal detector company Codan Limited (ASX:CDA) plunged nearly 23% on the week after investors were not impressed by the outlook the CEO provided for the new financial year.
Evidently, news of the company's win of a multi-year, $37.6 million military contract for the supply of radios did not stop investors from rushing to the exits.
TPG Capital and Potentia Capital trimmed their offer for payroll and leasing provider Smartgroup (ASX:SIQ) from $10.35 a share to $9.25 per share.
Shares of SIQ were pummelled, and are now down nearly 16% on the month after the company's board broke off negotiations.
This Week in Stocks
Corporate earnings reports
Westpac Banking Corporation (ASX:WBC) will announce its Full Year results on Monday, 1 November 2021.
Packaging company Amcor (ASX:AMC)'s 1Q22 results will be declared on Wednesday, November 3, 2021.
Canadian gold mining company Kirkland Lake Gold (ASX:KLA) will hold its third quarter 2021 Conference Call and Webcast on Thursday, November 4, 2021.
Real estate advertising business REA Group (ASX:REA) will announce its results for the quarter ended 30 September 2021 on Friday, 5 November 2021.
Upcoming Listings between 01 – 05 November
November 1, 2021
Judo Capital Holdings Limited (ASX:JDO) will list shares of A$2.10 each from its A$653 million offer.
Judo claims to be the only challenger bank purpose-built for small and medium businesses.
According to the Financial Review, Judo has already secured ample investor interest for the $2.3 billion listing.
Step One Clothing Limited (ASX:STP) will list shares of A$1.53 each from its offer of A$81.3 million.
A leading direct-to-consumer online retailer for men's underwear, it offers an exclusive range of high-quality, organically grown, sustainable and ethical underwear that suit a range of body types.
November 3, 2021
Austral Resources Ltd (ASX:AR1) is a copper producer operating in Queensland Gulf Country producing LME quality copper cathode, developing a new open pit copper mine, and has 1,340 km2 of highly prospective exploration tenements.
It will list ordinary fully paid shares of A$0.20 each from its offer of A$30 million.
November 4, 2021
Hamelin Gold Limited (ASX:HMG) is a new corporate entity holding a 100% interest in the West Tanami Gold Project in Western Australia.
This is a belt-scale gold project that covers 2,275km2 of a well-endowed, emerging gold province that is significantly underexplored.
Hamelin is seeking to list shares of A$0.20 each from its offer of A$12 million.
Vulcan Steel Limited (ASX:VSL), which is engaged in steel distribution and processing, will list ordinary fully paid shares of A$7.10 each from its offer of A$371.6 million.
Economic News And Market Outlook
On Wednesday data from the ABS showed that during the September quarter, core inflation grew at its fastest annual pace since 2015 in Australia.
The headline CPI index rose 0.8% in the third quarter and 3.0% for the year.
The RBA prefers to monitor prices using a trimmed mean measure of core inflation.
That rose 0.7% in the quarter and 2.1% annually.
The annual reading has therefore crossed into the RBA's targeted inflationary band of 2-3%, much ahead of its expectations of inflation reaching 2%, not before mid-2023.
Higher inflation is bullish for bond yields and the Australian dollar.
Meanwhile, Australian retail sales grew 1.3% in September, pivoting from the decline of 1.7% witnessed in August.
The data raised hopes that spending will improve in the economy now that lockdowns are a thing of the past.
In the US, new home sales jumped 14.0% to a seasonally adjusted annual rate of 800,000 units in September, a six-month high.
The University of Michigan's consumer sentiment index ticked up slightly in October, clocking 71.7 and just 0.1 points above the average of the past two months.
Consumers reportedly were cheered by a receding pandemic and prospects of higher wages but were discouraged by higher prices.
After four straight months of gains, US durable goods orders fell 0.4% in September mostly due to weakness in autos and aircraft.
The data may be more due to supply constraints rather than a decline in orders.
In the third quarter, the US economy reported a GDP growth at an annual rate of 2% at the slowest pace since the pandemic recovery, due primarily to supply chain issues and slower consumer spending.
Next week, the RBA interest rate decision and rate statement will be available on Tuesday.
The bank is likely to maintain the status quo, but its economic outlook and guidance on interest rates are highly anticipated.
New Zealand will release data on employment changes during the third quarter on Wednesday.
Key data from the US will include ISM Manufacturing PMI (Oct) on Monday.
Data on ADP Nonfarm Employment, Crude Oil inventories, and the ISM Non-Manufacturing PMI (Oct) will release on Wednesday.
Also on Wednesday, all eyes will be on the US Fed interest rate decision and the statement from the FOMC for its stand on tapering and interest rates.
On Friday, data will release on US non-farm payrolls and the unemployment rate for October.
Forex Outlook
AUS/USD signed off the week at 0.75180, a shade above the previous week's ending of 0.74658.
Higher inflation and bubbly bond yields kept the pair well bid on the one hand, while pressure on resources prices was a sobering influence.
By not choosing to intervene on rising bond yields, the RBA may already be signalling an acceptance of higher rates.
Technically, the pair is still in the uptrend line but it is marking time until the RBA and US Fed rate decisions next week.
That shows up in its inability to take out the highs at 0.75500.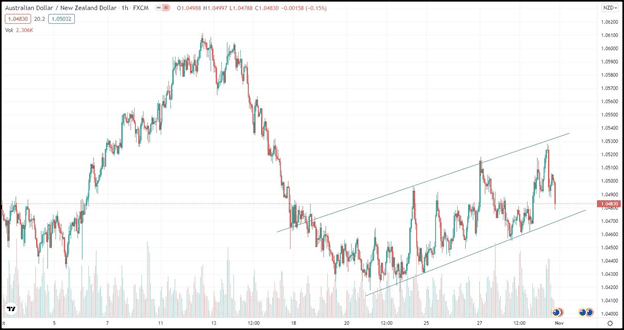 AUD/NZD ended the week at 1.04830, marginally above the previous close of 1.0435.
However, the real technical story is in the sequence of sharply higher highs, which took it past the 1.0500 level on two occasions.
AUD/NZD appears to have rebounded into an uptrend after carving out a bottom at 1.04300, though the move is accompanied by volatility, but higher lows.
Aussie inflation and bond yields, taken with a downbeat Kiwi Trade Balance print appear to have together underpinned the pair last week.
If the pair rebounds from here, without testing the lower channel line, more bullishness could follow.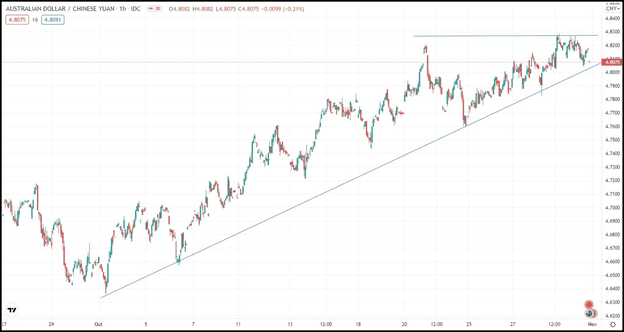 The AUD/CNY closed the week at 4.8075, well above its previous week's close.
The pair appears to have re-established its uptrend having pierced its previous high of 4.8205 reached on October 21.
The Chinese economy is grinding slower, and data on Sunday showed Manufacturing PMI during October came in at 49.2, compared to the previous reading of 49.6 and below the consensus estimates of 49.2.
According to Nomura, the Chinese economy will face a marked slowdown, especially its property sector, with a jump in credit faults and non-performing loans.
The situation would require Beijing to step up monetary and fiscal easing.
In these circumstances, AUD/CNY will likely enjoy a bullish bias.