Today we will look at why we think Bank of Queensland shares (ASX:BOQ) has great upside potential with the acquisition of ME bank through our BOQ share price forecast and analysis.
Bank of Queensland (ASX:BOQ) is one of Australia's largest financial institutions.
The banking sector has been one of Australia's best-performing sectors over the past few months because of a number of factors.
The reversal of COVID loan provisions created last year, a booming housing market, and better credit growth due to economic recovery from the pandemic have all being strong tailwinds.
Meanwhile, the ghosts of the Royal Commission inquiry into the sector appear to have been laid to rest, and the bigger, now "cash-jammed" banks, e.g. Commonwealth Bank of Australia (ASX: CBA), have started announcing record buybacks and dividend payouts.
The Bank of Queensland (ASX:BOQ) acquired ME Bank earlier this year in a smart move claimed to create a meaningful alternative to the big banks.
We believe the BOQ share price has strong upside potential because of sector tailwinds and the bank's own efforts to transform its business.
At the current BOQ share price, Bank of Queensland shares have been a solid performer with a 27% gain so far this year compared to just 13.5% for the ASX200.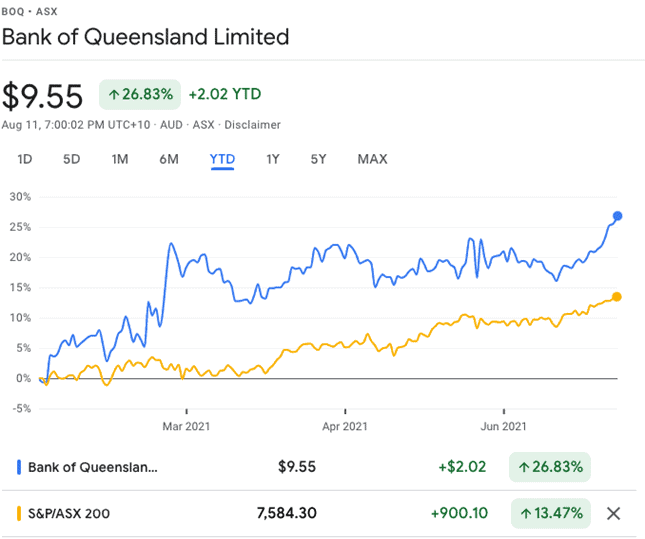 About Bank of Queensland (ASX: BOQ)
Bank of Queensland (ASX:BOQ) is a top-10 Australian bank with assets of about A$88 billion.
It is now the fifth-largest bank in Australia in terms of its loan book after jumping three places higher due to the ME acquisition.
Combined, BOQ and ME have a customer base of 1.45 million customers and A$1.5 billion in revenue.
BOQ is a commerce-oriented bank with 36% of profits coming from retail banking and 64% from commercial banking.
The bank also owns Virgin Money Australia, which is the bedrock of its digital ambitions.
Tailwinds from the Boom in Housing Market and a Savvy Acquisition
At its last meeting, the RBA projected economic growth of just over 4% in 2022, up from a previous 3.5%.
It also saw unemployment dropping to 4% by the end of 2023, which would approximate full employment.
The banking sector is well-placed to benefit from Australia's economic recovery and its booming housing market.
With nearly 68% of its loan book in retail housing, BOQ is well-placed to take advantage of the trend.
Although the real estate market and economy have cooled a bit due to the resurgence of COVID in Australia, the future of housing still looks bright for a multitude of reasons.
First, COVID has acted as a catalyst for the housing market as work-from-home or partial work-from-home is increasingly becoming the new normal, thus making home-ownership a far more attractive investment for first-time buyers.
Second, the pandemic forced interest rates to all-time lows, even below inflation rates, thus making traditional savings avenues very unattractive.
Savers have taken refuge in residential properties, viewing them as safe and having appreciation potential over the long term.
This trend has generated a tailwind for the real estate sector.
Further, lower borrowing rates have made homeownership cheaper.
A booming housing market is good news for a bank because the increase in property values leads to higher Loan-to-Value ratios over time that improve the quality of the loan book.
The bank is also well-hedged because 75% of its housing portfolio features variable rates of interest.
The bank's recent acquisition of ME bank has fortified its position across Australia by giving it a more diverse and wide geographic footprint while adding 44% more revenue and 63% more customers.
ME bank had a 60% commercial and 40% retail profit mix, while that of BOQ was 64%-36%.
Post-merger, the split is now 54%-46% in favour of retail, thus adding stability.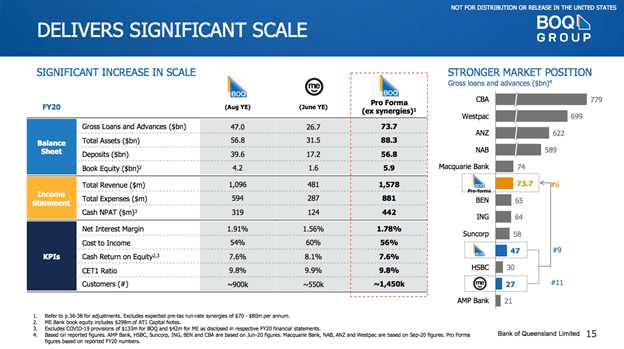 Bank Rates That Lag Inflation Pose a Risk to Deposit Growth
While the lending business is booming, the entire banking sector is facing systemic risk due to rising inflation.
The pandemic forced governments all over the world to reduce interest rates to all-time lows at a time when they were just starting to tick up after the financial crisis.
Low interest rates when combined with inflation lead to guaranteed erosion of wealth.
Hence, deposit growth might be at risk moving forward.
It should be noted though that this is a sector-wide risk facing the entire banking sector, not just Bank of Queensland shares.
However, the bank is making efforts to mitigate potential pressure on deposit growth through its digital banking division.
BOQ has an impressive digital banking operation through its ownership of Virgin Money.
This division could be a major growth and profit driver of the bank moving forward. More on that below.
Technology and Digital Products To Drive Growth Moving Forward
BOQ views digital banking as a key opportunity and priority and is currently in the second phase of its 5-year digital program.
The bank is developing a cloud-based digital platform called Temenos that will underpin all its products.
The bank has the goal of being able to offer all its services digitally by 2025 using data to drive efficiency and lower risk.
In the first phase, Bank of Queensland (ASX:BOQ) launched transactional facilities for its users. In the second phase, it will launch loan origination, deposits, loyalty programs, and other features.
Digital banking would allow BOQ to enter other businesses such as P2P lending for its customers and SME short-term credit through digital merchant services along with expanding their reach.
Digital banking will also allow the bank to grow lending/deposits through faster loan originations and quicker customer onboarding.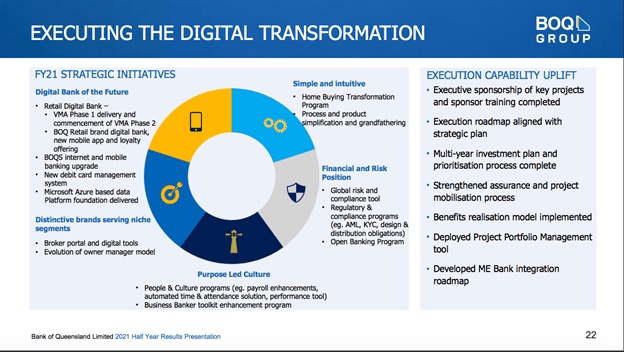 Furthermore, banks make great partners for "buy-now-pay-later" (BNPL) players due to the availability of their deposits base.
Westpac's (ASX:WBC) recent partnership with AfterPay (ASX:APT) and CBA's stake in Klarna are examples of such partnerships in the industry.
Given that the pandemic has accelerated digitization and demand for consumer goods, the BNPL sector is set to boom.
The combination of a large pool of capital along with boatloads of data from its 1.45 million customers will allow BOQ to build fruitful partnerships with BNPL players.
Bank of Queensland (ASX:BOQ) has publicly stated that it will enter the space with a major BNPL player at an opportune time.
COVID Remains a Threat
The worsening COVID situation across the globe and in Australia poses a threat to both the country's economy and the booming housing market, an important vertical for most banks.
Unsurprisingly, Sydney's lockdown has seen real estate activity decline over the past month.
Over the short to medium term, the COVID situation could hurt the banking sector's prospects.
However, this is a continual macroeconomic and sectoral issue rather than a fundamental one.
Financial Highlights: A Strong Recovery in H1, While ME Merger Will Lower Costs
Bank of Queensland shares reported stellar performance in 1H'21 as business recovered and loan loss expenses declined dramatically.
The bank reported an NPAT of A$154 million, up 66% YoY, and a cash ROE of 7.8%, up 4% YoY.
Operational performance was very strong with net interest income growing 2%, NIM growing 3bps, and loan impairment expenses falling by 84%.
The bank reported 36% growth in loan originations on a YoY basis and a mammoth 23X on a QoQ basis.
Housing loans grew nearly 97% and business loans grew 123%.
The bank has a very strong liquidity position with 14% of CET Tier 1 capital, more than 4% above the required 10%.
Moving forward, the bank is likely to improve its operational metrics even further due to synergies from its acquisition of ME Bank.
The acquisition is expected to create A$70-A$80 million in pre-tax synergies, representing almost 30% of operating profits.
Good Financial Metrics Compared to Peers
We will compare Bank of Queensland (ASX:BOQ) to Bendigo Adelaide Bank (ASX:BEN) and AMP (ASX:AMP).
These banks are the closest in size to BOQ while the big four banks have far larger operations and would not be a good fit.
Though we will use the Price/Earnings metric, it should be noted that earnings are not directly comparable due to the varying effects of COVID on different banks.
We will use 5-year averages for ROE and net margins for the same reason.
| Metric | BOQ | BEN | AMP |
| --- | --- | --- | --- |
| Return on Equity (5Y-Avg) | 7.6% | 6.81% | -3.92% |
| Net Profit Margin (5Y-Avg) | 24.7% | 23.02% | -1.43% |
| Price/Book | 0.97 | 0.95 | 0.86 |
| Price/Earnings | 39.3 | 23.06 | 57.3 |
| Normalised P/E | 18.29 | 23.82 | 53.22 |
At the current BOQ share price, in terms of Price/Book, Bank of Queensland (ASX:BOQ) is more or less on par with Bendigo Adelaide but more expensive than AMP.
However, it scores the best out of the three in terms of both net profit margins and Returns on Equity.
Bank of Queensland shares is substantially cheaper than AMP and more expensive than Bendigo on the Price/Earnings measure.
However, Bank of Queensland shares have a normalised PE (removal of unusual items) of 18.29, which is actually lower than Bendigo Bank at 23.82.
The higher PE is likely due to the acquisition of ME bank.
Additionally, Bank of Queensland shares has demonstrated strong growth in the past and has good growth potential due to the acquisition.
The new ME acquisition will give it more growth opportunities and savings through efficiency.
BOQ is also paying a dividend of 3% which is on par with the majors and is higher than Bendigo's 2.55% yield.
BOQ Scores on Expanded Reach, Digitisation and Yield.
Bank of Queensland (ASX:BOQ) has been a stellar and resilient performer and the bank's profitability during COVID is a testament to this fact.
The acquisition of ME Bank will help the bank build a stronger presence in the Australian banking sector and its digitisation efforts augur well for the future.
The acquisition would accelerate BOQ's retail banking migration to a scaled, common cloud-based digital technology platform. It will also generate synergy savings and be cash ROE accretive.
At the current BOQ share price and considering normalised PE, Bank of Queensland stock is looking like an attractive buy with growth potential compared to its peers.
It also comes with an attractive dividend, on par with what the sector is yielding at the moment.