Today we will take a look at why we like Race Oncology shares (ASX:RAC) and whether the RAC share price is worth buying at the moment.
Race Oncology (ASX:RAC) is a precision oncology company with a phase II/III cancer drug called Bisantrene.
The aim of the company is to build value in Bisantrene through proof-of-concept clinical trials then sell or partner with a large pharmaceutical company.
The oncology space is hot with large mergers and acquisitions.
Finding a buyer could mean very strong potential upside for the RAC share price.
This is highlighted with Gilead Sciences acquisition of immune-oncology company Forty-Seven for $US4.9B and for their acquisition of Immunomedics for $US21B both occurring in 2020.
Immunomedics had received accelerated approval from the US Food and Drug Administration (FDA) for a subtype of breast cancer prior to the deal.
The Forty-Seven transaction was based on positive phase IB results in treating blood cancers including acute myeloid leukemia (AML).
Since Dr Daniel Tillett came onboard in 2019 as an investor, then becoming CSO, the RAC share price has gone from 6 cents to an all-time high of $4.23.
The market capitalisation is now ~440M.
4th May 2021 – Race Oncology (ASX:RAC)  will release capital raising details soon which will be
available on the ASX Announcements website
.
The research below does not take into consideration this capital raising but can be relevant as to whether the raising is right for you.
The History of Bisantrene
Race Oncology's drug Bisantrene was discovered in the United States by US Pharmaceutical company Lederle (a division of American Cyanamid) in the 1970s.
During the 1980s more than 40 published clinical trials were run to assess its efficacy and safety in multiple cancers, including leukemias, breast, and ovarian.
In these studies, over 2,000 patients were treated.
These trials showed that Bisantrene had low cardiotoxicity potential and useful therapeutic efficacy in several cancers, notably AML (see Figure 1).
Bisantrene was approved for marketing in France for the treatment of AML.
In the process, the French registration was withdrawn after AHP/Wyeth acquired Lederle in 1994.
Figure 1: Complete Response Rate* with Bisantrene in AML in historic trials.

*Note: complete response rate and complete remission rate can be used interchangeably as per the National Cancer Institute definitions.
Given the recent approvals by the FDA in relapsed or refractory (R/R) AML (see Figure 2), if Race Oncology (ASX:RAC) can replicate their historic trial results in a larger patient base, it is likely that Bisantrene will obtain approval for R/R AML.
Since the historic trials were conducted in the 1980s and 90s, the FDA has been more flexible when analysing data for approval in R/R AML conditions.
They now factor in clinically meaningful benefits as some drugs do not provide AML patients with clinical remission (CR) but have meaningful benefits such as requiring fewer transfusions and having fewer infections.
A way of measuring this is through the endpoint, partial hematologic recovery (CRh).
Figure 2: Recent Drug Approvals for R/R AML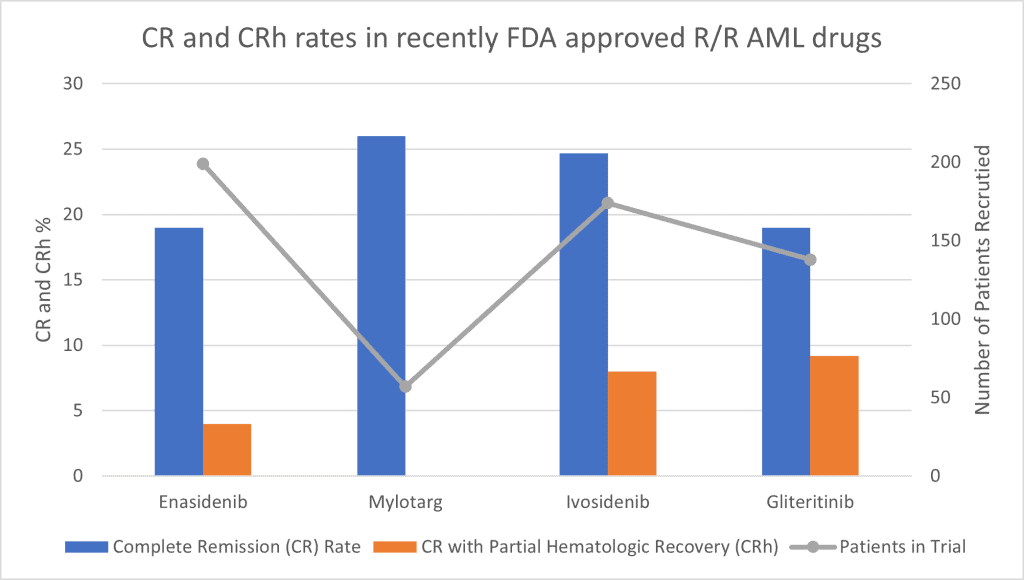 New Patents for Bisantrene
In 2011 the co-founders of Race Oncology (ASX:RAC), Dr William 'Bill' Garner and Dr John Rothman, rediscovered Bisantrene and filed new patents on the drug's use in oncology (the previous expired patent was on the drug molecule) and obtained orphan drug designation from the FDA.
Orphan drug designation was introduced to create financial incentives for companies to pursue indications for rare diseases.
The main advantage is eligibility for 7 years of marketing exclusivity.
This provides further protection for Bisantrene outside of relying on their patents.
Race Oncology has also successfully manufactured the drug cheaply.
In 2016 Race Oncology (ASX:RAC) listed on the ASX with the aim of returning Bisantrene to the clinic.
The initial strategy of the company was to license Bisantrene to Europe through a Named Patient Program (NPP) for use in AML where it had already been registered.
This proved difficult as there were and still are hundreds of clinical trials for AML.
Clinics are usually paid on enrolment of these trials and there are no costs to patients.
This was a difficult barrier for the company to overcome which subsequently resulted in no sales.
A shift in Race Oncology (ASX:RAC) Strategy
When Dr Daniel Tillett came onboard in 2019 he developed a new 5 path strategy that focused on leveraging Bisantrenes historic results in AML, breast, and ovarian cancers.
The plan was to target each indication through a series of confirmatory trials and gain approval using the 505(b)(2) pathway – new drug application (NDA) which allows the FDA to rely on data not developed by the NDA applicant.
Hence, Race Oncology would be able to use the historic data in their application, saving them years in time and millions of dollars.
This strategy then shifted to the '3 Pillar Strategy' in November 2020 to leverage data from their Israel AML trial and a research report from the Clinic of Hope research centre in America.
Israel AML Trial
Bisantrene was used in an investigator-initiated AML trial in Israel in 2019/20.
The 40% overall response rate in patients from the trial are encouraging as these patients had a secondary, relapsed or refractory disease which has an estimated 5-year overall survival of 5%-10%.
Of interest, only about 50% of patients with the secondary, relapsed or refractory disease over 60 years of age receive intensive induction chemotherapy, with the remainder receiving either non—intensive chemotherapy or supportive care because of safety issues.
Race Oncology (ASX:RAC) is hoping that the safety of Bisantrene will be able to fill this gap. The Israel results showed the expected safety benefits.
There was also a 4/4 complete or partial response in patients who had extramedullary (EM) AML.
Usually, patients with EM AML are excluded from trials because of the severity of the disease and the difficulty in treating it.
The results create an opportunity to target these patients in a new trial which will make recruiting for the trial easier.
Unfortunately, there were no survivors from the Israel trial.
This was expected as the patients recruited had failed three other types of treatment and were very sick.
Additionally, the trial was poorly designed as only one dose of Bisantrene was administered (ideally patients would have received a second dose).
Figure 3A: Patient before receiving Bisantrene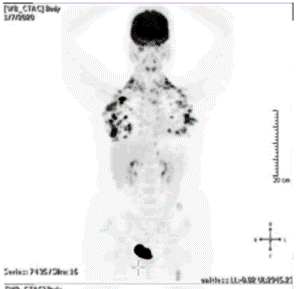 Figure 3B: Patient after receiving Bisantrene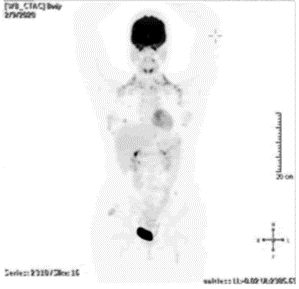 City of Hope Research Paper
The city of Hope is an American national cancer institute and a national leader in advancing research and treatment protocols.
It has been ranked among the nation's best hospitals in cancer for over a decade.
The city of Hope discovered that Bisantrene is a potent inhibitor of fat mass and obesity-associated protein (FTO).
Studies have shown that a reduction of FTO activity kills or slows the growth of a wide range of cancers.
The city of Hope screened 260,000 compounds from the National Cancer Institute Developmental Therapeutics Program library and found Bisantrene was the most specific FTO inhibitor identified to date and more than 10x better than any previously known drug.
This discovery places Bisantrene in the middle of three of the hottest areas in oncology:
RNA methylation
Cancer stem cells
Immuno-oncology
The second-best drug (Brequinar) highlighted in this study has pharmacological problems, which hinder the commercial viability of the drug.
Therefore, there is no known drug competing with Bisantrene in FTO regulation at this point in time.
New Research Publication Supports Findings in City of Hope Paper
A recent scientific publication in the prestigious Nature Communication journal confirmed Bisantrene is a highly effective inhibitor of FTO.
The independent work was performed by a research team at the University of Chicago which identified that FTO plays a critical role in the development of skin cancers caused by low-level arsenic exposure (which promotes tumour growth).
Bisantrene-targeted inhibition of FTO also limits the growth of these skin cancers in both cell culture and mice.
The Chief Scientific Officer, Dr Daniel Tillett said: "The independent confirmation that Bisantrene is able to target FTO and treat skin cancer by such a distinguished team is of great importance.
Many scientists and pharmaceutical companies are sceptical of potential cancer breakthroughs until they have been replicated by an independent group of researchers.
This new paper repeated the earlier FTO work of the City of Hope Hospital is a major step forward for clinical plans for Bisantrene.
The company has adopted a 3-pillar strategy to maximise the value of Bisantrene optimizing the City of Hope research and Israel AML trial results.
They plan to run each pillar concurrently, therefore reducing the binary risk as the company will have multiple opportunities to succeed.
Race Oncology is fully funded for all programs that are committed to CY 2021.
Pillar 1 – FTO
The company is in the process of collecting preclinical data on using Bisantrene as an FTO targeted agent at low doses to treat Melanoma and Clear Cell Renal Cell Carcinoma (ccRCC).
There is a need for treatment in Melanoma as the 5-year survival rate for advanced melanoma is as low as ~25%.
Additionally, FTO was found to be overexpressed in ~50% of metastatic melanoma cancers and that the inhibition of FTO can overcome PD-1 immune checkpoint inhibitor resistance in mouse models of melanoma.
ccRCC was chosen as an indication to target based on published research that shows 90% of ccRCC are caused by mutations in the von Hippel-Lindau (VHL) tumour suppressor gene.
FTO was found to be synthetically lethal in cells with inactive VHL.
Inhibition of FTO was found to kill VHL(-) ccRCC cancers. The 5-year survival rate for ccRCC is ~12%.
Both preclinical studies will have results reported over the coming 12 months.
These results will also be used to support a Phase II FTO-direct human trial in both indications which are scheduled to start in Australia in CY2022.
Additionally, in the FTO pillar, Race Oncology (ASX:RAC) is exploring the initiation of a Phase I dose-escalation clinical safety trial of Bisantrene in CY 2021, directed at showing its capacity to inhibit FTO in patients with advanced cancers.
This trial will be run as a basked trial which would allow the patient population to have an array of cancers, as long as they are overexpressed in FTO, rather than targeting a specific type of cancer.
There are as many as 50 different types of cancers that could be targets of FTO.
These results could accelerate the aforementioned Phase II FTO trials planned for CY 2022.
Figure 4: Rectangle shows cancers where FTO can downregulate cancers.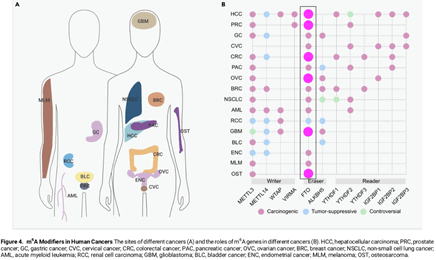 Pillar 2 – Breast Cancer
Recent preclinical research done in partnership with the University of Newcastle showed that Bisantrene:
has similar efficacy to doxorubicin and epirubicin in a range of different breast cancer types, and,
can kill some breast cancer cells resistant to doxorubicin and epirubicin.
These results supported the historical data that showed Bisantrene can exhibit equivalent efficacy to existing treatment options whilst significantly reducing the serious side effects.
Figure 5: Light Microscope example of MB-231Br (type of breast cancer cell line) before (left) and after (right) 72h of exposure to Bisantrene.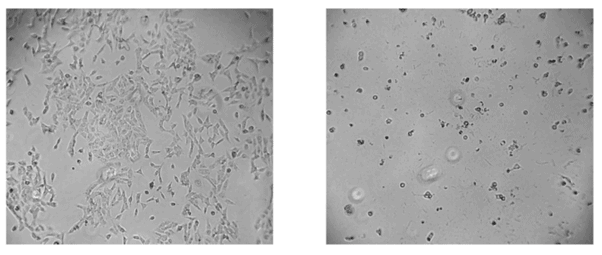 Race Oncology (ASX:RAC) has developed a two-path clinical program for their Pillar 2 breast cancer program with the assistance of clinical research organisation, George Clinical.
The first program is an Australian Phase II trial in late-stage metastatic breast cancer patients who have had three or more lines of prior therapy.
This patient population was targeted after Race Oncology's recent preclinical data (discussed above) demonstrated that Bisantrene can kill breast cancer cells resistant to current standard-of-care drugs.
Advanced preparation for this trial has been completed including trial design, synopsis generation, chief research officer selection, patient inclusion/exclusion criteria, budgeting, and clinical trial site selection.
The final contract signing and initiation of this trial are expected to be completed in Q2 CY2021.
The second program was developed after consulting with key opinion leaders in the breast cancer field.
They identified the importance to further demonstrate the historical heart safety of Bisantrene in a modern treatment environment if Bisantrene is to be used as a frontline replacement for the current cardiac muscle-damaging anthracycline chemotherapeutics.
To ensure the cardiac safety data is robust, Bisantrene must be trialled in a patient population that has not been previously exposed to anthracycline chemotherapeutics.
This patient population is not recruitable in Australia.
Initial research has identified Eastern Europe as a possible trial location by George Clinical has been tasked to further develop a Phase IIb double-blinded clinical trial of Bisantrene versus doxorubicin in geographies where anthracycline naïve patients can be recruited.
This report is expected by June 2021.
Further, in Pillar 2, Race Oncology (ASX:RAC) is exploring low-cost collaborative preclinical studies to further understand the molecular mechanism of action of Bisantrene's heart safety profile.
The company is expected to report further on this in early Q2 CY 2021.
Pillar 3 – Ovarian Cancer and AML
Ovarian Cancer
Two-phase II clinical trials during the 1980s in the US showed Bisantrene was able to induce a clinical response in heavily pre-treated ovarian cancer patients, including those resistant to doxorubicin and other standards of care drugs at the time.
The company's recent preclinical results show that Bisantrene was able to kill patient-derived ovarian cancer cell lines that were resistant to the current standard of care ovarian drugs.
The American Cancer Society estimates that ~21,410 women will receive a new diagnosis of ovarian cancer in 2021 and ~13,770 women will die from it.
Race Oncology (ASX:RAC) is waiting on their preclinical study results on FTO in ovarian and breast cancer before deciding on the next steps.
AML
Up to 2017, there had been no advances in the treatment of AML for more than 30 years.
Since then, there have been 9 new drugs approved for AML and 538 AML clinical trials underway with 216 different drugs being trialled.
A problem arises as there are many trials but only relatively few patients (50,000 worldwide).
Competitions for trial patients are intense, especially in R/R disease.
EM AML patients are usually excluded from trials because of the severity of their disease and low survival outcomes.
Given the Israel results, Race Oncology (ASX:RAC) will have an advantage when recruiting if they choose to tailor a trial towards EM AML patients.
Race Oncology's historic data shows that they can also use Bisantrene to target R/R salvage patients and/or MRD AML.
An added advantage of targeting R/R salvage patients is that the company will be able to use the 505(b)(2) pathway which allows them to use their historic data.
All the aforementioned subtypes of AML have a need for paediatric intervention which means they can include children in their trials which will allow for an opportunity for a priority review voucher.
Race Oncology is planning on initiating 2 Phase I/II clinical trial in R/R AML, one in Australia and the other in Israel.
The Israel trial is a Phase I/II clinical trial of Bisantrene in combination with Clofarabine and Fludarabine in R/R AML.
Race Oncology (ASX:RAC) has an in-principle agreement with Professor Nagler of the Chiam Sheba Medical Center, ranked 10th best hospital in the world.
Prof Nagler led the aforementioned 'Israel trial'.
This trial will enrol 29 patients and the combination treatment was based on preclinical data from the MD Anderson Cancer Clinic in Houston, Texas which identified strong synergistic killing of AML cells using that three-drug combination.
Human ethics approval has been granted to run this trial and the first patient is expected to be treated in Q2 CY 2021.
The trial is scheduled to run for up to 36 months, but Race Oncology will release progress updates on patient responses as they are received.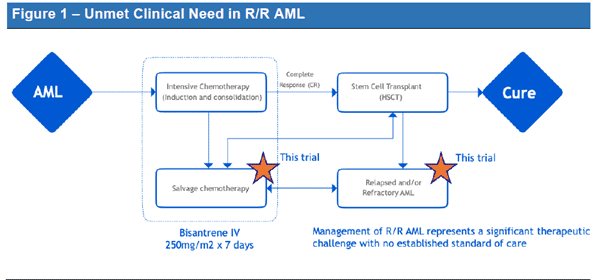 Source: Race Oncology Investor Presentation June 2018
The second trial is an open-label Phase I/II trial of Bisantrene in Extramedullary AML in Australia.
Associate Professor Anoop K Enjeti, Director of Haematology at the Calvary Mater Newcastle and John Hunter Hospitals will be leading the trial.
Dr Enjeti is a highly experienced clinical hematologist having designed and led more than 25 clinical trials.
Dr Anjeti is the co-chair of the MDS/AML working party for the Australasian Lymphoma and Leukemia Group (ALLG) for Cooperative Clinical trials.
He has published more than 45 papers in the hematology field and attracted more than $3.5 million in grant funding.
The trial will be two-armed and will involve Bisantrene as a high dose single-agent treatment of EM AML patients who can endure high-intensity chemotherapy.
Alternatively, the less fit patients will receive a low dose Bisantrene treatment in combination with a hypomethylating agent.
This trial will recruit 40 patients from over 10 clinical sites across Australia and New Zealand.
Human ethics approval is expected in Q3 CY2021 with the first patient expected to be dosed in late 2021.
The trial is expected to run for 18 months.
Results of this trial will support parallel pivotal Phase II/III clinical trials in the USA and EU with the aim of achieving rapid FDA/EMA label approval of Bisantrene for use in R/R AML.
A third trial, a Phase I/II trial of Bisantrene in combination with Fludarabine and Cytarabine for children with R/R AML in the US is in the early planning stages.
A proposed trial design has been provided to Race Oncology (ASX:RAC) by the USA Children's Oncology Group for evaluation.
The trial is expected to run for 36 months and requires FDA IND approval before it can be initiated.
Priority Review Voucher
If Race Oncology (ASX:RAC) includes pediatric patients in their AML trial/s, they may be able to obtain an FDA Priority Review Voucher (PRV) upon approval, which allows the recipient to expedite the review of any one of its new drug products.
Instead of having a targeted review time of 10 months, this will be reduced to 6 months if the voucher is redeemed.
This gives the potential for additional revenue from either marketing a drug sooner or selling the PRV.
Given AML is a rare disease with small patient numbers and low survival outcomes, they would likely receive a PRV.
The PRV can be sold for up to $US350M (see Figure 5), though they have recently been sold more closely to $US100-125M.
Figure 5: Past Sales Prices of PRV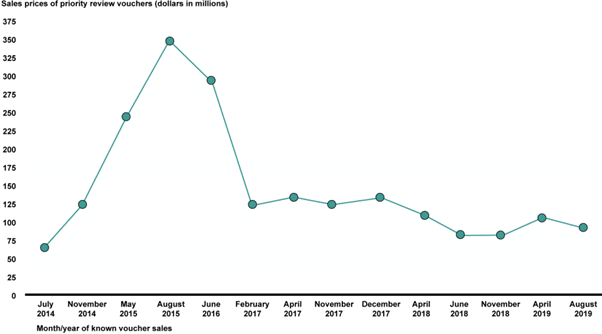 High Management Turnover at Race Oncology (RAC:ASX)
Since Race Oncology shares were listed on the ASX in 2016 there have been many shifts in strategy and change in management.
Since the shift in strategy has been quite dynamic, there is little relevance in looking at a change of management since the announcement of the 5-pillar strategy.
Since then there has still been a high management turnover.
In December 2020 Professor Borje Anderson resigned from the Board to focus on the Chief Medical Officer (CMO) role and shortly after in February 2021 he resigned from the CMO role.
However, he retains the role of Chair of Race Oncology's Clinical Advisory Board.
In October 2020, founding non-executive directors Dr William Garner and Mr Chris Ntoumenopoulos both resigned.
Dr William Garner has also sold ~3 million Race Oncology shares on market, reducing his position by ~22%.
However, Dr Garner's actions are not worrying as it is consistent with his private company's charter.
They aim to build a company to a level where management can then take over and they can step down.
They also have balancing requirements that can result in the sale of Race Oncology shares (ASX:RAC).
Since Dr Peter Molloy's resignation as Managing Director and Chief Executive Officer (CEO) in May 2020, Dr Molloy has sold out of the company entirely.
He left to take up the role of CEO with Firebrick Pharma, a private company he had been associated with for several years.
It should be noted that since he sold, the RAC share price has increased from ~$0.60 to a high of $4.23.
Though past directors have sold, current management still has a large amount of skin in the game with Dr Daniel Tillett owning ~12% of the company, fully diluted (with all his options largely in the money).
Dr Tillett recently exercised his 4,250,000 31 August 2021 Options at 9.9c.
In Appendix 3Y, ASX release he said, "I chose to exercise my 4.25 million 9.9c options early for tax planning purposes. I have not sold any Race Oncology shares to fund the conversion, nor do I intend to sell any shares in the immediate or medium-term future…"
The company has an ownership rule requiring management to own at least 12 months' worth of salary in Race Oncology shares.
The new non-executive director of Race Oncology, Mary Harney purchased 8,000 Race Oncology shares in March, worth around $31,000 at the time or at around the RAC share price of $3.88.
Recently Race Oncology (ASX:RAC) announced that Professor Jianjun Chen has joined the company's scientific advisory board.
Professor Chen's team at the City of Hope identified Bisantrene as a potent inhibitor of FTO.
Professor Chen is one of the foremost leaders in the m6A RNA methylation field.
Potential Revenues for Race Oncology (ASX:RAC)
The total addressable market for breast cancer (Race Pillar 2) was $US21B in 2019 and is forecasted to reach $US55B by 2027.
The AML (Race Pillar 3) market is forecasted to be $US2.7B by 2027.
The ovarian cancer (Race Pillar 3) market is forecasted to increase from $US1.8B in 2018 to $US6.7B in 2028.
The FTO space is best comparable to the drug Keytruda.
If Bisantrene is successful in the clinic for Pillar 1, the mechanism of action will be similar to Keytruda.
Keytruda's mechanism of action as a PD1 inhibitor is to inhibit the cell death protein 1 (PD1) antibody, whilst Race Oncology (ASX:RAC) is hoping Bisantrene will inhibit the FTO cell protein and kill cancer cells through that process.
FTO overexpression causes treatment resistance to PD-1 (immune checkpoint) inhibitors. Down-regulation of FTO has been shown to overcome PD-1 resistance.
Keytruda is the leading PD-1 inhibitor with revenues of over $US11B.
The FTO opportunity creates a possibility of pairing the Keytruda drug with Bisantrene which could see large potential revenues in RAC's Pillar 1.
However, given there is only preclinical data on this opportunity, the risk is extremely high.
2018 Global Sales – Oncology Drugs
Drug Name
Revenue ($USB)
Indication

 

Revlimid
9.7
Multiple myeloma
Keytruda
7.2
Advanced melanoma; non-small cell lung cancer; head and neck squamous cell cancer
Herceptin
7
HER2+ breast cancer
Avastin
6.8
Breast, colorectal, lung, kidney, ovarian
Perjeta
2.8
HER2+ breast cancer
Alimta
2.1
Non-small cell lung cancer
Opdivo
1.8
Non-small cell lung cancer; metastatic melanoma; renal cell carcinoma; classical Hodgkin lymphoma
Clinical Risk
Although the potential revenues for Bisantrene are outsized which indicates a large transaction value, the oncology clinical trial success rate is quite low (see figure 6 below).
However, Race Oncology (ASX:RAC) has the advantage that AML drugs can get approval based on positive phase II results through the FDA 505(b)(2) pathway.
High off-label use by practitioners is also common.
Among adult cancer patients off label drug use is between 13%-71%.
Race Oncology believes that they will only need positive Phase II proof of concept results for breast cancer, for practitioners to use Bisantrene off-label.
Figure 6: Orphan-oncology and non-orphan oncology probability of success for each clinical trial phase to approval.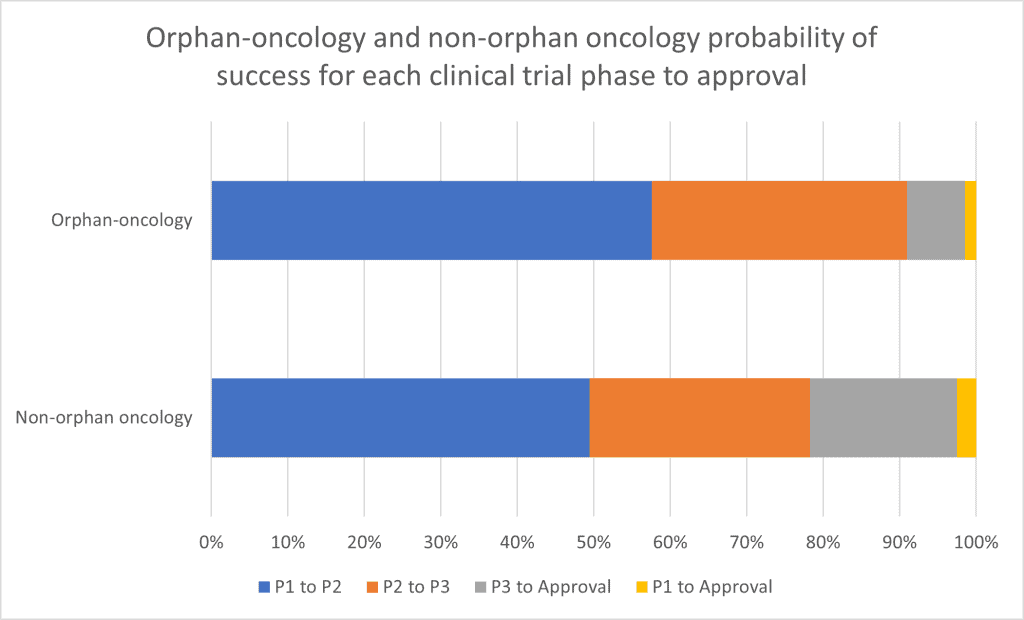 Source: Chi Heem Wong, Kien Wei Siah, Andrew W Lo. "Estimated Clinical Trial Rates in Oncology." (March 2019)
When looking at the chart it is important to note that Race Oncology has historic trial results as well as the recent Israel trial results.
This can suggest a higher probability of success compared to what is represented in the chart above.
For instance, Phase I trials are about patient tolerability (side effects) and dosing.
Race Oncology (ASX:RAC) already knows that Bisantrene is well tolerated in high doses given the historic studies.
The company plans to use Bisantrene in low doses for Pillar 1, so it is reasonable to suggest that patients will be able to tolerate Bisantrene in low doses at least as well as they tolerated in high doses.
Therefore, even though Pillar 1 is only in the preclinical stages, the probability of success is higher than demonstrated in the above graph for P1 to P2.
This applies to the company's Pillar 2 and Pillar 3 clinical plans based on their historic trials and the recent Israel trial.
Oncology is the main research and development focus area in the biotech industry, and it has the highest total clinical development cost (see Figure 7).
Although it has the highest clinical cost, it provides the highest net present value in dollars and as a percentage, hence provides the best returns (see Figure 8).
Figure 7: Clinical Development Spend vs Risk-Adjusted FDA Approvals by Therapy Area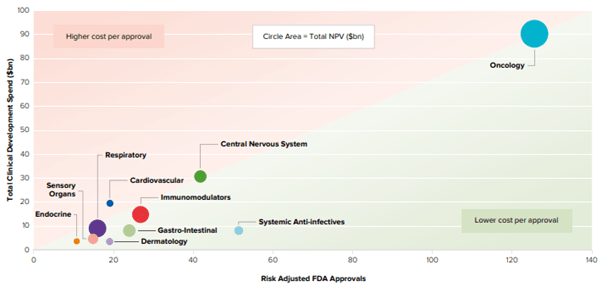 Source: EvaluatePharma Vision: May 2019
Figure 8: Clinical Development Spend vs Risk-Adjusted FDA Approvals by Therapy Area of Current US Pipeline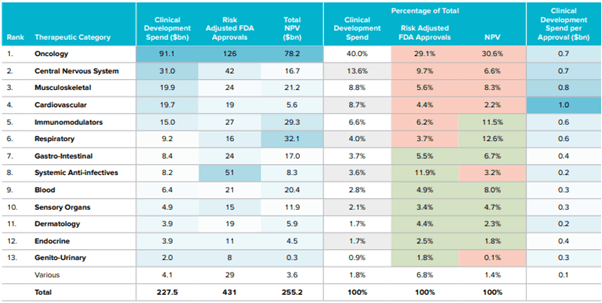 Source: EvaluatePharma Vision: May 2019
Smaller biotech companies are known for taking a drug from the lab through to trial stages and approval.
On the other hand, the large biotech companies have favoured acquiring the smaller biotechs for their research and development.
Small biotechs are faced with the risk of being too slow and having a new drug be approved that is more effective and/or safe.
Currently, there are ~600 clinical trials and 220 new treatments for AML, and ~1300 clinical trials in breast cancer (see Figure 9).
Because of the large amount of competition, the addressable market could shrink as new drugs are approved and steal market share.
It should also be noted that the only known competition in the FTO space is with Accent Therapeutics who authored the 'new research report' referred to earlier in this report.
To our best knowledge, Accent Therapeutics does not have an existing drug designed to target FTO.
The risk in drug discovery is partially displaced by the fierce competition in the merger and acquisition (M&A) space.
Large biotechs are aggressively competing against each other, vying for additions to their drug pipelines as their patented drugs expire and revenues are threatened.
This is expected to increase with many Phase III failures in 2020/21.
Figure 9: Number of Clinical Trials for Diseases in Oncology.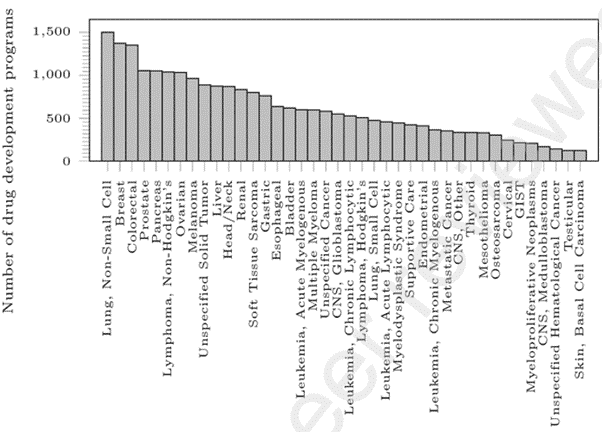 In 2020 there was a $US133 billion total disclosed deal value in the oncology space, despite the covid-19 pandemic.
Analysts at Goldman Sachs predict M&A activity to continue in 2021 as large biopharma companies have an estimated ~$US530B to spend.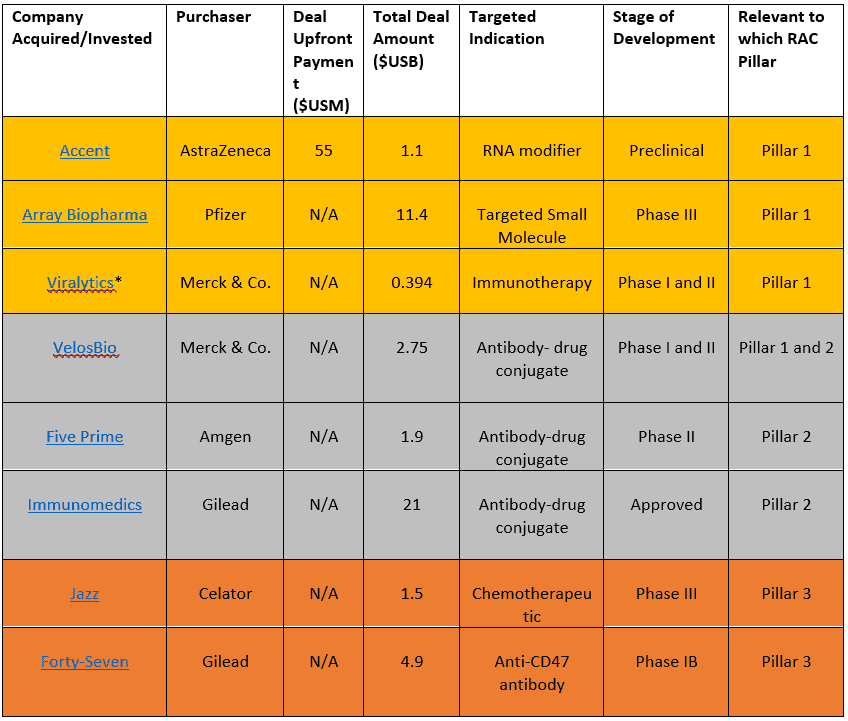 * was ASX listed at the time of acquisition.
The graph below of the Immunomedics share price shows how rapidly a price of a biotech stock can rerate on the back of positive clinical and regulatory results and buyout interest.
Figure 10: Immunomedics Share Price Graph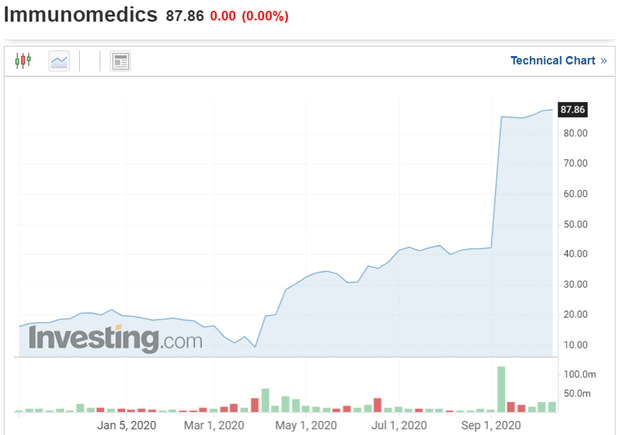 Source: Investing.com
Conclusion
Looking at the past mergers and acquisitions and probability of success in oncology (dependant on the data), we believe that at the current RAC share price, Race Oncology shares (ASX:RAC) are undervalued.
However, investing in a company like Race Oncology will depend on one's risk tolerance and patience.
Whilst it appears RAC share price is undervalued, this is a highly technical sector highly reliant on positive trial results which manifest in a relatively high-risk profile for this stock.
A strong rerate to the upside would also come from a takeover offer, but that is not something that is easily forecasted.
Given both these factors, Race Oncology shares (ASX:RAC) are considered to be a high-risk high-reward stock.
However, at the current RAC share price, and market capitalisation of the company, we consider the risk versus reward to be in the investor's favour.