The three ASX indices (200, 300, and All Ordinaries) closed last week lower by 0.84%, 0.82%, and 0.75% respectively.

Shares on the ASX declined in the earlier part of last week due to a warning from the RBA that it was looking to raise interest rates over time, and that people who were taking advantage of currently low rates needed to factor that in.
However, the bank ruled out a rate hike next year.
Investors were also preoccupied by the recurring evidence of inflationary pressures mounting across the globe, with the UK and Canada recording annual rates of 4.2% and 4.5% respectively.
Sharp losses in banks, spearheaded by Commonwealth Bank, also dampened investors' bullishness, as it became clear that margins at banks were under pressure.
Likewise, for miners and energy stocks, which grappled with declines in the prices of iron ore and crude oil respectively.
ASX Stocks Last Week
Sliding iron ore prices, below $90 a tonne, pressured miners.
BHP (ASX:BHP) was down 3.01% and Rio Tinto (ASX:RIO) fell 2.22%, South32 (ASX:S32) gave up 1.13%, and Fortescue declined over 3%.
Gold mining stocks corrected after their stellar run last week. Northern Star Resources (ASX:NST) fell 3.15%, St Barbara (ASX:SBM) plunged 4.89%, and Newcrest Mining (ASX:NCM) too was weak, closing lower by 2.40%.
However, Evolution Mining (ASX:EVN) shot up 4.49%, and Gold Road (ASX:GOR) jumped 3.41%.
Evolution will buy Glencore's 100% interest in Ernest Henry Mining Pty Ltd, the owner of the Ernest Henry Mining (ASX:EHM) copper-gold mine in Queensland, Australia, for A$1 billion.
Energy stocks ruled weak following soft oil prices that at one point fell to six-week lows.
Santos (ASX:STO) fell by 1.89% and Oil Search (ASX:OSH) plunged over 3%.
Woodside Petroleum sold a 49% stake in the Pluto Train 2 joint venture in its Pluto LNG development in Western Australia to PE firm Global Infrastructure Partners.
The stock ended the week in the red by 0.41%.
Yancoal (ASX:YAL) fell 3.68%, and Whitehaven Coal (ASX:WHC) gave up 2.40%, continuing their sell-off from previous weeks.
The healthcare sector made a turnaround. Sonic Healthcare (ASX:SHL) shot up nearly 5% after reporting an improvement in earnings.
Fisher & Paykel (ASX:FPH) put on 1.93%, Resmed CDI (ASX:RMD) was up 3.06%, and CSL Limited (ASX:CSL) jumped 2.11%.
However, Ramsay Health Care (ASX:RHC) continued its downtrend, falling nearly 1%.
Biotech firm Mesoblast (ASX:MSB) was in the limelight after it announced that one of its cellular medicine trials showed a reduction in heart attacks and strokes.
However, the stock ended flat for the week, though it is down over 25% year-to-date.
Imugene (ASX:IMU) lost 2.59% despite announcing that its gastric cancer product HER-VaXX would be assessed in phase two clinical trial by Pfizer and Merck.
Though Sydney Airport (ASX:SYD) closed a shade higher by 0.48%, other travel stocks were down significantly. Flight Centre (ASX:FLT) was (-3.85%), Webjet (ASX:WEB) (-6.04%) and Qantas (ASX:QAN) (-3.18%).
Regional Express (ASX:REX) ended 5.73% lower, despite resuming flights from Melbourne to Sydney and other routes.
Banks were down with Commonwealth particularly shunned by investors.
Commonwealth Bank (ASX:CBA) lost a sizable 9.46% and Westpac (ASX:WBC) declined by 2.55%.
ANZ Banking (ASX:ANZ) fell 3.33%, while National Australia Bank (ASX:NAB) slumped over 2%.
Commonwealth reported that its cash profit surged 22% in the September quarter.
However, investors rushed for the exits on the bank's comment that its margins in the all-important home loans market were being "considerably" eroded due to competition resulting in its NIM declining in the quarter.
Goldman Sachs banking analyst Andrew Lyons commented: "Today's trading update highlights that even CBA's strong franchise is not immune from the elevated margin pressures that appears to be particularly impacting the retail banks."
Technology stocks received a tailwind from an upbeat Nasdaq.
Next DC (ASX:NXT) surged 7.91%, Wisetech (ASX:WTC) zoomed 4.47%, and computer hardware distributor Dicker Data (ASX:DDR) rose over 2%.
Next DC said it was in a position to achieve a rise in earnings of between 19 and 23%.
Xero (ASX:XRO) snapped back after a dismal show the previous week, closing higher by nearly 6%.
AI software provider Appen jumped nearly 11% after analysts weighed in that it was undervalued.
Citi reportedly has a price target of $17.10 on the stock.
However, BNPL fintech company Zip Co Ltd (ASX:Z1P) plunged 3.88%, continuing its decline from the previous week.
Further, Computershare (ASX:CPU) lost 1.65%.
Real estate was flat-to-better for the week. Scentre Group (ASX:SCG) and Stockland (ASX:SGP) rose 2.95% and 0.69% respectively.
Real estate advertiser REA Group (ASX:REA) jumped 1.63%, property giant Goodman Group (ASX:GMG) was up a shade at 0.04%, Lendlease (ASX:LLC) was 0.38% higher, and property manager Charter Hall (ASX:CHC) ended flat.
Mirvac Group (ASX:MGR) gained 1.08% after the company said residential property sales were in fine fettle and that low-interest rates were favourable for the real estate market.
Crown Resorts shot up a solid 15.98% over the week after US PE giant Blackstone (NYSE: BX) made a third attempt Friday to take over the beleagured casino operator with an unsolicited, non-binding offer of $8.46 billion, or $12.50 per share, adjustable for any dividends to be paid.
The offer was at a 26% premium to Crown's Thursday closing price.
Crown's board is assessing the bid.
Meanwhile, gaming operator Aristocrat Leisure (ASX:ALL) lost over 5% after its full-year profit after tax plunged by 40%.
Investors were not impressed by the improved, fully-franked dividend of A$0.26.
Telecom Unit Group (ASX:UWL) closed over 4% higher after it announced that it could buy back up to 10% of its shares over the coming 12 months.
Crop protection company Nufarm (ASX:NUF) was down nearly 7% on the week despite pivoting to a profit after tax of $65.1 million from a loss last year.
The company announced a full-year unfranked dividend of four cents per share.
Winemaker and distributor Treasury Wine Estates (ASX:TWE) closed 5.54% higher.
It will buy US vineyards company Frank Family Vineyards for $433 million.
This week in Stocks
Corporate reports and events
November 23, 2021- Technology One (ASX:TNE) – Full Year Results for 2021
November 24, 2021 – Virgin Money UK (ASX:VUK) – Full Year Results
November 24, 2021 – Webjet (ASX:WEB) – Half Year Financial Results           
November 25, 2021 – Fisher&Paykel (ASX:FPH) – Half Year Financial Results
Upcoming Listings between 22 – 26 November
November 22, 2021
Artrya Limited (ASX:AYA), a medical technology company developing software that automates the analysis of heart computed tomography (CT) scans to assist in the diagnosis of Coronary Artery Disease, will list ordinary fully paid shares of A$1.35 each from its issue of $40 million.
Nimy Resources (ASX:NIM) is an exploration company, aiming to responsibly discover and develop an economic Nickel-Sulphide project in a Tier 1 jurisdiction, Western Australia.
It will list ordinary fully paid shares of A$0.20 each from its issue of A$7.5 million.
November 23, 2021
RAS Technology Holdings Limited (ASX:RTH), a provider of fully integrated premium data, enhanced content and SaaS solutions to the global racing and wagering industries, will list ordinary fully paid shares of A$1.50 each from its issue of A$29 million.
November 24, 2021
EBR Systems Limited (ASX:EBR) is a pre-revenue, medical device company that is focused on developing and bringing to market, devices to treat patients with certain types of heart failure.
The Company has patented technologies that can provide clinical advantages over technology currently available from incumbent companies.
It will list Chess Depositary Interests 1:1 of US$1.08 each from its capital issue of $110 million.
November 25, 2021
Radiopharm Theranostics Limited (ASX:RAD), a clinical-stage radiotherapeutics company targeting some of the largest markets in cancer, will list fully paid units unstapled securities of A$0.60 each from its issue of A$50 million.
Winsome Resources Limited (ASX:WRI), a lithium-focused exploration and development company with three project areas in the James Bay Region of Quebec Province, Canada, will list ordinary fully paid shares of A$0.20 each from its issue of A$18 million.
Economic News And Market Outlook
China's industrial output grew 3.5% year-on-year in October, compared to 3.1% in September, despite fresh pandemic outbreaks, a slowing property sector, and supply chain issues.
The country's retail sales rose 4.9% year-on-year in October, compared to 4.4% in September, in the face of new COVID restrictions.
In the US, retail sales surged 1.7% in October, recording the best gain since March, and following a growth of 0.8% in September.
The minutes of the RBA's November board meeting did not contain anything unexpected.
The policymakers indicated that the current pace of quantitative easing was appropriate and the cash rate would remain at 0.10% until 2024 or until wages and inflation targets are met.
In the US, housing permits in October for future homebuilding jumped 4% to a rate of 1.65 million units.
Housing starts fell 0.7% to 1.52 million units. Housebuilding activity was constrained by land, labour, and materials scarcity, as well as weather conditions in the Northeast of the country.
During the week ended November 12, US crude oil inventory dropped -2.1 million barrels to 433 million barrels, compared with analysts' expectations of a +1.4 million barrels increase.
At 433 million barrels, U.S. crude oil inventories are about 7% below the five-year average for this time of year.
However, oil prices continued to be under pressure from warnings issued by OPEC and the International Energy Agency on impending oversupply.
Fresh COVID outbreaks in Europe also played a role.
In the coming week, data will release on Monday, November 22, on existing home sales during October in the US.
The RBNZ will announce its decision on interest rates on Wednesday, November 24.
On the same day, data will be available in the US for (a) Q3 GDP, (b) durable goods orders for October, (c) initial jobless claims, (d) new home sales for October, and (e) crude oil inventories.
FOMC minutes will release on Thursday.
Australian retail sales for October would be available on Friday, November 26.
Forex Outlook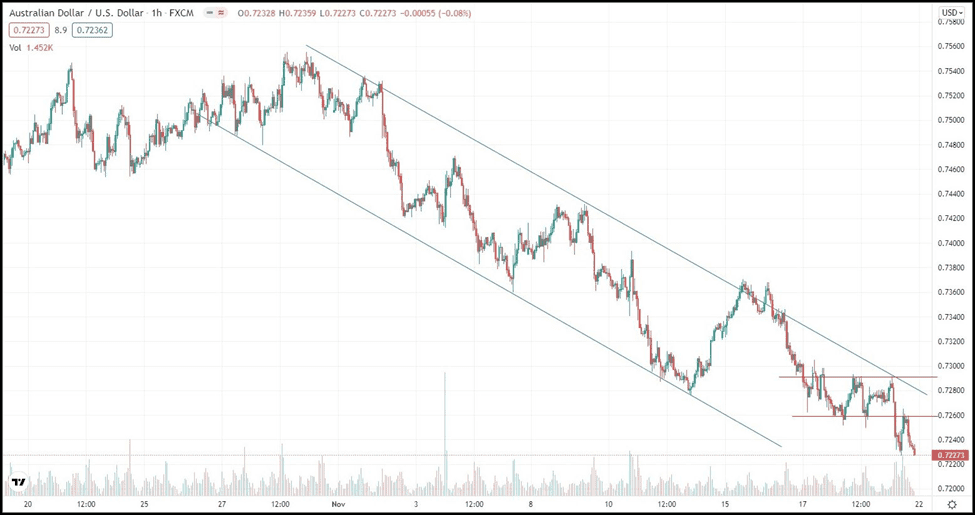 AUD/USD ended the week at 0.72273, well below last week's close of 0.73895, and traded negatively for most of the week, save a brief consolidation rectangle.
However, once it broke 0.72600, the downtrend resumed (with a classic pullback), and the worrying thing is that it closed at the day and week's low – portending further bearishness.
COVID concerns, US Dollar strength as apprehended in our previous weekly note, and the RBA's reluctance on rate hikes are undermining AUD/USD, not to mention declining ore and energy prices.
The 0.72273 line is an important support line and should that break, AUD/USD can retest 0.71720, the preceding major low.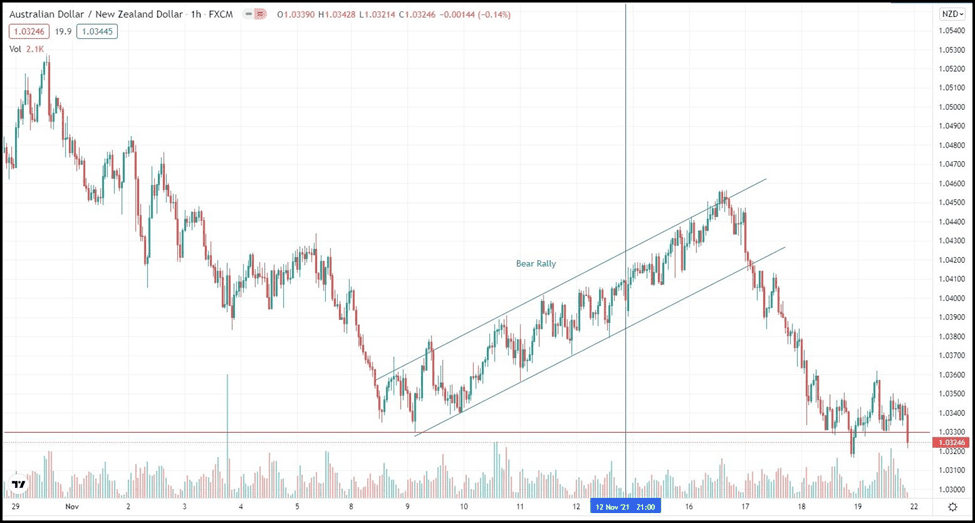 The AUD/NZD closed the week at 1.03246, significantly below its previous close of 1.03990.
As suggested in our previous note, the AUD/NZD was likely in a bear rally the previous week.
Around mid-week, the downtrend resumed and kept going until it violated the previous low at 1.0330.
There was a token bounce but that was quickly sold into, and AUD/NZD closed weak and below the 1.0330 red line.
The markets expect the RBNZ to inexorably hike rates through 2022, in contrast to the hands-off approach adopted by the RBA on rate hikes.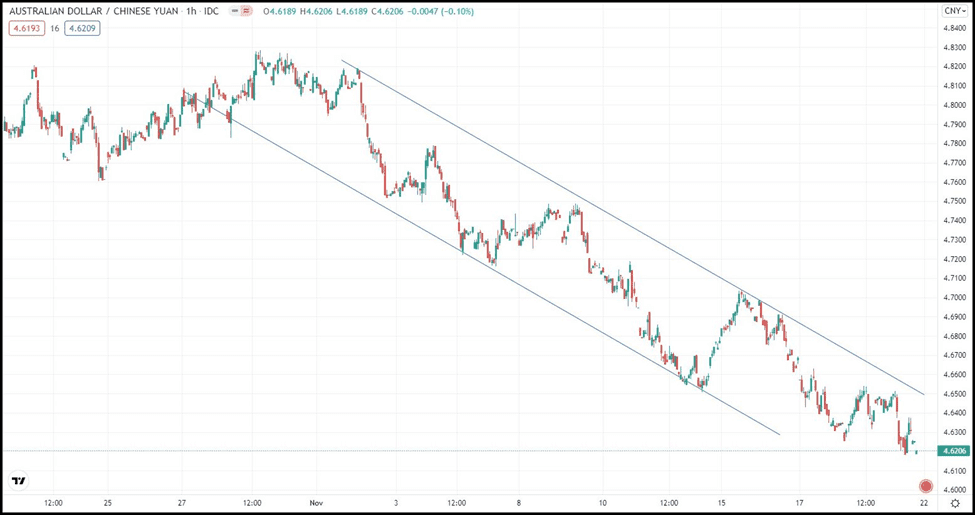 AUD/CNY closed the week at 4.6206, well below the previous week's close of 4.6769.
However, the action in the closing hours of the week shows an accelerating downside with AUD/CNY positioned critically at the 4.6206 line – which is also the level of a low touched in late August.
That line has not yet been broken, and it remains to be seen if AUDCNY will bounce and our previous theory that 4.6206 will hold.