Today we will look at why we think Fortescue Metal shares (ASX:FMG) are a great dividend play in our FMG share price forecast, especially with the stock down so much due to geopolitical factors.
Fortescue Metals Group (ASX:FMG), led by Andrew Forrest, Australia's richest man, is the world's fourth-largest iron ore producer.
The company reported a record FY2021 as it took full advantage of high iron ore prices with a low-cost structure from its integrated operations, and the timely completion of a new mine.
However, ore prices are on a downturn, and so is the FMG share price.
We first looked at FMG back in mid-May 2018, when the FMG share price was at around $4.70. Since then, the stock has traded as high as $26.49 before falling back to $13.91.
Despite the recent fall in the FMG share price, the stock is still more than 190% higher since then and when you include the $9.27 in dividends paid, this stock has returned more than 390%.
Fortescue has underperformed the ASX 200 severely after July.
As things stand, year-to-date, FMG is down nearly 42% versus the ASX 200's gain of about 11%.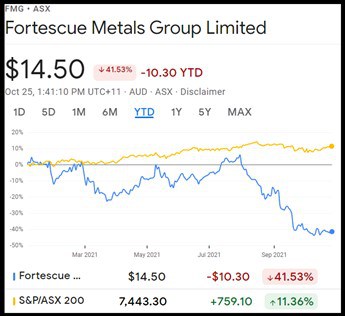 However, we see this as an opportunity to buy a quality stock at a low price with an incredible dividend of over 25%.
Even if Fortescue decide to halve the dividend, we are still looking at a yield of more than 12% which is far superior to what BHP and RIO can offer.
About Fortescue Metals Group Limited (ASX:FMG)
Founded in 2003, Fortescue is an integrated, West Australian, "mines-to-market" company that exports over 180 million tonnes of iron ore annually.
The pure-play iron ore company operates three mining hubs in the Pilbara, Western Australia, which are connected to the five berths Herb Elliott Port and the Judith Street Harbour towage infrastructure in Port Hedland via 760 kilometres of high speed, heavy haul railway.
The company also owns a tug fleet and eight custom-built 260,000-tonne capacity Fortescue ore carrier ships.
Together with Fortescue Future Industries (FFI), its 100% renewable green energy and industry company, FMG is establishing a global portfolio of green hydrogen and green product operations to claim leadership of the worldwide renewable hydrogen industry.
FFI will also play an important role in FMG's goal to reach carbon neutrality by 2030.
Fortescue is headquartered in East Perth, Australia, and at the current FMG share price, Fortescue shares have a market capitalization of A$45 billion.
Fortescue (ASX:FMG) has Extremely Low Production Cost a Strong Balance Sheet
The integrated nature of Fortescue's operations through the entire iron ore supply chain helps to produce and ship massive quantities of ore with attendant cost savings.
The company's mining, processing, rail, and shipping operations combined to deliver record shipments of 182.2mt of ore in FY21.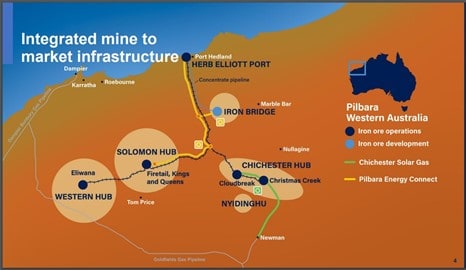 According to the company's FY21 report, it produces iron ore at a C1 cost of US$13.93 per wet metric ton. C1 costs are defined as direct costs, which include costs incurred in mining and processing plus local G&A, freight and realization, and selling costs.
This is said to be a highly competitive, "industry-leading" cost structure, enhancing the company's ability to ride out difficult phases in the market cycle, and to produce above-average profits during boom times from costs, to realization.
To give credit to the company's marketing and product quality, Fortescue (ASX:FMG) has been successful in achieving a realization of nearly 85% of the Platts 62% Fe Index continuously since the second half of 2019.
This has helped to enhance margins and boost profitability.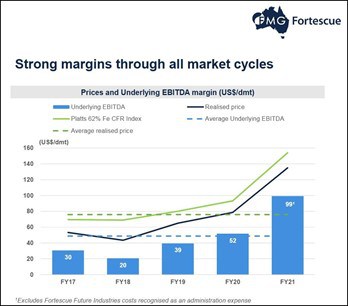 During FY21, Fortescue (ASX:FMG) successfully commissioned and integrated its new mining operation at Eliwana.
This contributed to the company's second consecutive annual performance record.
Furthermore, the Eliwana operation is said to have been completed with very "low capital intensity" and the company expects a short payback period.
This is a sizable advantage given the current crisis in iron prices.
Even with the Eliwana mine under its belt, Fortescue had a net debt position at the end of March of US$1 billion, and this too converted to net cash of US$2.7 billion on 30 June 2021.
The exceptional strength of the company's balance sheet speaks to its ability to ride out the vicissitudes of a cyclical resources market, and as well to make growth investments when the opportunity presents itself.
On its debt structure, Fortescue (ASX:FMG) confirmed on the FY21 earnings call that the company had wrestled down its gearing to 19% as of June 30.
A ratio of its gross debt of US$4.3 billion on that date to its TTM EBITDA was a mere 0.3 times.
However, Fortescue shares pure-play iron ore exposure is a huge advantage in the good times, it can be a weakness when the cycle is adverse.
Goldman Sachs observed in a note in May that the company's valuations were "rich," and one of the factors it cited for this was the lack of diversification in its product base.
Adding to iron ore exposure is the company's forthcoming 22 mtpa Iron Bridge project for high-grade iron ore.
The first production is scheduled for December 2022 and ramp up over 12-18 months.
The company has already spent $US 1.46 billion of capex on the project during FYs 20 and 21.
It expects further Capex outgo of US$850 – 1050 million in FY22 and US$100-300 million in FY23. The total estimated Capex for Iron Bridge is US$2.5 – 2.7 billion.
Iron Bridge already represents potential execution risk.
Given the current frosty relations between Australia and China and the crash in iron prices in recent months, the project could also be a source of financial risk.
Iron Ore Crash and Geopolitical Risk a Concern, but Forrest Optimistic
While Fortescue (ASX:FMG) evidently runs a tight ship, the external environment has suddenly deteriorated.
On the geopolitical front, the long-standing and durable trade relationship between Australia and China has plummeted, with negative implications for corporates such as Fortescue.
The Chinese steel-making industry is a large customer which is under threat from its government's sudden crackdown on sectors with a large emissions footprint.
Also, China's property market is on a downturn after the Evergrande fiasco, and this may affect demand for construction steel.
Production of steel has fallen and so have imports of iron ore.
As a result, iron ore prices have nearly halved since hitting a record in mid-May.
Bank of America analysts have trimmed their forecast for iron ore fines for this year by 16.6% from $188/tonne to $157/tonne, and for 2022 by 45% to $91 per tonne.
Furthermore, China reported a slowdown in its growth, reporting a 4.9% year-on-year increase in third-quarter GDP, the weakest pace since the third quarter of 2020.
At home, there are signs of a tightening labour market as the economy reopens.
Rio Tinto (ASX:RIO) marginally reduced its forecast for iron ore shipments during 2021 because a tight labour market delayed the completion of a new mine.
BHP (ASX:BHP) too reported a 5% drop in first-quarter iron ore output, and one of the reasons was a shortage of rail labor caused by Covid-19 border restrictions.
These are matters of concern.
However, Fortescue management has put on a brave face, saying publicly last month that they expect a rebound in steel demand, and therefore iron ore, for the fourth quarter of 2021.
"I wouldn't bet against the commodity price of iron ore," said Andrew Forrest.
Meanwhile, CEO Elizabeth Gaines said the iron ore price was still remunerative given Fortescue's low costs of US$15-15.50/t.
Fortescue Metals Focuses on Clean Energy
However, Andrew Forrest has moved fast on his vision for basing a new business on the plank of the global priorities on emissions and clean energy.
In a two-pronged move aimed to diversify its product base and decarbonize its own mining business, Fortescue has committed 10% of its annual profits to Fortescue Future Industries (FFI), an arm that is tasked with implementing a foray into clean energy via hydrogen and the creation of a global portfolio of opportunities in renewable energy and green industry.
This could be a huge opportunity.
Not only does it help Fortescue advance and meet its own climate commitments, but it also creates a new business line in a sunrise sector.
FFI will help FMG produce "green iron ore," a product that could command a premium in the future as carbonization imperatives take on increasing urgency.
FFI intends to supply 15 million tonnes a year of green hydrogen by 2030.
It is also working on developing green trains, trucks and shipping, and decarbonization technologies.
Fortescue Metals Group (ASX:FMG) Financials
During FY21, Fortescue shares reported its highest-ever annual shipments, earnings, and operating cash flow.
In fact, it was the company's second consecutive year of record performance.
Solid demand from China propelled iron shipments to a guidance-beating 182.2 million tonnes for the year.
On the top line, the company achieved a 72% increase in revenue per tonne compared to FY20, reflecting brisk market conditions and sustained demand.
Underlying EBITDA in FY21 surged 96% to US$16.4 billion while the underlying EBITDA margin rose to 73%.
Net profit after tax more than doubled to US$16.4 billion.
In FY21 the company generated net cash flow from operating activities of US$12.6 billion and free cash flow of US$9.0 billion after investing US$3.6 billion in capital expenditure.
The strong cash flow generation helped the company pivot from a net debt position at the end of March of US$1 billion to net cash of US$2.7 billion on 30 June 2021.
In July, Fortescue guided for FY22 iron ore shipments in the range of 180 million to 185 million tonnes.
Fortescue Metals Group: Valuation
A comparison of Fortescue with arch-rivals Rio Tinto and BHP is tabulated below.
| | Period | Fortescue | Rio Tinto | BHP |
| --- | --- | --- | --- | --- |
| 5 Year Sales Growth % | 5YA | 25.76 | 5.08 | 16.31 |
| Price/Book | FY | 1.88 | 2.52 | 2.84 |
| Price/Earnings | TTM | 3.25 | 6.36 | 12.92 |
| Operating Margin% | TTM | 66.72 | 48.34 | 42.60 |
| Net Profit Margin% | TTM | 46.2 | 34.32 | 22.12 |
| Return on Equity% | TTM | 66.51 | 40.71 | 22.81 |
| Dividend Yield% | TTM | 25.04 | 9.39 | 10.57 |
Source: Investing.com
At the current FMG share price, it is clear that on every metric, Fortescue shares are superior to its larger iron ore rivals, particularly on dividend yield.
However, note that only Fortescue is a pure-play iron ore producer.
The crash in the price of Fortescue represents an opportunity to pick up a stock that has some very solid attributes – a competitive cost of production from highly integrated iron ore operations, a Fort Knox balance sheet, proven management, and most of all, a luscious dividend yield.
That yield could be lucrative even if Fortescue chops its FY22 dividend by half.
Meanwhile, iron ore is as cyclical as they come, and the recent fall in the price of the steel-making material is due to China-centric factors.
These may likely be temporary, and it will be "business as usual" once China's preoccupation with blue, smogless skies subsides after the Olympics.
Furthermore, considering their importance to each other, China and Australia may also resolve the current difficulties in their relationship.
In sum, long-term investors might do well by picking up Fortescue shares on the cheap.
Chances are that Fortescue's ore-related travails will soon wind down, and they can additionally reap rich pickings from capital appreciation.
There is also the chance that a few years down the line, FFI could prove to be a highly successful powerhouse in clean energy and hydrogen.
For more patient investors, that would be the icing on the cake.