Today we will look at why we like Mineral Resources share (ASX:MIN) in our MIN share price forecast and analysis.
Mineral Resources Ltd. (ASX:MIN) is a large, integrated Australian mining company with a significant market presence in both mining services/infrastructure and the production of commodities such as lithium and iron ore.
The company has enjoyed excellent business conditions in recent times in mining services, while its commodities business was hit by the correction in ore prices in the second half of 2021.
Its fortunes were, however, buoyed to some extent by a burgeoning lithium market.
Despite the correction from its high this year due to the Ukraine war and global volatility, at the current MIN share price, Mineral Resources shares are in the green at 0.82% YTD, having outperformed the index by just under a percent.
However, in all likelihood, the best is yet to come.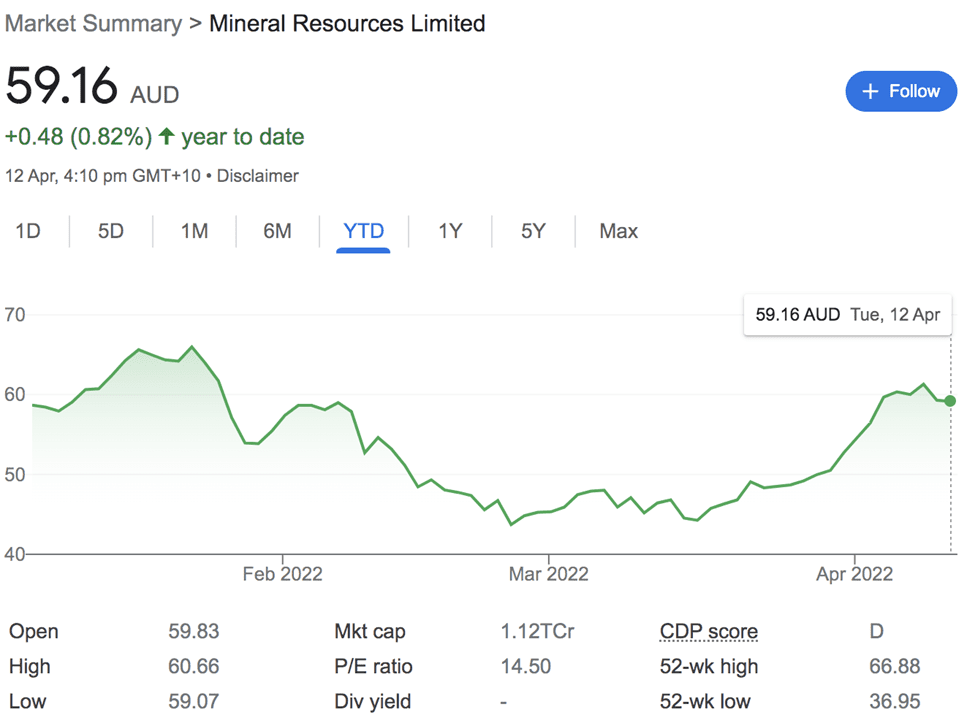 About Mineral Resources (ASX:MIN)
Mineral Resources is an integrated mining service and producer company occupying a unique position in the mining space.
It has three major divisions: Mining services, where the company is a contract service provider for mines owned by other companies; Commodities, where the company is an owner, producer, and processor of iron ore and lithium products through Joint Ventures and complete ownership; and lastly, Energy Resources, the company's natural gas division that owns a production site to provide stable and emission-free energy to its client and own production sites.
At the current MIN share price, Mineral Resources shares have a market capitalisation of A$11.2 billion.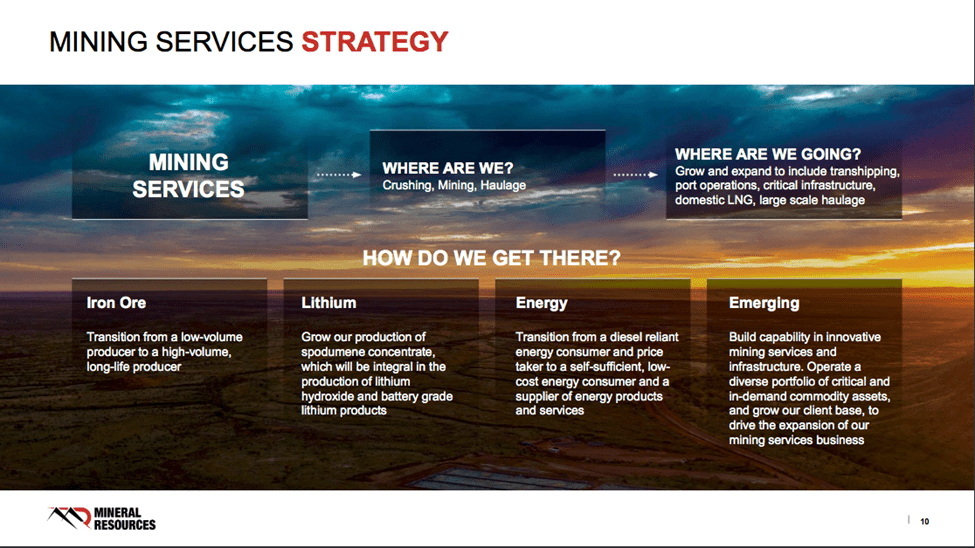 Unique Turnkey Business Model But Overdependence On Iron Ore A Weakness
Mineral Resources' (ASX:MIN) strength is its integrated position in the mining industry.
The company provides turnkey mine operation services to mine owners, thus giving the company a relatively stable stream of revenue compared to pure commodity producers because the revenues of Mineral Resources are tied to production levels and not prices realized for the commodity produced.
The company is thus shielded from commodity price cyclicality to the extent that revenue does not directly move with prices in the short term; however, over longer timeframes, depressed prices of commodities can lead to lower production and thus lower revenue.
Mining Services has been the lifeline of the company with a semi-annual 34% compounded growth rate over the past 3 years.
Fast forward to 1H'22 (July – December 2021), this is exactly what happened – there was a rout in iron ore prices, but the mining services did a stellar job of buoying the company.
Further, the company expects a 10%-15% CAGR for this business over the next 3 years.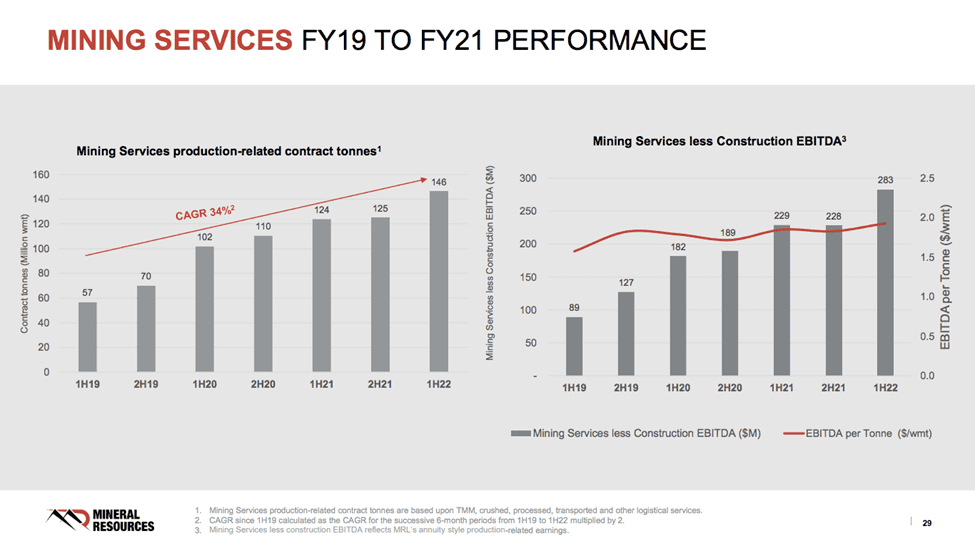 Secondly, the company enjoys long-term mining services contracts with more than 50% of its contracts of 5-10+ years in duration.
In FY21, the mining services segment realized a solid operating margin of 27%.
In 1H'22, the Mining Services business grew 34% YoY in revenues and 20% in EBITDA whilst maintaining the 27% operating margin despite higher costs.
The company also added four new clients and three renewals, a testament to the strength of this business.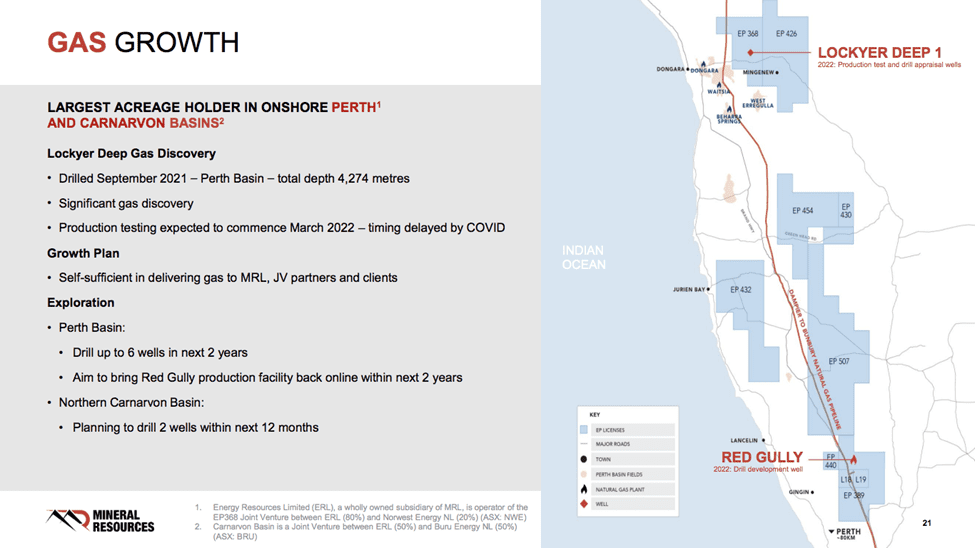 However, the 1H'22 period exemplified our concerns regarding the company's overdependence on iron ore.
As the brunt of the decline in iron ore prices, last year was felt in Mineral Resources shares (ASX:MIN) 1H'22, the company reported 27% lower iron ore revenue despite a record shipment of 9.9 Mt (up 25% YoY).
Iron ore EBITDA was negative at A$104 million, representing a margin of -12%, due to higher costs and losses on pre-negotiated contracts.
The company attributed 40%-94% of higher costs to increased shipping costs, depending on the site of production.
Overall, the company reported an average ore price that was 41% lower YoY.
The abysmal performance of the iron ore segment was the primary contributor to the company's overall net loss and 12% lower revenue for 1H'22, even though the lithium segment was a significant EBITDA contributor and the mining services business was firing on all cylinders.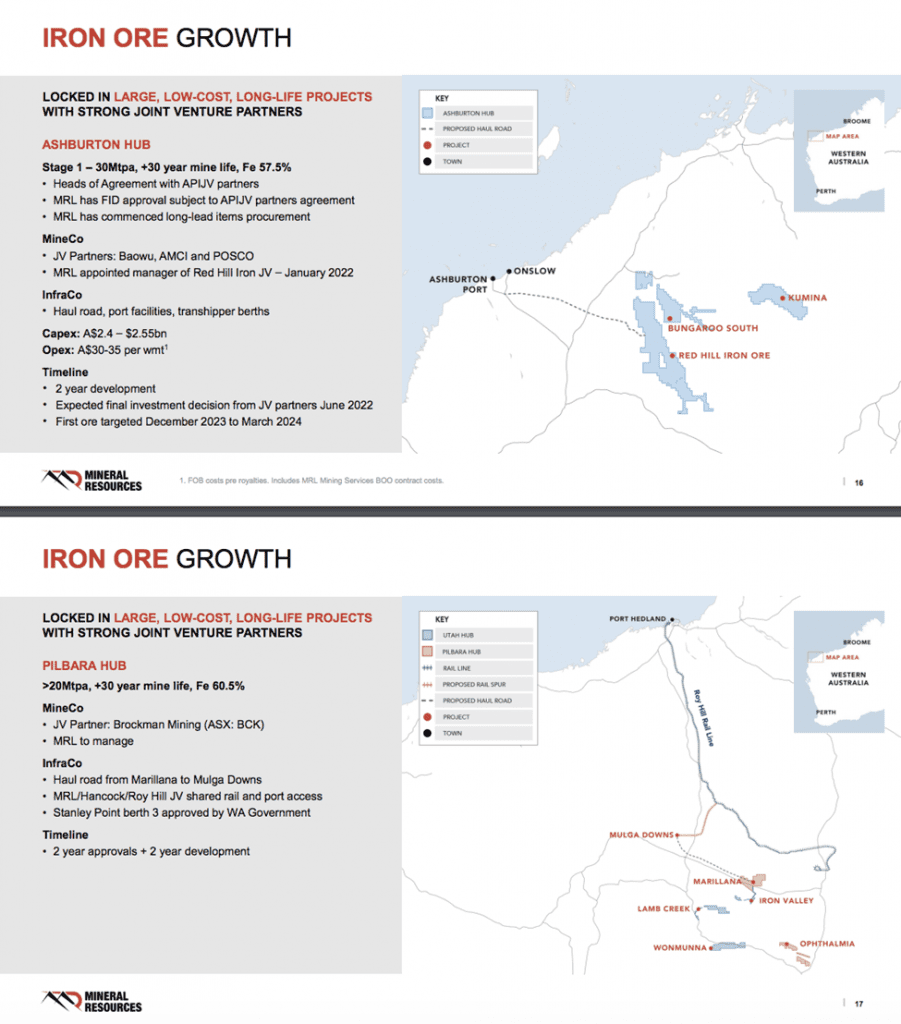 The company has plans to expand its iron ore capacity by a further 30 Mt by mid-FY24 with the development of its Ashburton plant in WA and another 20 Mt at Pilbara by 2026.
This is a very opportune time as the ore market has bounced back solidly and if executed well, the plant could be online by December 2023.
At that point, prices should be better following the end of China's recent COVID woes, real estate bust, and impending stimulus package which will probably include massive infrastructure spending.
A recovery in the global economy and easing inflation should help too.
In a move to further develop its Pilbara ore deposits, Mineral Resources has inked a deal with Hancock Prospecting and Roy Hill Holdings for the development of a new iron ore export facility at Port Hedland's Stanley Point Berth 3 in South West Creek, Western Australia.
The pit-to-port arrangement will unlock "stranded" ore deposits in the Pilbara and boost the company's position as a low-cost international ore supplier.
As a development of their export facility plans, the company received government approval in the 1H'22 period.
It should be noted that Mineral Resources' ore is of slightly lower quality (57%-59% Fe) compared to major rivals Rio Tinto, BHP, and FMG, which all produce 62% Fe.
This is a strength at times of high ore prices when steel mills include cheaper, lower-grade ore in their sintering mix to protect margins; however, the depressed ore market last year saw the discounts on lower grade ore widening, to MIN's detriment in 1H'22.
On the flip side, this advantage could replay in the second half of the year given that ore has rallied to eight-month highs on the back of stimulus hopes and retraction of COVID.
Further, unprecedented energy inflation will certainly eat into margins, which might prove a tailwind for lower grade ore.
While the integrated nature of its operations is a strength, the company is, however, heavily dependent on the cyclical iron ore market.
Mineral Resources (ASX:MIN) generates nearly 75% of its contract mining services revenues from iron ore miners and nearly all of its commodities production revenues from iron ore, making it highly sensitive to developments in iron ore prices.
However, the worst of this risk was likely done and dusted in 1H'22 given the current bullish trend in iron ore prices this year.
Rising Energy Costs a Threat but Mineral Resources (ASX:MIN) has Low-Cost Energy Assets
Power consumption is one of the biggest operational costs for a mining operation and also the largest source of its emissions.
Both of these become a huge problem over the past few months for operating mines.
The onset of the Ukraine war caused global energy inflation at an unprecedented rate, increasing the operating cost of the mining industry.
At the same time, climate consciousness is at an all-time high with all major customers demonstrating a clear preference for green mining products and miners under pressure to meet Paris aligned emissions targets.
Natural gas is a comparatively cleaner fossil fuel and this is an advantage for MIN.
The company has made sufficient progress on its upcoming natural gas production projects that it acquired in the Perth Basin and Carnavon.
These assets will allow the company to provide its services without the operating cost variability that comes from diesel, which is currently the most commonly used power source for mines.
The company will now have a large, ultra-low emission energy source under its ownership that can further strengthen its dominant position and boost margins, especially at mines that it both owns and operates.
As of 1H'22, Mineral Resources (ASX:MIN) successfully completed the drilling program of a test well.
The company will commence testing for quality and flow rates later in this quarter.
Ownership of Top Tier Lithium Assets A Multi-Bagger Opportunity
The biggest opportunity for Mineral Resources (ASX:MIN) is its lithium resource.
Lithium is slated to be one of the hottest commodities in the world over the next decade due to a potentially massive increase in lithium-ion battery production.
To put things into perspective, the battery in a Tesla Model S (one of the highest-selling EVs in the world) is more than 10,000 times bigger than that of an iPhone in terms of capacity (example chosen because consumer electronics are the biggest users of lithium-ion batteries at present).
Hence, as electric vehicles take over, lithium uptake will potentially skyrocket.
The uptake of EVs has received a potentially huge boost due to the surge in traditional energy prices as a result of the Russia-Ukraine war.
Moving forward, developed nations that are big oil importers will probably be very aggressive in pushing EVs moving forward.
Mineral Resources (ASX:MIN) owns two quality lithium deposits, Mt. Marion and Wodgina, through joint ventures.
It is also on track to vertically integrate spodumene ore processing into its value chain at Kemerton.
The company's Mt. Marion site is currently operating at a nameplate capacity of 485 ktpa and Wodgina is under care/maintenance with production due to be restarted over the next few months.
In a significant development, the company's Mt. Marion operation became a serious contributor to the business in the 1H'22 period with an EBITDA contribution of A$67 million on revenue of A$104 million (up 207% YoY) and shipments of 207 kt.
Annual production guidance of 450 ktpa-475 ktpa from just Mt. Marion is intact.
This is despite higher costs, the bulk of which was attributed to shipping and haulage.
Minerals Resources (ASX:MIN) and its partner, Albemarle, decided to shut Wodgina a couple of years ago due to an unfavorable price environment.
However, with lithium prices now in the all-time-high territory, the company has been making aggressive moves to restart its 250ktpa of capacity this year.
It expects the first shipments in end-April.
Further, the company has an additional lithium reserve capacity that can support 500 ktpa which it can strategically release in-line with demand.
Therefore, as things stand, the company should have in operation a total 700 ktpa-725 ktpa of spodumene capacity by the start of FY23, together with the additional demand-contingent capacity of 500 ktpa.
The company's interest in the Wodgina lithium asset offers great potential as it is one of the biggest high-quality lithium deposits in the world.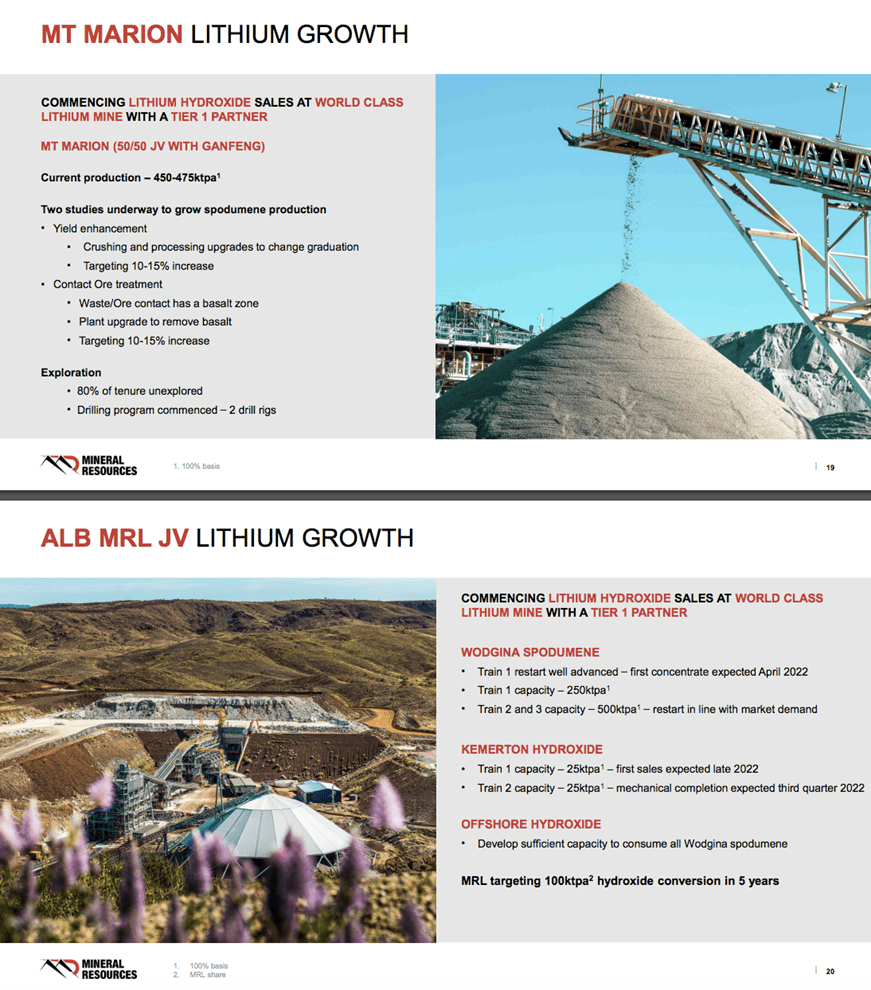 The company's Kemerton lithium hydroxide processing plant (40% stake with the rest belonging to Albemarle) is due to enter full operation by late FY22/early FY23 and will have a nameplate processing capacity of 50 ktpa.
Mineral Resources expects to start first sales of 25 ktpa lithium hydroxide by end of FY22 with mechanical construction of the remaining 25 ktpa completed as of Q3'22.
The remaining 25ktpa will be brought online based on demand. Overall, the company is targeting 100 ktpa of lithium hydroxide capacity by 2027.
Lithium Hydroxide is a game-changer for Mineral Resources shares (ASX:MIN) as it dramatically increases its pricing power and enjoys far higher margins than the rather commoditized spodumene ore.
Lithium Hydroxide offers these benefits because it is one step lower in the battery supply chain and goes into batteries directly without any major processing/treatment required.
At full capacity, the company will produce about 1.3M tonnes of spodumene, putting it among some of Australia's largest spodumene producers.
In 1H'22, Mineral Resources shares (ASX:MIN) an operating margin of 43% on lithium production, owing to elevated prices.
This has serious scope for improvement given the addition of lithium hydroxide to the product mix, which has a far higher margin as mentioned above; further, the company will enjoy economies of scale from the nearly 2X spodumene ore production planned by next year.
Chinese Influence on Lithium Market Remains A Threat
However, Mineral Resources and both the iron ore/lithium industries are highly sensitive to the state of the Chinese economy due to that country's disproportionate influence over commodities prices.
The risk is even more pronounced in the case of Mineral Resources as China is a crucial piece of the puzzle in both its crucial markets – in the case of ore, China is the largest consumer of steel in the world, while lithium finds application in China's world-dominating battery production supply chain, alongside other inputs like copper and nickel.
The correction in iron ore prices in 2021 is proof of this risk as China's blue skies policy, real estate bust, and the revival of COVID single-handedly dampened a burgeoning iron ore market.
The threat is exacerbated by the recent deterioration in Australia's relations with China.
Notably, the company's JV partners in the Mt. Marion lithium operations are Chinese.
However, things are looking up with major economies like the US and India forming substantial trade deals with Australia for key commodities including lithium, copper, nickel, and rare earth.
In 1H'22, the company ended its streak of regularly improving on its financial performance.
The company reported revenue of A$1.354 billion (down 12% YoY).
In a big change, most of the company's revenue came from its mining services division, which was up 34% YoY, followed by commodities production, which was down 23% YoY.
The EBITDA for the period was A$156 million, down 80% YoY.
The commodities division reported an EBITDA loss of A$43 million (down 108% YoY), owing to depressed iron prices and locked-in sales despite record iron production along with stellar performance from the lithium division, while the mining services clocked EBITDA of A$281 million (up 20% YoY).
Lithium contributed A$143 million to revenue, up 207% YoY), and A$67 million to EBITDA, compared to zero EBITDA YoY due to well-executed production and a favorable price/demand environment.
In 1H'22, the company spent A$203 million on growth CAPEX and A$200 million on sustenance.
The company has planned extensive CAPEX of A$750 million during the rest of the financial year, comprising A$227 million for growth and A$120 million for sustenance.
Mineral Resources shares (ASX:MIN) generated an underwhelming negative A$12 million in operating cash flow (down 123% YoY) and a net loss of A$36 million (down 108% YoY) in the first half.
The company projects mining services revenue growth of 10%-15% in FY23.
The company has cash of A$0.8 billion, at the time of last reporting and net assets of A$2.93 billion.
Due to Mineral Resources' integrated nature, a like-for-like comparison is not available.
Hence, we compare Mineral Resources shares to NRW Holdings (ASX: NWH), one of Australia's largest mining contractors, and BHP (ASX: BHP), one of the world's biggest iron ore producers with an intense focus on furthering its position in clean energy metals such as nickel.
Lastly, we compare Mineral Resources to Pilbara Minerals (ASX: PLS), one of Australia's largest spodumene producers with FY21 production of a little over 330k tonnes and 1H'22 production of 169.2k tonnes, another big winner of the lithium rally.
| Metric | Basis | Mineral Resources | NRW Holdings | BHP | Pilbara Minerals |
| --- | --- | --- | --- | --- | --- |
| P/E Ratio | TTM | 14.53 | 13.02 | 12.26 | 107.06 |
| Asset Turnover | TTM | 0.69 | 1.83 | 0.61 | 0.42 |
| Dividend Yield | TTM | 2.95% | 5.17% | 9.28% | – |
| P/Book | TTM | 3.86 | 1.6 | 3.84 | 10.9 |
| Operating Margin | 5YA | 39.42% | 4.91% | 37.94% | -54% 18.35% (TTM) |
| ROE | 5YA | 35.84% | 14.59% | 16.66% | -13.69% 12.1% (TTM) |
Source: Investing.com
As can be seen, at the current MIN share price, Mineral Resources shares are valued in the middle of its mining peers (BHP and Pilbara) in terms of both P/E and P/B.
The company also has the highest asset turnover, which is a very important efficiency ratio in the capital-intensive mining space, among its mining peers, despite a non-operational asset (Wodgina).
The company has a very competitive, and in some cases far better, operating profit margin and ROE over the past 5 years than both mining peers.
At the current MIN share price, Mineral Resources shares (ASX:MIN) is slightly more expensive than mining contractor NRW in terms of P/E, but more expensive in terms of P/B, but that can be explained as it has far greater potential than NRW.
Mineral Resources' business portfolio presents different facets to various investors.
To an investor looking for exposure to clean energy, batteries, EVs, and associated metals, at the current MIN share price, Mineral Resources shares market cap of $11.7 billion is higher than a pure-play rival such as Pilbara ($8.63 billion) but MIN enjoys the advantages of higher spodumene capacity, and an imminent lithium hydroxide operation, together with the solidity from well-established mining businesses.
To an investor looking for an opportunity in the resources space, MIN represents a proven iron ore operation and a robust mining services business with the additional upside from high-tech lithium.
With commodities, particularly metals, now likely to see 2008 highs in the rearview mirror, MIN presents a tempting proposition.