Should you buy South32 Shares (ASX:S32)? Our S32 share price forecast and analysis will look at why South32's move away from coal and exposure to renewable energy means the company is well-positioned for strong growth in the near future.
South32 (ASX:S32) is an Australia-based metals and mining company with operations in South America, South Africa, and Australia.
The company has a product portfolio comprising commodities that are crucial for global decarbonization.
The company is thus well-positioned to take advantage of the shift to renewables that is in play globally.
The company recently announced plans to divest its thermal (energy) coal business to make its stock more attractive from the point of view of ESG investing, one of the fastest-growing investing themes globally.
South32 shares have benefitted handsomely from the commodities rally that followed the pandemic due to big infrastructural spending planned by major economies over the world and accelerated renewables adoption.
The S32 share price has appreciated nearly 34% over the past 12 months and is up 64% from its COVID low.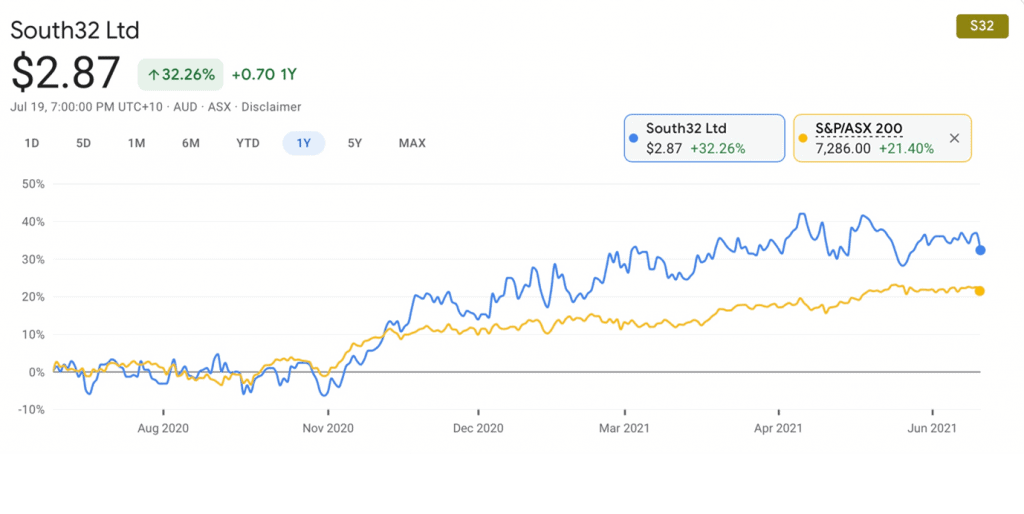 South32 (ASX: S32) is a globally diversified metals and mining conglomerate that was spun off from BHP (ASX:BHP) in 2015.
It operates 11 sites across Mozambique, Brazil, South Africa, Colombia Australia, and the United States.
South32's main products are:
aluminium (24% of revenue)
alumina (22% of revenue)
manganese (13% of revenue)
metallurgical coal (11% of revenue)
zinc-lead-silver (8% of revenue)
nickel (6% of revenue)
energy coal (13% of revenue)
manganese alloy (3% of revenue)
The company is also entering the very attractive copper space through a JV with Ambler Metals in the US which is still in development.
South32 (ASX:S32) is also a well-managed company, as apparent from its cost-competitiveness.
Its aluminium and alumina operations are in the bottom half of the industry operating cost curves and nickel operations are in the second-lowest operating-cost quartile.
Furthermore, the company's manganese and silver-lead-zinc operations are placed in the lowest operating cost quartile in the industry.
South32 (ASX:S32) Well Positioned to Supply Explosive Renewable Energy Growth
South32's biggest strength is that it has a product portfolio that is very relevant in the context of renewable energy, particularly aluminium, nickel, silver, and manganese.
Aluminium has excellent prospects due to increasing EV adoption where it is the material of choice for cars due to its lightness and better strength-to-weight ratio compared to steel.
A light vehicle body is crucial as it increases range and efficiency, both of which are key to the long-term success of EVs.
Furthermore, greater industrial demand is expected for nickel, silver, and manganese as these materials form a crucial part of the supply chains of renewable energy products such as batteries, solar panels, wind turbines, and more.
In fact, BloombergNEF projects a 14x demand increase in aluminium and nickel, 3x in manganese, and 10x in copper due to EV battery demand by 2030, as per this chart.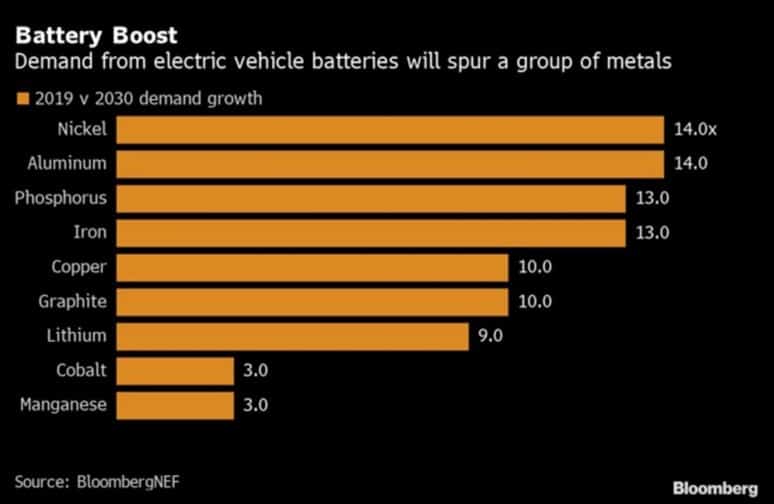 Source: Bloomberg
Meanwhile, in the shorter term, China's own climatic concerns are affecting the global base metals market.
For instance, aluminium prices are up globally as a result of high demand in China and its tightening climate policy which could constrict aluminium supply.
Further, with big infrastructural spending planned by major economies over the next few years, zinc also has good prospects due to its use in the galvanization of steel, a crucial input in infrastructure, auto, and housing.
South32 Divesting From Coal and Developing New High-Quality Assets
In May, South32 shares announced the sale of their South Africa Energy coal assets, to free up resources and make the stock more environmentally friendly to global institutional investors.
The company is also exiting the unexciting manganese alloy business.
These exits will give the company freedom to pursue higher return assets such as copper, zinc-silver-lead, and manganese.
The company is already in the process of developing high-quality assets in Alaska and Arizona.
These sites offer a long asset-life of 30 years and would potentially operate at super-competitive costs, the company says.
According to the company's Investor Presentation of May'21, the company has henceforth committed its exploration expenditure to high-growth commodities like copper, zinc, poly-metallics, and nickel.
Sovereign Risk is a Potential Issue
A weakness of the company is the substantial sovereign risk it faces for its assets in developing nations like Colombia, Mozambique, South Africa, and Brazil.
The company sources 66% of its aluminium from Mozambique, Brazil, and South Africa; all of its nickel from Colombia; and 20% of its manganese from South Africa.
Furthermore, national resources such as aluminium – crucial to decarbonization due to an expected explosion in demand over the next decade – might present governments with a lucrative target too.
A case in point is that of Glencore's Mopani Copper Mine in Zambia, which has been taken over by the government after conflict with the management over a temporary shutdown of its mines in the northern Copperbelt Province.
South32 (ASX:S32), therefore, run country/sovereign risk and possible risk of nationalisation of its assets.
However, this is a risk that is faced by almost all miners who operate mines overseas.
Potential Opportunity in Nickel and Copper
South32 has a potentially lucrative opportunity ahead due to global decarbonization.
As mentioned above, EV and renewable energy demand will spur a modern-day gold rush for materials like nickel, manganese, aluminium, and copper.
"A typical electric car requires six times the mineral inputs of a conventional car and an onshore wind plant requires nine times more mineral resources than a gas-fired plant," according to the International Energy Agency's (IEA) report The Role of Critical Minerals in Clean Energy Transitions, as quoted in a World Economic Forum article.
The increasing demand will be accompanied by a surge in prices that would create tremendous operating leverage for South32.
Note that its operational history shows excellent operating-cost competitiveness.
According to the May'21 Investor Presentation, the company has options to develop 11 copper/nickel sites across the world.
Meanwhile, the company has a robust balance sheet and is well-placed to benefit from this potential demand boom.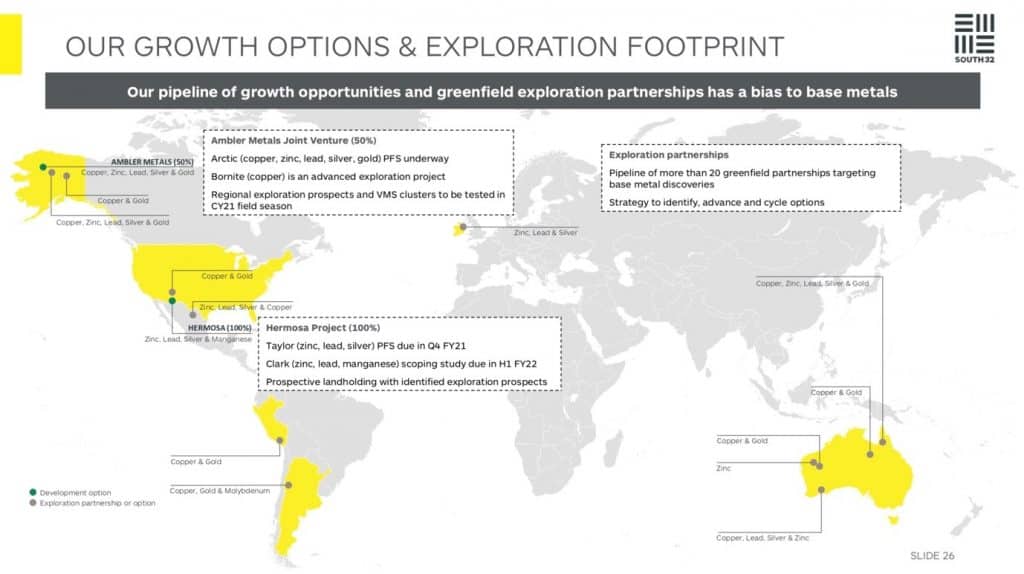 Source: South32 1HFY21 Presentation
Meanwhile, the cost to South32 of making its own operations emission-free is now substantially reduced because renewable energy, in many cases, is approaching price parity.
"[For mining companies] operationally it is now much cheaper to replace fossil fuels with renewables and, in many cases, attain significant economic benefits," says Deloitte.
Weakening USD poses threat to South32 (ASX:S32) Earnings
South32 shares face a long-term threat from a weakening US dollar.
Though South32's reporting and functional currency is the USD, operating costs are incurred in the local currencies of the site jurisdictions.
Due to COVID stimulus and inflation concerns, the USD has weakened significantly over the past year and there is the possibility of a long-term devaluation due to the US' deficit financing, deteriorating trade balances, and higher inflation.
This could have implications for the company's financial performance.
According to the 1HFY21 Presentation, a 10% strengthening of the AUD, South African Rand, Colombian Peso, and Brazilian Real against the USD leads to a -$180m, -$117m, -$19m, and -$8m reduction respectively in EBIT based on current production levels.
Long-term depreciation in the dollar, in the face of expanding production and rising forex exposure, could lead to a double whammy for the company.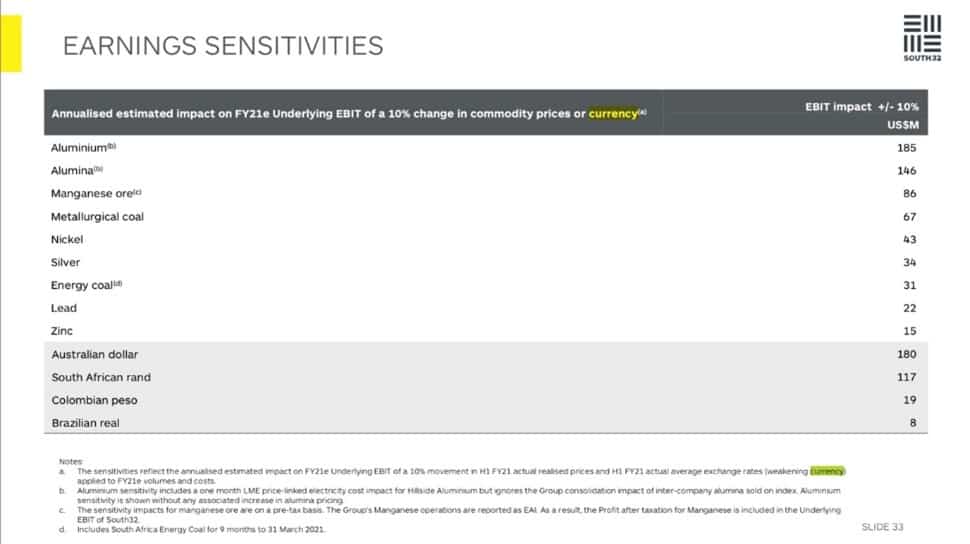 Source: South32 1HFY21 Presentation
Financials Recovering From COVID, Buyback Inspires Confidence
In 1HFY21, the company reported revenues of $3.246 billion, EBITDA of $633 million (operating margin of 23%), and net profit of $53 million.
In the March quarter, South32 shares reported record YTD production of Brazil alumina and Australian manganese operations and a 17% YoY increase in metallurgical coal production.
The company also raised silver and lead production at Cannington by 10%.
Net cash at the end of the March quarter was up 84.9% to $517 million.
The company recently announced the sale of its South Africa thermal coal assets to Seriti Resources. The company expects the loss on sale to be between $175 million and $125 million.
However, the deal freed up $875 million of asset closure provisions for the company and released capital for investment in assets with higher potential such as nickel, copper, and aluminium.
The deal has reduced South32's workforce by a third and lowered Capex by 24%; moreover, the lower operating costs will increase margins by 9% to 32%.
For South32 (ASX:S32), Goldman Sachs is projecting improved financial performance over the next couple of years due to higher margins, lower Capex, and higher production.
Furthermore, over the past few years, the company has purchased 10% of its outstanding shares through buybacks and recently increased its share buyback program by $200 million to $1.8 billion.
The company has board approval in place to buy $316 million of stock by September. Stock buybacks are a good sign for investors, showing the management's confidence in future performance.
Valuation is Cheap with High Growth Prospects
We will compare South32 shares to Anglo-American and BHP, both of which are globally diversified mining and metals majors.
| | | | |
| --- | --- | --- | --- |
| Metric | South32 | Anglo-American | BHP |
| Price/Book | 1.11 | 2.1 | 3.98 |
| Price/Sales | 1.78 | 1.76 | 3.87 |
| Price/Cash Flow | 29.8 | 54.02 | 150.65 |
As can be seen, at the current S32 share price, South32 shares are significantly cheaper than its peers in terms of Price/Book and Price/Cash Flow.
In terms of Price/Sales, South32 is more or less the same compared to Anglo-American, but much cheaper than BHP.
Furthermore, Anglo-American's product profile is not as exposed to global decarbonization as South32 and thus does not have the same growth prospects.
On a price ratio basis, at the current S32 share price, South32 shares look much more attractive than BHP shares.
South32 is Well-Positioned to Benefit from the Global Climatic Shift
South32 shares (ASX:S32) are well placed to benefit from a shift to renewable energy/transport and are available at an attractive valuation considering its prospects in a global transition to clean energy and focus on climate targets.
It is a well-run, cost-competitive, and cash-rich company with an ongoing buyback program.
However, investors should consider the company's exposure to sovereign and currency risks, and the possibility of global growth being knocked back due to a resurgent virus.
Despite the risks, the S32 share price has a lot of upside potential and their future looks exciting with the company positioned to take advantage of the biggest shift in energy policy in our lifetimes.