The three ASX indices (200, 300, and All Ordinaries) closed last week lower by 0.08%, 0.09%, and 0.05% respectively.
The Australian stock market was generally flat to negative for the better part of the week and unimpressed by the gains on Wall Street following jobs data, the passage of a $US1 trillion ($1.34 trillion) infrastructure bill, and an encouraging environment surrounding earnings.
By Wednesday, the S&P 500 and the Nasdaq had clocked consecutive eight record closing highs.
However, inflation readings out of the US and China took away some of that gloss and global markets were subdued.
The ASX took a double blow and reacted adversely to the Australian employment data released on Thursday, with the indices losing in the range of 1%.
Friday was, however, quite another story and the ASX snapped back into the green after favourable news emerged on the Evergrande front and iron ore prices corrected higher.
ASX Stocks Last Week
The mining sector put up a much better show last week amidst a rebound in iron ore prices after Evergrande managed to stave off default yet again.
BHP (ASX:BHP) was up 3.89% and Rio Tinto (ASX:RIO) was in the green by 2.21%.
On the other hand, South32 (ASX:S32) gave up 0.84%.
However, Fortescue (ASX:FMG) was a standout gainer and rose 10.14%.
News broke that the company's FFI unit had entered a deal with US-based Universal Hydrogen for the supply of green hydrogen to the aviation industry until 2035.
BHP jettisoned its 80% holding in BHP Mitsui Coal, a Queensland metallurgical coal JV, for up to A$1.8 billion to Stanmore Resources (ASX:SMR).
Stanmore slumped nearly 7% after initially spiking. BHP said it was focusing on higher-quality met coal for higher efficiencies and lower emissions at steelmakers.
Analysts at RBC expect BHP to distribute proceeds from the divestment among shareholders via special dividends on completion in mid-2022.
Chalice Mining (ASX:CHN) soared nearly 35% after the miner announced a massive nickel sulphide and platinum-group elements resource estimate for its Julimar Project in Western Australia.
According to estimates, this could emerge as a landmark, world-class "green metals" project.
Chinese-owned, Australian uranium miner Greenland Minerals (ASX:GGG) collapsed nearly 30% after the Greenland parliament passed legislation to ban uranium mining and stop the development of the company's mine.
Gold mining stocks glittered, boosted by bullish prices of the yellow metal.
Spot gold was $40 higher on the week and breached key resistance levels of $1,835 and $1,850 an ounce after runaway US inflation data.
Northern Star Resources (ASX:NST) gained 6.10%, Evolution Mining (ASX:EVN) shot up 8.27%, St Barbara (ASX:SBM) was higher by 9.90% and Gold Road (ASX:GOR) rocketed 13.75%.
However, Newcrest Mining (ASX:NCM) was off-colour, closing lower by 1.29%.
The gold major announced on Nov. 9 that it had reached an agreement to acquire Canadian gold miner Pretium Resources Inc (NYSE: PVG) in a deal worth $3.84 billion.
Pretium's prime asset, the Brucejack gold mine in northwestern British Columbia, will boost Newcrest's annual gold production to above two million ounces.
Energy stocks ruled weak despite a bump in crude oil prices on the last day of the week.
Santos (ASX:STO), Woodside Petroleum (ASX:WPL), were down by 0.43% and 2.41% respectively.
However, Oil Search (ASX:OSH) gained over 2%.
Yancoal (ASX:YAL) fell over 1%, and Whitehaven Coal (ASX:WHC) gave up 0.40%, continuing their sell-off from the previous week.
The healthcare sector had a forgettable week, too.
Sonic Healthcare (ASX:SHL) and Fisher & Paykel (ASX:FPH) were down 6.10% and 4.31% respectively, while Resmed CDI (ASX:RMD) lost 1.27%, and CSL Limited (ASX:CSL) fell 1.89%.
Ramsay Health Care (ASX:RHC) slumped 7.18% after investors took a dim view of its quarterly result that showed unaudited net profit plunged nearly 40% to A$58.1 million.
RHC assigned the reason for the decline to COVID-related disruption.
The saga on the takeover of pharmacy group API (ASX:API) came to an end, with Wesfarmers (ASX:WES) emerging as the winning suitor after Sigma (ASX:SIG) withdrew its offer.
However, all the three actors were worse off for the week.
The Sigma stock closed over 8% lower, WES was down 1.87%, and API was off 0.66%.
The Sydney Airport (ASX:SYD) deal finally closed with the Sydney Aviation Alliance walking away with the prize.
The Alliance comprises Australian investors IFM Investors, QSuper and AustralianSuper and US-based Global Infrastructure Partners.
The A$24 billion buyout deal will, however, need to be cleared by shareholders, the competition watchdog, and the FIRB.
Though Sydney Airport closed a shade lower by 0.83%, other travel stocks were a mixed picture. Flight Centre (ASX:FLT) was (+0.24%), Webjet (ASX:WEB) (-1.71%) and Qantas (ASX:QAN) (-0.88%).
Banks were mixed except for a notable move in NAB.
Commonwealth Bank (ASX:CBA) lost 1.71% and Westpac (ASX:WBC) declined a minor 0.09%.
However, ANZ Banking (ASX:ANZ) rose 0.46%, while National Australia Bank (ASX:NAB) shot up 3.71%.
NAB posted a bumper annual profit of over A$6 billion after COVID-related loan writebacks.
While cash profits jumped 75% to A$6.56 billion, the net profit of the bank surged 149% to A$6.36 billion.
Significantly, however, interest margins fell 6 bps because of low-interest rates, which reduced income from lending, and triggered a shift towards fixed-rate loans.
Technology stocks were a mixed picture this week too.
Though NextDC (ASX:NXT) lost 1.85%, Computershare (ASX:CPU) gained 3.41%.
However, Wisetech (ASX:WTC) was lower by 1.85%, and so was computer hardware distributor Dicker Data (ASX:DDR) which corrected lower by a solid 8.03%.
Xero (ASX:XRO) continued its losing streak and lost over 7% last week after its half-yearly before-tax earnings declined and it announced a $25.9 million acquisition of US group Locate Inventory.
BNPL fintech companies Zip Co Ltd (ASX:Z1P) and Afterpay (ASX:APT) plunged 4.68% and 0.52% respectively.
Real estate was in full-on correction mode.
Scentre Group (ASX:SCG) and Stockland (ASX:SGP) fell 0.97% and over 7% respectively.
Real estate advertiser REA Group (ASX:REA) fell 2.43%, property giant Goodman Group (ASX:GMG) was down over 1%, Lendlease (ASX:LLC) corrected massively closing nearly 7% lower, and property manager Charter Hall (ASX:CHC) plunged over 2%.
Sports betting company Pointsbet Holdings (ASX:PBH) shot up over 5% following a note from Goldman Sachs that assigned a buy rating and a price target of A$12.79 to the stock after the company received one of nine mobile sports betting licenses in New York.
Media company Nine Entertainment (ASX:NEC) surged more than 5% after the company upped the earnings guidance for its publishing business from $30-40 million to $40-45 million after the advertising market reclaimed pre-COVID levels.
This week in ASX Stocks
Corporate reports and events
Upcoming Listings between 15 – 19 November
November 16, 2021
Evolution Energy Minerals (ASX:EV1) will list ordinary fully paid shares of A$0.20 each from its issue of A$22 million for mining exploration of sustainable graphite products for the global green economy.
Chilalo Graphite Project asset in Tanzania has been spun off by Marvel Gold Ltd (ASX:MVL) into Evolution, and ARCH Sustainable Resources Fund has cornerstoned the A$22 million IPO with an A$8 million subscription.
Kalgoorlie Gold Mining (ASX:KAL) which is engaged in the discovery and development of gold resources in the Eastern Goldfields of Western Australia, will list A$0.20 shares from its issue of $1,72,000.
On the same day, Lycaon Resources Limited (ASX:LYN) will list shares of A$0.20 each from its $5 million issue.
It is an exploration company targeting high-grade PGE-Ni-Cu-Co-Au deposits in Western Australia.
My Rewards International Ltd (ASX:MRI) will list fully paid shares of A$0.20 each from its $7 million issue.
The company is a provider of employee and consumer rewards, loyalty, and engagement programs for businesses of all sizes.
November 18, 2021
Parabellum Resources Limited (ASX:PBL) will list shares of A$0.20 each from its issue of A$5 million for exploration of copper and other base metal minerals reserves in NSW, Australia.
Tissue Repair (ASX:TRP) is a clinical-stage biopharmaceutical company developing an advanced wound healing technology targeting applications in the chronic wound and cosmetic procedure markets.
It will list ordinary fully paid shares of A$ 1.15 each from its A$22 million issue.
November 19, 2021
Cadence Opportunities Fund Limited (ASX:CDO), an investment company, will list shares from its successful IPO.
The issue price was A$2.7716.
The company provides exposure to an actively managed long/short portfolio, with a long bias, of Australian and international securities.
Cooper Metals (ASX:CPM) is a new Australian-based mineral exploration company focused on the discovery of copper and gold.
Cooper Metals plans to list on the ASX with three highly prospective Projects and a modest capital structure making the Company and its shareholders strongly leveraged to exploration success.
Ventia Services Group Limited (ASX:VNT) is one of the largest essential services providers in Australia and New Zealand.
Ventia was created in 2015 following the merger of Leighton Contractors Services division, Thiess Services, and Visionstream.
In 2020, Ventia acquired Broadspectrum (formerly Transfield Services).
It will issue ordinary fully paid shares of A$2.75 each from its A$300 million issues.
Economic News And Market Outlook
The unemployment rate in Australia rose 0.6 per cent from 4.6 per cent in September to 5.2 per cent in October, whereas the consensus was 4.8%.
The Bureau of Statistics said 46,000 jobs were lost over the month, compared to analysts' expectations of an increase in jobs by 50,000.
In the US, producer prices jumped 0.6% for October and 8.6% year-on-year.
The core component of the PPI, which excludes food and energy, shot up 0.4% and 6.2% year-on-year.
Prices were driven higher by gas costs and motor vehicle prices.
The inflation gauge showed how prices are being affected by supply chain pressures, shortages such as semiconductor chips, and an energy crunch.
The PPI data was followed by data that showed the US consumer price index in October vaulted 6.2% year on year, recording the largest gain since December 1990, led by hikes in costs of energy, food, housing, and vehicles.
Even inflation in China is a cause for concern.
The country's PPI climbed 13.5% year on year, eclipsing the 10.7% rise seen in September, and the fastest pace since July 1995.
The surge was primarily driven by an energy crunch that drove coal prices higher.
Considering the above data prints, markets are increasingly worried whether inflation is indeed "transitory," as claimed by the Fed.
In the coming week, China will release data on Industrial Production for October on Monday.
US retail sales and minutes of the Reserve Bank of Australia's last policy meeting will release on Tuesday.
On Wednesday, data will release on US building permits during October and crude oil inventories.
The Philadelphia Fed Mfg Index for November will release on Thursday.
Forex Outlook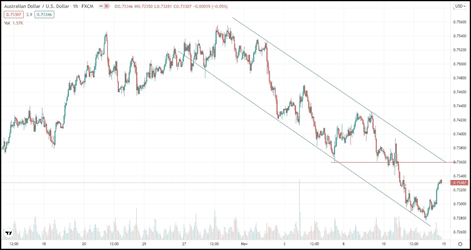 AUD/USD ended the week at 0.73307, well below last week's close of 0.73895, and traded negatively for most of the week, trapped inside a declining channel.
The factors responsible were the US inflation data and the Australian jobs report.
The inflation data spurred Treasury yields and the Aussie jobs data sparked weakness in the local currency.
Meanwhile, a meaningful reversal in iron ore prices appears to be out of reach, barring sporadic corrections.
The RBA is still betting on economic recovery as the country reopens, though that narrative could be under pressure given challenges such as high energy prices, a shortage of materials due to supply chain, and scarcity of skilled labour in many sectors, particularly construction.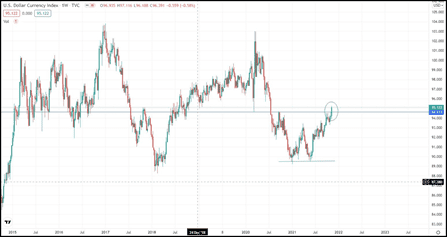 Meanwhile, the Dollar index appears to have put in a July double bottom at the 89.50 level and rebounded therefrom, taking out the resistance at 94.50.
It appears bound for higher levels, and this could be bearish for the AUD/USD.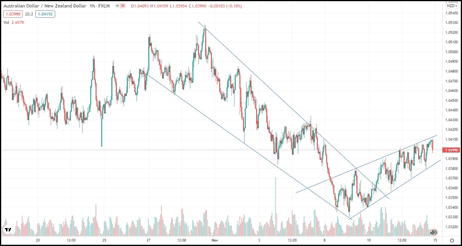 The AUD/NZD closed the week at 1.03990 marginally higher versus its previous close of 1.03866.
The pair bounced off the 1.0330 level in what appears to be a correction from an oversold zone after the decisive decline from 1.05280.
Technically, the upward move appears to be a bear rally, and AUDNZD may soon revert to its downward trend for a retest of the previous low of 1.02800.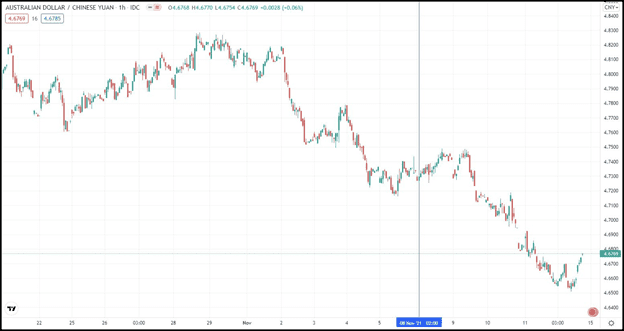 AUD/CNY closed the week at 4.6769, well below the previous week's close of 4.7357.
As projected last week, AUD/CNY duly plumbed a bottom of 4.6500 and rebounded thereafter.
The rectangle channel on the daily channel appears to be holding, and we now see a corrective rally that may extend to 4.8250 in the coming months.