After starting off on a positive note, and apparently shrugging off the decades-high inflation figures emanating from the US, the ASX received a reality check during the rest of the week.
After a brief respite from a month-long sell-off, the Australian markets resumed their downward journey last week.
The US Fed clarified plans for tapering and made clear that interest rate hikes would likely come in 2022. Omicron's transmissibility, now in full view, and the BoE's rate hike added to investors' pessimism, particularly on tech shares on the Nasdaq.
Australian shares fell on Thursday and spiked up slightly on Friday to end the week marginally in the red.
The ASX200, ASX300, and the Ordinaries ended the week down 0.67%, 0.69%, and 0.54%, respectively.
Last Week in Stocks
The ASX Energy Sector (XEJ) ended the week down 1.59%. The much-talked-about Santos (ASX: STO) and Oil Search (ASX: OSH) merger concluded this week following which Santos closed 1.83% down. Energy exploration and production companies other than Santos and Woodside Petroleum (ASX: WPL) flourished with Beach Energy (ASX: BPT), and Origin Energy (ASX: ORG), ending the week up 4.96%, and 2%, respectively. Fuel Retailers had a tough week with Ampol (ASX: ALD) closing the week down 1.77%. The coal sector finally turned green this week with Whitehaven Coal (ASX: WHC) and YanCoal (ASX: YAL) ending the week up 3.7% and 2.8%, respectively.
The ASX Material Sector (ASX: XMJ) closed the week up by 1%. The sector is dominated by heavyweights such as BHP (ASX: BHP), Fortescue Metals (ASX: FMG), and Rio Tinto (ASX: RIO) which ended the week higher 0.43%, 4.4%, and 1.03% respectively. Cleantech miners Pilbara Minerals (ASX: PLS), Mineral Resources (ASX: MIN), Vulcan Energy (ASX: VUL), and Syrah Resources (ASX: SYR) ended up 6.59%, 4.12%, 4.1%, and 3.2%, respectively.
Aluminum producers also had a good week with Alumina (ASX: AWC) and South32 (ASX: S32) ending up 1.38% and 0.78%.
Mineral Resources agreed with gold miners Pantoro Ltd (ASX: PNR) and Tulla Resources PLC (ASX: TUL) to explore and develop lithium deposits in a joint venture.
The ASX Industrials Sector (ASX: XNJ) ended the week down 0.5% with stocks like Qantas (ASX: QAN), Sydney Airport (ASX: SYD), Qube Holdings (ASX: QUB), and Transurban Group (ASX: TCL) closing lower by 4.97%, 0.35%, 5.11%, and 1.6%, respectively. Manufacturing centric companies fared better with companies like Downer EDI (ASX: DOW), Seven Group Holdings (ASX: SVW), Brambles Ltd. (ASX: BXB), and CIMC Group (ASX: CIM) ending the week up 0.85%, 1.76%, 0.47%, and 1.27%. 
The ASX Consumer Staples Index (ASX: XSJ) had a brutal week with a loss of 3.45%. Heavyweights Wesfarmers (ASX: WES), Woolworths (ASX: WOW), and Coles (ASX: COL) ended the week down 2.96%, 7.70%, and 2.35%, respectively. Dairy producers and ancillaries suffered the same fate with A2m Milk (ASX: A2M), Blackmores (ASX: BKL) and Bega Cheese (ASX: BGA) ended the week lower by 3.19%, 2.25%, and 1.06%, respectively. Food Producers GrainCorp (ASX: GCA) and Costa Group (ASX: CGC) were standouts with a 3.1% and 6.64% gain for the week.
Investors gave Woolworths a huge thumbs down after the retailer issued a profit warning due to COVID and bad weather. It said more shoppers had resorted to shopping online, which was less profitable than in-store sales, which declined. That led to a decline in Coles, which investors feared would also face similar problems.
ASX Consumer Discretionary (ASX: XCJ) similarly underwent a 3.1% drawdown. The biggest names in the sector like Tabcorp Holdings (ASX: TAB), Aristocrat Leisure (ASX: ALL), and Dominos Pizza (ASX: DMP) ended the week down 3.75%, 4.98%, and 5.12%, respectively.
The travel and leisure industry sectors were down with travel services companies and hospitality companies ending the week in the red. Corporate Travel Management (ASX: CTM) gave up over 9% for the week after it announced its acquisition of Helloworld Corporate, the corporate and entertainment travel business of Helloworld Travel, for $124.9 million (A$175 million). Qantas (ASX: QAN) fell 4.97% after it flagged lockdowns drove a first-half loss of over $1.1 billion.
Crown Resorts (ASX: CWN) was off nearly 3% despite the company's announcement that it would offer gambling at a new casino resort in 2022 that previously had its licence suspended by the ILGA based on alleged dealings with organized crime.
ASX Utilities Sector (ASX: XUJ) ended the week up 1.3%. Major constituents AGL Energy (ASX: AGL) and APA Group (ASX: APA) ended the week up 0.17% and 1.65% while Ausnet Services (ASX: AST) ended the week flat.
ASX Financials (ASX: XFJ) closed the week almost flat. Mimicking the index, the big banks closed the week mildly inching into green territory with Commonwealth Bank (ASX: CBA), National Australia Bank (ASX: NAB), Australia New Zealand Bank (ASX: ANZ), and Westpac (ASX: WBC) ending the week up 0.83%, 0.45%, 0.11%, and 0.43% while smaller banks like Bank of Queensland (ASX: BOQ) and Bendigo Adelaide Bank (ASX: BEN) closed the week up 0.5% and down 0.23%, respectively. Major wealth managers such as Perpetual (ASX: PPT), and Magellan Financial (ASX: MFG) closed up 0.084% and 0.89% while Pendal Group (ASX: PDL) and Platinum Asset Management (ASX: PTM) closed down 2.97% and 4.4%. Netwealth Group (ASX: NWL) was a stand-out gainer, up 8.9%. Magellan gained despite "the termination of a material contract," widely believed in market circles to be with St James's Place, one of the largest wealth managers in the United Kingdom.
However, EML Payments (ASX: EML) plunged nearly 11% after news broke that some shareholders have organized a class action against the company because allegedly, an Irish subsidiary of EML, PFS Card Services Ireland Limited (PFS), "made misleading representations regarding their corporate governance and regulatory compliance."
Insurers such as Genworth Mortgage Insurance (ASX: GMA), QBE Insurance (ASX: QBE), and Insurance Australia Group (ASX: IAG) closed down 2.88%, 2.05%, and 4.79%, respectively while major health insurer Medibank (ASX: MPL) closed flat.
The ASX Healthcare Sector (ASX: XHJ) fell off a cliff with a 9.3% drawdown for the week amid hectic M&A newsflow. Major equipment manufacturers such as Cochlear (ASX: COH), CSL Ltd. (ASX: CSL), ResMed (ASX: RMD), and Sonic Healthcare (ASX: SHL) ended the week down 3.72%, 8.84%, and 3.03% respectively, while Nanosonics (ASX: NAN) went up 11.28%. Healthcare facility operators Healius (ASX: HLS) ended up 3.23% while Ramsay Healthcare (ASX: RHC) ended down 3.82%.
CSL acquired the entire outstanding stake of Switzerland-based Vifor Pharma in a deal worth $11.7 billion (A$16.4 billion) in cash.
Fertility services provider Virtus Health shot up 29.03% after PE firm BGH Capital bid $607 million for the company at $7.10 per share. The EOI from BGH led Virtus to abandon plans to acquire Adora Fertility and three-day hospitals from Healius for $45 million.
Regenerative medicine company Mesoblast (ASX: MSB) plunged 21.04% after Novartis pulled out of the deal announced earlier this year to collaborate on COVID-19 medicine remestemcel-L, citing poor trial data.
Ramsay Health Care agreed to acquire Elysium Healthcare, one of the UK's leading independent mental health care providers, for £775m (A$1.4 billion) from private equity firm BC Partners. Sonic Healthcare is to pay an undisclosed sum for acquiring Texas-based pathology provider ProPath.
The ASX Telecommunications Sector (ASX: XTJ) closed down 2.1% with heavyweights like TPG Telecom (ASX: TPG) down 4.25% and Telstra (ASX: TLS) up 0.74%, respectively. Smaller companies like Chorus (ASX: CNU) ended flat.
The ASX Information Technology Sector (ASX: XIJ) continued in the red territory and closed 4.9% lower for the week. Major players like Xero (ASX: XRO), AfterPay (ASX: APT), CarSales (ASX: CAR), REA Group (ASX: REA), and Zip Co. (ASX: Z1P) closed down by 3.89%, 12.98%, 8.12%, 6.55%, and 16.23%, respectively. Specialized software makers Altium (ASX: ALU) and Computershare (ASX: CPU) ended down 4.31% and 0.81% while data centre operator NextDC (ASX: NXT) and Wisetech Global (ASX: WTC) were standouts gaining 2.08% and 9.79%, respectively.
Afterpay and Zip Co were singled out for punishment by investors after US regulator CFPB ordered the companies to submit data on their compliance with consumer laws, data harvesting and the debt their BNPL customers were assuming.
The ASX Real Estate Sector (ASX: XRE) ended the week nearly flat after a sharp run-up early in the week followed by a correction with most real estate operators being between the positive and negative half-a-per cent range. Construction materials companies ADBRI (ASX: ABC) closed down 1.75% while Brickworks (ASX: BKW) closed up 3.08%. Property manager Charter Hall (ASX: CHC) shot up 7.51% after it raised its full-year earnings forecast because valuations
of its properties revealed an increase of $3.5 billion.
This Week In Stocks
There are no upcoming meaningful earnings reports as we are currently a while from earnings season.
New Listings
BirdDog Technology (ASX: BDT) is an audio-visual software developer that aims to list shares priced at A$0.65 from its raise of A$33 million. The company will make its market debut on Monday.
Chemex Materials Ltd. (ASX: CMX) is a developer of clean energy commodity assets. The company aims to list shares priced at A$0.20 from its raise of A$8 million. The company lists on Monday.
Rubix Resources (ASX: RB6) is a minerals/metals exploration and development company focused on zinc, gold, nickel, and copper in Western Australia and Queensland region. On Tuesday, the company aims to list shares priced at A$0.20 from its issue of A$4.5 million.
DMC Mining (ASX: DMC) is a developer of nickel, gold, and gold assets in the Western Australia region. On Wednesday, the company aims to list shares priced at A$0.20 from its raise of A$5 million.
Attura Limited (ASX: ATA) is an IT Services company that aims to raise A$24.8 million from shares priced at A$0.50. The company has an annual revenue of A$125 million and has grown at a CAGR of 23% over 3 years. The company will list on Wednesday.
Falcon Metals (ASX: FAL) is an Australian mineral exploration company focused on gold that aimed to raise A$30 million from shares priced at A$0.50. The company makes its market debut on Wednesday.
GreenTech Metals Ltd. (ASX: GRE) as the name suggests, is a mineral exploration company focused on green energy minerals. It aims to list shares priced at A$0.20 from its raise of A$5 million on Wednesday.
Infinity Mining Limited (ASX: IMI) is a diversified mineral exploration and development country. The company sought to raise A$10 million from shares priced at $0.20 and lists on Wednesday.
Economic and Market Outlook
Last week witnessed a host of economic activities. For starters, the US reported its core retail sales, Fed Interest Rate Decision, and Crude Oil Inventories while the EU and the UK held interest rate decision meetings. Europe also reported core CPI.
On the Retail Sales front, the US lagged consensus and reported strong figures from an economic standpoint nonetheless with YoY growth of 18.2% while the Fed announced accelerated tapering and plans to hike rates thrice next year. Building permits growth was up 11.8% YoY while jobless claims grew very modestly to 206,000 from 184,000.
In Europe, CPI was reported at 5.2%, up from 4.4% a month earlier while interest rates will remain unchanged and bond-buying will be reduced, however, further stimulus if required was announced. The BOE, on the other hand, surprised markets with a rate hike to 0.25% from 0.1% after a sweeping 8-1 vote in favour of the hike.
Over the past week, Australia reported employment growth of 0.6% driven by lower pandemic restrictions while New Zealand reported a 0.3% drop in Q3 GDP, far lower than consensus estimates of 1+%.
On Thursday, Reserve Bank governor Philip Lowe said that subject to economic recovery remaining on course (given Omicron), the RBA would likely commence winding back its QE by May.
Over the next week, the US is scheduled to report Consumer Confidence, Q3 GDP, jobless claims along with existing and new home sales while China is scheduled to report its prime loan rate.
Next week is significant for Australian markets as the mid-year economic and fiscal outlook is due on Monday along with RBA meeting minutes on Tuesday.
The UK is scheduled to report Q3 GDP along with core retail sales on Wednesday and Tuesday, respectively.
Forex Outlook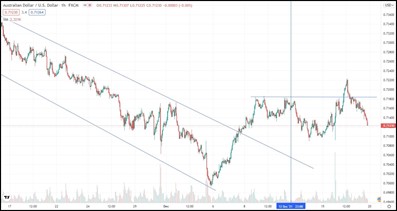 AUD/USD closed the week at 0.71230, well below the previous weekly close, after a break to the upside above 0.72000 met with solid selling.
Pressuring the pair were a host of factors including the Omicron fears, Western nations' diplomatic tensions with China, Russian aggression into Ukraine and EU retaliation, and the implications of a slowing Chinese economy (particularly the construction sector) on Aussie exports.
Though on the daily chart (not shown here) AUD/USD bounced off the sub-0.70000 low with a bullish three-white-soldier pattern, and a pattern of higher-highs and higher-lows is likely hammering out, the larger weekly time frame is still bearish as shown below.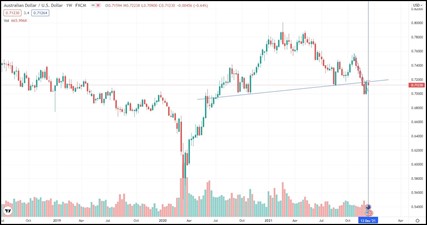 On the weekly chart, AUD/USD is yet to reject the implications of the head-and-shoulders pattern that commenced in July.
After the plunge below the neckline, the pair has rebounded back towards it. This is potentially only a pullback, and may well be followed by another downtrend, but that scenario is to be confirmed by further price action.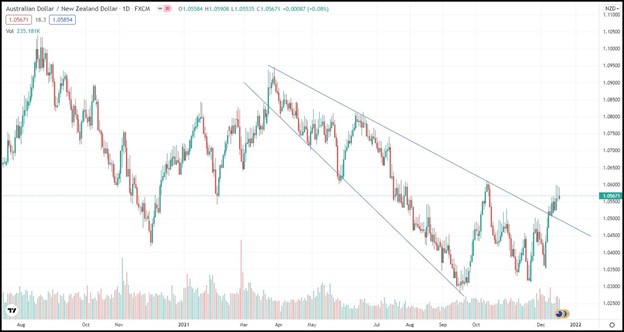 AUD/NZD closed the week at 1.05671, higher than the previous weekly close of 1.05451. AUD/NZD has taken on bullish overtones as seen from the above daily chart considering the breakout from the downward channel and the recent, nascent uptrend.
Perhaps, the bullish Aussie jobs report and soft Kiwi GDP report have conspired to keep a bid on AUD/NZD. New Zealand's gross domestic product (GDP) shrank 3.7% in the third quarter from the previous quarter, the second largest decline on record, as the economy was hit by an outbreak of the Delta variant of COVID-19. Meanwhile, Australia saw a gain of 366,000 jobs for December, beating the 200,000 Bloomberg consensus forecast. That pushed the unemployment rate down to 4.6% from 5.2%.
However, as suggested in the previous report, the confirmation of a sustainable uptrend will finally materialize (after the three failed attempts), by penetrating the 1.06000 level to the upside. In the event of a decisive breakout, AUD/NZD could head for 1.08000.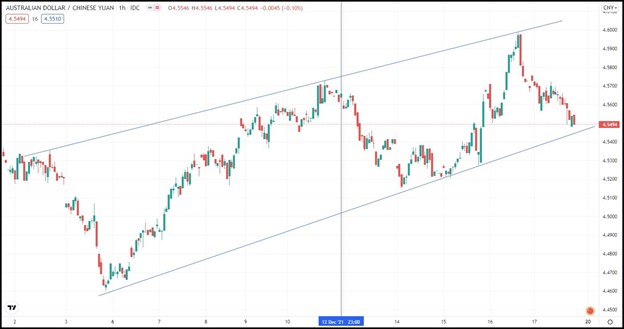 AUD/CNY closed at 4.5494, lower than the previous week's 4.5679, but ensconced inside a rising channel on the hourly chart.
The PBoC last week injected liquidity into the Chinese economy through 500 billion yuan ($78.5 billion) worth of one-year medium-term lending facility (MLF) loans. It also lowered banks' reserve requirement ratio (RRR), thereby freeing up 1.2 trillion yuan worth of long-term funds. It also signalled that it wanted to weaken the yuan. Meanwhile, the Australian economy appears to be gathering steam, with solid job gains.
These factors are likely to keep AUD/CNY well-bid. However, that view will be negated if it falls below 4.5400 and breaks down from the rising channel.