ASX Market Wrap
The Australian markets ended the week with a flourish on the back of robust commodities markets.
The ongoing war in Ukraine and raging inflation, primarily originating from energy, have been the main catalysts for the heavily macro-driven markets of late.
All in all, the ASX200, ASX300, and ASX Ordinaries closed the week up 1.18%, 1.22%, and 1.25%, respectively.

Last Week in ASX Stocks
ASX Materials (ASX:XMJ)
The Materials Sector (ASX: XMJ), was the main driver of the market's strong performance this week.
Hopes of a Chinese stimulus along with progress on its beleaguered real estate market pushed iron ore to a seven-month high while strong demand for cleantech commodities such as lithium spurred a bull run in miners.
The big miners like BHP (ASX: BHP), Rio Tinto (ASX: RIO), and Fortescue Metals (ASX: FMG) closed the week up 4.34%, 0.64%, and 7.5%, respectively.
Aluminum majors such as S32 (ASX: S32) and Alumina (ASX: AWC) closed the week up 3.11% and 1%.
The showstoppers were the lithium and cleantech miners such as Pilbara Minerals (ASX: PLS), Mineral Resources (ASX: MIN), Lynas Rare Earths (ASX: LYC), and Vulcan Energy Resources (ASX: VUL) that closed the week up 4.1%, 7.81%, 4.49%, and 4.11%, respectively.
ASX Energy (ASX:XEJ)
The Energy Sector (ASX: XEJ) had a rather underwhelming week ending lower by 1.27%.
The sector entered the week on a high note as the price spike triggered by the Ukraine war seemed to show no signs of abating.
However, massive U.S. inventory releases and China's COVID problems acted as party-poopers later in the week.
Energy majors Woodside Petroleum (ASX: WPL), Santos (ASX: STO), and Beach Energy (ASX: BPT) closed down 2.86%, 0.38%, and 3.82%, respectively.
Origin Energy (ASX: ORG) closed down 0.31%.
Coal too had a bad week and ended a multi-week winning streak.
Producers such as White Haven (ASX: WHC), New Hope Coal (ASX: NHC), Stanmore Resources (ASX: SMR), and Yan Coal (ASX: YAL) closed down 6.92%, 1.71%, 3.67%, and 3.57%, respectively.
ASX Financials (ASX:XFJ)
The Financials Sector (ASX: XFJ) were rather uneventful but ended up 0.37% as value stocks came into focus.
The banks were mixed with Westpac Banking (ASX: WBC), National Australia Bank (ASX: NAB), and Macquarie Bank (ASX: MQG) ending up 0.34%, 1.66%, and 4.12% while Commonwealth Bank (ASX: CBA) and ANZ (ASX: ANZ) ended down 1.77% and 2.19%.
Insurance was largely in the red except for QBE (ASX: QBE), which ended the week higher by 1.66%.
Wealth management and planner stocks had a good week with Magellan (ASX: MFG), Platinum Asset Managers (ASX: PTM), and GQG Partners (ASX: GQG) ending the week higher by 8.37%, 1.91%, and 0.37%.
ASX Real Estate (SX:XPJ)
Next up, the Real Estate Sector (ASX: XPJ) ended moderately in the green for the week at 0.41%.
The best performers were residential and industrial-focused companies such as Dexus (ASX: DXS), Stockland (ASX: SGP), and Goodman Group (ASX: GMG) which ended moderately in the green at 0.92%, 0.83%, and 0.4%.
On the other hand retail and commercially focused companies such as Vicinity Group (ASX: VCX), Scentre Group (ASX: SCG), and Mirvac Group (ASX: MGR) closed the week down 0.53%, 0.4%, and 0.2%.
The sector has been trending soft ever since it became evident that central banks would have to tackle inflation head-on with interest rate hikes.
This could impact the real estate sector which has significant and leveraged exposure.
ASX Healthcare (ASX:XHJ)
The ASX HealthCare Sector was a slight underperformer to the overall index but still ended the week up 0.70%.
Medical Equipment manufacturers such as Cochlear (ASX: COH), CSL Ltd. (ASX: CSL), Resmed CDI (ASX: RMD), and Nanosonics (ASX: NAN) ended the week in the green at 1.50%, 2.40%, 2.80%, and 0.52%.
Medical service providers such as Ramsay Healthcare (ASX: RHC), Estia Health (ASX: EHE), and Sonic Healthcare (ASX: SHL) were moderately up at 2.1%, 3.56%, and 0.37%, respectively.
ASX Information Technology (ASX:XIJ)
The Information Technology (ASX: XIJ) started on a positive note but felt the heat as the week progressed due to the sector's massive exposure to macroeconomic concerns.
High growth stocks are particularly vulnerable to a hike in interest rates, which should force a downward repricing as and when they come into effect.
The sector waned towards the end of the week as inflation woes continued and war dissolution showed no progress.
Tech heavyweights such as Block (ASX: SQ2), Xero Inc. (ASX: XRO), and Appen (ASX: APX) ended the week down 2.42%, 2%, and 0.58%.
On the other hand, semiconductor-related companies like Altium Ltd. (ASX: ALU) and NextDC (ASX: NXT) ended in the green at 0.26% and 1.29%.
ASX Telecommunications (ASX:XTJ)
The Telecommunications Sectors (ASX: XTJ) was a relative underperformer this week losing 0.42%.
In big news for the sector, Telstra (ASX: TLS) CEO Andrew Penn announced his retirement, while Group CFO Vicki Brady has been appointed his successor.
The stock closed the week up 1.02%.
Other heavyweights like TPG Telecom (ASX: TPG) and Spark (ASX: SPK) closed the week up 5.07% and down 1.4% respectively.
ASX Utilities (ASX:XUJ)
The ASX Utilities Sector (ASX: XUJ) was a decent performer gaining 1.09% for the week.
The sector's good performance can be credited to its defensive nature and ability to painlessly pass inflationary costs on to customers, both qualities being in demand in the current environment.
Heavyweights AGL Energy (ASX: AGL) and APA Group (ASX: APA) closed the week higher by 2.91% and 0.81%, respectively.
ASX Industrials (ASX:XNJ)
The Industrials Sector (ASX: XNJ) closed the week up 0.88% despite the sector being on thin ice with inflation and rate hikes looming, both of which hurt end demand for manufactured goods.
Materials heavyweights ADBRI (ASX: ABC), Boral (ASX: BLD), closed the week down 2.88% and 1.46%, while Brickworks (ASX: BKW) closed up 1.04%.
Machinery and Equipment manufacturers such as Downer EDI (ASX: DOW), Brambles (ASX: BXB), and Reliance Worldwide Corporation (ASX: RWC) ended the week up 0.094%, 1.76%, and 1.67%, respectively.
Infrastructure companies such as Qube Holdings (ASX: QUB) and Transurban (ASX: TCL) closed the week up 0.81% and 1.93%, respectively.
The biggest winner from the sector was battery maker Novonix (ASX: NVX) which rocketed 15.08% as demand for clean energy soared amidst rising energy prices.
ASX Consumer Discretionary (ASX:XDJ)
The Consumer Discretionary Sector (ASX: XDJ) closed the week nearly flat.
Though Star Entertainment Group (ASX: SGR) CEO Matt Bekier resigned following an ongoing money-laundering probe, the stock closed the week up 0.93%.
Other entertainment stocks like Crown Resorts (ASX: CWN) and Nine Entertainment Group (ASX: NEC) closed the week up 1.47% and 0.34%.
Retailer stocks such as Harvey Norman (ASX: HVN), Kogan (ASX: KGN), Dominos (ASX: DMP), and Breville (ASX: BRG) closed the week 2.62%, 2.64%, 3.75%, and 2.48%, respectively.
Travel stocks like Flight Center (ASX: FLT), Qantas (ASX: QAN), and Corporate Travel Management (ASX: CTD) closed the week in the green at 1.67%, 3.14%, and 1.89%.
Webjet (ASX: WEB) closed the week down 0.36%.
ASX Consumer Staples (ASX:XSJ)
Lastly, Consumer Staples (ASX: XSJ) closed the week up about 1%.
Food manufacturers such as GrainCorp (ASX: GNC) and Bega Cheese (ASX: BGA) closed down 0.11% and 0.21% while Tassal Group (ASX: TGR) closed up 1.27%.
Processed food and food product manufacturers like Blackmores (ASX: BKL), a2M Milk (ASX: A2M), and Costa Group (ASX: CGC) were a mixed bag.
Core retailers like Woolworths (ASX: WOW), and Coles (ASX: COL) closed higher by 1.92%, and 0.39%, respectively. However, Wesfarmers (ASX: WES) sulked with a loss of 0.58%.
Next Week in ASX Stocks
Earnings Reports
There are no major Australian companies due to publish earnings next week.
New Listings
Finder Energy Corp (ASX: FDR) is a sea energy exploration company with projects in Australia and the UK.
The company will make its market debut on Friday and aims to raise A$15 million from shares priced at A$0.2.
Lord Resources (ASX: LRD) is a mining exploration company with projects in West Australia that span nickel, copper, lithium, and gold.
The company lists on Thursday and will be raising A$4.5 million from shares priced at $0.20.
Microba Life Sciences (ASX: MAP) is a biotech company that is developing a proprietary gut metric diagnostics system.
The company will be available to trade on Tuesday and will be raising A$30 million from shares prices at A$0.45.
Noble Helium (ASX: NHE) is a helium exploration and production company that is developing helium sites in Tanzania.
The company lists on Friday and will be raising A$10 million at A$0.2/share.
Sarytogan Graphite (ASX: SGA) is a graphite exploration and mining company with assets in Kazakhstan.
The company, which lists on Wednesday, will be raising A$8.5 million from shares priced at $0.20.
Top End Energy (ASX: TEE) is an energy production company that aims to develop oil and gas assets along with associates such as helium and hydrogen.
The company owns projects in Queensland and Northern Australia.
It will be raising A$6.4 million from shares priced at A$0.20 and will list on Monday.
Economic and Market Outlook
Over the past week, the Fed made clear its plans to impose at least a 50 basis points hike in May.
Further, concerns are now brewing about even more aggressive tightening as inflation soars.
Citibank said it expects four more 50 basis point hikes post-May.
Russia appears to be getting more desperate as sanctions continue to hit hard and is aggressively looking for new countries to push energy sales.
Reports state that it is offering oil at $35 below pre-war prices.
Later in the week, the US surprised the world by announcing its highest ever release of crude from the Strategic Emergency Petroleum supplies of 180 million barrels. OPEC+ also said there would be no change beyond the already planned additional production 432,000 bpd slated for May.
China's accelerating COVID woes put a cap on oil prices as the market anticipated lower demand.
Australia reported a month-on-month growth of 1.8% in its February retail sales on Monday.
During the week, the Bank of England issued its maiden regulatory framework on crypto-currency, becoming the first major economy to do so.
On Friday, the US government reported its non-farm payrolls which grew by 431,000, slightly underperforming expectations of 490,000.
The unemployment rate fell to 3.6% from an earlier 3.8%.
On the other hand, the UK reported Q4 GDP growth of 1.4% though the country's manufacturing PMI growth fell to 13-month lows.
The Eurozone reported an all-time high core CPI of 7.5%, giving fresh impetus to inflation concerns.
Next week is significant for Australia as the RBA is due to announce its interest rate decision on Tuesday.
The UK will report Composite and Services PMI on Tuesday, followed by Construction PMI on Wednesday.
BoE Governor Bailey is due for a speech on Monday.
On Wednesday, the US reports Crude Oil Inventory and FOMC meeting minutes.
Lastly, on Thursday, the ECB publishes its Monetary Policy Statement.
Forex Outlook
AUD/USD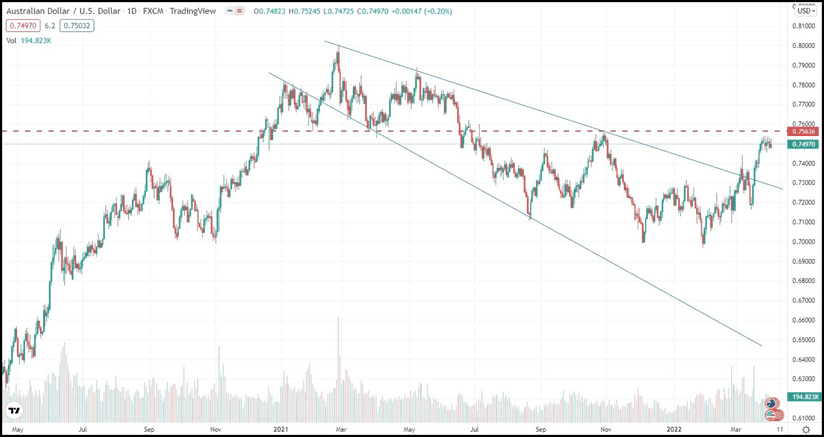 AUD/USD closed the week at 0.74970, a shade below the previous weekly close of 0.75139, and evidently still overwhelmed by the significant resistance line at 0.75636.
This line has, in the past, acted alternatively as important support or resistance level.
What is important is that AUD/USD appears to be consolidating ahead of taking a shy at the line, which augurs well for chances that it will overcome it in the near future.
The RBA Monetary Policy meeting on Tuesday could give more direction to the pair.
Alternatively, any meaningful progress in Ukraine ceasefire talks could also trigger a risk-on environment globally, and push AUD/USD higher.
However, hawkish Fed moves to combat inflation could keep the US dollar well-bid, and put a lid on sharp gains for the Aussie.
On the flip side, the recent yield curve inversion in the US, signalling a potential recession, could temper the Fed's rate hike enthusiasm.
AUD/NZD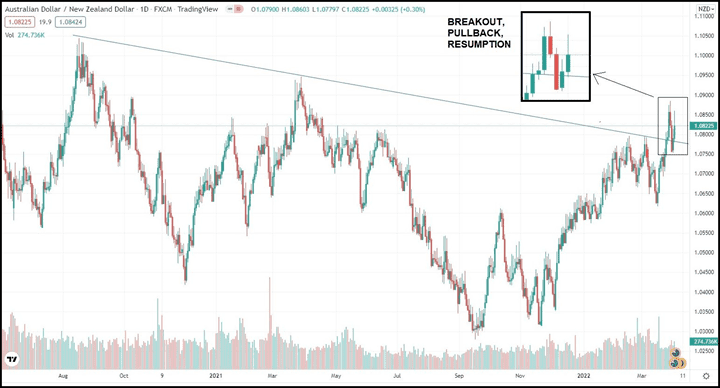 AUD/NZD ended the week at 1.08225, gaining over the previous week's close of 1.07919.
The chart action was classical, with the pair finally breaking sharply above the falling trend line, only to meet with selling for a typical pullback.
However, bulls pounced and reclaimed their advantage, and territory above the trend line (see the zoom box).
This action is a bullish signal for AUD/NZD, which could challenge 1.095 if it moves past 1.08857, the most recent high.
Much the same triggers apply to both currencies – a reopening of the economy, improving terms of trade and potential rate hikes.
However, the Australian economy may benefit more from likely Chinese stimulus measures to restore growth amidst a spike in COVID cases – already iron ore futures in China have rebounded to seven-month highs in anticipation of policy reliefs.
As a result AUD/NZD should see a bullish trend.