The Australian markets continued their downward trajectory in line with global markets with a sharp sell-off earlier in the week and a tentative recovery towards its end.
As in the past few weeks, inflation, and a potential recession triggered by rate hikes continued to worry investors.
The ASX200, ASX300, and ASX Ordinaries closed the week down 1.81%, 1.93%, and 2.14%.

Last Week In ASX Stocks
ASX Materials Sector (ASX: XMJ)
The ASX Materials Index (ASX: XMJ) closed the week sharply lower by 3.89% lower following unrelenting lockdowns in China, inflation, and stagflation risks combining to cloud the outlook for the commodities markets.
Sector heavyweights BHP (ASX:BHP), Rio Tinto (ASX:RIO), Fortescue Metals (ASX:FMG), Mineral Resources (ASX:MIN), and South32 (ASX:S32) ended the week down 1.74%, 2.24%, 5.44%, 1.23%, and 4.66%.
Green tech miners IGO (ASX:IGO), Pilbara Minerals (ASX:PLS), Iluka Resources (ASX:ILU), and Vulcan New Energy (ASX:VUL) closed lower by 11.2%, 6.49%, 7.61%, and 3.92% while Lynas Rare Earths (ASX:LYC) gained 1.41%.
Gold miners Newcrest Mining (ASX:NCM) and Northern Star (ASX:NST) also lost some luster and closed with losses of 6.88% and 8.39%. Uranium miner Paladin Energy (ASX:PDN) plunged 9.52%.
ASX Energy Sector (ASX:XEJ)
The ASX Energy Sector (ASX:XEJ) lost a shade at 1.51% with oil and coal prices providing some support.
However, sector majors Woodside Petroleum (ASX:WPL), Santos (ASX:STO), and Beach Energy (ASX:BPT) closed lower by 3.61%, 1.17%, and 2.10%.
Coal miners Coronado Global (ASX:CRN), Stanmore Resources (ASX:SMR), New Hope Coal (ASX:NHC), and Whitehaven Coal (ASX:WHC) ended down 2.21%, 10.53%, 0.82%, and 1.11% while Yan Coal (ASX:YAL) ended up 0.36%.
Stanmore's performance was probably due to the market's discomfort with its $1.7 billion acquisition of BHP Mitsui met coal assets in the current economic environment.
ASX Industrial Sector (ASX:XNJ)
The ASX Industrial Sector (ASX:XNJ) slid 2.22%.
Industrial materials makers ADBRI (ASX:ABC) and Brickworks (ASX:BKW) fared comparatively better and lost only 0.34% and 1.47% down for the week while Boral (ASX:BLD) ended flat.
Industrial giants Brambles (ASX:BXB) and Reliance Worldwide (ASX:RHC) closed nearly flat while Downer EDI (ASX:DOW) and Amcor (ASX:AMC) ended higher by 1.83% and 1.94%.
Infrastructure majors Transurban Group (ASX:TAH) and Qube Holdings (ASX:QUB) ended lower at 2.11% and 1.93%.
Airlines Qantas (ASX:QAN) and Air New Zealand (ASX:AIZ) closed down 2.13% and 9.93%.
The last-named carrier has been criticized for poor customer service as travelers take to the skies after restrictions wind down.
ASX All Technology Sector (ASX:XTX)
The ASX All Technology Sector (ASX:XTX) continued to be shunned by investors, closing 4.66% lower, driven primarily by the high-risk nature and poor cash flow generation of its constituents, as well as a hardening rate environment.
Though platform companies REA Group (ASX:REA), CarSales.com (ASX:CAR), and RedBubble (ASX:RBL) ended up 2.91%, 2.07%, and 5%, BNPL players Block (ASX:SQ2), Zip Co. (ASX:Z1P), and MoneyMe (ASX:MME) closed lower by 14.08%, 1.49%, and 2.05%.
The Block CDI has been on the downtrend because its fortunes are linked to bitcoin, which has trended sharply lower after rate hikes.
SaaS firms Xero (ASX:XRO) and Nuix (ASX:NXL) ended down 0.41% and 11.06% while Appen (ASX:APX) and WiseTech Global (ASX:WTC) up 3.03% and 2.15%.
Shares in Nuix have lost more than 67% of their value over the past 12 months.
Lastly, hardware makers and service providers Altium (ASX:ALU) and NextDC (ASX:NXT) closed down 10.13% and 1.77%.
Year to date, Altium shares have lost nearly 40% of their value.
ASX Real Estate Sector (ASX:XPJ)
The ASX Real Estate Index (ASX:XPJ) continued its decline and was down 2.55% for the week.
Sector heavyweights Goodman Group (ASX:GMG).
Mirvac Group (ASX:MGR), and Charter Hall Group (ASX:CHC) ended lower by 1.7%, 0.23%, and 3.55% while Vicinity Centres (ASX:VCX) and Scentre Group (ASX:SCG) closed up 0.55% and 2.34%.
ASX Financials Sector (ASX: XFJ)
The ASX Financials Sector (ASX: XFJ) closed down 1.19% though it did rather well compared to the broader market.
Major banks National Australia Bank (ASX:NAB), Commonwealth Bank (ASX:CBA), and Australia New Zealand Bank (ASX:ANZ) closed up 1.1%, 0.13%, and 0.99% while Westpac (ASX:WBC) gained 1.09% after announcing better than expected dividends and projections.
Wealth managers Magellan Financial (ASX:MFG) and AMP Group (ASX:AMP) declined 4.07% and 1.72% while Platinum Asset Management (ASX:PTM) were bid up 2.22%.
Insurers IAG (ASX:IAG), Suncorp (ASX:SUN), and QBE Insurance (ASX:QBE) outperformed at 0.33%, 4.59%, and 1.36% up for the week.
Suncorp was favored by investors after its quarterly update reported robust numbers for its home lending business.
ASX Utilities Sector (ASX: XUJ)
The Utilities Sector (ASX: XUJ) continued its outperformance versus the broad market, falling just 1.49%.
Sector majors APA Group (ASX:APA) closed flat while AGL Energy (ASX:AGL) and Origin Energy (ASX:ORG) ended down 0.47% and 2.85%.
ASX Healthcare Sector (ASX:XHJ)
The ASX Healthcare Sector (ASX:XHJ) was a strong outperformer, gaining 2.59% for the week.
Though healthcare providers Ramsay Healthcare (ASX:RHC) and Fisher and Paykel (ASX:FPH) closed lower by 1.11% and 1.88%, medical Equipment makers CSL Ltd. (ASX:CSL) and Sonic Healthcare (ASX:SHL) ended higher by 2.97% and 1.09%.
Resmed CDI (ASX:RMD) and Cochlear (ASX:COH) closed down 0.93% and 1.60%.
Biotech firms Immugene (ASX:IMU) and Mesoblast (ASX:MSB) closed 2.94% and 0.50% down, respectively.
A standout from the sector was health tech company PolyNovo (ASX:PNV), which ended up 37.57% for the week, likely due to insider buying and short-covering.
ASX Telecom Sector (ASX:XTJ)
The ASX Telecom Sector (ASX:XTJ) was also an outperformer and closed 0.42% in the green.
Individual components were mixed, however: Heavyweights Telstra Corp. (ASX:TLS) and TPG Telecom (ASX:TPG) closed down 1.01% and up 8.66%; Smaller contemporaries Chorus (ASX:CNU) and Uniti Group (ASX:UWL) ended up 0.31% and down 1.01% respectively.
Meanwhile, telecom infrastructure provider Spark (ASX:SPK) was higher by 1.13%.
ASX Consumer Discretionary Sector (ASX: XDJ)
The Consumer Discretionary Sector (ASX: XDJ) closed higher by 0.72% on strong consumer demand trends.
However, travel companies Webjet (ASX:WEB), Flight Center (ASX:FLT), and Corporate Travel Management (ASX:CTD) ended the week down 3.19%, 4.87%, and 7.29%.
Leisure and entertainment companies Star Entertainment (ASX:SGR), and Tabcorp Holdings (ASX:TAH) closed up 2.50% and 0.98% while Crown Resorts (ASX:CWN) ended down 1.40%.
Retailers Kogan (ASX:KGN), and JB Hi-Fi (ASX:JBH) closed up by 8.36%, 0.61% while Harvey Norman (ASX:HVN) closed down 2.69%.
However, Temple and Webster (ASX:TPW) appears to have staged a relief rally, gaining over 13% after its one-way slide from $14.70 levels touched in September 2021.
Media conglomerate News Corporation (ASX:NWS) was up a solid at 7.99% for the week in a rebound after the previous losses stemming from the financial numbers of Q3FY22.
ASX Consumer Staples Sector (ASX: XSJ)
The Consumer Staples Sector (ASX: XSJ) closed negatively with a loss of 1.71%.
Food producers Tassal Group (ASX:TGR) and Bega Cheese (ASX:BGA) closed down 0.27% and up 1.54% while Graincorp (ASX:GNC) was in the red by 6.50% on profit-taking despite posting stellar revenue growth driven by good crop conditions and excess demand due to the Russia-Ukraine war.
Food and beverage brands Costa Group (ASX:CGC) and Dominos (ASX:DMP) gained 1% and 3.12%.
Processed food makers A2M milk (ASX:A2M) and Bubs Australia (ASX:BUB) ended down 3.34% and 2.67%.
Lastly, sector heavyweights Woolworths (ASX:WOW) and Coles Group (ASX:COL) closed down 2.21% and 2.34% while Wesfarmers (ASX:WES) ended up 1.96%.
This Week ASX In Stocks
On Wednesday, casino equipment maker Aristocrat Leisure (ASX:ALL) declares 1H results while travel management firm Webjet (ASX:WEB) declares 1H results on Thursday.
New Listings
Aurora New Energy Metals (ASX:1AE) is a mineral development and exploration company that holds uranium and potential lithium assets in Oregon, USA.
The firm is raising A$8 million from shares priced at A$0.20 and will be listing on Thursday.
Bindi Metals (ASX:BIM) is a metals exploration and mining company that owns gold and copper assets in North Australia.
The company is raising A$4.8 million from shares priced at A$0.20 and will be listing on Friday.
Economic and Market Outlook
All eyes this week were centered on the headline inflation figures in America.
In a somewhat bitter-sweet outcome, inflation certainly decelerated, but still stood at a worrisome 8.3% for April.
More concerning, the data appeared to indicate that the first-rate hike didn't really do much in taming the inflation beast.
Markets were understandably spooked because it opened the door to bigger and more rate hikes in subsequent months.
A seemingly invincible dollar index was more reason for the market to worry, though it tapered off a bit towards the end of the week.
In the UK, concerns of a recession are more pronounced.
The economy sank 0.1% in March following curtailed spending in the face of rising inflation.
China also continued to stand its ground on zero-COVID despite the WHO's comments that its approach was unsustainable.
As a result, global markets are worrying given that China's place in the global supply chain threatens to exacerbate already rampant inflation.
In Australia, consumer confidence dropped 5.6% as inflation continues to run amok and the issue stays firmly in the spotlight as a point of contention in the nearing elections.
The good news, however, was that the business conditions seem to be robust as shown by the NAB Monthly Business Survey.
It reported strong fundamentals across all sectors except transport, utilities, and construction, sectors that were the worst affected by inflation.
On the economic calendar, next week, we have the China Industrial Production (YoY) on Monday, followed by the RBA Meeting Minutes, UK Earnings Index, and US Core plus Normal Retail Sales for April.
Wednesday is a big day with addresses from both ECB President Lagarde and Fed Chair Jerome Powell followed by UK and Eurozone CPI. The US also puts out April Building Permits on the same day.
Thursday's calendar shows US Crude Oil Inventories, Initial Jobless Claims, Australian Employment Change, and New Zealand's Annual Budget.
Lastly, on Friday, the US publishes Existing Home Sales for April, the UK releases MoM Retail Sales for April and China announces the PBoC Loan Prime Rate.
Forex Outlook
AUD/USD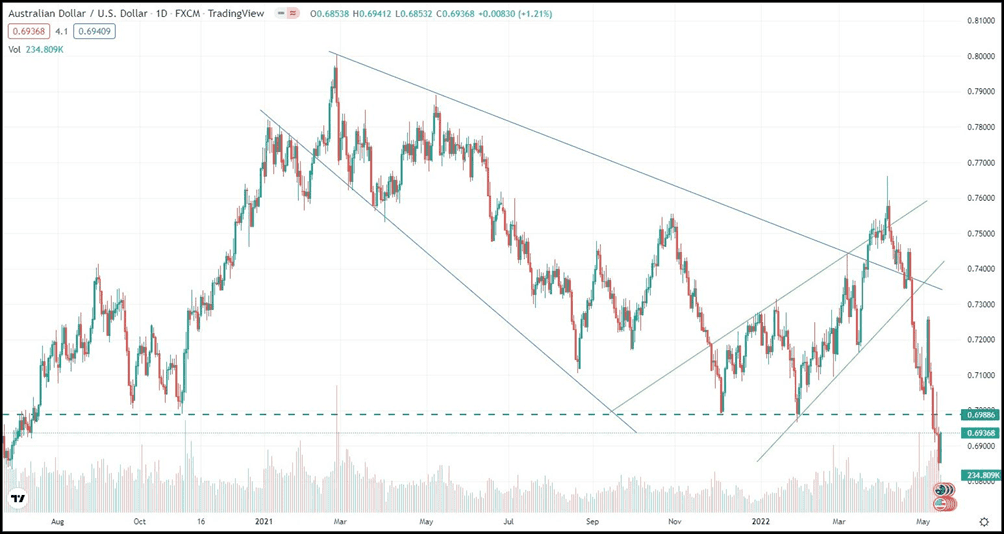 AUD/USD closed the week at 0.69368, well below the previous weekly close of 0.70706.
As anticipated, the Dollar Index broke above its Jan 2017 high and closed the week at 104.465.
Meanwhile, China has continued with its prolonged lockdowns despite the impact on its own and the global economy, including Australia, a significant trading partner.
Unsurprisingly, as we expected, AUD/USD slid through the 0.70000 and 0.69000 support lines like a hot knife through butter.
However, the Aussie corrected somewhat from the weekly bottom.
The Australia employment report out next week, if bullish, could well be a catalyst for more RBA hawkishness.
Unfortunately, on present reckoning, any gains may potentially fizzle around the 0.70000 line which has now switched from being a support to a resistance zone.
AUD/NZD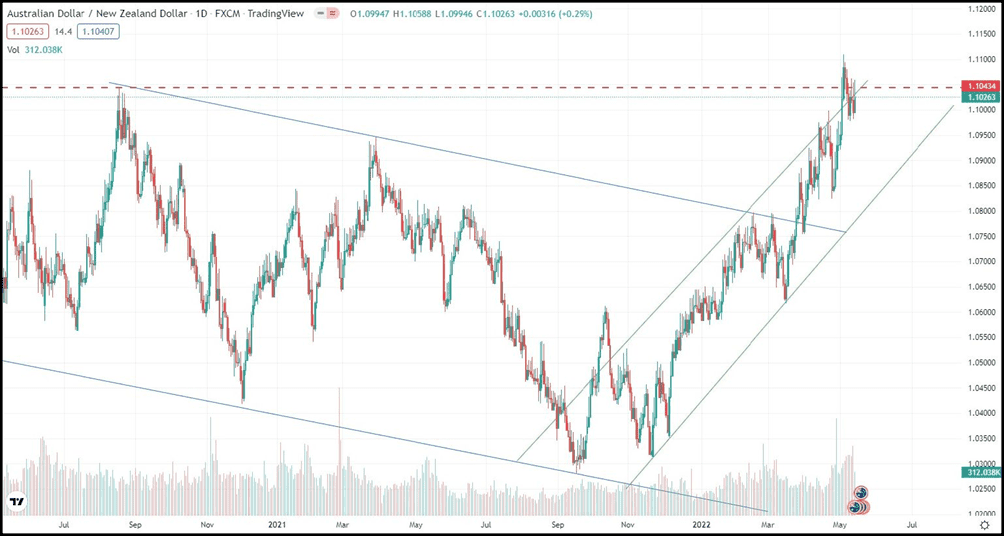 AUD/NZD ended the week at 1.10263, a shade below the previous week's close of 1.10320. As anticipated, the 1.10500 zone has proved to be a significant zone of resistance.
The New Zealand economy continues to be pressured by the macroeconomic factors of a Covid-inflicted Chinese slowdown, the fallouts from the Ukraine war, and Fed rate hikes.
JPMorgan has trimmed its China growth forecasts and expects the country's GDP to contract by an annualised 1.5% in the current quarter.
At home, the RBNZ has addressed inflation with aggressive interest rate hikes, and there could be a price to pay for that in terms of recessionary conditions.
In April, Business NZ PMI dropped to 51.2, below 52.8 market forecasts and 53.8 in the previous reading.
At present reckoning, the AUD/NZD is likely to consolidate in the current range, however, if there is a breakout, it is likely to be to the upside.