The ASX enjoyed a stellar week as commodities and energy held firm. The week saw the massive macroeconomic activity as central banks around the world became visibly hawkish in a bid to reel inflation.
The ASX200, ASX300, and Ordinaries ended the week up 1.08%, 1.14%, and 1.13%, respectively.

Last Week In ASX Stocks
ASX Materials (ASX:XMJ)
The Materials Sector (ASX:XMJ) enjoyed a solid week gaining 2.87%.
Investors view the sector as one of the strongest in terms of inflation resiliency; it was also a beneficiary of a bullish overall market being the ASX's biggest sector.
Major miners BHP (ASX:BHP), Mineral Resources (ASX:MIN), and Rio Tinto (ASX: RIO) ended the week higher at 1.07%, 1.38%, and 0.30%.
Gold mining stocks Newcrest Mining (ASX:NCM), and Northern Star Resources (ASX:NST) ended 4.48% and 10.96% in the green, following bullish prices for the yellow metal.
Nickel stocks IGO (ASX:IGO) and Mincor Resources (ASX:MCR) ended 1.31% and 4.88% higher.
However, exotics and rare earths ended their winning streak with Pilbara Minerals (ASX:PLS), Lynas Rare Earths (ASX:LYC), and Liontown Resources (ASX:LTR) ending 9.77%, 5.52%, and 7.28% in the red.
In major news from the sector, Western Areas (ASX:WSA) agreed to evaluate a revised acquisition offer from IGO (ASX:IGO).
ASX Energy (ASX:XEJ)
The Energy Sector (ASX:XEJ) ended the week 1.62% in positive territory, amidst fading hopes of peace in Europe.
Woodside Petroleum (ASX: WPL) lost 2.86%, though Santos (ASX:STO), and Beach Energy (ASX:BPT) closed the week at 2.57% and 2.23% in the green.
Coal snapped back from a bad week last time around.
Whitehaven Coal (ASX:WHC), Coronado Global (ASX:CRN), and Yancoal (ASX:YAL) closed with gains of 0.66%, 4%, and 7.47%.
The only exception was New Hope Coal (ASX:NHC), which ended 5.09% in the red.
Notably, the top three ASX performers over the March Quarter were coal companies Coronado, Yancoal, and Stanmore.
ASX Financials (ASX:XFJ)
The Financials Sector (ASX:XFJ) ended the week closing positively at 0.70%.
Though big banks Westpac (ASX:WBC), Australia New Zealand Bank (ASX:ANZ), and National Australia Bank (ASX:NAB) closed at 0.58%, 0.60%, and 0.18%, in the red, Commonwealth Bank (ASX: CBA) gained 0.06%.
Asset managers were a mixed bag – Magellan Financial (ASX:MFG) and Pendal (ASX:PDL) ended 0.18% and 0.76% in the red while Platinum Asset Managers (ASX:PTM) and Perpetual (ASX:PPT) ended with gains of 0.54% and 1.85%.
Pendal rejected Perpetual's A$2.4 billion takeover bid as it significantly undervalued the firm.
Insurers IAG (ASX:IAG) and QBE Insurance (ASX:QBE) ended 0.23% and 0.85% higher while Suncorp (ASX: SUN) closed down lost 0.72%.
Over the week, the Bank of Queensland (ASX:BOQ) reported 1H results with an impressive 38% increase in NPAT at A$212 million and hiked its interim dividend to 22c/share.
ASX Industrials (ASX:XNJ)
The Industrials Sector (ASX:XNJ) put on 1.69%.
Industrial products majors ADBRI (ASX:ABC), Brickworks (ASX:BKW), and Boral (ASX:BLD) closed with gains of 2.43%, 0.3%, and 1.74%, while heavy machinery manufacturers Washington Soul Pattinson Jr. (ASX:SOL), Elders (ASX:ELD), and Brambles (ASX: BXB) ended 1.23%, 1.43%, and 1.31% in positive territory.
Finally, Infrastructure Companies TransUrban Holdings (ASX:TCL) and Qube Holdings (ASX:QUB) ended 0.37% and 1.69% up.
Over the week, BlueScope Steel (ASX:BSL) announced a deal to acquire Cornerstone Buildings' oil coating business for US$500 million.
ASX Utilities (ASX:XUJ)
The Utilities Sector (ASX:XUJ) was a similar story closing 1.94% higher.
Sector majors APA Group (ASX: APA), Origin Energy (ASX:ORE), and AGL Energy (ASX:AGL) chalked up gains of 1.57%, 0.31%, and 0.58%, respectively.
The ASX HealthCare Sector (ASX:XHJ) was one of the few losing sectors, closing negative at 0.53% on a gathering perception that sector earnings are likely to slide in 2022.
Though healthcare provider Ramsay Health Care (ASX:RHC) was up 0.14%, big equipment manufacturers were a mixed bag: Sonic HealthCare (ASX:SHL) and ResMed CDI (ASX:RMD) lost 0.31% and 0.16% opposite CSL (ASX:CSL) and Cochlear (ASX:COH) which closed 0.54% and 0.49% in the green.
Information Technology (ASX:XIJ)
The Information Technology Sector (ASX:XIJ) ended nearly flat, though year-to-date, as at end-March, the sector has lost 13.7%, the most on the ASX.
BNPL heavyweight Block (ASX:SQ2) ended 1.56% higher while rival Zip Co. (ASX:Z1P) closed 4.26% down.
SaaS companies Appen (ASX:APX), Nuix (ASX:NXL), and Xero (ASX:XRO) all ended in the green at 1.35%, 1.09%, and 2.06%, respectively.
Other biggies like NextDC (ASX:NXT), Altium (ASX:ALU), Kogan (ASX:KGN) and RedBubble (ASX:RBL) closed 1.53%, 1.18%, 0.68% and 2.28% up, respectively.
ASX Communications (ASX:XTJ)
The Communications Sector (ASX:XTJ) ended the week 1.18% up.
Though telco major Telstra (ASX:TLS) put on 0.88%, TPG Telecom (ASX: TPG) ended with a loss of 0.65%.
Telecom infra player Seek (ASX:SEK) was higher by 1.65%, but Chorus (ASX:CNU) lost 0.15%.
In a significant development, telecom services provider Uniti (ASX:UWL) closed on a A$3.6 billion buyout from private equity player Brookfield.
ASX Real Estate (ASX:XPJ)
The Real Estate Sector (ASX:XPJ) had an abysmal week and was down 1.37%.
The selloff in the highly leveraged sector was induced by unprecedented rate hikes globally in a bid to rein in inflation.
RE majors Goodman Group (ASX:GMG), Dexus Group (ASX:DXS), GPT (ASX:GPT), Mirvac Group (ASX:MGR) and Scentre Group (ASX:SCG) all ended 3.62%, 0.74%, 0.97%, 0.81%, and 2.97% in the red.
However, Vicinity Centers (ASX:VCX) bucked the trend and closed with a gain of 1.08%.
ASX Consumer Discretionary (ASX:XDJ)
The Consumer Discretionary Sector (ASX:XDJ) closed nearly flat.
Travel stocks were huge winners this week with Qantas (ASX:QAN), Flight Center (ASX:FLT), Webjet (ASX:WEB), and Corporate Travel Management (ASX:CTD) closed up a whopping 6.68%, 4.86%, 7.17%, and 5.32%, respectively.
The trigger appeared to be the easing of border restrictions between Australia and New Zealand for the first time since July 2021.
Retailers Harvey Norman (ASX:HVN) and Temple & Webster (ASX:TPW) ended up 1.89% and 0.47%.
Hospitality Cos. Crown Resorts (ASX:CWN), Star Entertainment (ASX:SGR), and Tabcorp Holdings (ASX:TAH) ended up 0.23%, 2.30%, and 0.19%, respectively.
ASX Consumer Staples (ASX:XSJ)
Lastly, the Consumer Staples Sector (ASX:XSJ) was also nearly flat. Food manufacturers Tassal Group (ASX:TGR), Bega Cheese (ASX:BGA), and GrainCorp (ASX:GNC) ended up 1.97%, 1.38%, and 0.62%, respectively.
Other biggies like Wesfarmers (ASX:WES), and Coles Group (ASX:COL) closed down 0.1% and 0.16% while Woolworths (ASX:WOW) ended up 0.55%.
Lastly processed food makers like A2M Milk (ASX:A2M) ended up 1.08% while Bubs (ASX:BUB) closed down 2%.
This Week in ASX Stocks
There are no major companies due to publish results next week.
New Listings
RLF Agrotech (ASX:RLF) is a plant-based nutritional wellness company.
The company makes its market debut on Wednesday and aims to raise A$10 million from shares priced at A$0.20/share,
Economic and Market Outlook
The week was characterized by a slew of hawkish action in the form of rate hikes from central banks around the world including New Zealand, South Korea, and Canada's unprecedented 0.5% hike to 1%.
Markets are increasingly becoming aware that central bankers are willing to take on significant economic risk to rein in inflation, a seriously ominous sign, especially given the unusually long period of low rates we have had over the past decade.
US markets closed Thursday spooked as the US' biggest lender, JP Morgan, reported a 43% drop in quarterly profits, sending the banking sector down.
Inflation is continuing to take its toll globally with unexpectedly high PPI indexes popping up across the world.
Over the week, both the UK and the US reported record-high inflation numbers of 7% and 8.5%, respectively, sending yields across the world soaring.
Lastly, Australia reported largely unchanged and expected unemployment numbers of 3.9%.
Next week is data-packed, with China announcing Q1 GDP and Industrial GDP on Monday, followed by the PBoC's Loan Prime Rate decision on Wednesday.
On Tuesday, Australia puts out its RBA Meeting Minutes and the US is due to publish March building permits.
On Thursday, the US reports Existing Home Sales, Crude Oil Inventories, and Initial Jobless Claims, the Eurozone puts out its March CPI, New Zealand puts out its March CPI, and Australia publishes its March Retail Sales.
Friday is speech day with BoE Governor Bailey, Fed Chair Powell, and ECB President Lagarde all addressing the media.
The UK is also set to publish Manufacturing and Services PMI along with March Retail Sales.
Forex Outlook
AUDUSD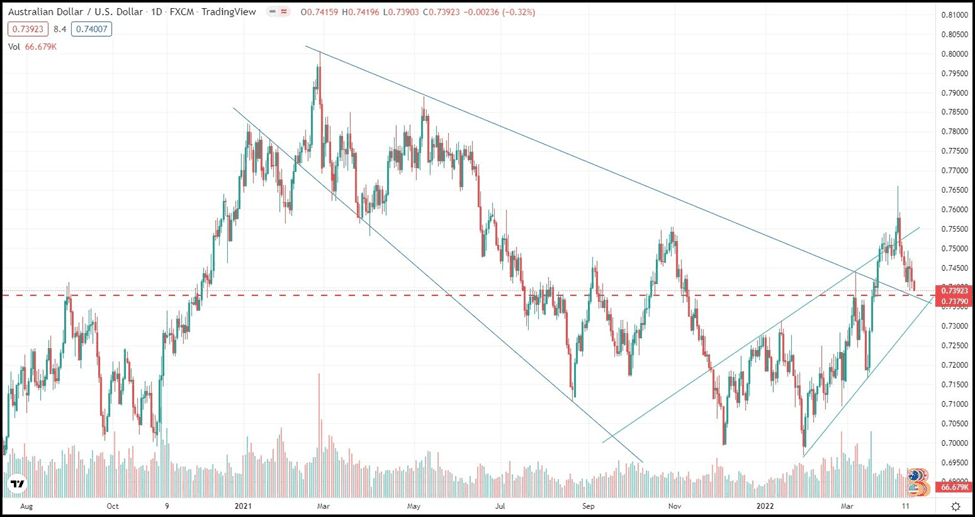 AUD/USD closed the week at 0.73923, well off the previous weekly close of 0.74586.
The bearish performance of the pair was attributable primarily to sustained USD strength in anticipation of hefty rate hikes triggered by record inflation data prints in the US.
The Dollar Index is showing an increasing tendency to keep to the north of the 100 level, meanwhile, employment numbers out in Australia showed some underperformance versus analyst expectations.
Neighbour New Zealand last week took out the bazookas last week and rates by a solid 0.5%, its biggest rate hike in over 20 years. Meanwhile, Canada too shot off a 0.5% hike off inflation's bows.
Globally, central banks are not waiting for the Fed's lead on heftier rate hikes.
This is likely to force the RBA's hand, and reveal more forceful measures beyond semantics, even though employment data may be less than perfect.
Though bears currently have the upper hand, the pair is likely to enjoy some support at the 0.73790 dashed red line, also the approximate zone of the lower line of the rising channel.
AUDNZD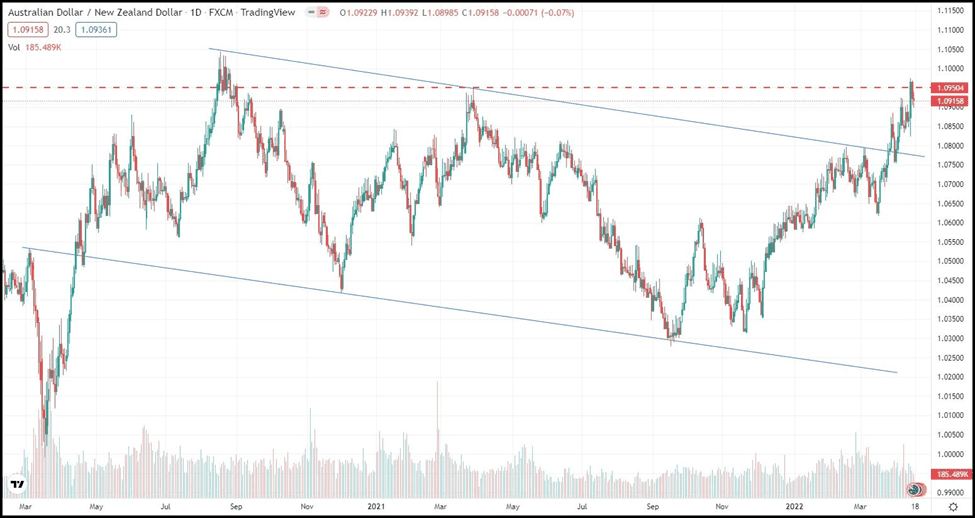 AUD/NZD ended the week at 1.09518, well above the previous week's close of 1.08874.
The RBNZ's surprise larger-than-expected rate hike was met with selling that weakened the NZD against the USD. Post-hike, NZ government bond yields also plunged.
The logic appears to be that the RBNZ may have acted too-much-too-early amidst the probability of inflation peaking out.
As a result, the AUD/NZD continued its bullish breakout from a year-long sloping flag, and as expected in our last week's report, duly tested 1.09500.
However, it has corrected nicely and maybe priming for a shy at the 1.1050 line.