The Australian markets fell in line with global markets as investors digested potential economic slowdowns, unexpectedly high inflation, and China's COVID situation.
A risk-off sentiment took hold as US stocks closed their worst April in years after major companies showed signs of slowing growth.
Meanwhile, potential lockdowns across China threatened to choke supply chains and drive up inflation further.
The ASX200, ASX300, and Ordinaries all closed the week down in the range of 0.8%.

Last Week in ASX Stocks
ASX Materials Sector (ASX: XMJ)
The ASX Materials Sector (ASX: XMJ) had a rough week due to the reasons above as the materials index tanked 1.6%.
Mining majors BHP (ASX:BHP), Rio Tinto (ASX:RIO), Mineral Resources (ASX:MIN), South32 (ASX:S32), closed down 1.3%, 0.6%,1.69% and 1.24% respectively.
Meanwhile, Fortescue Metals (ASX:FMG) closed up 1.74% following a stellar Q3 trading update.
Rare Earth and lithium miners took a beating on fears of lockdowns in China with Lynas Rare Earths (ASX:LYC), and Vulcan Energy Resources (ASX:VUL), closed down 3.72% and 4.07% while Pilbara Minerals (ASX:PLS) and Iluka Resources (ASX:ILU) gained 2.15% and 1.07%.
ASX Energy Sector (ASX: XEJ)
The ASX Energy Sector (ASX: XEJ) fell 1.16% as China's situation weighed on oil demand while global slowdown concerns and a higher than expected Australian inflation number worsened the problem.
Oil majors Woodside Petroleum (ASX:WPL), Santos (ASX:STO), and Beach Energy (ASX:BPT) lost 3.02%, 2.08%, and 1.81%.
Coal had a blockbuster week, however, as power demand remained strong; Yan Coal (ASX:YAL), Stanmore Resources (ASX:SMR), Whitehaven Coal (ASX:WHC), New Hope Coal (ASX:NHC), and Coronado Global (ASX:CRN) closed the week up 11.51%, 12.86%, 5.13%, 5.41%, and 3.59%, respectively.
ASX Financials Sector (ASX: XFJ)
The ASX Financials (ASX: XFJ) closed the week down about 1%. Banking majors Commonwealth Bank (ASX:CBA), National Australia Bank (ASX:NAB), Westpac Bank (ASX:WBC), and Australia New Zealand (ASX:ANZ) closed the week down 1.32%, 1.42%, 1.40%, and 1.19%.
Second-tier banks Bank Of Queensland (ASX:BOQ) and Bendigo Adelaide Bank (ASX:BEN) ended in the green at 1.88% and 0.09%.
Asset managers AMP (ASX:AMP), Magellan Financial (ASX:MFG), and Platinum Asset Management (ASX:PTM) closed up
8.92%, 4.42%, and 1.08%. AMP jumped on news of its sale of US property business to Dexus (ASX: DXS) for US$550 million.
Lastly, insurers QBE Insurance (ASX:QBE), Insurance Australia Group (ASX:IAG), and Suncorp (ASX:SUN) closed higher by 1.57%, 2.48%, and 2.23%.
Asset managers and Insurers likely did well due to their ability to pass on price increases without denting business severely.
ASX Information Technology Sector (ASX: XIJ)
The Information Technology Sector (ASX: XIJ) closed about a percent down after being down more than 3% at its low during the week, very much in line with the tech-heavy Nasdaq's negative week.
Tech majors Xero (ASX:XRO) and Block (ASX:SQ2) closed the week down 3% and 1.63%. SaaS companies Appen (ASX:APX) and Nuix (ASX:NXL) closed flat and 5.24% down, respectively.
Semiconductor and data center companies NextDC (ASX:NXT) and Altium (ASX:ALU) fared better at flat and 0.1% down.
E-commerce companies saw a bloodbath with Kogan (ASX:KGN) and RedBubble (ASX:RBL) closing down 18.6% and 12.5%, respectively.
Kogan slumped after it reported a decline in sales in the March quarter. Life360 (ASX:360), down 23.72%, was one of the biggest losers from the sector after it canceled plans for a US listing.
On the other hand, a major winner from the sector was Nitro Software (ASX:NTO), which closed higher by 10.53% after it released a record quarterly report.
ASX Utilities Sector (ASX: XUJ)
The ASX Utilities (ASX: XUJ) closed the week up 1.1% as its safe-haven characteristics played out.
With concerns of a slowdown from rate hikes, disrupted supply chains from China, and inflation driving market sentiment, investors veered towards utilities due to the sector's stable nature and ability to pass on costs without hurting demand.
Sector heavyweights APA Group (ASX:APA), AGL Energy (ASX:AGL), and Origin Energy (ASX:ORG) closed flat, 5.54% up and 2.26% up, respectively.
ASX Real Estate Sector (ASX: XPJ)
The ASX Real Estate Sector (ASX: XPJ) closed slightly up at 0.5%.
The leveraged sector has been on the back foot in recent weeks as investors worry about the prospect of strong rate hikes amidst record inflation.
Sector heavyweights Goodman Group (ASX:GMG), Dexus Group (ASX:DXS) and Scentre Group (ASX:SCG), closed the week up 1.48%, 2.67%, and 1.7% while Vicinity Properties (ASX:VCX), and Mirvac Group (ASX:MGR) closed flat.
ASX Healthcare Sector (ASX: XHJ)
The Healthcare Sector (ASX: XHJ) closed 0.5% down for the week. Healthcare equipment heavyweights CSL Ltd. (ASX:CSL) and Sonic HealthCare (ASX:SHL) closed up 0.84% and 1.24% while Cochlear (ASX:COH) and ResMed (ASX:RMD) closed down 1.24% and 10.39%.
ResMed (ASX:RMD) reported a weak quarter that missed on both turnover and earnings. Healthcare providers Ramsay Healthcare (ASX:RHC) and Fisker and Paykel (ASX:FPH) closed down 3.14% and 3.31%.
High-risk health tech companies Immugene (ASX:IMU) and Mesoblast (ASX:MSB) closed down 1.36% and 4.89%, respectively.
ASX Telecommunications Sector (ASX: XTJ)
The ASX Telecommunications (ASX: XTJ) closed up 0.11%. Sector heavyweights TPG Telecom (ASX:TPG) and Telstra (ASX:TLS) closed down 3.44% and 0.74% down, respectively while smaller contemporaries Uniti Group (ASX:UWL) and Chorus Ltd. (ASX:CNU) closed down 0.8% and 0.89% for the week.
Spark Infrastructure (ASX:SPK) closed 0.44% in the green, probably due to its relatively defensive non-consumer facing business.
ASX Industrials Sector (ASX:XNJ)
The Industrials Sector (ASX:XNJ) edged 0.54% into the green. Industrial commodity makers Boral (ASX:BLD), BrickWorks (ASX:BKW), and ADBRI (ASX:ABC) closed the week 0.85% up, 0.38% up and flat, respectively.
Infrastructure company TransUrban Group (ASX:TCL) held strong at 2.49% for the week, in line with other defensives. Industrial product makers such as Brambles (ASX:BXB) and Amcor (ASX:AMC) closed the week down 1.86% and up 5.62% for the week, respectively.
For Amcor, analysts are projecting a nearly 11% growth in turnover when it declares its next quarterly report on Monday.
Airways Qantas (ASX:QAN) and Air New Zealand (ASX:AIZ) closed down 0.53% and flat, respectively.
ASX Consumer Discretionary Sector (ASX:XCJ)
The Consumer Discretionary Sector (ASX:XCJ) ended the week flat at 0.06% up.
Hospitality companies Crown Resorts (ASX:CWN) and TabCorp Holdings (ASX:TAH) closed the week up 0.37% and 0.55% while Star Entertainment (ASX:SGR) closed down 0.64%.
Travel stocks Webjet (ASX:WEB) closed 0.66% down while Flight Center (ASX:FLT) and Corporate Travel Management (ASX:CTD) ended the week up 3.34% and 2.08% up, respectively.
Retailers Harvey Norman (ASX:HVN) and Temple and Webster (ASX:TPW) fared 1.74% and 1.35% lower while JB Hi-Fi (ASX:JBH) ended 2.01% up, respectively.
ASX Consumer Staples Sector (ASX:XSJ)
The Consumer Staples Sector (ASX:XSJ) was a big loser ending the week 1.19% lower.
Sector heavyweights Wesfarmers (ASX: WES) closed 0.06% up while WoolWorths (ASX:WOW) and Coles Group (ASX:COL) ended the week down 2.29% and 0.85% down, respectively.
Food producers Tassal Group (ASX:TGR) and GrainCorp (ASX:GNC) ended up 0.53% and 2.28% while Bega Cheese (ASX:BGA) closed 1.18% down.
GrainCorp shares have ruled firm because grain prices, particularly for wheat, have surged in 2022 to multi-decade highs.
Lastly, food brands Dominos (ASX:DMP) and Costa Group (ASX:CGC) fared 6.86% and 1.48% lower.
Domino's missed on both earnings and revenue in its latest quarter.
Next Week in ASX Stocks
The upcoming week is very eventful with a bunch of major companies reporting full-year results.
On Monday, COG Financial Services (ASX:COG) and Stanmore Resources (ASX:SMR), will report numbers that should be strong because their respective sectors have been booming.
On Tuesday, banking major Australia New Zealand Bank is due to report full-year earnings followed by National Australia Bank on Wednesday, both of which will shed crucial light on economic health.
Lastly, Friday is when conglomerate Macquarie Group (ASX:MQG) and real estate broking giant REA Group (ASX:REA) declare results, both of which are crucial gauges of the economy and the real estate sector.
New Issues
| Name | Date | Sector | Price/Share | Raise Amount |
| --- | --- | --- | --- | --- |
| Allup Silica (ASX: APS) | Monday | Silica Mining and Exploration | A$0.20 | A$5M |
| Chrysos Corporation (ASX: C79) | Friday | Mining Equipment and Services | A$6.50 | A$183.5M |
| Equity Story Group (ASX: EQS) | Tuesday | Financial Market Services | A$0.20 | A$5.5M |
| Koba Resources (ASX: KOB) | Wednesday | Cobalt Mining Assets | A$0.20 | A$8M |
| Sarama Resources (ASX: SRR) | Monday | Gold Mining & Exploration | A$0.20 | A$8M |
| Sierra Nevada Gold Inc. (ASX: SNX) | Tuesday | Gold, Copper and Silver Mining Asset Development | A$0.50 | A$12.5M |
| Solstice Minerals (ASX: SLS) | Monday | Multi-Asset Mining and Development | A$0.20 | A$12M |
Economic and Market Outlook
This week marked an exceptionally turbulent period in markets.
In the US, all major indexes underwent their worst week since the onset of the pandemic, and the Nasdaq recorded its worst month in the past 14 years.
The week was characterized by heavyweight earnings, including Google, Twitter, and Amazon which showed cracks in growth and the tolls of inflation.
Market capitalization heavyweight Apple, while beating the quarter, signified that it is exposed to a massive $8 billion supply chain hit from the pandemic lockdowns in China.
Over the week, China re-asserted its commitment to its 5.5% GDP growth target and pledged massive infrastructure development to spend its way out of the problem of a slowing economy.
To add to the market's travails, the US reported a Q1 GDP MoM contraction of 1.4%, the first contraction since the pandemic, due to a trade deficit; however, consumer spending remained strong.
All eyes are now on next week's all-important FOMC meeting.
In Australia, the markets were surprised by an unexpectedly high inflation number of 5.1% (YoY) for March, marking the highest jump in inflation since the introduction of the GST two decades ago.
Retail major Coles stated later in the week that it expects supply constraints and inflation headwinds to stretch into FY2023 before subsiding to normal levels.
Next week is a pretty eventful one with three major central banks scheduled to hold monetary policy meetings.
On Tuesday is the RBA's all-important Interest Rate Decision meeting.
On Wednesday, Australia reveals Retail Sales for March (MoM) while New Zealand is due to report its employment numbers and hold its Reserve Bank Press Conference.
The US Fed FOMC Meeting, Crude Oil Inventories, and Initial Jobless Claims are due on Thursday.
On the other side of the Atlantic, the UK will declare inflation numbers, Interest Rate decisions, and MPC Meeting minutes along with Manufacturing and Services PMI.
Lastly, on Friday, the UK reports Construction PMI while the US publishes Non-farm Payrolls and Unemployment Rate for April.
Forex Outlook
AUD/USD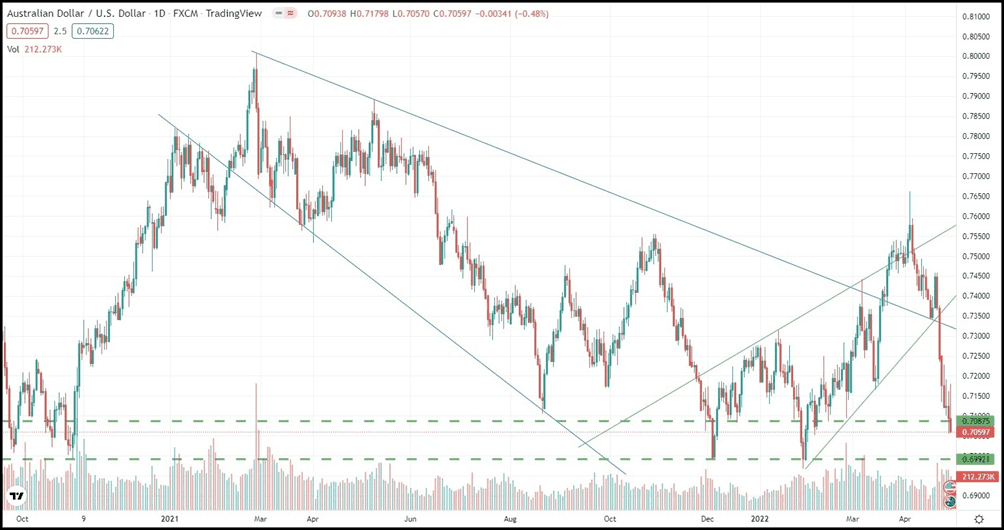 AUD/USD closed the week at 0.70597, well below the previous weekly close of 0.72429, trounced again by US dollar strength.
An unexpectedly high inflation number of 5.1% (YoY) CPI for March, which marked the highest jump in Australian inflation since the introduction of the GST two decades ago, flagged increased chances of an RBA rate hike.
But this was effectively thrown under the bus as far as AUD/USD was concerned about spiking US Treasury yields, US dollar muscle, as well as a sharp deterioration in the risk-on sentiment globally.
However, the AUD/USD is now in a support zone residing roughly between the 0.69921 (lower) and 0.70875 (dotted, green) lines.
Interestingly, the Dollar index is also stationed at a powerful resistance level around 103, a level from which it retracted in Feb 2017 and Mar 2020.
With the central banks of both Australia and the US meeting next week on monetary policy, there is scope for volatility.
Regarding the FOMC, it is entirely possible that the market may, having 'bought' the jawboning and inflation prints, 'sell' the actual decision in a relief move.
Therefore, further near-term action in AUD/USD could stem from a likely retreat by the Dollar Index from the 103 level.
If the RBA turns out more hawkish than expected, there could be extra ballast for the pair to rebound off that support zone.
AUD/NZD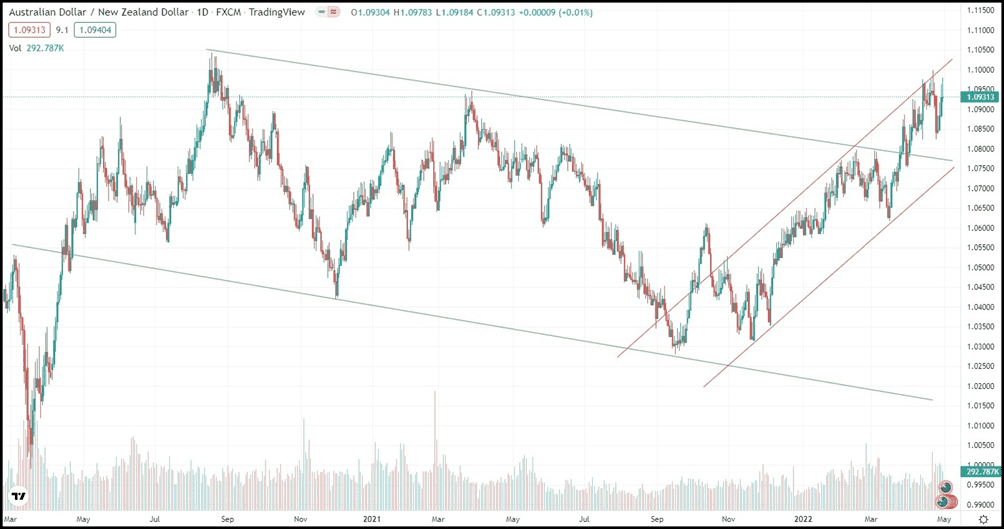 AUD/NZD ended the week at 1.09313, above the previous week's close of 1.09096.
As feared in our last report, once it violated 1.08985, the pair fell sharply to 1.08244.
However, it managed to stage a rebound thereafter.
At play was the record inflation print in Australia that made room for the RBA to hike rates sooner than planned regardless of an impending election.
Meanwhile, in real estate, a cornerstone of the NZ economy, prices are falling and could be the harbinger of a larger slump.
Also, technically, on a 70MM view via a monthly chart, AUD/NZD appears to be preparing for a breakout above the descending trendline prevailing since late 2013.
The RBA policy next week will be key and could alter the technical picture for AUD/NZD in multiple time frames if it is more hawkish than expected.