The Australian share market closed off July with a flourish, logging a monthly gain of 5.7% and putting an end to a three-month-old trend that saw the index closing in negative territory each time.
Last week's up move was appropriately fuelled by critical sectors including Materials, Energy, Technology, and Real Estate, which rose between 3% and more than 4%.
However, the ASX200 is still down 6.7% in 2022.
The ASX200, ASX300, and Ordinaries ended the week with solid gains of 2.26%%, 2.30%, and 2.31% respectively.
Last Week in ASX Stocks
The ASX Materials Index (ASX:XMJ)
The ASX Materials Index (ASX:XMJ) rallied this week by a solid 4.12%.
During the week, on Thursday, iron ore futures hit four-week highs on rebounding steel margins in China, the top steel producer globally.
Sector majors BHP (ASX:BHP), Mineral Resources (ASX:MIN), South32 (ASX:S32), Rio Tinto (ASX:RIO), and Fortescue Metals (ASX:FMG) gained 5.65%, 13.86%, 5.54% and 1.16% respectively.
South32 reported it will meet 99 percent of its FY22 cost guidance and hit record production at its WA bauxite mine.
Fortescue broke its iron ore shipment record for the third year running and lifted its outlook for the year ahead.
Rio Tinto released results that showed its profits are sliding as the price of iron ore declines.
New energy miners IGO (ASX:IGO), Lynas Rare Earths (ASX:LYC), and Allkem (ASX:AKE) closed higher by 10.72%, 4.68%, and 12.40% while Pilbara Minerals (ASX:PLS) shot up 9.06%.
According to Morgans, Allkem's Q4 update showed higher production of lithium, strong lithium prices and record cash flows.
Gold producers Newcrest Mining (ASX:NCM), Evolution Mining (ASX: EVN), and Northern Star Resources (ASX:NST) also were in sync with sector bullishness by rising 0.89%, 12.79%, and 8.76% respectively, as gold prices moved to a two-week high of $US1765 an ounce.
Evolution Mining posted a record gold production quarter and has a new mine ready for September.
The ASX Energy Index (ASX:XEJ)
The ASX Energy Index (ASX:XEJ) jumped nearly 4% for the week.
Heavyweights Woodside Energy (ASX:WDS), Santos (ASX:STO), and Beach Energy (ASX:BPT) shot higher by 4.66%, 4.13%, and 2.54% respectively.
Coal majors New Hope Corporation (ASX:NHC), Whitehaven Coal (ASX: WHC) and Coronado Global (ASX: CRN) closed about flat on the week; however, YanCoal (ASX:YAL) plunged a massive 11.48% and Stanmore Resources (ASX:SMR) was down 2.51%.
During the week, Glencore (LON: GLEN) confirmed it had sold its 6.4% shareholding in Yancoal via a block trade worth A$422 million ($293 million).
ASX Industrials Index (ASX:XNJ)
The ASX Industrials Index (ASX:XNJ) gained 1.07% and underperformed the broad market.
Industrial commodities makers Brickworks (ASX:BKW), ADBRI (ASX:ABC), and Boral (ASX: BLD) moved up by 4.43%, 1.61%, and 5.05% respectively.
Industrial majors Amcor CDI (ASX:AMC), Brambles (ASX:BXB) and Reece (ASX: REH) put on 2.09%, 0.44% and 3.74%, while Reliance Worldwide (ASX:RWC) lost a marginal 0.45%.
Infrastructure players Transurban Group (ASX:TCL) and Qube Holdings (ASX: QUB) both shot over 2% respectively.
Amongst airlines Qantas (ASX:QAN) was up 0.66% though Air New Zealand (ASX:AIZ) slipped 0.90%.
ASX Financials Index (ASX:XFJ)
The ASX Financials Index (ASX:XFJ) trended higher this week by 2.58%.
Banking heavyweights Commonwealth Bank of Australia (ASX: CBA), Australia New Zealand Bank (ASX:ANZ), Westpac (ASX:WBC) and National Australia Bank (ASX:NAB) gained 3.92%, 1.64%, 2.67%, and 2.61% respectively.
Westpac announced it was mulling the closure of 100 branches to achieve a major cost saving.
Among regional banks Bank Of Queensland (ASX:BOQ) gained 1.08% while Bendigo Adelaide (ASX:BEN) closed flat.
However, wealth managers Magellan (ASX:MFG), AMP (ASX:AMP), and Pendal Group (ASX:PDL) were up 2.68%, 3.33%, and 0.63%, though Platinum Asset Management (ASX:PTM) fell 1.35%; Insurers Suncorp (ASX:SUN), QBE Insurance (ASX:QBE) and Insurance Australia Group (ASX: IAG) made up some of the ground lost last week and gained 0.81%, 1.93%, and 5.41% respectively.
Diversified financial services majors Macquarie Group (ASX:MQG) closed with a solid gain of 4.66%.
ASX Consumer Discretionary Index (ASX:XDJ)
The ASX Consumer Discretionary Index (ASX:XDJ) sat out the party and fell 0.46%.
Amongst hospitality companies Star Entertainment (ASX:SGR) was up 3.18% while Skycity Entertainment (ASX:SKC) gained 1.63%.
Travel companies Webjet (ASX:WEB) and Corporate Travel Management (ASX:CTD) went up by 1.17% and 1.99% respectively; but Flight Centre (ASX:FLT) fell 2.27% despite reporting smaller-than-expected losses in a trading update.
Temple and Webster (ASX:TPW) and Kogan (ASX:KGN) built further on last week's gains and shot up by 44.17% and 44.51% respectively as investors indulged in bargain-hunting.
Kogan said in its FY22 update that it had achieved record gross sales and returned to to positive quarterly adjusted EBITDA in the fourth quarter of FY22.
While Nick Scali (ASX:NCK) was up 2.78%, Harvey Norman (ASX: HVN) ended flat; however, JB Hi-Fi (ASX:JBH) slumped over 4%.
While appliance maker Breville (ASX:BRG) was up 4.58%, food brands Dominos (ASX: DMP) and Collins Foods (ASX:CKF) were higher by 2.75% and 1.17% respectively.
ASX Consumer Staples Index (ASX:XSJ)
The ASX Consumer Staples Index (ASX:XSJ) was again flat for the week closing 0.30% higher.
Among sector heavyweights Coles Group (ASX:COL) and Woolworths (ASX:WOW) were flat while Wesfarmers (ASX:WES) dipped 1.21%.
Food producers Bega Cheese (ASX:BGA), GrainCorp (ASX:GNC) and Costa Group Holdings (ASX:CGC) ended with gains between 0.58% and 1.98%; however Tassal Group (ASX:TGR) ended negatively 0.81%.
Amongst processed food makers Bubs Australia (ASX:BUB) stuck to its winning ways and shot up 3.42%
However, A2 Milk (ASX:A2M)moved up only 0.44%.
ASX All Technology Index (ASX:XTX)
The ASX All Technology Index (ASX:XTX) gained nearly 3%, building on its gains from the previous week, and tracking peers in Wall Street tech.
Platform companies REA Group (ASX:REA), Carsales (ASX:CAR), RedBubble (ASX:RBL), and Domain Holdings (ASX:DHG) went up by 3.61%, 4.58%, 22.66%, and 6.59% respectively.
Saas players Xero (ASX:XRO) and WiseTech Global (ASX:WTC) also clocked gains of 4.36% and 3.08% respectively.
Though Appen (ASX:APX) slumped 10.75%, Nuix (ASX:NXL) made up some of the previous week's losses and gained 2.50%.
BNPL hit it out of the park (again) this week with Block (ASX:SQ2), Sezzle (ASX:SZL), MoneyMe (ASX:MME) and Zip Co (ASX:Z1P) all recording gains of 3.15%, 200.00%, 19.12%, and 33.14% respectively.
Sezzle's shares jumped after its second quarter update which showed that Underlying Merchant Sales (UMS) rose 1.9% to US$419.1M and active merchants increased by 19% to 47,900.
Link Administration (ASX: LNK) was down 1.12%.
Semiconductor and data center companies Altium (ASX:ALU) and NextDC (ASX:NXT) shot up 4.37% and 2.25%.
ASX Healthcare Index (ASX:XHJ)
The ASX Healthcare Index (ASX:XHJ) was again mostly unchanged closing with a minor loss of 0.71%.
Healthcare providers Ramsay Healthcare (ASX:RHC) and Fisher and Paykel (ASX: FPH) lost 1.50% and 0.98%, while Healius (ASX:HLS) put on 2.91%.
Healthcare equipment makers Sonic Healthcare (ASX:SHL) and CSL Ltd. (ASX:CSL) fell 0.72% and 0.79%; however, Resmed CDI (ASX:RMD) and Cochlear (ASX:COH) gained 2.97% and 1.84%.
Biotech firms Imugene (ASX: IMU) and Mesoblast (ASX:MSB) lost 0.81% and 1.05% respectively.
ASX Real Estate (A-REIT)
The ASX Real Estate (A-REIT) Index (ASX:XPJ) was up smartly by 3.42% for the week.
Among sector majors, Mirvac Group (ASX:MGR) and Stockland Group (ASX:SGP) were flat; however, Vicinity Centres (ASX:VCX) and Scentre (ASX:SCG) ended in the green by 1.97% and 2.47%.
Meanwhile, Goodman Group (ASX:GMG) was a stand-out gainer by 7.83%.
ASX Telecom Index (ASX:XTJ)
The ASX Telecom Index (ASX:XTJ) closed the week flat.
Among the sector players Telstra (ASX:TLS) lost 1.27%; Chorus (ASX:CNU) and TPG Telecom (ASX:TPG) went up by 1.56% and 1.20% respectively; and Uniti Group (ASX:UWL) ended flat.
However, Megaport (ASX:MP1) posted another bullish week and jumped 15.71%.
ASX Utilities Index (ASX: XUJ)
Lastly, the ASX Utilities Index (ASX: XUJ) spent another week going nowhere.
Among sector majors, APA Group (ASX:APA) and AGL Energy (ASX:AGL) lost 1.57% and 1.19% respectively, while Origin Energy (ASX:ORG) surged 4.55% higher after it reported that full-year revenue from its Australia Pacific LNG joint venture with ConocoPhillips and Sinopec had doubled on higher spot prices.
This Week ASX In Stocks
AUGUST 2022
1
2
3
4
5
ANNUAL REPORT
FSI
CCP
BWP , HRL , LEP, PNI, WOT
CIP, EER, IVX
INTERIM REPORT
GMA
SSR
AGG, MFD, UBI
PRELIMINARY REPORT
FSI, TWD
CCP, COF, EOF
BWP, GUD, HRL, LEP, PNI, WOT
CIP, IVX, NCK
REA
QUARTERLY REPORT
ABX, AHN, ATM, AUQ, AXT, BRB,
BUX, CEL, DTM, G79, GGE, GMC,
GWR, HCH, HE8, HOR, KOR, LNY,
MVL, NCR, NME, NRX, NWC, PSL,
RIM, SCN, SRK, TBA, TGM, TOE,
VAR
HTG
E2E
AR3, FF, QGL
New Listings
No listings are scheduled for next week.
Economic and Market Outlook
Last week's data prints
USA: New Home Sales (Jun) – Sales of new US homes fell for the fifth time this year in June to a more than two-year low, as a mix of high prices and rising mortgage rates afflicted the market.
CB Consumer Confidence (Jul) – US consumer confidence data for July came in weaker than expected at 95.7, lower than the consensus estimate of 97.0.
The report released by the Conference Board revealed that rising food and gas prices continue to weigh on sentiment.
Core Durable Goods Orders (MoM) (Jun) – New orders for manufactured durable goods in June increased $5.0 billion or 1.9 percent to $272.6 billion.
This increase, up eight of the last nine months, followed a 0.8 percent May increase.
AUS: CPI (QoQ) (Q2) – Australia CPI rose 1.8% qoq in Q2, below consensus of 1.9% qoq.
For the 12-month period, CPI accelerated from 5.1% yoy to 6.1% yoy, below expectation of 6.3% you.
USA: Pending Home Sales (MoM) (Jun) – US pending homes sales for June were -8.6% MoM after an expectation of only -1.5% MoM and a reading of +0.4% MoM in May, the decline attributed to rising mortgage rates.
The US Fed raised interest rates by 0.75% in an attempt to tackle stubborn inflation.
The decision to move by 0.75% matched the magnitude of the Fed's last move in June, which was its largest single-meeting rate increase since 1994.
AUS: Retail Sales (MoM) (Jun) – Australian Retail Sales rose 0.2% in June, the sixth straight month of growth but missed the market forecast of a 0.5% increase likely due to reduced consumer spending suggesting demand is dwindling in the face of surging inflation and rising interest rates.
Next Week
Monday, Aug 1: (China) Caixin Manufacturing PMI (Jul)
Tuesday, Aug 2: (USA) ISM Mfg PMI / (AUS) RBA interest rate decision
Wednesday, Aug 3: (NZD) Employment Change (QoQ) for Q2
Thursday, Aug 4: (USA) ISM Non-Mfg PMI for July / Crude Oil Inventories/ Initial Jobless Claims
Friday, Aug 5: (USA) Nonfarm Payrolls (July) and Unemployment Rate
Forex Outlook
AUD/USD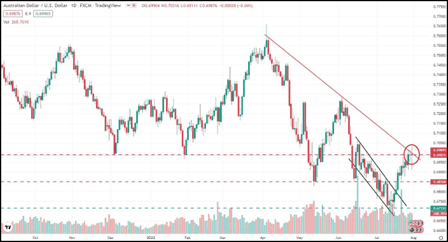 AUD/USD closed at 0.69876, above the previous weekly close of 0.69221, continuing its rebound off the July 14 low of 0.66827.
However, the rally stopped short of the 0.69900 resistance zone, and at the downsloping trend line from the April 22 high (the confluence shown in the red circle).
AUD/USD was boosted by a declining US Dollar index which closed last week at 105.828, and a robust materials outlook reflected by weekly gain of over 4% in the Materials Index of the ASX last week, pointing towards a tendency towards a "risk-on" environment.
The overall bullishness received support from positive earnings reports out of tech majors in the US that led to a rally in the tech sector.
The market appears to want to put the fact of the 0.75% US rate hike in the rearview mirror.
AUD/USD will encounter next week the RBA rate hike which the market is pencilling in at 0.50% given hot inflation, and the US non-farm payroll data.
From where AUD/USD is positioned now, the cat could jump either way, but the chances are that it will head back lower in the direction of the main trend line shown in red.
AUD/NZD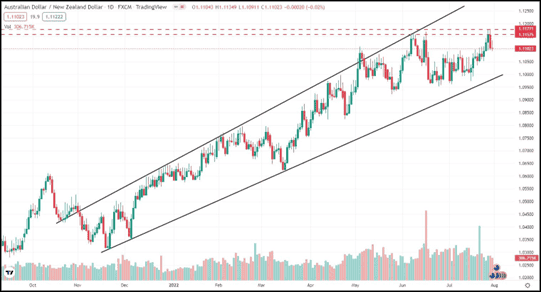 AUD/NZD ended the week at 1.11023, and well above the previous week's close of 1.10704.
The pair encountered its previous resistance zone in the range between 1.11575 and 1.11771 where it has lost face on multiple past occasions, including in August 2018.
It could receive more tailwind from the RBA rate hike next week in view of the 6.1% CPI reading for Q2 from soaring price pressures.
Also coming up next week is data on New Zealand employment for Q2, and expected to throw fresh light on the state of the country's economy.
Meanwhile, the ANZ–Roy Morgan's consumer confidence index released on Friday remained near record lows – people in New Zealand are now more pessimistic than during the 2008/09 financial crisis when the cash rate was about 4X of what it is now – or at the start of the COVID-19 pandemic.
Given the pair's positioning at elevated levels near a key resistance level, AUD/NZD is likely to move sideways before a trend is clarified.