ASX Market Wrap
The ASX closed the week suffering minor losses with market action dominated by macro concerns.
Inflation, oil prices, and the timing-plus-magnitude of interest rate hikes pre-occupied the markets this past week with the ASX200, ASX300, and the Ordinaries closing 0.21%, 0.24%, and 0.18% down, respectively.

Last Week in ASX Stocks
ASX Materials (ASX:XMJ)
The Materials sector (ASX: XMJ) ended the week down 0.8% despite iron ore prices hovering at 8-month highs.
Major miners BHP (ASX:BHP) and Rio Tinto (ASX:RIO) closed the week down 1.85% and 2.57% while Fortescue Metals (ASX:FMG) closed marginally higher at 1.87%.
A big winner was iron ore and lithium miner Mineral Resources (ASX:MIN), which closed up 10.27% due to strong markets for both its products.
Other pure-play clean-energy miners lost their winning streak with Pilbara Minerals (ASX:PLS), Lynas Rare Earths (ASX:LYC), and Liontown Resources (ASX:LTR) closing the week lower by 9.35%, 11.71%, and 13.07% respectively.
In a major sectoral development, nickel miner-producer IGO decided against its A$1 billion takeover of Western Areas after due diligence failed to check out.
IGO (ASX:IGO) ended down 6.56% while Western Areas (ASX:WSA) lost 0.27%.
ASX Energy (ASX:XEJ)
The Energy Sector (ASX: XEJ) was largely dominated by developments in oil, which was bullishly biased owing to the Ukraine-Russia situation.
The EU put off further sanctions on Russian oil and the US and its allies announced plans to release 60 million barrels of reserves to combat rising prices.
In another piece of good news, the UAE and Iran agreed to halt military action on the Saudi-Yemen border.
Nevertheless, Brent persisted at over US$100.
Australian energy producers were a mixed bag with Woodside Petroleum (ASX:WPL) and Beach Energy (ASX:BPT) closing down 1.52% and 1.27% while Santos (ASX:STO) ended the week higher by 1.14%.
Coal was back at its winning ways with Whitehaven Coal (ASX:WHC), New Hope Coal (ASX:NHC), Yan Coal (ASX:YAL), and Coronado Global (ASX:CRN) closing the week up 6.15%, 10.32%, 12.88%, and 4.46%, respectively.
ASX Industrials (ASX:XNJ)
Industrials (ASX: XNJ) had a rough week as inflation and quantitative tightening weighed on the sector.
The RBA made it clear that controlling inflation is a paramount objective and rate hikes are probable later in the year.
The markets were also spooked by Australia's worsening COVID situation with cases up nearly 3x from their low earlier in the year.
Industrial majors ADBRI (ASX:ABC), Brickworks (ASX:BKW), and BlueScope Steel (ASX:BSL) closed the week lower 1.64%, 0.99%, and 5.23%, respectively.
Boral (ASX:BLD) and Brambles (ASX:BXB), ended slightly higher at 0.58% and 0.05%, respectively.
Infrastructure company Qube Holdings (ASX:QUB) closed the week down 2.91% while Transurban Group (ASX:TCL) ended up 1.94% after its US Maryland JV partner Macquarie announced it is looking for a buyer for its 40% stake in the company's expressway asset.
ASX Financials (ASX:XFJ)
The Financials Sector (ASX: XFJ) had an up-down week but managed to close 0.45% in the green.
Banking heavyweights Commonwealth Bank (ASX:CBA), Australia New Zealand Banking Corp (ASX:ANZ), National Australia Bank (ASX:NAB), and Westpac (ASX:WBC) all closed in the green though below 1%.
Insurance companies were down with Suncorp (ASX:SUN) and Insurance Australia Group (ASX:IAG) closing down 1.27% and 0.69% while QBE (ASX:QBE) closed flat.
Major wealth manager Platinum Asset Management (ASX:PTM) lost 12.27% while Magellan Financial Group (ASX:MFG) closed up 4.12%.
PTM tanked to all-time lows on the back of broker downgrades and record outflows.
In a big-ticket M&A development, fund manager Pendal Group (ASX:PDL) received a A$2.4 billion buyout offer from Perpetual (ASX:PPT).
The former ended down 4.18% while the latter gained 0.75%.
ASX Real Estate (ASX:XPJ)
The Real Estate Sector (ASX: XPJ) had a dismal week as the prospect of hiking interest rates spooked investors.
All major stocks such as Stockland Corp (ASX:SGP), Dexus Properties (ASX:DXS), Mirvac Group (ASX:MGR), Scentre Group (ASX:SCG), and Vicinity Centres (ASX:VCX) closed the week down 0.94%, 1.64%, 3.19%, 3.22%, and 1.87% respectively.
However, Goodman Group (ASX:GMG) bucked the trend, closing up 0.74%, possibly due to its inclination towards logistics and industrials properties.
The ASX Communications Sector (ASX: XTJ) was an outperformer this week, closing higher by 0.41%.
Sector heavyweights Telstra (ASX:TLS), TPG Telecom (ASX:TPG), Chorus Limited (ASX:CNU), and Spark Infrastructure (ASX:SPK) all closed up by 2.04%, 3.83%, 0.45%, and 3.73%.
Uniti Group (ASX:UWL) was a disappointment – closing the week 1.69% lower.
Other sector players unrelated to telecom such as REA Group (ASX:REA), Seek Ltd. (ASX:SEK), and News Corporation (ASX: NWS) were a drag too and closed down 2.26%, 2.36%, and 2.40%, respectively.
ASX Utilities (ASX:XUJ)
The ASX Utilities Sector (ASX: XUJ) was the best performing sector of the week with a 3.22% gain.
The sector's defensive nature and ability to adjust to inflation without much adverse impact attracted investors looking for safety in times of volatility.
APA Group (ASX:APA), Origin Energy (ASX:ORG), and AGL Energy (ASX:AGL) closed the week higher by 1.52%, 1.39%, and 7.64%, respectively.
ASX Healthcare (ASX:XHJ)
The Healthcare Sector (ASX: XHJ) just managed to scrape into the green by 0.01%.
Equipment manufacturers were a mixed bag with Cochlear (ASX:COH) and ResMed CDI (ASX:RMD) ending up 1.07% and 2.42% while Sonic Healthcare (ASX:SHL) and CSL (ASX:CSL) ended down 1.00% and 0.85%.
Healthcare providers Ramsay Health Care (ASX:RHC) gained 0.22% while Fisher and Paykel (ASX:FPH) closed 4.36% in the red, respectively.
Lastly, biotech companies Imugene (ASX:IMU) and Healius (ASX:HLS) closed down 8.00% and 1.36% while Pro Medicus (ASX:PME) closed nearly flat.
The IT sector (ASX: XIJ) suffered a terrible week and lost 3.6%. Investors fled from high-risk assets that dominate the sector.
Sector favorites Block (ASX:SQ2), WiseTech Global (ASX:WTC), Appen (ASX:APX), and Zip Co. (ASX:Z1P) closed the week down 5.36%, 5.92%, 2.18%, and 4.70%.
However, ComputerShare (ASX:CPU) and Xero (ASX:XRO) edged into green territory at 0.80% and 1.03%, respectively.
Hardware and related companies NextDC (ASX:NXT) and Altium (ASX:ALU) ended their winning streak closing lower by 2.87% and 2.29% respectively.
ASX Consumer Discretionary (ASX:XDJ)
The Consumer Discretionary Sector (ASX: XDJ) lost 2.5%. Casino companies Aristocrat Leisure (ASX:ALL) and Tabcorp Holdings (ASX:TAH) closed in the red at 7.66% and 2.53% while Crown Resorts (ASX:CWN) ended flat as COVID spooked investors.
Travel stocks were mixed with Flight Center (ASX:FLT) and Corporate Travel Management (ASX:CTD) closing flat and 0.26% in the red while Webjet (ASX:WEB) and Qantas (ASX:QAN) closed at 2.00% and 3.08% in the red.
Other discretionary stocks like Dominos (ASX:DMP), Harvey Norman (ASX:HVN), and JB Hi-Fi (ASX:JBH) had a terrible week at 3.93%, 3.07%, and 3.00% down, respectively.
ASX Consumer Staples (ASX:XSJ)
Lastly, the Consumer Staples Sector (ASX: XSJ) closed 1.3% higher.
In bullish news for the sector, GrainCorp revised its earnings guidance A$110 million higher; EBITDA is now expected to be in the range of A$310 million – A$370 million.
GrainCorp closed the week with a gain of 5.15%.
Other food manufacturers such as Costas (ASX:CGC) and Bega Cheese (ASX:BGA) ended up 3.14% and 3.29% while Tassal Group (ASX:TGR) closed down 3.36%.
Sector heavyweights Wesfarmers (ASX:WES) lost1.29% while Woolworths (ASX:WOW) and Coles Group (ASX:COL) moved up 2.00% and 1.39%, respectively.
This Week In ASX Stocks
On Wednesday, mid-size Bank Of Queensland (ASX:BOQ) is due to report 1H results.
The bank has been in the news lately for its change in accounting practices.
New Listings
Firetail Resources (ASX:FTL) is a mineral resources exploration company that is due to list on Wednesday.
It owns a portfolio of new energy materials such as Lithium, Copper, Silver, and Nickel across Australia.
The company aims to raise A$8.125 million from shares priced at A$0.25/share.
Narryer Metals (ASX:NYM) is a mining and exploration company that owns Copper, Nickel, and rare earth assets in Australia.
This company too lists on Wednesday and aims to raise A$5 million from shares priced at A$0.20.
Lastly, Osmond Resources (ASX:OSM), also a mining and exploration company, will make its market debut on Thursday.
The company owns gold, nickel, copper, and rare earth assets in South Australia.
Osmond will raise A$5 million from A$0.20 shares.
Economic and Market Outlook
As 2022 progresses, it is becoming increasingly clear that for central banks inflation is a clear priority over economic revival.
This past week, the Eurozone reported a 7.5% CPI and put on hold any further Russian energy sanctions.
The EU is now walking a tightrope on the Ukraine situation since it may have picked all the low-hanging fruit as far as sanctions are concerned and now is in a bind on further deterrents.
Since energy is one of the biggest inflationary evils, the International Energy Agency countries approved a 60 million barrel release from their strategic reserves in a bid to rein in prices.
In other news, Canada banned foreigners from buying real estate in an unprecedented attempt to cool the market.
A major event during the week was the release of the FOMC minutes, which detailed the central bank's plan to wind down its balance sheet at the rate of US$95 billion per month.
The double whammy of the proposed balance sheet reduction and an inverted yield curve dealt a blow to US markets.
The Australian markets eagerly awaited the RBA meeting earlier in the week to get a sense of the bank's thinking on rate hikes.
The RBA announced it will maintain rates at the current level, but was more hawkish towards dealing with inflation via interest rate hikes.
Its statements on a tightening labour market and higher wages revealed its concerns around inflationary pressures building further in the economy.
On Monday, China is due to report its MoM and YoY CPI along with YoY PPI.
The UK is due to report MoM and YoY GDP on Monday, followed by Core CPI on Wednesday.
The US will release the closely-watched Core CPI on Tuesday, followed by PPI on Wednesday.
Finally, on Thursday, they report Retail Sales, Initial Jobless Claims, and Crude Oil Inventories.
A major event in the ANZ region is the RBNZ's interest rate decision which is due on Wednesday, with consensus pointing to a 25 basis-point hike to 1.25%.
On Thursday, Australia is due to report Employment Change for March with consensus pointing to 40,000 new job additions.
Lastly, the ECB has a big week ahead with the Deposit Facility Rate, Marginal Lending Rate, and Interest Rate Decision due on Thursday.
Forex Outlook
AUD/USD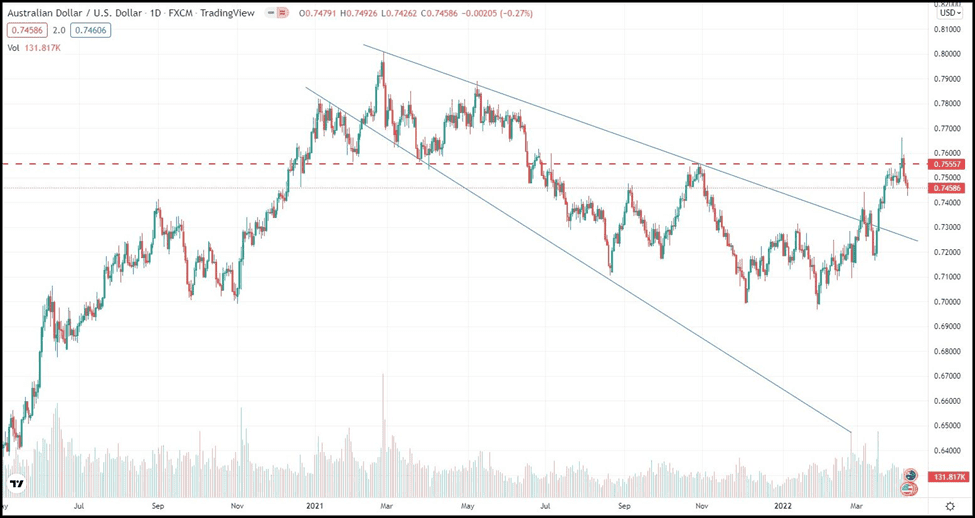 AUD/USD closed the week at 0.74586, well below the previous weekly close of 0.74970, as a fresh bout of strength in the US dollar put paid to the Aussie's RBA-derived move above a significant line in the sand.
AUD/USD bulls received a shot in the arm last Tuesday when the RBA's monetary policy statement revealed a hawkish bias.
The bank made subtle changes to its stance on inflation and dropped the word "patient" in its approach to tackling the problem.
That was catalyst enough for AUD/USD to jump higher and beyond the resistance line of 0.75636, with a target of 0.78000 now in its sights.
Unfortunately, US dollar strength during the week ruined the party for AUD/USD.
The US Dollar Index broke out of a rectangle trading range and on Friday retraced somewhat after it took out 100.
Nevertheless, the index hit its highest in nearly two years last Tuesday.
The basis for this appears to be Fed minutes that showed a relentless "dial-back" intention on its balance sheet, and Fed officials calling for chunky, 0.5% rate hikes to tame the inflation monster.
Technically too, the Dollar Index looks headed higher, and that could keep AUD/USD under pressure, though potential RBA rate action and the optics from an improving Australian economy could counter that to some extent.
A softening in metals and energy prices off the back of China's COVID could also have a bearish impact on the AUD/USD.
AUD/NZD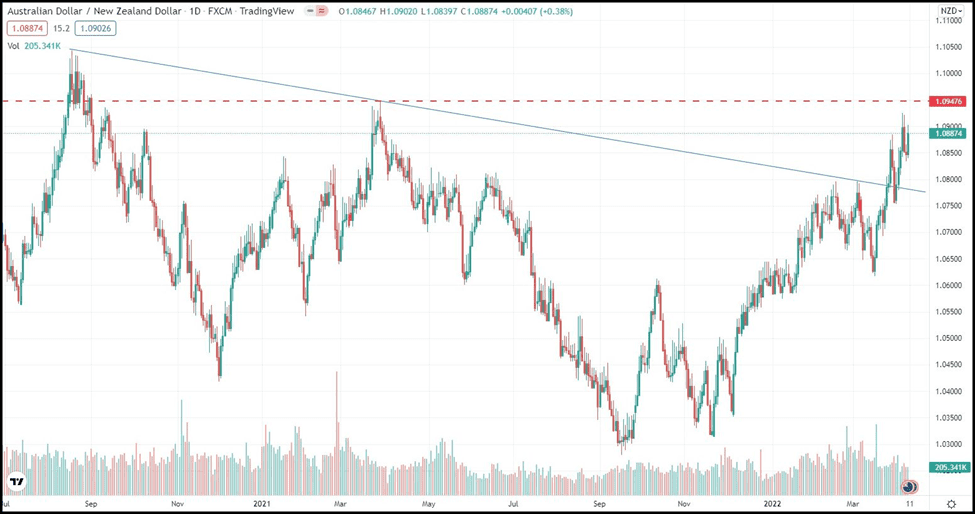 AUD/NZD ended the week at 1.08874, gaining over the previous week's close of 1.08225.
After a pullback the previous week, the pair has, as expected, determinedly resumed its uptrend above the falling trend line.
On Wednesday, April 13, the RBNZ will likely hike interest rates by 0.25%, though some analysts are penciling in 0.50%.
There have been reports that household spending in New Zealand is down amidst a cost of living crisis induced by rising prices.
With the country well-ahead on a rate hike trajectory, economic growth may also start to suffer.
However, with the RBA also shifting its stance to a more hawkish one, AUD/NZD will likely keep its lead and maybe push to test the 1.095 resistance level.