The Australian markets ended slightly in red territory for the week as they fight against inflation took center stage.
Major central banks across the world echoed concerns and outlined the possibility of substantial rate hikes in May.
Demand concerns emanated for the country's materials sector from China's current pandemic woes.
The ASX200, ASX300, and the Ordinaries closed the week down 0.5%, 0.5%, and 0.6%, respectively.

Last Week In ASX Stocks
ASX Materials Sector (ASX:XMJ)
The ASX Materials Sector (ASX:XMJ) suffered a dismal week closing 4.9% in the red as investors fretted on the prospects of rate hikes hurting demand or inducing a recession.
The headwinds for the sector were exacerbated as China, one of the largest markets for the materials sector continued to suffer from an unrelenting pandemic.
Major miners BHP (ASX:BHP), Rio Tinto (ASX:RIO), Fortescue Metals (ASX:FMG), South32 (ASX:S32), and Mineral Resources (ASX:MIN) closed the week down 7.36%, 5.65%, 1.80%, 6.2%, and 2.16%, respectively.
Rare earth and lithium miners suffered a similar fate with Iluka Resources (ASX:ILU), Lynas Rare Earths (ASX:LYC), Pilbara Minerals (ASX:PLS), and Vulcan Energy Resources (ASX:VUL) ending the week 9.54%, 2.07%, 6.42%, and 2.20% lower, respectively.
ASX Energy Sector (ASX:XEJ)
The ASX Energy Sector (ASX:XEJ) inched into negative territory of 0.41%.
Though geopolitical tensions and volatility from the war kept oil prices elevated earlier in the week, they retreated later on-demand concerns due to lockdowns in China.
Oil majors Woodside Petroleum (ASX:WPL) and Santos (ASX:STO) ended the week down 1.05% and 0.49%.
However, Beach Energy (ASX:BPT) closed the week up 3.12% supported by new all-time-high prices of natural gas.
Coal stocks were a mixed bag with Yan Coal (ASX:YAL), New Hope Corporation (ASX:NHC), and Coronado Global Resources (ASX:CRN) closed the week down 12.43%, 6.41%, and 4.27% while White Haven Coal (ASX:WHC) and Stanmore Resources (ASX:SMR) ended up 2.85% and 9.6%, respectively.
ASX Industrials Sector (ASX:XIJ)
The ASX Industrials Sector (ASX:XIJ) had a great week gaining 2.91%.
Construction materials majors ADBRI (ASX:ABC), BrickWorks (ASX:BKW), and Reece (ASX:REH) closed the week up 1.38%, 0.21%, and 0.99% while Boral (ASX: BLD) closed up 2.31%.
Heavy machinery manufacturers like Brambles (ASX:BXB) and Downer EDI (ASX:DOW) closed up 8.16% and 0.18%.
Infrastructure companies TransUrban Holdings (ASX:TCL) and Qube Holdings (ASX:QUB) closed up 2.67% and 0.67%.
The industrials sector likely benefited from the halo effect surrounding stong retail spending across most sectors, signaling strength in the economy as it opens up further.
A major winner from the sector was CleanAway Waste Management (ASX:CWY) which ended up 6.06%.
According to a media report, PE giant KKR is lining up the company in its acquisition crosshairs – second time lucky? – remember that KKR tried to buy a stake in the company back in 2011, when it was called Transpacific Industries.
Meanwhile, Qantas Airways (ASX:QAN) and Air New Zealand (ASX:AIZ) rallied 6.84% and 3.23% respectively as travel restrictions start to fade.
ASX Financials Sector (ASX:XFJ)
The ASX Financials Sector (ASX:XFJ) closed slightly up at 0.25%.
Banking majors Westpac (ASX:WBC), Australia New Zealand Banking Corp. (ASX:ANZ), and National Australia Bank (ASX:NAB) ended the week higher by 0.083%, 0.15%, and 1.28% while Commonwealth Bank (ASX:CBA), ended slightly negatively by 0.76%.
Banks are apprehensive about higher wholesale funding costs in a hardening interest rate environment, which in turn could affect interest rate margins.
Second-tier banks such as Bank of Queensland (ASX:BOQ) closed down 5.11% while Bendigo-Adelaide Bank (ASX:BEN) ended up 2.01%.
Insurers QBE Insurance (ASX:QBE), SunCorp. (ASX:SUN), and Insurance Australia (ASX:IAG) closed higher by 2.28%, 0.45%, and 2.31%.
Wealth Managers Magellan Financial (ASX:MFG) closed down 6.32% while Platinum Asset Managers (ASX:PTM) ended 0.54% higher.
Wealth manager AMP (ASX:AMP) ended the week flat after it announced it was looking for a buyer for its real estate and infrastructure financing business with Dexus (ASX:DXS) leading the charge of suitors.
ASX Utilities Sector (ASX:XUJ)
The Utilities Sector (ASX:XUJ) rallied 3.47% for the week.
Like industrials, this sector too was enthused by bullish retail spending figures for March.
Utility heavyweights including APA Group (ASX: APA), Origin Energy (ASX:ORG), and Spark Infrastructure (ASX:SPK) ended higher by 5.16%, 1.67%, and 1.93% while AGL Energy (ASX:AGL) closed down 1.51%.
ASX Telecommunications Sector (ASX:XTJ)
The Telecommunications Sector (ASX:XTJ) ended higher by 0.19% for the week.
Majors Telstra (ASX:TLS) and TPG Telecom (ASX:TPG) ended down 0.12% and 0.33% while smaller contemporaries like Uniti (ASX:UWL) ended higher by 0.60%.
Higher retail spending didn't do much for the sector due to its essential/stable nature and non-linearity with rising expenditure.
ASX HealthCare Sector (ASX:XHJ)
The ASX HealthCare Sector (ASX:XHJ) was one of the best performing sectors this week and closed 4.58% up for the week.
HealthCare major Ramsay Healthcare (ASX:RHC) zoomed 31% higher and drove a chunk of the sector's gains after receiving a private equity buyout offer of A$88/share from PE giant KKR.
Medical equipment manufacturers such Cochlear (ASX:COH), Sonic Healthcare (ASX:SHL), and CSL Ltd. (ASX:CSL) ended up 3.95%, 2.66%, and 2.63%.
However, biotech companies Imugene (ASX:IMU) and Mesoblast (ASX:MSB) closed down 4.35% and 3.02%, because of the potential impact of rising interest rates on high risk, high growth stocks.
ASX Real Estate Sector (ASX:XPJ)
The ASX Real Estate Sector (ASX:XPJ) closed up 1.65% as the upsides from strong retail spending and reopening of the economy were capped by the specter of rising rates.
Commercial and industrial majors Goodman Group (ASX:GMG), Dexus Group (ASX:DXS), and Vicinity Centers (ASX:VCX) closed 3.29%, 0.93%, and 1.24% higher, respectively.
ASX Information Technology Sector (ASX:XIJ)
The ASX Information Technology Sector (ASX:XIJ) had a very poor week ending 4.7% down.
The sector is dominated by high growth and high-risk tech names facing repricing risk due to the prospect of rising rates – leading to higher discounting of their future growth.
Some of the biggest losers from the sector were the BNPL players which faced the dual headwinds of the rising cost of capital along with repricing risk.
BNPL majors Block Inc. (ASX:SQ2), Zip Co. (ASX:Z1P), and MoneyMe (ASX:MME) closed down 11.05%, 19%, and 4.56%.
The same thesis applied to SaaS companies with Xero (ASX:XRO), Appen (ASX:APX), and Nuix (ASX:NXL) tanking 4.73%, 1.19%, and 4.30% respectively.
Semi-conductor and data center companies, which were have been strong outperformers in recent times such as Altium (ASX:ALU) and NextDC (ASX:NXT) fell 1.5% and rose 0.36%, respectively.
ASX Consumer Discretionary Sector (ASX:XDJ)
The Consumer Discretionary Sector (ASX:XDJ) ended nearly flat after correcting late in the week in step with the market.
Travel stocks Webjet (ASX:WEB), Flight Center (ASX:FLT), and Corporate Travel Management (ASX:CTD) closed the week higher by 9.37%, 6.23%, and 5.42%, respectively, benefiting from a winding down of pandemic restrictions and the flowering of pent up travel demand.
Citi analysts have upgraded the outlook on Webjet from Neutral to Buy and raised the price target of the stock to $6.50.
Leisure stocks including Star Entertainment (ASX:SGR) and Crown Resorts (ASX:CWN) ended up 1.94% and 0.16%, respectively.
Lastly, retailers Harvey Norman (ASX:HVN) and JB Hi-Fi (ASX:JBH) closed 0.39% and 1.29% higher while Temple and Webster (ASX:TPW), Nick Scali (ASX:NCK), and Kogan (ASX:KGN) closed down 5.8%, 1.66%, and 8.16%, respectively.
Investors have likely not taken favorably to Kogan's recent diversification into insurance.
ASX Consumer Staples Sector (ASX:XSJ)
Finally, the Consumer Staples Sector (ASX:XSJ) closed up 1.7% on the back of strong retail spending.
Staple producers Tassal Group (ASX:TGR), Bega Cheese (ASX:BGA), and GrainCorp (ASX:GNC) went up 5.63%, 0.39%, and 5.1%.
Retail heavyweights Wesfarmers (ASX:WES), Woolworths (ASX:WOW), and Coles Group (ASX:COL) ended higher by 1.95%, 2.77%, and 3.34%, respectively.
However, nutrient and specialized food companies Bubs Australia (ASX:BUB) and a2m Milk (ASX:A2m) closed down by 3.06% and 1.08%.
Food and Beverage companies Dominos (ASX:DMP) and Costa Group (ASX:CGC) closed down 0.26% and 0.3%, respectively.
Next Week in ASX Stocks
Companies of note scheduled to declare earnings next week are Splitit (ASX:SPT) and Oceana Gold (ASX:OGC) on Friday.
New ASX Listings
In a major listing, Halo Technologies (ASX:HAL), an equity research and brokerage company, is set to make its market debut on Tuesday.
The company aims to raise A$40 million from shares priced at A$1.20.
Lithium Plus Minerals (ASX:LPM) is a lithium exploration and mining company with a portfolio of 3 assets in North Australia.
The company, which lists on Tuesday, will be raising A$10 million from shares priced at $0.25 per share.
Maronan Metals (ASX:MMA) is a lithium exploration company with lead, silver, copper, and gold assets in Queensland.
The company lists on Friday and will be raising A$5.5 million from shares priced at A$0.20.
Market and Economic Outlook
As mentioned above, the market actions were dominated by the triangle of economic recovery, inflation, and the resulting monetary response.
Mid-week, Fed chairman Jerome Powell spooked the markets and set the downward momentum going after he voiced concerns about inflation and the serious probability of a 50-point hike in May.
The US markets are also in focus due to the ongoing earnings season.
Underwhelming performance from the likes of Netflix and the following brutal sell-off is an indicator of the extent of froth prevailing in the markets.
Next week is key with major heavyweights due to publish earnings.
Chinese markets continued to prove painful for investors as the pandemic showed no signs of relenting.
Even though the country outperformed with its Q1 GDP, analysts are worried that the pain of zero-COVID will be felt in the next few quarters.
The promises of stimulus that sent markets rallying a few weeks ago waned with the markets now threatening new lows.
A contraction in retail spending, downward revisions of growth consensus, and the government's clear message that its zero-COVID policy is here to stay also roiled sentiment in the Chinese bourses.
In Australia, the RBA cited worries of imbalance between inflation rates and real wages; however, the central bank proposes to takes to take hike action only if there is a meaningful surge in real wages.
The Australian government also warned that it expects a 15% correction in the real estate market should rate reach or surpass 2%.
However, the good news for the week was the better than expected March retail spending print, which expanded 7.7% YoY with all segments growing other than alcohol/tobacco and miscellaneous.
Leisure and entertainment segments were the best performers.
Here's the next week's relevant calendar. On Wednesday, the US is due to report New Home Sales while Australia will publish Q1 QoQ CPI.
On Thursday, the US reports Crude Oil Inventories, Pending Home Sales, Q1 QoQ GDP, and Initial Jobless Claims.
On Friday, the Eurozone reports YoY April CPI while China publishes the Ciaxin Manufacturing PMI.
Forex Outlook
AUD/USD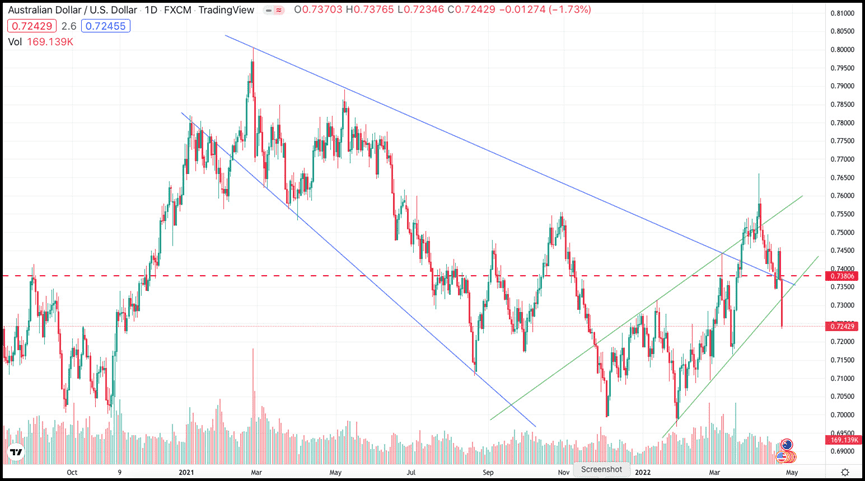 AUD/USD closed the week at 0.72429, well-below the previous weekly close of 0.73923, and crushed by the runaway US dollar strength triggered by a surge in US Treasury yields.
Not helping were comments from the EU indicating the strong possibility of rate hikes from July.
Meanwhile, minutes from the last March FOMC meeting showed that several Fed officials were leaning to hike rates by as much as 0.50% instead of 0.25% tranches.
Jerome Powell added to that with remarks that a 0.50% increase in May was entirely possible.
All that jawboning had the expected impact on bond yields and the dollar index (which went up), and equities, gold, and risk currencies (which lost ground).
After its recent upmove, the dollar index is now hovering in a resistance band between 101 and a likely upper line at 103.
It is likely that it may pause here for the near future.
Meanwhile the drumbeat of rising rate hikes across developed economies also has turned sentiment in Australia towards the likelihood of the RBA hiking earlier than expected.
During the week, AUD/USD rebounded feebly from the 0.73500 line but lost significant ground in the penultimate days.
The decline has largely put paid to the Aussie's uptrend that commenced in early December 2021.
However, a support line may appear around 0.71500.
AUD/NZD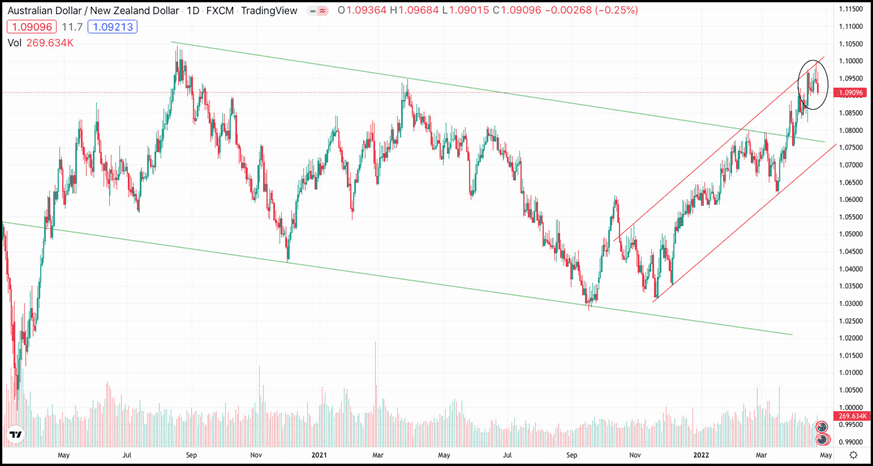 AUD/NZD ended the week at 1.09096, below the previous week's close of 1.09518.
The pair flirted briefly with the 1.1000 level in the aftermath of lower than expected inflation numbers, but that was quickly sold into.
Though the CPI grew its fastest in 30 years, the 1.8% print was lower than the consensus estimate of 2%; the marginal relief temporarily bolstered AUD/NZD.
However, the inflation data was strong enough to support the view that the RBNZ would continue its hawkish rate hikes.
A previous theory that the central bank may have over-reacted and inflation could be topping out is rapidly fading.
The pair is perilously perched near the upper line of the rising channel (see circle) and has formed an evening star candlestick pattern that has highly bearish potential if the 1.08985 line is violated on the downside.
That could trigger a drop to levels near 1.08150.