Market Wrap
The ASX continued its rising trend from last week as commodity-rich Australia benefited from rising prices, especially in the energy and metals space.
The US' stance on tackling inflation head-on, and raising rates sharply if required, was received well by markets globally, while the EU's efforts to cut its reliance on Russian energy drove commodity prices higher. The AUD persisted at near 5-month highs on the back of a strong commodity market.
The materials, utilities, and energy sectors led the markets into the green with the ASX200, ASX300, and the Ordinaries ending the week up 1.53%, 1.56%, and 1.57%, respectively.

Last Week in ASX Stocks
ASX Materials (ASX:XMJ)
The ASX Materials Sectors (ASX: XMJ) led the market higher and closed the week up a solid 5.53%. The sector, which is dominated by big miners like BHP and Rio Tinto, shot up on the back of rising metal prices due to supply shocks from Russia. Also helping sentiment were assurances from the CCP over deploying measures to bolster the Chinese economy and clean up the real estate sector mess.
Heavyweights such as BHP (ASX: BHP) and Rio Tinto (ASX: RIO) ended up 7.12% and 5.24%, respectively. Smaller contemporaries such as South32 (ASX: S32) and Fortescue Metals (ASX: FMG) prospered too with gains of 3.87% and 2.07%, respectively. Gold miners turned in a solid week on the back of rising bullion prices, and majors such as Newcrest Mining (ASX: NCM), Northern Star Resources (ASX: NST), and Evolution Mining (ASX: EVN) closed the week 4.87%, 1.22%, and 0.67% in the green, respectively.
ASX Financials (ASX:XFJ)
The ASX Financials (ASX: XFJ) were a mixed bag ending only minorly in the green at 0.1%, thus lagging the market. The banks changed the week between -1% and 0.5%, even as some of them made efforts to lower long-term mortgage rates slightly. Over the week, National Australia Bank (ASX: NAB) announced the completion of its A$2.5 billion share repurchase program and announced a new buyback program of the same amount. Australia New Zealand Bank (ASX: ANZ) announced a successful test of its A$ stablecoin.
On the other hand, financial managers and insurers ended the week on a dismal note with Magellan Financial (ASX: MFG), Platinum Asset Managers (ASX: PTM), Insurance Group Australia (ASX: IAG), and Suncorp (ASX: SUN) ending the week down 11.7%, 8.7%, 2.29%, and 1.32%, respectively. The financial planning and management sectors' poor performance is attributable to the ASIC statements about upcoming stringent checks on overtly aggressive marketing and sales of risky investment products.
ASX Energy (ASX:XEJ)
The ASX Energy Sector (ASX:XEJ) boomed as oil prices retraced towards previous highs and coal prices continued to stay elevated. The sector closed the week 5.13% in the green. Major oil producers trended bullish, driven by the uncertainty around the Ukraine war, supply concerns, and the EU's drive to cut itself from Russian energy. Energy producers such as Woodside Petroleum (ASX: WPL), Santos Ltd. (ASX: STO), and Beach Energy closed the week up 8.08%, 5.88%, and 5.5%, respectively. Santos announced a new oil discovery in Australia, which is expected to add A$2 billion to that project's valuation.
Coal producers romped higher. New Hope (ASX: NHC), Stanmore (ASX: SMR), Yan Coal (ASX: YAL), and Whitehaven Coal (ASX: WHC) closed the week higher 15.8%, 8.54%, 13.71%, and 13.45%, respectively. New Hope stunned the markets with a A$330 million profit as opposed to a A$55 million loss YoY. Further, it announced a 17 cent dividend compared to 4 cents last year, along with a special dividend of 13 cents.
ASX Information Technology (ASX:XIJ)
Information Technology (ASX: XIJ) had a poor week, and for good reason. The Fed's remarks over inflation concerns and its hawkish stance on hiking rates, in-line with concerns and agendas of central banks over the world, could trigger a repricing of equities all over the world, especially as most valuations are derived by discounting of revenues, cashflows, and dividends.
The high-growth tech companies are most vulnerable to such repricing. Particularly hard hit over the week were digital lenders and BNPL players as they were hit by a double whammy of rising costs of capital and higher discount rates for valuation. Block (ASX: SQ2), Zip Co. (ASX: Z1P), Even high-growth software firm Appen (ASX: APX), which closed the week down 3.59%, was not spared. However, Xero (ASX: XRO) was a standout, ending up by about 1.3%.
ASX Industrials (ASX:XNJ)
ASX Industrials (ASX: XNJ) had an underwhelming week, closing down 1.17% on account of rising energy costs (which form a key input cost in most industrial products), increasing prospects of the economic downturn due to hardening of rates and uncertainty from the war, and lastly, some companies (for example, Boral) adjusting full-year guidance lower due to adverse weather in some parts of Australia. Boral (ASX: BLD), Maas Group (ASX: MGH), and ADBRI (ASX: ABC) closed the week down 1.15%, 0.64%, and 3.12%, respectively. However, industrials biggie Brickworks (ASX: BKW), reported a 260% jump in 1H profits and ended the week up 9.45% while Washington Soul Pattison (ASX: SOL) clocked a 281% jump in revenue for 1H and closed up 5.83%. Logistics major Qube reported a strong 1H result and announced a share buyback, but ended the week down 0.96%.
ASX Real Estate (ASX:XPJ)
ASX Real Estate (ASX: XPJ) ended up minorly in the green after banks marginally reduced rates for new mortgages. However, rising energy prices pushed building costs higher and rates for owner-occupiers and investors ticked up ever so slightly. Commercial real estate operators Mirvac Group (ASX: MGR) and Stockland Group (ASX: SGP) ended the week down 1.9% and 1.4%, while Dexus Corp (ASX: DXS), Vicinity Centres (ASX: VCX), and Scentre (ASX: SCG), ended the week up 1.69%, 1.14%, and 3.6%, respectively.
ASX Utilities (ASX:XUJ)
The Utilities Sector (ASX: XUJ), closed the week up 5.67% with majors AGL Energy (ASX: AGL), Origin Energy (ASX: ORG), APA Group (ASX: APA), and Mercury (ASX: MCY) closing the week up 4.14%, 7.71%, 3.14%, and 0.79%. Meridian Energy (ASX: MEZ) was a standout, having closed down 2.1%.
ASX Telecommunications (ASX:XTJ)
The Telecommunications sector (ASX: XTJ) had a rather disappointing week, having closed down slightly at 0.89%. Major players Telstra (ASX: TLS), TPG Telecom (ASX: TPG), Spark NZ (ASX: SPK), and Chorus (ASX: CNU) ended the week down 1.39%, 1.04%, 2.93%, and nearly 3%, respectively. A big development for the week was Macquarie Telecom Group's (ASX: MAG) A$3.4B takeover offer for Uniti Group (ASX: UWL); nevertheless, both stocks ended 4.06% and 15.2% in the green, respectively.
ASX Healthcare (ASX:XHJ)
The Healthcare Sector (ASX: XHJ) has had a rather poor week, having ended down 2.53%. Large players such as CSL (ASX: CSL), Ramsay HeathCare (ASX: RHC), ResMed CDI (ASX: RMD) and Cochlear (ASX: COH) ended the week lower 2.46%, 0.8%, 9.97%, and 1.51%, respectively. The week was abuzz on sector M&A activity with Ramsay receiving an offer for its Asia JV from IHH for a consideration of A$1.8 billion. Meanwhile Incannex Healthcare (ASX: IHL) acquired APIRx Pharma for A$124 million. Incannex closed down 7.25%, for the week.
ASX Consumer Discretionary (ASX:XDJ)
The ASX Consumer Discretionary Sector (ASX: XDJ) ended nearly flat. Leisure and hospitality companies such as Ardent Leisure (ASX: ALG), Aristocrat Leisure (ASX: ALL), SkyCity (ASX: SKC) closed down 2.03%, 3.68%, and 1.23%, respectively while Nine Entertainment (ASX: NEC) and Crown Resorts (ASX: CWN) ended the week up 1.29% and 3.17%.
Travel stocks Qantas (ASX: QAN), WebJet (ASX: WEB), and Corporate Travel Management (ASX: CTD) closed down 0.97%, 2.47% and 0.34%, respectively while Flight Center (ASX: FLT) closed up 0.36%. Rex Airlines became the first to openly announce price hikes on the back of rising fuel prices, Rex closed the week 0.8% lower.
Other heavyweights like News Corporation (ASX: NWS), Breville (ASX: BRG), and Dominos (ASX: DMP) closed down 0.59%, 2.79%, and 0.53%, respectively.
ASX Consumer Staples (ASX:XSJ)
Like the Consumer Discretionary Sector, the Consumer Staples Sector (ASX: XSJ), ended almost flat. Major heavyweights from the sector such as Wesfarmers (ASX: WES), Coles Group (ASX: COL), and Woolworths (ASX: WOW) ended the week down 0.83%, 0.22%, and 0.08%, respectively. Food/Processed Food manufacturers such as Bega Cheese (ASX: BGA) and a2m Milk (ASX: A2M) ended 3.59% and 1.46% down while GrainCorp (ASX: GNC) and Tassal Group (ASX: TGR) ended 0.7% and 3.81% up. In a major M&A deal, regulators approved Wesfarmer's A$ 753 million purchase of Australian Pharmaceutical Industries.
Next Week In ASX Stocks
There are no upcoming meaningful earnings reports to be published by companies in the coming week.
New Listings
Far East Gold (ASX: FEG) is due to make its market debut on Monday with a A$12 million issue priced at A$0.2/share. The company is engaged in mineral exploration of gold and copper over six projects in Australia & Indonesia.
International Graphite Limited (ASX: IG6) is an integrated graphite production and processing company in West Australia. The company aims at raising A$10 million from shares priced at A$0.20. International Graphite makes its market debut on Thursday.
Lord Resources Limited (ASX: LRD) is a mining and exploration company that owns six high-value assets in Western Australia that hold nickel, lithium, copper, and gold deposits. The company aims to raise A$4.5 million from shares priced at A$0.20.
Economic and Market Outlook
The past week was a rather eventful one. On Monday, Fed Chair Powell voiced his concerns on inflation and hinted at a more aggressive rate in May, comments that both soothed and racked investors' nerves.
Like in the recent past, the news was dominated by developments on the Russia Ukraine war. Earlier in the week, Russia was allowed to use sanctioned funds to service its outstanding by Western nations in a bid to protect the global debt market. Further, Russian president Vladimir Putin made a brazen move by demanding that hostile nations pay for their energy needs in rubles. There was also a lot of chatter over the week about Aramco's alleged deal with China to price crude in yuan, a move that was a clear challenge to the US dollar's dominance as a global reserve currency.
In an interesting development, the National Skill Commission reported record high online vacancies for 15 job categories, especially in occupations like hospitality, followed by general corporate jobs.
Early in the week, the RBA chief stated that rate hikes are a very probable possibility later in 2022, but also defended Australia's position of not bowing to price/inflationary pressures and prioritizing the health of the Australian economy above all. However, Australian Consumer Confidence plummeted to its lowest since early in the pandemic on fears of rising fuel prices and persistent inflation.
Australia is now the only English-speaking nation in the world to have not raised interest rates since the pandemic. However, the RBA's stance is understandable because Australia holds the second-highest household debt in the world, Further, the Australian housing market, which has been extremely bullish since the onset of the pandemic, could be very vulnerable to any rise in rates. On Thursday, Australia reported its Manufacturing PMI and Services PMI, both of which outperformed the consensus.
Over the next week, there are no major economic publications due from Australia other than Retail Sales for February, which are due on Monday. Also scheduled for Monday is an address from the Governor of the Bank Of England.
On Wednesday, the US is expected to release its Non-Farm Employment Change, Q4 GDP, and Crude Oil Inventories. Earlier on Wednesday, China will be releasing its Manufacturing PMI for March.
On the following day, the UK will report its Q4 GDP while the US will report initial jobless claims.
Friday is the most eventful of all days, with the UK reporting Manufacturing PMI while the US will be reporting Non-Farm Payrolls and the Unemployment rate for March. More importantly, the Eurozone will report Core CPI for March.
Forex Outlook
AUD/USD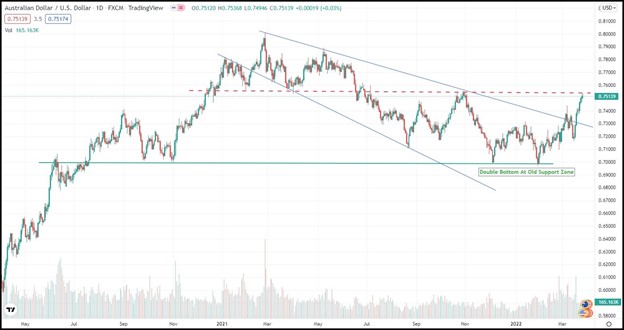 AUD/USD closed the week at 0.75139, a hair's-breadth short of the previous high (and potential resistance) at 0.75568 represented in the daily chart above by the red dashed line.
The pair has broken out of a year-long falling channel with higher volumes after meeting support, and forming a double bottom at the old support line of 0.70000.
AUD/USD has been bolstered by bullish prices of commodities and resources, Australia's principal exports. A recent print in the March PMI shows an improvement in the country's economic fundamentals. Furthermore, the market appears to be preparing for a rate hike, despite the RBA's comforting noises on the issue.
AUD is likely to maintain its bullish momentum if it can take out the 0.75568 line of resistance.
AUD/NZD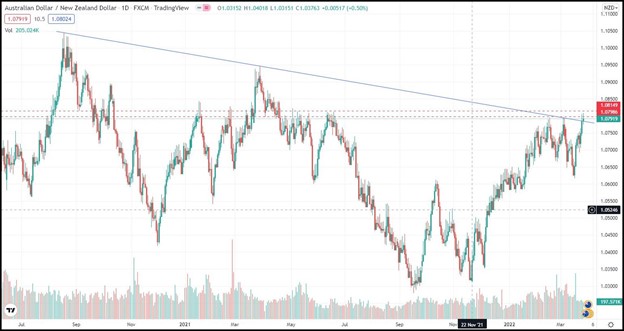 AUD/NZD closed the week at 1.07919, and managed to stay above the downward sloping channel line prevailing since September 2021, a bullish sign.
Post-Covid improvements in the Aussie economy, favourable trade and current account balances, and a tailwind from rising prices of resources are playing a role in maintaining the uptrend in AUD/NZD. Meanwhile, rising rates are clouding the outlook for the Kiwi housing market, a dominant component of the country's economy.
Though the channel breakout is a significant breakthrough, the pair will encounter a resistance band between the 1.07986 and 1.08149 levels shown by dashed red lines.
If the pair is able to vault above that band, it is likely to make a run for 1.095.